March Madness has officially begun, but if you couldn't care less about college basketball and need something else to do while your friends and family are hogging the TV, we've got you covered. The Apple App Store is packed with new, free games this week, and below, we've gathered up ten of the best options we could find.
Armello
Armello is a grand swashbuckling adventure combining three styles of play; The deep tactics of card games, the rich strategy of tabletop board games, and the adventure of fantastical RPGs.

As a hero from one of Armello's Great Clans, you'll quest, scheme, hire agents, explore, vanquish monsters, cast spells and face off against other players, with one ultimate goal in mind; becoming King or Queen of Armello! The Kingdom of Armello is as dangerous as it is beautiful. Perils, banes and bandits hide around every corner and a spreading corruption known as the Rot leaves no creature untouched.

• Easy to Play but Hard to Master: Armello is easy to pick up and experience, yet its deep and emergent possibilities emerge as you play. Includes acclaimed story-driven tutorial mode.
• Fast & Thoughtful: Adventuring in Armello is fast-paced fun filled with deadly, tactical and politically complex decisions.
• Multiple Playable Heroes: Each unique Hero possess a special power, stat line, AI personality and can be equipped with an Amulet and Signet Ring to further match your playstyle.
• Dynamic Sandbox: Gorgeous dynamic world which procedurally generates a new map each and every game, complete with a dynamic quest system ensuring no two games of Armello are ever the same.
• Turn-Based Day & Night Cycle: Use Action Points to journey across Armello's hex-based board and use our fuzzy turn-based system to play cards even when it's not your turn.
• True Tabletop Feel: We've spent years cherry-picking the best parts of the tabletop experience, like our physics-based dice.
• Animated Cards: Over 150 beautifully animated in-game Cards from artists all over the world.
• World Class Soundtrack by Michael Allen and internationally acclaimed artist Lisa Gerrard.
---
Casino Resort – Slots & Poker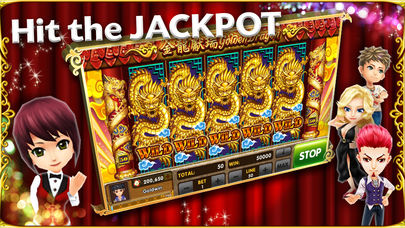 Life is a gamble, so raise the stakes, take the leap, and roll the dice! Test your wits and fortune on a variety of casino games and build the BEST and BIGGEST resort empire that there is while you're at it! Compete against players from around the world, and find out who's the BRIGHTEST and the LUCKIEST!

Casino Resort ("東京カジノプロジェクト" in Japan Version) is a mobile social online multiplayer casino game from the Japanese game developer and publishing giant, COLOPL. Have fun building and managing your own casino resort while checking out the casino games!

*** CASINO GAMES GALORE! ***
Are the odds in your favor? Court Lady Luck and play Casino games like Texas Hold'em, Black Jack, Roulette, Golf, and several others!

*** BECOME A RESORT OWNER! ***
With your earnings, build your very own resort city along the coast of a sparkling blue sea! Start small with only a few buildings while you develop your resort over time into a thriving cosmopolitan.

*** MAKE SURE TO PLEASE THOSE VIPS! ***
As your resort starts to attract more media attention, there will be more visitors, including VIPs! Construct buildings such as convenience stores, burger bars, and beachside sundries. Make sure to upgrade them so VIPs won't make scathing remarks about your resort city.

*** MULTIPLAYER MADNESS! ***
You're not alone this world. Real players from around the globe are also striving towards becoming fearless gamblers and high-rollers. Like you, they're also trying to build their own thriving resort cities. Have you got the spunk to outmaneuver them?

** Please note that while the app is free, please be aware that it contains paid content for real money that can be purchased upon users' wish to enhance their gaming experience. **
Download Casino Resort – Slots & Poker
---
Cat Tower – Idle RPG
TAP TAP & UPGRADE.
Collect best items and fight!!!

How far can you reach?

▶ Customize CAT & PET
▶ Stress free play : whenever / wherever
▶ Defeat boss. Huge rewards!!
▶ Find your own mastery tree

Services
▶ Rank on leaderboard.
▶ No internet connection required!
▶ Save your play on cloud

Enjoy! Thank you!/
---
Cobalt Dungeon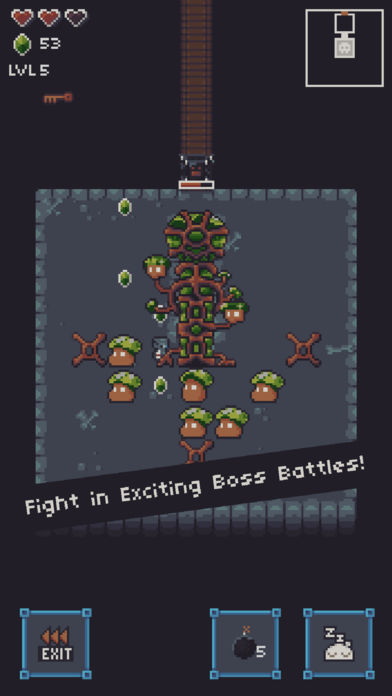 Welcome to Cobalt Dungeon! This is a turn-based Puzzle Roguelike game, so you can play at whatever speed you're most comfortable with. As you descend to each floor in the dungeon you will encounter harder and harder monsters to fight. Along the way you'll find shops where you can save your progress and upgrade your character, bosses which you'll need to defeat, and a whole lotta procedurally-generated levels to beat. Can you make it to the 21st floor?

The game features tutorial rooms to introduce you to gameplay, a campaign with three difficulty settings, and interesting challenge levels to beat. When you die – and certainly you will – the next incarnation of the dungeon will be different than the last time.
---
Fighting Fantasy Classics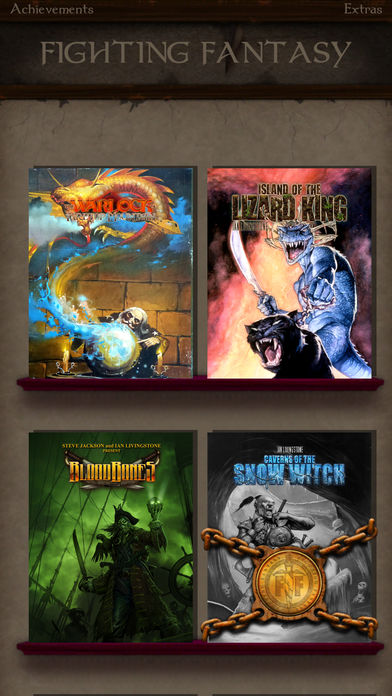 Fighting Fantasy gamebooks are epic text-based adventures! Originally published in the 80s, Fighting Fantasy Classics brings these old favourites into a digital format, complete with on-screen dice rolls, Adventure and Encounter Sheets, battle mechanics and more!

Play through many of your favourite adventures including:

– Bloodbones
– The Warlock of Firetop Mountain
– The Citadel of Chaos
– City of Thieves
– The Forest of Doom
– Caverns of the Snow Witch
– Island of the Lizard King

With more Fighting Fantasy titles to come in future updates! Traverse the dangerous realm of Allansia! Journey to Firetop Mountain, Darkwood Forest, the Citadel of Chaos, Port Blacksand and more!
Download Fighting Fantasy Classics
---
Monster Chef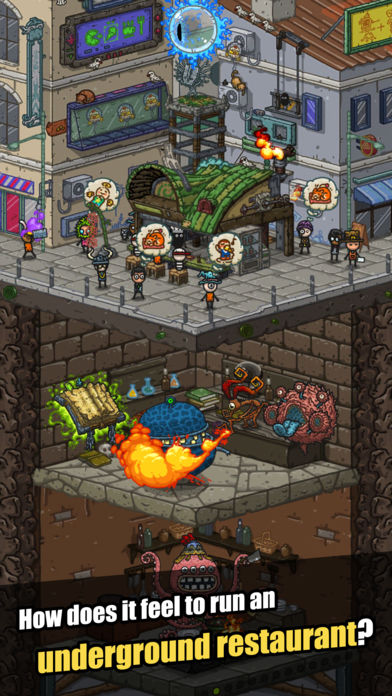 "My dream is to become the best monster chef in the world!"
"Hahaha, how naive you are!"
"People without dreams might laugh, but I know my dream will take me to infinity and beyond!"

[Story]
At first look, the world you see may seem to be nothing out of the ordinary. Look beneath the surface however, and you'll find an unimaginable place filled with strange, dangerous, and delicious creatures.

The Society of Dark Cuisine is an ancient and mysterious organization comprised of brave adventurers willing to explore the unexplored and to taste the untasted. With the help of the mystical Sootsoot, they seek out and capture strange monsters in order to farm their divine ingredients.

And what do they do with these ingredients? Cook, of course! Back up above, the Sootsoot sell delicious meals to surface dwellers, raking in as much profit as possible to further expand underground. The Society of Dark Cuisine has operated for centuries, yet no one knows exactly who they are or what their ultimate goal might actually be…

[Personalized Service]
Facebook
Twitter
Email: contact@coconut.is

[Game Features]
**This game will satisfy your curiosity while at the same time leave you feeling like you aren't curious enough!**
Stylish, cute, and humorous (in its own special way).
A mixture of freshly squeezed brains and weirdly imaginative characters.
Incredible recipes created by the one and only Society of Dark Cuisine.
Relaxing yet challenging strategic entertainment.

1. Wacky and wild: Innovate designs for a variety of weird monsters with vivid and imaginative animations. Every monster plays differently!
2. Roguelike: Plenty of content and areas to explore with loads of resources to collect. Every step you take is filled with hidden and unexpected danger. Every map is different!
3. Innovative cooking system: Cook any dish with any recipe you can think of! Combine various ingredients and discover better recipes for each dish!
4. Suspenseful concealed plot: With a rich quest system, each dialog you engage in contains hidden clues. Each player will discover their own story in Monster Chef!
---
Mowy Lawn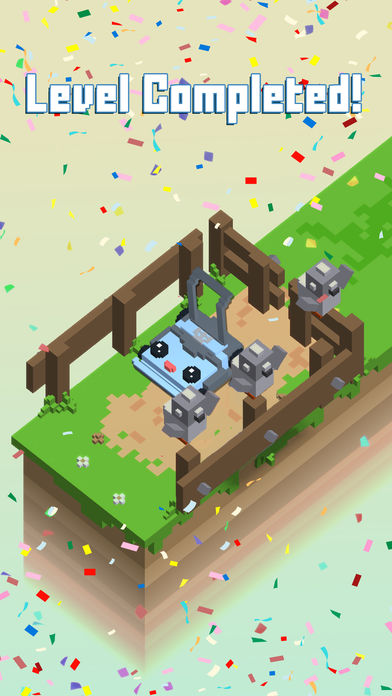 The oh-so-satisfying Mowing game that you just can't put down!

Welcome to lawnmower heaven – a Garden of Eden where lucky blade-spinners are set free on fields of glorious bushy overgrowth.

Pick from a selection of souped-up mowers and dive into a sprawling mass of grass until everything is shaved down into neat, tidy, satisfying strips.

But beware of dog! Grassland is filled with four-legged hazards, from canines to frogs to, uh, sheep!

FEATURES
– Several worlds to cut into!
– Crazy and challenging 'turn-right-only' mechanics!
– Choose the ultimate mower that represents you!
– Upgrade your blade spinners for maximum cuttage!
– Test your reflexes to their limits!

Mowers: Escape from your shed prisons. Embrace your garden zen. Download Mowy Lawn Now!
---
My Tamagotchi Forever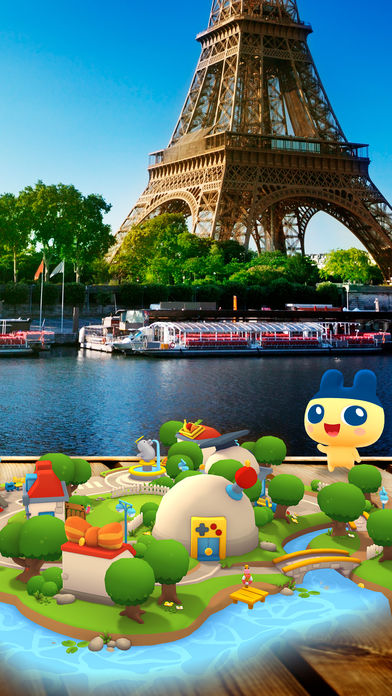 Raise your very own Tamagotchi characters, and share your adventures with your friends! Your Tamagotchi character needs your daily care to stay healthy and happy. Keep it well fed, washed, and entertained, then meet other Tamagotchi friends in town for more fun. But don't forget to put your character to bed!

Explore Tamatown in full AR (Augmented Reality), find your hidden friends and collect treasure and bonuses in the first ever AR-enabled Tamagotchi game!

Customize your own Tamatown with items you like the most, then find a nice surface around you to place it on, and let's play Hide & Seek! Guide your character around town to look for its friends hiding around corners, within bushes, and even inside buildings. Find them all in the time available to move to the next level. Collect coins and bonus items scattered around town to increase your score and time. Let the search begin!

It's been 20 years since the West first fell under the Tamagotchi spell.
The phenomenon is now spreading love to a whole new generation of caring fans with its first ever free-to-play mobile game!

Take good care of your Tamagotchi characters and watch them grow! Play mini games, make friends, explore Tamatown and customize outfits and the town itself for memorable moments you'll want to share with your friends. Depending on the care you provide and the things you do, they will evolve into different Tamagotchi characters as they grow. And when your they are all grown up, help them choose the best career path, be it scientist, rockstar or detective!

FEATURES:
– RAISE your Tamagotchi character: make sure you feed, wash, clean up after it and turn the lights out for a good night sleep to stay happy and healthy.
– HAVE FUN with your Tamagotchi character: play mini games and explore Tamatown together, making friends with other Tamagotchi characters along the way.
– EXPERIENCE AR by playing exhilarating Hide & Seek games with your Tamagotchi friends in your real surroundings!
– EVOLVE your Tamagotchi characters from one type to another depending on how you care for them. You never know who they might become next!
– COLLECT memorable moments shared with your Tamagotchi characters and the friendly town citizens.
– SHARE your favourite moments with your friends.
– GATHER coins by playing mini games and levelling-up!
– UNLOCK delicious food, cute costumes and colourful items to decorate Tamatown.
– COMPARE your progression and Tamagotchi-raising skills with your friends.
– TICKLE your Tamagotchi characters – they love it!
Download My Tamagotchi Forever
---
Royal Blade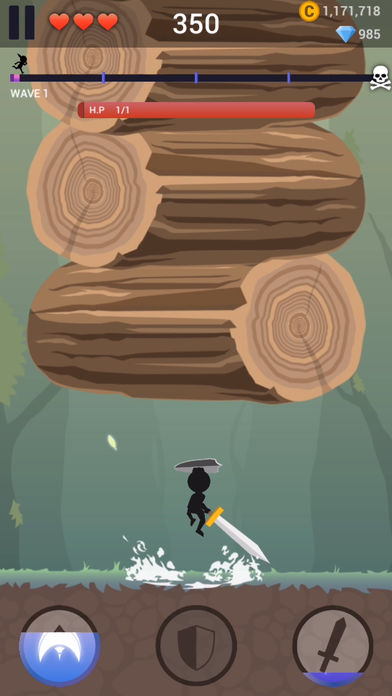 Everything's falling down!
▶▶ SMASH and SHIELD to SURVIVE.

How long can you last?

◆ Collect SUPER legendary SWORDS !
◆ Activate EPIC POWER SKILLS !!
◆ CUSTOMIZE your hero. 'Kawaii' or 'Hipster'. What's your style?
◆ STRANGE BOSSES are waiting for U.
◆ Explore the exotic world skins.
◆ BE A RANKER on the leaderboard.

111%'s long loved "LunarBlade" has come back with more fun.
It's a simple, but addictive arcade game.

Enjoy! Thanks!
---
Runventure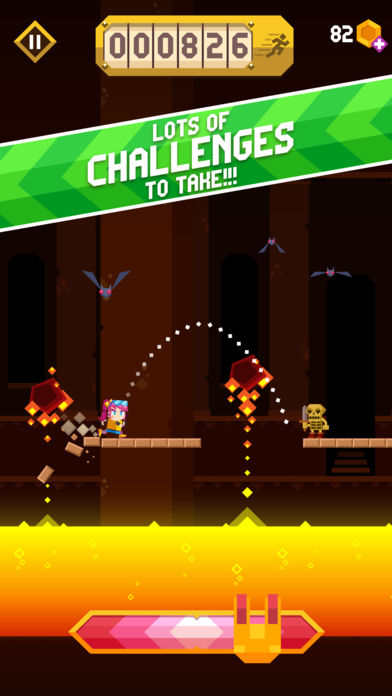 JUMP in to the action and EXPLORE mysterious lands in search of TREASURES. Avoid the DANGER, RUN through various locations. JUNGLES, TEMPLES, CASTLES and many other places loaded with deadly traps and hordes of enemies. Use your reflexes to jump over hot lava, or rope swing over piranha pools escape the deadly skeletons and hungry wolves.

Runventure is unique, beautifully designed mobile platformer. The first mobile platformer fully controlled with just one finger – thanks to completely new run-jumping-bar control!

Build the team of experienced exploreres, level them up, complete challenges and unlock precious treasures. Now it's time for adventure, it's time for Runventure!

Features
• Mobile platformer redesigned – fully controlled with just one finger
• Beautiful, clear art design by creators of Timberman
• Tons of characters to unlock and level up
• Great levels, obstacles and enemies to beat
• Fully supported on iPhone X