Pokemon Go might finally have some real competition this week as The Walking Dead: Our World shambles its way on to the App Store. As the name suggests, the game uses AR to unleash zombies into the real world, and you have to keep them at bay. If zombies aren't your thing though, we've also got a selection of collectible card games, puzzle games, RPGs, interactive fiction, and even a mobile version of the killer indie game Galak-Z.
Apocalypse Hunters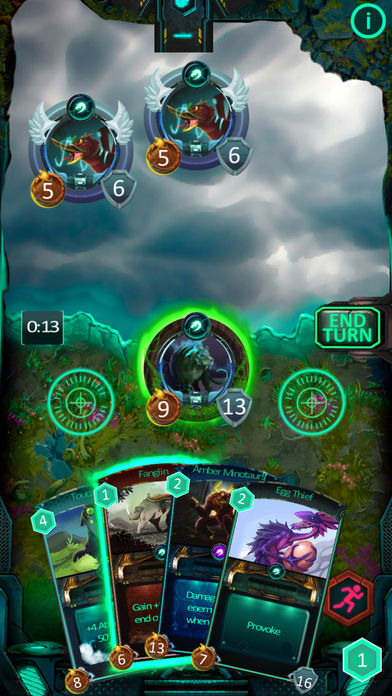 Apocalypse Hunters is an active location based, fast paced collection card game (CCG), that interacts with the real weather! Build your deck and protect your city against all the creatures! Unlock new content and try new decks, to improve your strategy.

In an apocalyptic world where mankind plays God, a secret laboratory making living organic weapons with living creatures has exploded. The mutant beasts escaped with a unique virus. You are a bounty hunter and need to save the world from this threat neutralizing and capturing those monsters. Doctor Yuri who escaped from the explosion, will help you in your GPS quest.

Go, Collect and upgrade cards featuring mutant beasts with attacks, defenses and special points you love. As a hunter you will have to explore the map, walk with GPS in augmented reality, chase and capture beasts with an active vaccine to stop the invasion.
Lead your tcg beasts to victory and save the world!

FEATURES
● Walk in augmented reality, find real locations, collect, chase and capture common, rare and legendary beasts around you (CCG)
● Earn Chems and Hunter Coins to unlock surprise box and go for new special cards
● Take advantage of your active location on the map or even the weather to chase cards and explore the city!
● Accomplish AR side missions to win chems.
● Explore the map and walk the city with GPS to collect more Hunter Coins and go for new ccg monsters
● Build and level up your card collection with new beasts
● Construct your ultimate Battle Deck to defeat your tcg opponents
● Build augmented reality AR camps in the real world and craft your own game currencies

WHAT'S NEXT IN THE GAME?
Soon, new features are coming as AR farming, tcg, guilds, avatars.
---
Ashi: Lake of Light
Ashi: Lake of Light is a tranquil puzzle game about a firefly's meandering path through a candlelit world. Light and extinguish candles to guide the firefly's path, and while it may seem easy at first, a few simple rules entwine to create complex puzzles. Through patient observation and experimentation players can discover the true path.

Features:
– Enjoy 80+ tranquil levels that gradually increase in difficulty
– Solve minimalist puzzles with simple and intuitive one-touch controls
– Unintrusive interface lets you experiment and play at your own pace
– Relaxing audio and soothing visuals help you into a chilled mental state

Guide a solitary firefly through the night and forward to the sunrise!
---
Boxing Star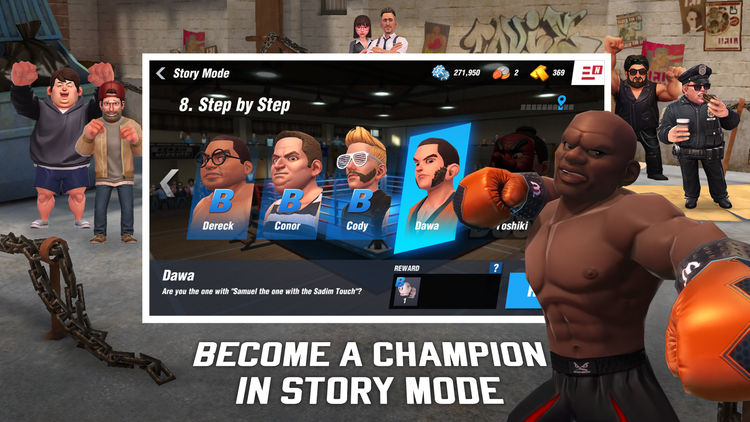 Go for the K.O.!
Make Your Opponent See Stars!

Hey Kid, you think you have what it takes to reach the top and become the next great Boxing Star? Enter the world of Boxing, and seize it all! Rise from lowly street fights all the way up to become the World Champion! Arm yourself with custom gloves, hone your skills and Knock'em Out with a Mega Punch! Champions are made in the ring!

Features
▶ Dip, duck, dodge, and weave to avoid your opponent's attacks and strike back with a perfect counter!
▶Train hard as your fighter progresses from the mean streets to the World Championships in Story Mode!
▶Meet and befriend all the wacky and wild characters of the boxing world!
▶Collect powerful custom gloves and combine them with powerful skills and gear to define your own fighting style!
▶Fight against other players in League mode to prove you're the best there ever was!
▶Use your winnings to pimp out your crib, drive a slick whip, and gather an entourage that will make your friends jealous, while also giving you sweet bonuses!
---
Cthulhu Chronicles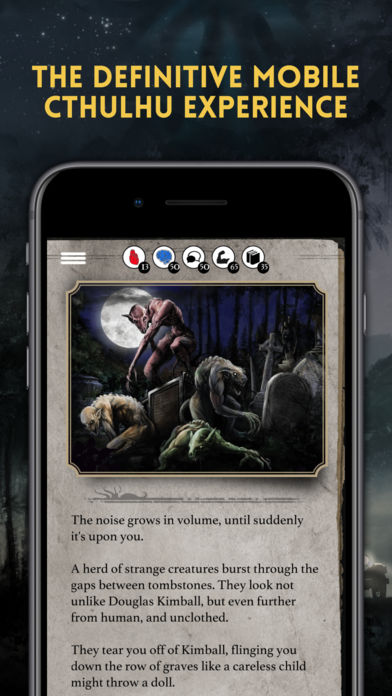 Can you navigate your way through Arkham City and survive with your sanity intact?

How will you fare against eldritch magic, insidious plots and the Elder Gods themselves?

Cthulhu Chronicles brings the terror and thrill of Chaosium's award-winning role-playing game Call of Cthulhu to life on your mobile device. It emulates the tabletop experience, giving you choices to make, enemies to fight and mysteries to uncover. Mystery, intrigue, horror, and madness await your investigator, who can gain insights and lose sanity as they chart their way through Arkham City's various interactive stories. Each story presents its own challenges and also plays a part of a larger campaign, which unfolds around you as you play. It is a great way to introduce yourself to the thrill of Call of Cthulhu, or, if you are already a player, to dive into a game and get a touch of Mythos on your own!

Features:
– Immersive Lovecraftian Horror interactive fiction stories set in 1920s New England.
– Several investigators to play, each with their own strengths and weaknesses, storylines and unique choices.
– Choices that matter: each story has multiple endings and numerous clues to uncover, unlocking new storylines and outcomes.
– The official Call of Cthulhu Interactive Fiction game developed in partnership with Chaosium Inc.
– Evocative ambient soundtrack by official Call of Cthulhu contributors Chad Fifer, Cryo Chamber, Graham Plowman and others.

You can play the stories 3 times per day for free. Additionally, you can buy tickets to purchase stories to play them as much as you want.
---
GALAK-Z: Variant Mobile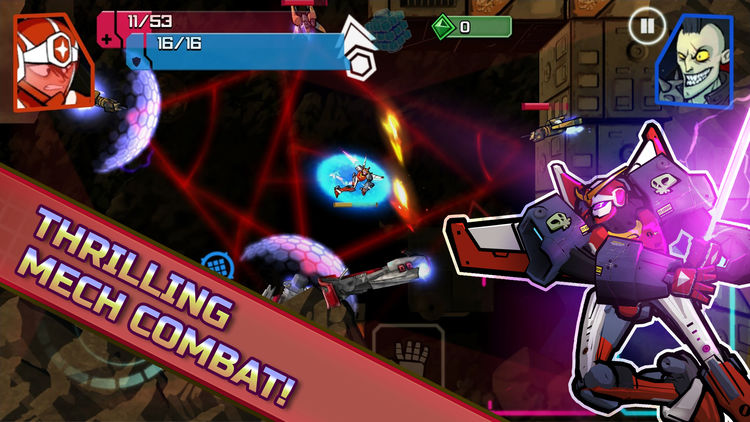 GALAK-Z: Variant Mobile is a brand new, one-of-a-kind, space-shooting action-RPG made exclusively for mobile devices.

Experience stunning space combat from the cockpit of a sleek spaceship or a giant Mech wielding a radical laser sword! Battle space pirates, squish giant bugs, challenge Dark Bot bosses, and crush the evil Baron's army of nasty Imperial troops through more than a hundred endlessly replayable missions in a full-scale story campaign. Fight against player-created squads in the Bot Battle League and earn Trophies to reap better rewards. Collect upgrades, salvage, relics, and Bots to make your spaceship and Mech even stronger, and fight to become the highest ranked pilot in the galaxy!

● Shoot! Blast enemies away with your spaceship's rapid-fire laser cannon.
● Slice! Carve up foes with your Mech's radical laser sword.
● Upgrade! Enhance your craft with new weapons, armor, and helpful Bot buddies.
● Collect! Create squads of friendly Bots to battle against other players and earn special rewards.
Download GALAK-Z: Variant Mobile
---
Idle Apocalypse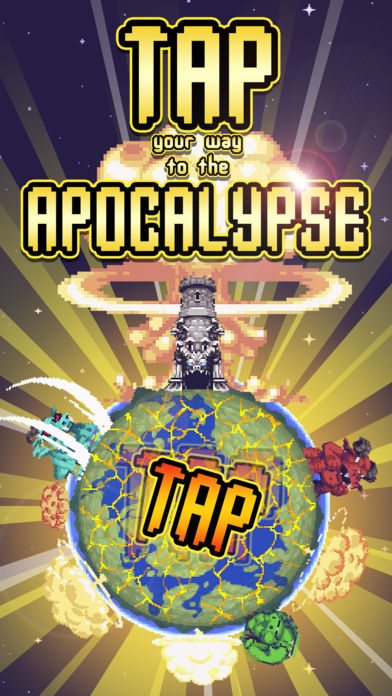 Ever wanted to run a cult? Summon legendary demon gods? Control hordes of unwashed monsters? Craft a tower so tall it defies all laws of physics? Or… destroy the world?

No? Well, why not give it a try anyway?

Idle Apocalypse is the best cult, clicker apocalypse simulator of 2018! Craft your tower and build it high into the sky and deep underground. Tap to create hordes of goblins, demons and beasts to do your bidding. Cast spells on any brave heroes foolish enough to get in your way. Summon the legendary Idols – a feared group of gods – and bring about the End Times in this novel idle tapper game.

Idle Apocalypse is a game about resource management, strategy and evil!

– Features –

Craft Your Tower
– Collect materials to unlock over 40 new rooms!
– Unlock research stations to discover technologies.
– Tap generators to accelerate progress!
– Build mines, juicers, kitchens and factories.

Create Monsters
– Craft over 20 unique monsters to do your bidding.
– Evolve, upgrade and improve them.
– Collect goblins, beasts and demons.

Incremental Action
– Play as much or as little as you like!
– Your monsters keep fighting even while you're offline!
– Resource management gameplay. Watch as your tower evolves with just a few taps!

Endless Idle Game
– Summon Idols to bring about the Apocalypse!
– Prestige to unlock valuable chants and grow your tower higher.
– Evolve and craft your tower on multiple play-throughs, unlocking new mechanics!

Lovers of simulation games and incremental clickers won't be able to put down this idle monster breeding RPG. And if you do you'll pick up again a few hours later, because it's an idle game and there's loot to collect!
---
Onmyoji Arena
【Game Introduction】
Onmyoji Arena is part the hit Onmyoji series from NetEase. It builds on the rich character base from the original work to create a new MOBA experience. The game retains the elegant Japanese aesthetics and original voice talents to faithfully recreate Kyoto in the Heian era. With innovative map designs, a Fog of War mode, and an even larger set of Shikigami skills, players are in for more fun and greater challenges as they battle to reign supreme. The paid amulet system is now replaced by a free Onmyodo system. This levels the playing field. Players from all over the world are connected, and the all-new 3v3v3 Battle Royale will provide players with a fun and novel MOBA experience.

【Game Features】
— Beautiful Shikigami with original voice cast to replicate the Heian world with perfection.
Onmyoji Arena retains the elegant Japanese aesthetics from Onmyoji as well as its stellar Japanese voice cast to give players a more authentic gaming experience. Gorgeous 3D models. Awesome Shikigami ultimates. What are you waiting for? Summon your favorite Shikigami into battle now!

— A fair game with no amulets required. Prove your strategic prowess on the battlefield now!
Onmyoji Arena does away with the amulet system, and all players can now create their own combinations of Onmyoji's abilities (Onmyodo) for free. Based on their strategy, players can freely mix and match the abilities in Onmyoji, adding another variable to the game. Moreover, there is no paid system that affects combat stats. Now all is truly fair in battle and lore!

— Balance of power. Tons of skills. Battle to your heart's content!
Onmyoji Arena carefully evens out the distribution of power in the game, so that each Shikigami is equally strong yet possesses unique charm. Now there's a useful role for everyone. Shikigami have 4 abilities and 2 general spells, allowing for more combinations of abilities and tactics. Unique ability sets bring about greater possibilities. Innovative map designs and the Fog of War system make strategy even more critical, so that players can fully experience this new mobile MOBA. At the same time, the game is revolutionary in that it connects top players from all over the world to test their might.

— Innovative Battle Royale for a three-party showdown
The first ever 3v3v3 battle mode, Battle Royale, incorporates new features like multi-team battles, competition for resources, and fast-paced combat. Players are divided into 3 teams of 3 for an exciting new multi-team experience! In the Battle Royale mode, players will spawn from three locations on the map with the combat zone located in the center. The first team to seal 30 Shikigami shall reign supreme!
---
STAR OCEAN: ANAMNESIS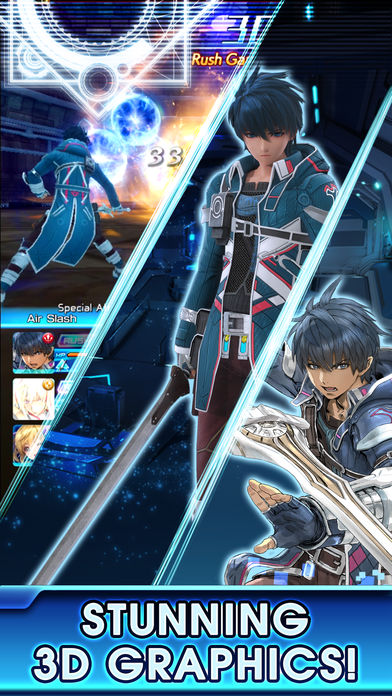 STAR OCEAN: ANAMNESIS is an epic action-RPG that puts you in the captain's chair as you lead a team of heroes across the galaxy. Immerse yourself in a rich sci-fi fantasy universe and experience fast-paced combat rendered with gorgeous 3D graphics!

———————————————-
GAME INFO
———————————————-

REAL-TIME 3D COMBAT

Take command of a squad of four heroes in real-time battles! Dodge enemies, time your attacks, and manage your abilities to decimate the enemy!

GORGEOUS 3D GRAPHICS

Beautifully rendered character models and awe-inspiring special attacks bring next-gen graphics to the palm of your hand!

BUILD YOUR OWN SQUADS

Choose from attackers, sharpshooters, defenders, invokers, and healers to form specialized parties. With dozens of characters, each with their own passive and active abilities, the possibilities are endless!

THRILLING MULTIPLAYER BATTLES

With a universe full of hostiles you're going to need some backup! Jump into multiplayer co-op battles and work with your teammates to take down the toughest foes the galaxy has to offer!

———————————————-
STORY
———————————————-

You are the captain of the Pangalactic Federation starship GFSS-3214F. A surprise attack and a malfunctioning hyperspace drive sends you hurtling to the outer reaches of space. However, with the help of a mysterious woman and her ability to summon heroes from across time and space, you just might be able to fight your way back home!
Download STAR OCEAN: ANAMNESIS
---
Trade Island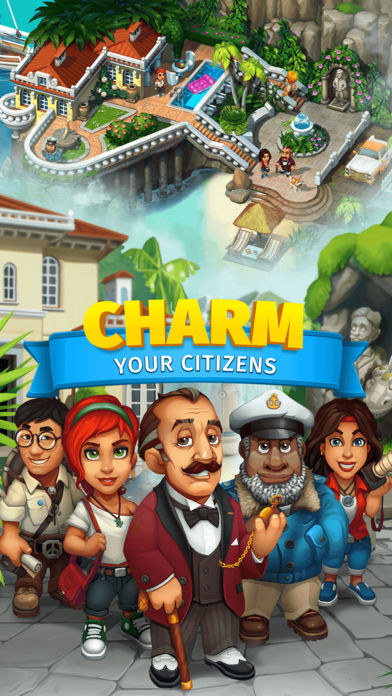 Become a tycoon on a sunny island, by building a beautiful and lively city, producing goods, and making profitable deals! Trade Island features stunning tropical landscapes, exciting quests, and charming characters that the whole family will love. Start your adventure in the shade of elegant palm trees, and build the city of your dreams!

• A living game world! The residents of the city have their own independent lives; they like to socialize, work, and have fun. Your island never sleeps!
• A realistic market economy! Pave your way to success by producing goods and striking the best deals. Trading with your citizens never gets old!
• Charming characters! Make friends with the cute local residents. Grant them wishes, and take part in their amazing life-stories!
• Unbelievable adventures! The island is full of mysteries that only you can solve. Search for pirate treasure, investigate strange anomalies, or examine the artifacts of long-lost civilizations!
• Cars! Make the streets of the city livelier with transportation. Organize the traffic in the city, and assemble a unique collection of vintage automobiles!
• Cozy Caribbean landscapes! Find yourself on an island with immaculate beaches, elegant palm trees, and gentle surf.

Create the island of your dreams!
Start building and get rich!
---
The Walking Dead: Our World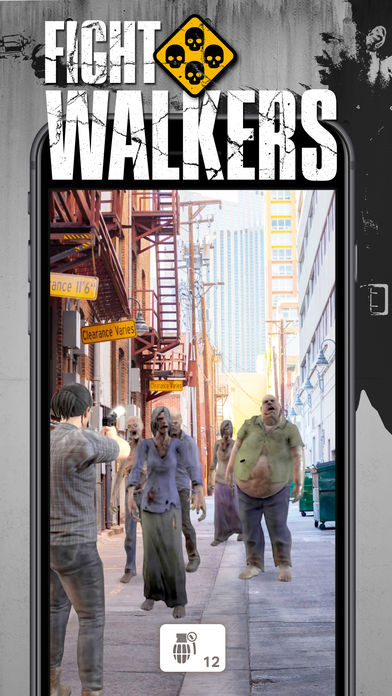 The Walking Dead: Our World is a first-of-a-kind location based augmented reality mobile game that immerses you into the zombie apocalypse. Defend your surroundings by fighting walkers on the streets, in the park, on your sofa – wherever you are and whenever you feel like it. Join forces with Rick, Daryl, Michonne and all your favorite characters from AMC's The Walking Dead.

● FIGHT walkers in real-world AR environments based on your location
● EXPLORE the world around you, find walkers, clear your surroundings and leave your mark on the map for other players to find
● COLLECT legendary characters, weapons and items from AMC's The Walking Dead
● COOPERATE in weekly challenges with other players in groups for bigger rewards
● UNITE with other players, save survivors, build shelters and reclaim your city from the walker threat
● SHARE your best apocalyptic moments for other players and for the whole world to enjoy