If you purchase an independently reviewed product or service through a link on our website, we may receive an affiliate commission. Learn more.
After a two week hiatus, we've returned to tell you all about the best games that hit the App Store this week. It's an odd collection this week, but there are a few titles you have might heard of, including the sequel to Shaq Fu and a Rabbids game that doubles as a commercial for Arby's, which is somehow not surprising to me.
DueLito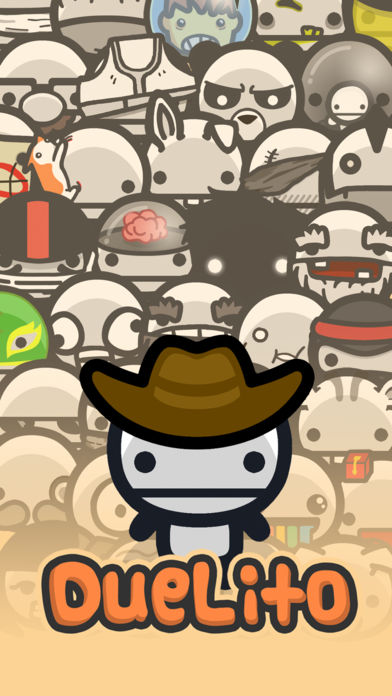 DUELITO – Endless Arcade TapFight Duel

Prepare to tap it! An intense arcade tapfight designed to test your skills and reflexes to the max. Fight your way through the leaderboard and become a DUELITO master!

Unlock a lot of awesome TAPBUDDIES, featuring Papito the grumpy, Shombi the zombie, Peekeeper (no comments) and many more!

Grab coins and try your luck on the SPIN2WIN. Find your perfect TAPBUDDY and break through to the top of the leaderboard!

Keep ahead of your friends and check your ranks on the global leaderboard, or challenge them head-to-head in a local multiplayer game.

Features

Tap your way through the exciting endless arcade mode

Earn coins to play the SPIN2WIN, try your luck to claim new TAPBUDDIES

Compete for the best high score and make your mark on the leaderboards

Over 40 TAPBUDDIES, each with their own colours and feelings

Build up your skills then challenge your friends to a head-to-head match on a single iPhone or iPad

Integrated Game Center scoreboards

Compatibility

DUELITO is a universal game app, compatible with most iPhone and iPad models.
For best performance we recommend iPhone 5 or later.
---
Kung Fu Z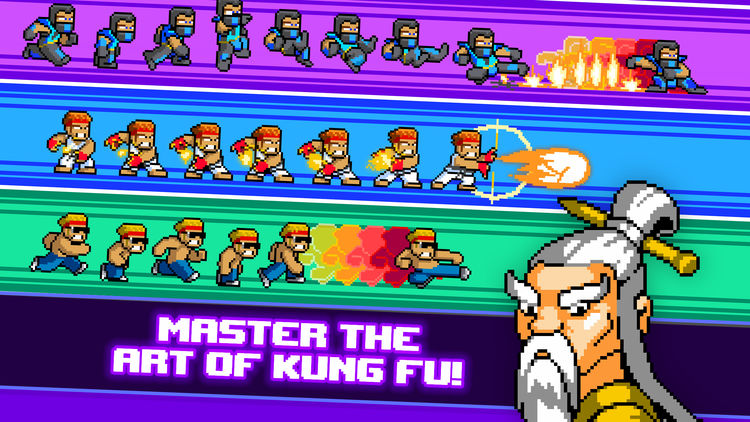 Save the earth from a zombie apocalypse in Tiny Titan's new beat-em-up action extravaganza, Kung Fu Z! Meet Zak, martial arts enthusiast and unlikely hero, who finds his morning meditation interrupted by the walking dead. Now, armed with only his fists, his feet and his wits, he's got to save the city from the evil plans of the nefarious Dr. Z!

Features:
– Classic arcade action and crazy combat with an idle twist!
– Retro-perfect music and graphics!
– Upgrade and customize your hero with tons of gear!
– Battle epic bosses!

Can you brawl your way through waves of enemies and deliver NYZ from a creepy, undead fate? Become a kung fu master in Kung Fu Z!
---
Marble Legends: 3D Arcade Game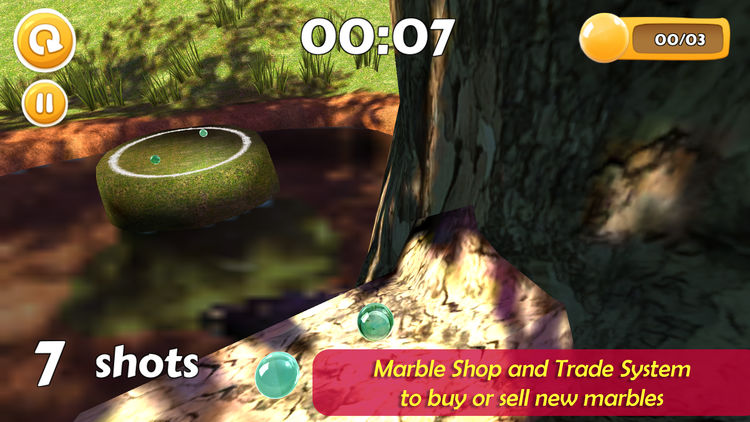 Experience marbles in an entirely new way in this exciting physics based simulation game with stunning graphics, lot of action and challenges to play and enjoy anytime, anywhere! Explore 130+ levels and challenges in single player mode to win Marblecoins and Marbliums and to unlock tons of new marbles! Collect, build and trade extraordinary marbles, and defy your friends to win their own marbles in Multiplayer arenas!

• +130 Levels in 3D to discover with various challenges
• +200 Marbles designs to collect: Common, Champion, Platinum or Legendary
• Single player and Multiplayer Mode (Async) in various arenas to play against your friends and win their Marbles!
• Special events to collect new marbles
• Factory: Build your own marbles
• Marble Shop and Trade System to buy or sell new marbles
• Leveling marbles by XP, quality and aging!
• Use Marblecoins and the extremely difficult to find Marbliums to unlock new marbles and new levels
• Master all the Legendary Achievements
• Become world's top ten marble player!

Note: Marble Legends 3D Arcade is completely free to play, but some game items can also be purchased for real money. If you don't want to use this feature, please disable In-App Purchases in your device's settings.
Download Marble Legends: 3D Arcade Game
---
Meat Grinder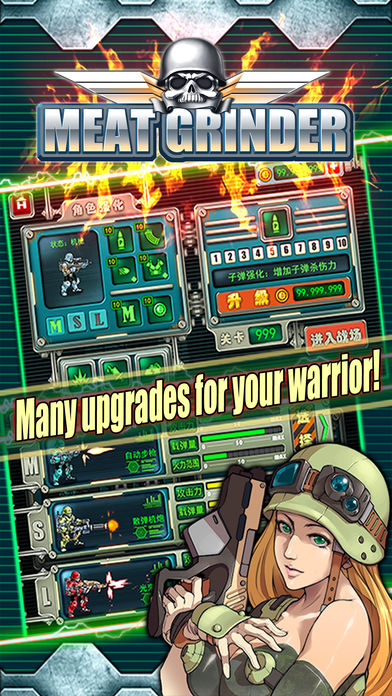 Defend your bridgehead at all cost!

* Hectic gameplay and awesome boss fights!
* Rain bullets on the enemies.
* Lots of upgrades for your character.
* Unlock powerful soldiers as you progress through the game.
---
Pixario: Speed Coloring Game
Pixario is a simple and fascinating coloring app. Together with the best pixel artists, we've prepared a lot of unique cute images. Our game has two different but highly addictive modes.

Try the existing Speed Coloring Battles, if you want to feel adrenaline and have an emotional catharsis. Invite your friends, choose opponents from all over the world or fight our bot, earn points and try to compete with other players for the first place in the Leaderboard!

If you need to relax and relieve stress, welcome to Chillout Mode. Both children and adults can enjoy these drawing pages. Coloring for adults distracts from extraneous thoughts, soothes and awakens creativity. Drawing with pixels for kids is not just entertainment, it also trains motor skills and attentiveness.

Benefits:
• 3 options of Speed Coloring Mode:
+ battle with a friend
+ compete with random online player
+ fight a bot
• Leaderboard – follow your position
• Profile with your stats
• Clear intuitive interface
• Import your photos and color them by numbers
• Several levels of difficulty (from beginner to expert)
• Ability to share your pixel masterpieces on social media platforms
• Reducing stress for adults
• Development for children
Download Pixario: Speed Coloring Game
---
Rabbids Arby's Rush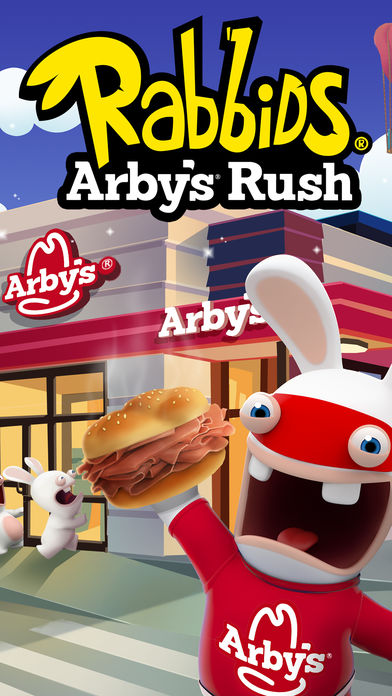 Get silly like never before in the wackiest runner game, RABBIDS ARBY'S RUSH !

Run at full speed with the Rabbids on their latest insane plan to reach the moon!

How will the Rabbids fulfill their borderline-insane idea this time?
Collect cans that will provide the gas to power their moon-bound balloon. It's an insane idea, but it might just work! Run, ride, glide and fly with dozens of crazy vehicles, get awesome suits, and be the first among your friends to make it to the moon!

Suit up your Rabbids and dash through a variety of places as you guide them to reach the moon.

From the creators of the RABBIDS franchise comes the funniest runner yet.

RUN, JUMP, RIDE, or even GLIDE – Use the most hilarious vehicles imaginable as you dodge various obstacles and collect cans
WACKY & HILAROUS MISSIONS – Discover hundreds random and funny missions, such as smashing your Rabbids against walls or getting blown right out of the sky
UNLOCK & UPGRADE crazy home-made vehicles held together by sheer craziness, like a cart propelled by magnets or a giant glider made out of pink pants!
DRESS TO IMPRESS – Suit up your Rabbids and make them stand out! Race as Luchador, Ninja, or even Jester and many more suits available. Each suits will provide you powers and extraordinary abilities.

Join the craziest race and unleash the Rabbids' craziness!
---
Shaq Fu: A Legend Reborn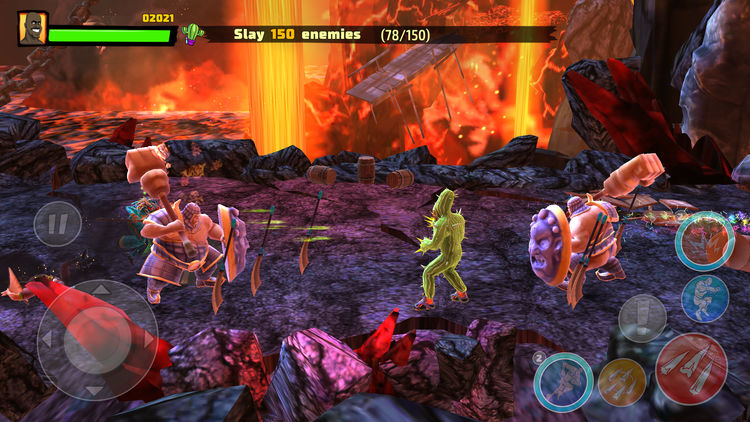 The world lies on the brink of disaster. National treasures of celebrity culture reveal their true faces — demons, sent to destroy our world. As humanity is enslaved, only one man can save us: Shaq Fei Hung. A poor Chinese orphan, trained by a martial arts master, must face his destiny and unleash the power of the sacred Gold Bond. Our hero must leave the safety of his small village home in rural China and travel to the most sordid and perilous corners of the West to fight evil on its home turf.

● Battle demonic forces as basketball legend Shaquille O'Neal
● Classic side-scrolling, beat 'em up action at its best
● Exclusive new rap track from the Big Diesel himself
● Topple the evil hordes with earth shattering power moves
● Transform into a diesel-powered mech suit and take out enemies like a rumbling, exhaust spewing, mechanical BOSS!
● Mutate into a giant cactus and destroy your enemies with flying needles
● Boss battles that will make your eyes water
Download Shaq Fu: A Legend Reborn
---
Spark AI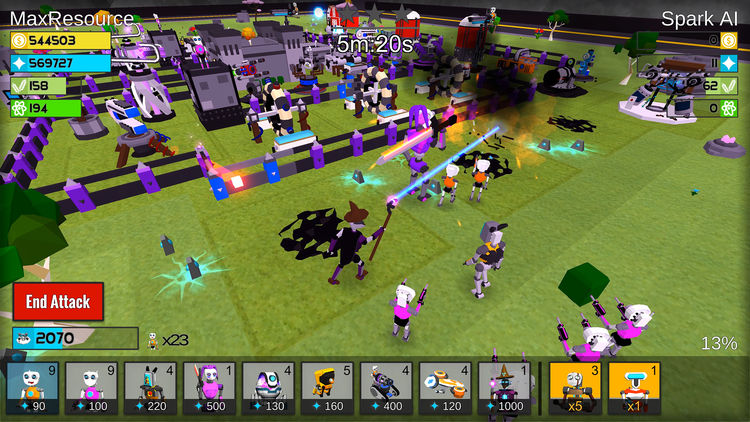 Join us for world domination! Build your fortress, defend it, farm, attack, explore the dark mines.

• Build and defend your fortress with OP defenses, traps, and walls
• More building freedom than you would expect from our AI overlords
• Control robots in FPS mode to explore your base and sandbox style mines
• Craft weapons, fight rogue AI, collect resources to upgrade better defenses
• Collect resources (Spark, Gold, Lithium, Organics, Gems)
• Farm crops, cows, sheep, chickens
• Fulfill shipment requests with farmed items
• Gather a clan of allies and share troops
• Attack opponents to loot resources
• Unlock unique AI troops and powerups to destroy enemy bases

We will be updating Spark AI frequently with community involvement. Want to join your friends in the mines? We're working on it! We'll be adding infinite mine terrain, more block types, more defenses, troops, buildings, farming, etc. We want to hear what you love about Spark AI and what you want more of!

Spark AI is free to download and play. Players must be 13 years or older to play Spark AI per our Terms of Service and Privacy Policy. We do offer items that can be purchased for real money, mainly because we would like to feed our families. If you do not want to be able to make purchases with real money, you can disable in-app purchases in your device's settings.