If you purchase an independently reviewed product or service through a link on our website, we may receive an affiliate commission. Learn more.
The highlight of the week is clearly the Harry Potter RPG that just arrived on the App Store, but unfortunately, the free-to-play elements completely ruin the flow of the game. Unless you plan on spending hundreds of dollars on this Harry Potter game, be ready to walk away from the game for hours at a time before you can accomplish simple tasks. I recommend LightSlinger Heroes instead, which is way more fun and actually lets you play.
Catch Idle – Idle RPG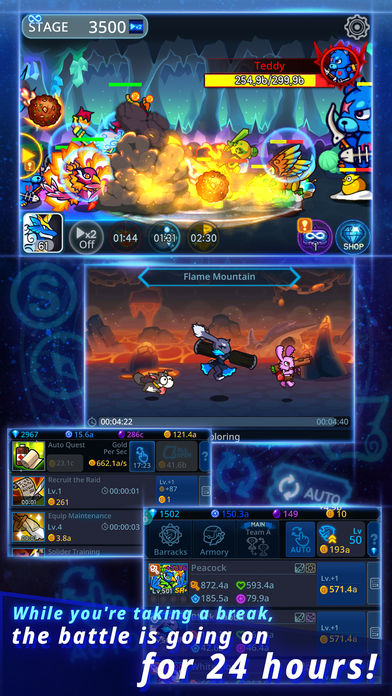 # Don't compare this game with same type of idle game!

– Infinite Growth / Item Making and Farming
– All units equipped with normal attacks and special skills
– Acquisition of archaeological experience through exploration
– User level rise and three base characteristics master
– Support both PVP & PVE (Arena & Elite Dungeon)
– Treasure collecting and various daily missions
– In-game chat support
– Support both portrait mode and landscape mode
– Prevent burn-in of precious cell phone / support mode
– 5 BGM / background music choices to prevent boredom
Download Catch Idle – Idle RPG
---
Dino War: Survival
Introducing a new era in MMO strategy gaming; the war of the future is upon us.

The beasts were supposed to mark a new stage of global evolution. But they were turned against us. Civilization as we knew it collapsed. Borders disappeared, governments dissolved and the walls went up. Now every woman, man and child must fight to survive. It is an age of war; Dino War.

Dr. Claw's beast-fusion tech has evolved a stronger breed of predator, the terrifying soldiers of the New Dawn. Fight back with jurassic giants such as Havoc, the armor-plated T-Rex, or the guerrilla gorilla, Knuckles. Raise your fist and be counted in humankind's last stand. Join Lieutenant Stryker and the Resistance in the fight for humanity now!

Features

Beasts – Mighty engineered beasts! Control your behemoths with SMART plugins salvaged from the wreckage of GeneSys Incorporated.

War – Crank up your stats, pump out your troops and watch your dinosaurs stomp their way to empire glory.

Alliances – Forge friendships in the Wilds, hatch plans and ally your forces to pulverize your enemies.

Trade – Achieve serious growth by producing materials and trading them with other Commanders.

Survival – Collect items and resources to fortify your Base and legacy. But watch out for your neighbors, they too will do whatever it takes to survive.

Global Threat – The New Dawn grows in power every day. Battle the mutant hunters and foil the sinister plot Dr. Claw is hatching.

Art – Groundbreaking 3D animation and artwork new to the mobile strategy genre.

Story – Immersive new game world of epic proportions, with vivid characters and subplots to explore.

Social – Chat with thousands of like-minded players across the world using the real-time translation tool.
---
Harry Potter: Hogwarts Mystery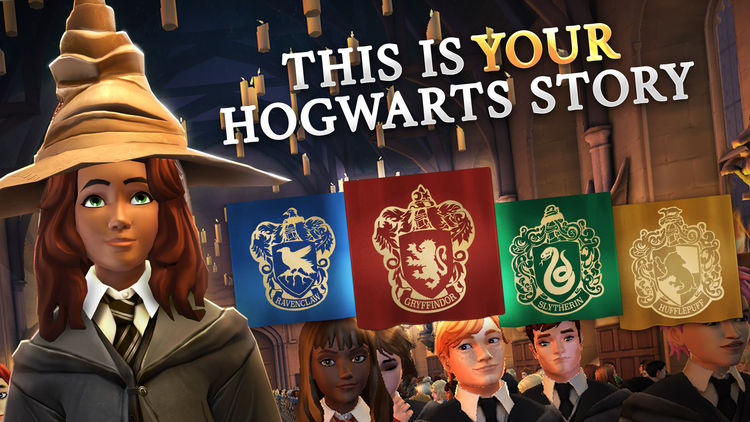 YOU have been chosen to attend Hogwarts School of Witchcraft and Wizardry! Embark on your own adventure in this all new RPG set in the wizarding world, years before Harry Potter received his Hogwarts letter. Explore never-before-seen rooms of Hogwarts Castle and investigate ancient mysteries. Learn powerful magic and knowledge from Professors Dumbledore, Snape, and more. Duel against your rivals and forge alliances with new friends to help you on your adventures. As part of WBIE's Portkey Games label, this groundbreaking mobile game puts you at the center of an all-new story in the wizarding world.
When your mettle is tested, what kind of witch or wizard will you be? A heroic Gryffindor? A cunning Slytherin? You decide! After all, this is your Hogwarts story.

Game Features:

Magic Spells, Potions & More
– Attend classes to learn and master magical skills like casting spells and brewing potions.
– Unlock new characters, spells, potions and locations as you advance through the years of Hogwarts.
– Customize your student avatar.

Mystery and Adventure

– Use your magical skills to investigate mysteries at Hogwarts.
– Discover the truth behind the Cursed Vaults and your brother's disappearance in an all new story.

Friendships that Matter

– Bond with your housemates to win the House Cup.
– Go on quests to help friends and fellow students…or frustrate rivals.
– Earn respect and build relationships by adventuring together.
Download Harry Potter: Hogwarts Mystery
---
Idle Factory Tycoon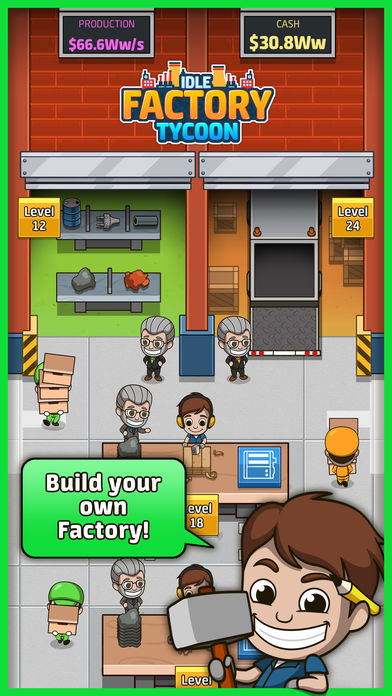 Download the game for free and build lots of workstations in your multiple factories that produce cool stuff to collect idle cash.
The different workstations help grow your factory business and you collect even more idle cash.
Be the operator of your factory business & automate your workflow by hiring managers, so your products will sell automatically.
Your factory workers continue to run, even when you are offline from the game!
Improve your machines & productions and your idle cash income increases!

Features:
• Manage your own factories and automate the workflow to get more idle cash
• Your workstations continue producing, even when you are offline from the game
• Invest your idle cash and boost your income
• Hire managers to motivate the workstations
• Use Super Cash to improve your products and sell them at a higher price
• Open the game every 4 hours to get free Super Cash
• Manage up to 20 different workstations in each factory (e.g. toaster, battery, car productions and airplanes)
• No internet connection needed
• In-App purchases available
---
LightSlinger Heroes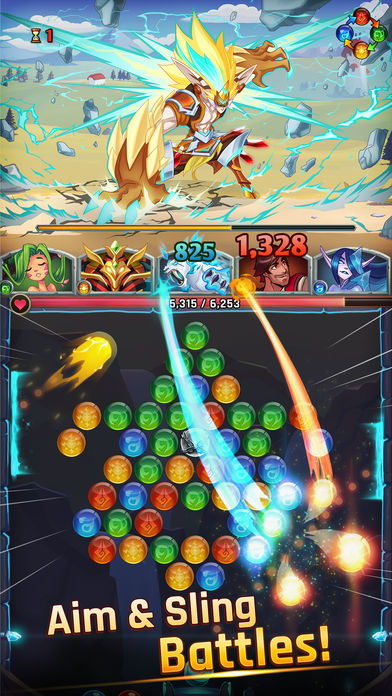 Unique Strategy RPG + Puzzle Shooter!
STRATEGIZE… AIM… FIRE!

Shoot and match orbs to attack or defend your realm, in this fast-paced twist on Puzzle RPGs. Assemble your ultimate team from dozens of unique heroes, each with tactical spells that turn the tide of battles! Test your skills and strategy as you battle past powerful bosses en route to the Dragon Kirin's foreboding sanctuary. Challenge your friends to become the Legendary LightSlinger!

KEY FEATURES:

* COLLECT HEROES *
Discover dozens of unique heroes – each with their own powerful skill. Level up their powers and build the most powerful team in the realm. Pick the perfect leader from the noble Sun Valkyrie Ilyana, her lost love, the Demon Knight Twisted Edge or even the Fortune Hunter Harrison Croft!

* FAST PUZZLE TACTICS *
Battles are fast and intuitive. Fusing bubble shooter and tactical RPG elements, every battle will be fresh and exciting! Combine your heroes' skills to crush your enemies, using the right blend of might and magic to gain victory. Keep your wits about you and be ready to fight.

* CLASSIC FANTASY RPG *
Collect and upgrade your heroes' equipment. Level up the right heroes to counter various bosses. Train your team to eventually defeat the Legendary Dragon Kirin. War has come to Lunaria, lead us to Victory with you and your heroes!

* EPIC BOSS BATTLES *
Pit your team against a range of fierce boss characters. Each has a different strength. Every one has a weakness. Find it. Exploit it. Show off your Light Slinger skills.

* REAL-TIME MULTIPLAYER RAIDS *
Challenge difficult raids and rally friends to help you defeat raid bosses. Steal other players' rewards in real-time!

* GUILDS & GUILD BOSSES *
Join friends in Guilds as they fight their way to become the top guild in the global leaderboard. Raid guild bosses together or share rewards by unlocking guild chests.

* CHALLENGE YOUR FRIENDS *
Hit the high scores and beat your friends. Addictive for friends and foes alike. Master each boss, beat other players' ranks to grab the top spot. Claim your bragging rights!

* DYNAMIC FUN *
Earn heroes in special events that rotate daily. Experienced players may enter special events, each with fun unique gameplay rules that changes each week!
---
Paladins Strike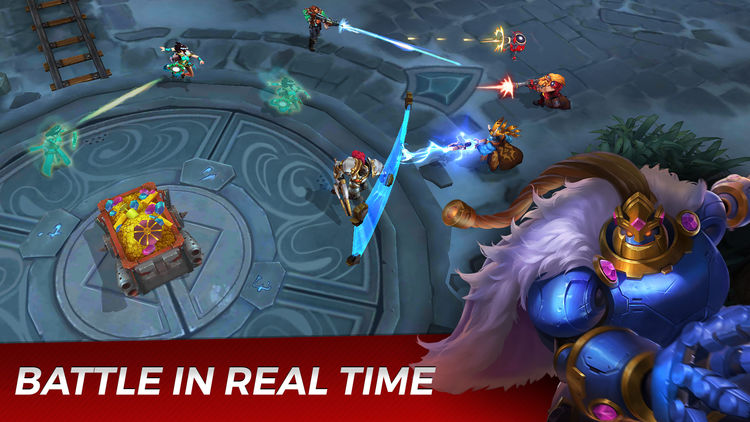 Take Paladins on the go with Paladins Strike! More than 20 Champions are in the palm of your hand in this hero shooter. Paladins Strike is built for mobile, featuring real-time 5v5 battles from a top-down view against players from around the world. Choose from multiple game modes and defeat your enemies through superior team tactics. Where will YOU strike?

THE HERO SHOOTER GOES MOBILE

Fans of Paladins: Champions of the Realm and new players alike will enjoy the MOBA-style gameplay and exciting fantasy world.

SELECT YOUR CHAMPION

Choose from more than 20 familiar Paladins characters, each with their own weapon and special abilities. Take control of the Realm with your favorite Champion!

GO TO WAR IN STYLE

Pirates, rock stars, and witch doctors: we have the look you crave! Show off your unique style with an assortment of skins available in the in-game store.

DISCOVER MULTIPLE MODES

No matter what you enjoy, there is a place for you in the Realm. Escort the payload in Siege, or call upon a powerful Juggernaut in Summons.

BATTLE FRIENDS IN REAL TIME

Bring your friends or meet someone new with real-time 5v5 multiplayer combat. Great teamwork is key to a successful Strike!

BECOME A PRO GAMER

Will you become a Champion of the Realm? Join other players on the front lines of mobile esports and compete on a global stage!
---
Sky Kingdoms – Castle Siege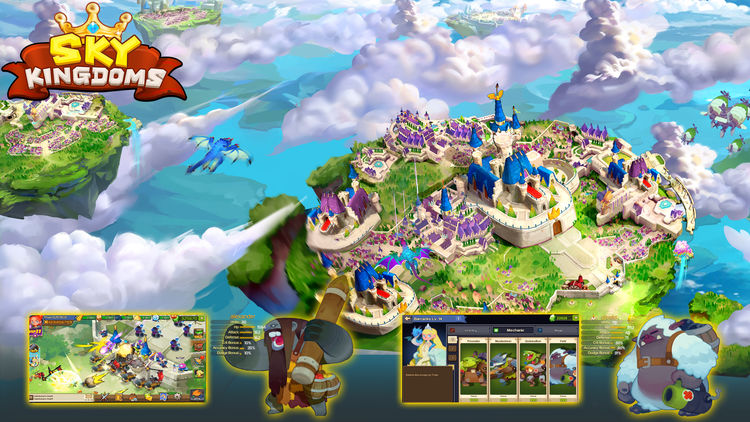 Dragons & Floating Castles
Seize your kingdom in the sky!
– The new fantasy strategy game Sky Kingdoms is now available!
– A new fantasy world filled with dragons, knights and floating castles are waiting for you to conquer!
– DOWNLOAD NOW and receive new player packs valued at $10. There's a limited supply, get them now!

Construct your unstoppable mobile castle that will project your dominance from the sky!

The Ode continent is in peril, fragmented, with the many lords fighting amongst themselves. As a lord of a floating kingdom in the maelstrom, it is up to you to reunite the continent and claim your heavenly throne!

Build a floating castle
– Construct your unique floating castle all your own.
– Command it to & conquer the whole entire continent.
– Control your clan and chase to force your enemies to flee until they are crushed

Train elite troops
– Play the game and liveLive your dream of having owning a pet dragon!
– Collect, train, arm, evolve brave Heroes from all over the fantastical world.
– All knights, mages, and machines are at your beck and call.

Real-time Global Battling
– Compete with players from all over the world to become the Imperator
– The Trading System allows you and other players to trade in the game.
– An accurate simultaneously translated chat allows you to communicate with players from all over the world.

Sky Kingdoms is a war simulation game.

Download this cool awesome game now and start your conquest in the sky.