If you purchase an independently reviewed product or service through a link on our website, we may receive an affiliate commission. Learn more.
If we can pry you away for a moment from daydreaming about the new iPhone 7 or iPhone 7 Plus you just preordered, we've got a nice little list for you today. There are nine paid iPhone and iPad apps to be found in Friday's post, and they're all on sale for free right now. That could change at any moment, of course, so grab them while you still can.
MUST READ: iPhone 7 preorders: We have entered a parallel universe
These are paid iPhone and iPad apps that have been made available for free for a limited time by their developers. There is no way to tell how long they will be free. These sales could end an hour from now or a week from now — obviously, the only thing we can guarantee is that they were free at the time this post was written. If you click on a link and see a price listed next to an app instead of the word "get," it is no longer free. The sale has ended. If you download the app, you will be charged.
Phone Doctor Plus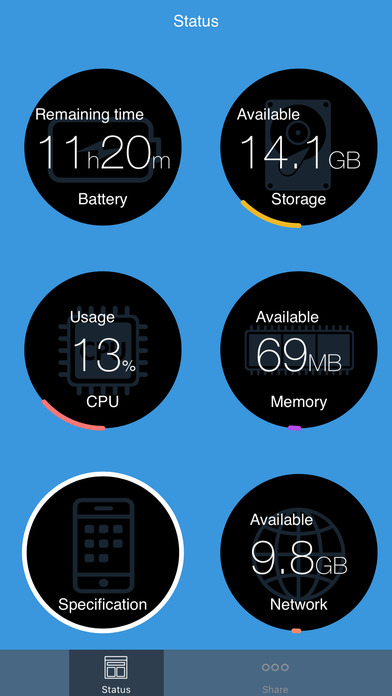 Normally $0.99.
"Phone Doctor Plus", a trusted App with more than 2 million users, will offer limited time free for 48 hours from 9/9 for users to test their new iPhones.

* Get all iPhone status at a glance
* Real system information and functions
* Record daily battery charge cycles
* Record and monitor network usage to avoid overuse
* Integrate [ hardware, battery, memory, and storage] information monitoring

Please make sure the network connection (3G/4G/Wi-Fi) is on before you open Phone Doctor Plus.
If there's any question, please remove Phone Doctor Plus and download again from App Store.
Cloud Hub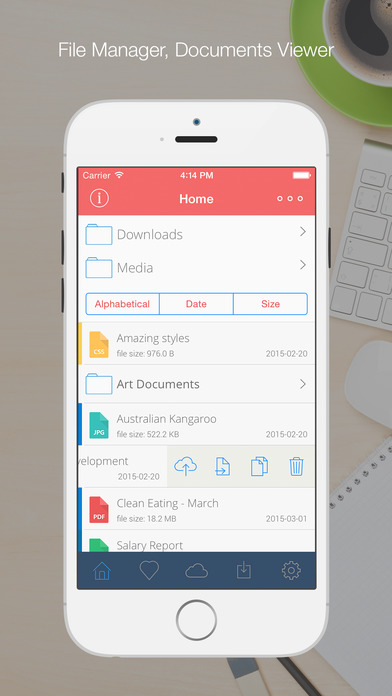 Normally $0.99.
Cloud Hub is a simple documents reader and manager for iOS platform.

It allows to download or upload files from clouds services like Box, Dropbox, OneDrive, Drive, iCloud. Built-in FTP client. Import media files from Photo Albums. Manage all local files stored in the app; change name, move, copy, delete, create directories, view the content of the most common file types like PDF, PNG, JPG, MP4, iWork, MS Office files. Share files using social media accounts like Facebook, Twitter etc.

• Cloud Hub reads files:
– PDF
– MS Office: Word, Excel, Powerpoint (doc, docx, xls, xlsx, ppt, pptx)
– iWork: Keynote, Pages, Numbers
– text (txt, rtf)
– images (jpg, png, gif, tiff)
– MP3, WAV
– MP4, H.264
– html, css

• Access Services (download/upload):
– Dropbox
– Box
– OneDrive
– Google Drive
– iCloud
– FTP

• Local file operations:
– Copy
– Move
– Delete
– Change name
– File details
– Send via e-mail
– Share using social media (Facebook, Twitter etc.)
– Upload to server (Dropbox, Box, OneDrive, Google Drive, FTP)
– View the content of the most common file types
– Image viewer
– Video player (MP4, H.264)
– Music player (MP3)

• Local directory operations:
– Create directory
– Delete directory
– List chosen directory
Riff Racer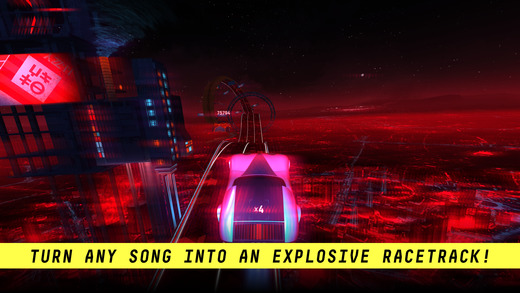 Normally $1.99.
TouchArcade 'Game Of The Week' – 3rd September

Race futuristic stunt race tracks automatically generated from purchased songs in your iTunes music library* or race songs from our APPLE MUSIC playlists!**

Riff Racer also comes with 25 FREE bundled tracks so you can jump straight into the action.

* Songs offlined from Apple Music contain DRM and cannot be used to generate a race, only songs bought from iTunes or imported can be converted yourself. To play Apple Music powered tracks, use one of our curated playlists in the Apple Music section. There's loads of songs across multiple genres. We're adding new playlists all the time and encourage users to send us requests on Twitter – @riffracer.

** For Apple Music playlist support, you must be an Apple Music subscriber, you can sign up for a trial in game.

Launch promotional price.

————————————————————————

"Utterly smashed my expectations… A complete stunt racing title, which looks as unfathomably awesome as it sounds" – TouchArcade

————————————————————————
GAMEPLAY:

A fresh twist on music-powered game creation. Action on track is synced to the audio, you literally have to race the music to stay in sync and score points.

Score big by pulling off jumps, drifts and rolls!

Be the first to 'create' a race-track from a song and have your name forever enshrined on the track's leaderboard.

Challenge other racers ghosts. Have you got what it takes to be number one on your favourite songs?

————————————————————————
REVIEWS:

"Gorgeous… Hugely enjoyable – 4.2/5" – Apple Magazine

"Riff Racer is a fantastic bit of fun. I'm pretty sure at one point I didn't blink for an hour, and the game was so engrossing I didn't even notice." IndieGames.com

"Riff Racer is an incredibly fun thrill ride… Has everything it needs to become among the greatest music games." 8/10 – Gaming Bits
AfterIt
Normally $0.99.
Simply focus where you want.Which provide a narrow depth of field and soft background blur that is so loved by photographers everywhere.

Easy operation

1.An alternative view mode highlights the regions that will remain in color with a red tint.

2.erase use one finger.

3.Apply 28 filter for your photo.

Simple Aperture Control
Adjust the aperture in FocusMe with a single gesture to instantly change the blur level of the out-of-focus area. This great tool turns simple-looking backgrounds into atmospheric backdrops.

You can review your images at any time during your make-over process.

Now you can save images in the Camera Roll in full size;
Thunderspace 5k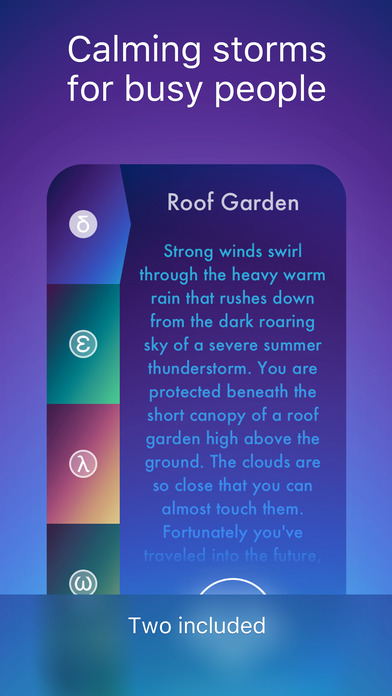 Normally $1.99.
Don't buy this app! During the day it won't let you focus on all the noise around you. And at night it will make you very sleepy.
******

We can't calm the storm. But the storm can calm us.

Join us, over 1,000,000 relaxed Ladies and Gentlemen who immerse ourselves in realistic thunderstorms any time we wish to relax, focus, sleep or meditate.

Join the Thunderspace revolution and experience the great benefits Thunderspace will bring to your busy life.

Thunderspace's spectacular 3D audio sound field reproduction technology delivers a realistic, high-quality open space sonic ambience over regular stereo headphones. How so? Think 3D glasses for 3D film. Left eye, right eye. Your brain combines these two images into a 3D image. The same principle works for sound: Left ear, right ear. Thunderspace audio is biomimetic: It reproduces the ambient sound field exactly the way you hear. As if you were there. With interaural time and level differences. The storm rumbles high above you, and the rain falls around you. Once you experience the transportive sonic ambience, you will never again want to go back to simple stereo.

Precisely synchronized lightning flashes, frequent updates with new premium quality thunderstorms, a carefully crafted user interface, and highest quality recordings from Emmy-award winning nature sound recordist Gordon Hempton separate Thunderspace from all other relaxation apps.

Thunderspace teleports your mind to a place far away from stress. Far away from the noise. So you can focus on your work, sleep better and relax.

Film* and audio demo on http://thunderspace.me

*Built a set in Hollywood to make it rain in an apartment.
≈ Revolutionary ≈
"I could hear it coming from hundreds of feet away." — Carmel Deamicis, PandoDaily

"Thunderspace takes relaxing to a whole new level." — Gannon Burgett, The Industry

"It really is impressive." — Dave Caolo, TUAW

"A lot of care and attention has gone into building this." — Paul Sawers, The Next Web

"It is absolutely like having your personal slice of heaven." — Christine Chan, AppAdvice

"Idiotically gimmicky or incredibly effective? If it's possible to be both at once, Thunderspace has done it." — John Pavlus, Fast Company
≈ Features ≈
+ Psychoacoustic 3D audio for regular stereo headphones.
+ Two fantastic thunderstorms included.
+ Additional storms available via In-App Purchase.
+ Frequent updates with new thunderstorms.
+ All storms available in a fair priced bundle.
+ Utilizes the flash to simulate lightning. Flashes the screen on iPad.
+ Energy efficient.
+ Global storm sync to an atomic clock. What you see and hear is what everyone else sees and hears.*
+ Relax with many people in one room. In sync.*
+ Beautiful audiovisual experience.
+ Universal app: Runs on iPhone, iPod touch, and iPad.
+ Restore your purchases to all your devices.
+ iOS 9 Ready.
Quick Notes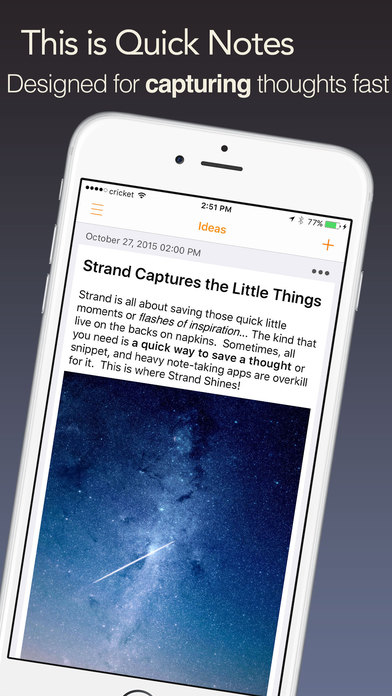 Normally $3.99.
Quick Notes is designed as a beautiful and simple way to take notes, keep a diary, and jot down things worth remembering. We made the app because we wanted a simple way to capture inspiration and ideas without all the bloat and complication offered by most note-taking apps. We've made things really simple with Quick Notes. That app is easy to use. That being said, Quick Notes is powerful!

Quick Notes has the following features:
• Fully updated and designed for iOS 9
• Cloud syncing between devices
• Rich Text Styling (via Markdown)
• Add Photos to your Notes
• Notes are organized and sorted by lists
You could use Quick Notes to capture things like:

• Notes for a school class
• Inspiration
• Memos
• Thoughts
• Quotes
• Important bits of information
• Daily activities
• Meeting minutes
• Favorite speeches
• Goals
• Outlines and Points to cover
• Talks
•Stuff about you
• Work meetings
•And Much More!
MyMusic Pro
Normally $0.99.
Main features:

+. Play all music and video on Youtube via Youtube API player.
+. Search video, playlist, channel.
+. Playlist managerment.
+. Manage youtube account and manager your accont
90s Camera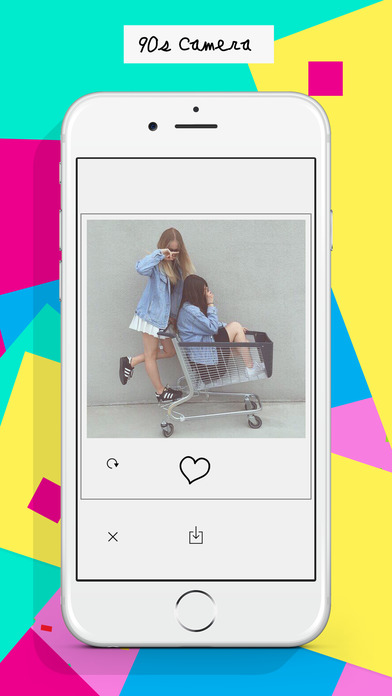 Normally $0.99.
90s camera is a vintage camera and photo draw app that takes your photos to another level with its old school effects and Polaroid frames. Take your iPhone into the past and get more followers in present with most unique vintage effects.
Make any subject look classy with the professionally designed retro effects and fine-tuned to perfection filters inspired by old-school analog photography.
90s camera app provides one-stop service with user friendly interface to get you amazing retro pictures with a few taps:

• Take a photo directly from the app or choose from the gallery
• Apply a high quality Polaroid effect
• Get creative with a draw tool
• Share pictures instantly to Instagram or Facebook
• Count the likes!
AD FREE! Yes, you can enjoy our app without seeing any advertisement.
Check out what our users say about the 90s camera app:

"The effects are great and it's fast at shooting photos too."
"Very unique app."
"Finally an app that doesn't have filters that all look the same and those stupid ads."
"Huge thanks for the built in camera, it's beyond amazing level."
So what are you waiting for ? Download 90s camera and enjoy the best Polaroid vintage camera effects app ever!
Sweet Greets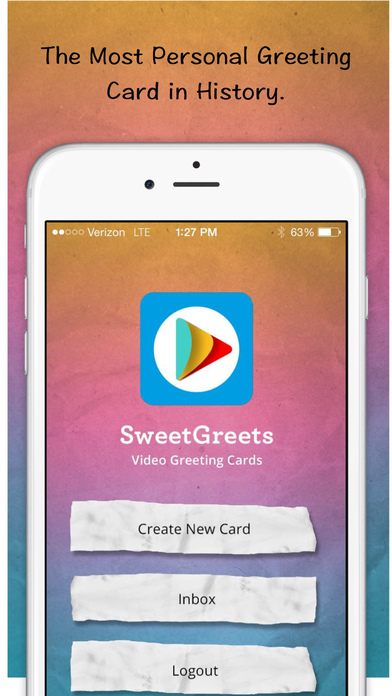 Normally $0.99.
Sweet Greets is a free video greeting card creator that gives you the ability to send beautiful custom video greeting cards instantly from your phone. Customize the look, feel and message of your card in seconds to send a personalized ecard for birthdays, Christmas, holidays, anniversaries or just as a thank you.

—
"I love Sweet Greets because it's simple to use. Within seconds, I have sent custom video greeting cards to my friends and family and also other business professionals I network with."
Jason – Portland, OR
—

FEATURES:
– Customize the fonts, colors and images on your greeting ecard
– Record a custom video greeting ecard
– Send greeting ecards instantly through text or email…anytime you want!
– Send as many ecards as you want free of charge

WHO USES SWEET GREETS:
Many of our users are just normal people who want to make friends and loved ones feel special on their big day, but many of our users use Sweet Greets at work as well to send custom video greeting ecards to their coworkers, bosses, employees and clients:
– Realtors
– Bankers
– Car dealerships
– Entrepreneurs
– Anyone who networks a lot for work
– Outside and insides salespeople

Everyone loves getting cards, especially for their birthday, Christmas, Thanksgiving or just as a thank you. The challenge is that going to the store to buy a card can be time consuming and there's very little of your personality that you can insert into the card besides a short message.

Download Sweet Greets today to start sending out beautiful custom video greeting cards.
---
Our deals and product reviews are picked by BGR's expert editors and team.

Follow @BGRDeals on Twitter to keep up with the latest and greatest deals we find around the web. Prices subject to change without notice and any coupons mentioned above may be available in limited supply.