If you purchase an independently reviewed product or service through a link on our website, we may receive an affiliate commission. Learn more.
With just one day to go before Apple takes the wraps off its hot new iPhone 7 and iPhone 7 Plus, you had better start filling up those iPhones now with all the paid iOS apps on sale for free that you can. Remember, you'll have twice the storage capacity when you upgrade — either 32GB, 128GB or 256GB — and that's a whole lot of space to fill…
MUST READ: All the reasons Apple's 'boring' new iPhone 7 will be its most exciting iPhone ever
These are paid iPhone and iPad apps that have been made available for free for a limited time by their developers. There is no way to tell how long they will be free. These sales could end an hour from now or a week from now — obviously, the only thing we can guarantee is that they were free at the time this post was written. If you click on a link and see a price listed next to an app instead of the word "get," it is no longer free. The sale has ended. If you download the app, you will be charged.
Future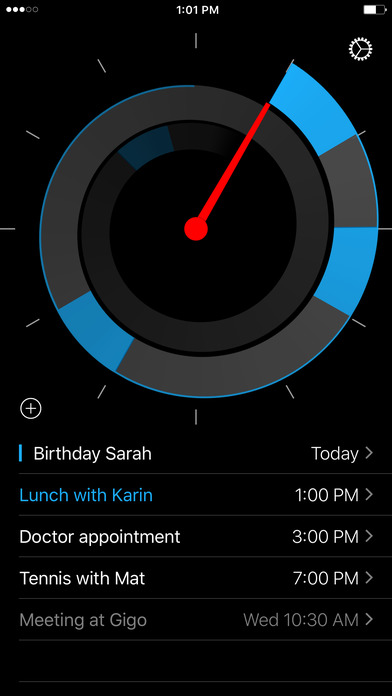 Normally $1.99.
Future brings a completely new way to interact with your calendar. It functions like a clock with your events set around the hour dial. The 24-hour spiral timeline gives you an overview of your entire day. Rotating the hour hand takes you further in time, showing events in days to come.

Future is easy – helps you take it just one day at a time.

Future is clear – all the information you need is available at a glance.

Future is intuitive – features a familiar, easy to read 12-hour clock display.

Future is zen – yes, zen – the present is always in the centre.

Take the Future into your hands!

__________
IDEAL FOR

Managing busy schedules, keeping track of timetables, navigating conferences and festivals and much, much more.

______________
KEY FEATURES

• Innovative 24-hour spiral timeline
• Full system calendar integration – multiple calendars, color coded events, all day events, etc.
• Notification Center widget
• Apple Watch app & Glance
• Customizable calendar visibility
• Light and dark theme
Workflow Helper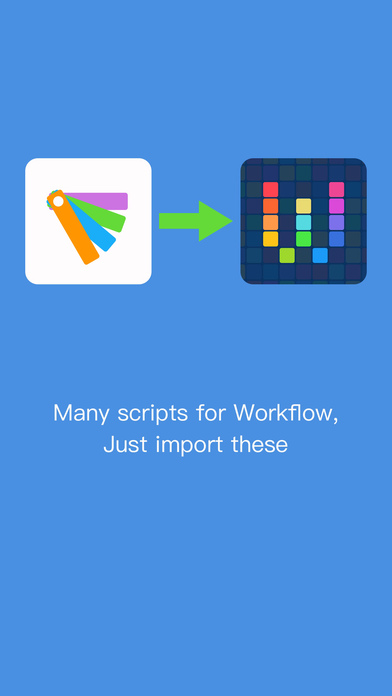 Normally $1.99.
App Workflow by DeskConnect is a powerful automation app. But sometimes it is too hard to build a useful workflow, So I collect and build more than 50 workflow and share it here. Find the workflows you required and import to Workflow.

NOTICE: These scripts work fine unless you have the app Workflow.

Some of the workflows:

Download YouTube Videos
Search Image by Google
Spam iMessage
Backup your workflows
Search by Google, Bing or Yahoo
Roll 100
Rock Paper Scissors
Speak Clipboard
Scan QR Code
Share Last Photo
Get Wifi Name
Batch share contacts
Group sms
QR-Code with a Photo
S.O.S
Game: Guess the number
Open Song In Genius
Overcast Shownotes
Send ETA
Save Webpage To iBooks
Save From Overcast To Evernote
Export Song File
Duplicate Photo/Video
Browse iOS Icons/Screenshots
Send Photos To WordPress
QR Code From Clipboard
Email More Than 5 Pictures
Open In Twitter
Discount Calculator
Direct Dropbox Link
Google Site Search
Open In ProTube
Define With UrbanDictionary
View Source
Export WhatsApp Audio
Get App Store Icon
Send To Kindle
Create Textshot
iTunes Affiliate Link
Open In Tweetbot
Add To Quotebook
Turn Photos Into A GIF
Open In Chrome
Open URL In Google Cache
Download YouTube Video
Redeem iTunes Code
Open YouTube Link In App
View XKCD Caption
Generate Amazon Affiliate URL
Delete Screenshots From Camera Roll
Download Vimeo Video
Resize Screenshot
Download Vine Video
Open Current YouTube Song In Spotify
Save From Instagram
Convert Slo-mo To Standard File
Get Real URL From Link
Zombies & Ghosts City TD Defense
$2.99 in-app purchase to remove ads is now free.
"Ghost Defense TD" is for those fans who value the strategical beauty of quality defense games. It is a refreshing take on the genre, as it features a human hero theme and rich diversity of levels and troops.

In fact, the game will have you playing with delight due to:

Altogether 24 levels, most of which are brilliantly unique
Various types of enemies coming by land, sea or air
6 upgradable towers to spice up your tactics
3 heroes, each of whom will serve as your distinguished captain
Options for playing the game in offline mode

But let's first look at the turmoil that has been unleashed. It seems that the ghosts have risen once again, eager to take over the land and turn it into a dark world full of injustice and warfare. They have prepared an intimidating number of evil soldiers and threaten the peaceful status quo.

Such behavior cannot be tolerated by the heroes of our time. You have been called upon to pick your champion, gather your troops and organize a strategic tower defense. Boys, girls, women, men ñ old and young, everyone relies on you and your defenders to restore the justice and peace that have been lost.

"Ghost Defense TD" will amaze you with its 24 different levels that showcase a completely new environment to lead your battles on. Test your strategy in different scenarios and become a generator of warfare ideas, ready to lead the next epic battle.

Tanks, troops and of course, guns, seem like something static. They are absolutely not here, as the game offers you a catalogue of land, sea and air enemies. You will be constantly on the lookout, diving in yet another demanding battlefield! The rules of air combat are very different than defending against oncoming fleets, right?

What matters most, however, is the arsenal of towers you have at your disposal. Pick your strategy by utilizing the accuracy of sniper towers, the iron precision of machine gun towers, or the brute force of rocket towers. Bring the winter to the combat with ice towers that will have your enemies freeze, or rely on flame or electric towers. The choice to define your way to defeat the bad guys is solely yours!

Who will be the mighty captain ready to enter a world of steel, war and dignity? You are free to give your own answer to that by picking one of the three unlockable heroes. Each of them a fantastic option, they will suit your preferences as for who is the best champion to lead your defenders to victory.

You can enjoy the game either in online or offline mode. There are built-in scoreboards that allow you to measure your intelligent tactics and combat results with other gamers from all over the world. After all, why not share your success and cunning way of leading war with others? It is a part of the game!

Do you hear gunfire? Does the ground tremble under the steps of oncoming ghosts and monsters? That's your call to battle. Enter it and reap your glorious victory!
Download Zombies & Ghosts City TD Defense
iPhocus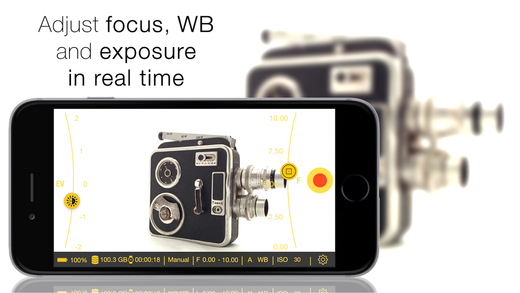 Normally $1.99.
With iPhocus you will have access to the manual controls for shooting your videos

FEATURES:

● EXCLUSIVE AirFocus: With iPhocus installed in two devices you can control the parameters via Wi-Fi.
No more work only done by yourself. One does the framing and the other precisely controls the focus or other parameters, just like in a real movie shooting. Remote controls on your hands.

● Focus: Now is possible to focus (and blur) how you would like.

Use the rack focus to change the foreground in focus. Also you can enclose the distance to get the initial and final focal points of the shot saved with the Focus Range.

● Exposure: Modify the exposure value, balancing the light that your iPhone measures to see details in the darkness and in the bright.

● Frames per Second (FPS): Choose the frame rate of your video up to 240fps in an iPhone 6/iPhone 6 Plus Get ready for slo-mo!

● ISO: is the measure of light-sensitivity.

The lower the ISO number, the less sensitive it is to the light, while a higher ISO number increases the sensitivity of your camera. Your results will be sharper images with less noise depending how you want to adjust it.

● White balance: Set the right color of your images.

No more orange tones. Use the presets settings, the automatic calibration or make your own white balances. iPhocus will show you the value of temperature and dye to show you in real time the image changes .

● Auto/Manual: With the press of a button (or the "turn down volume button") you can give iPhocus full control over the parameters and tap any place of the screen to have the right focus, exposure and white balance.

"A professional tool in my hands! Mandatory purchase for those who use their iPhone on video projects" – Brokentugs

iPhocus is the video camera with manual controls you will always carry in your pocket
It has a simple but highly efficient interface, that won't distract you from what is most important: the image.

This is the first video app that allows you to take the iPhone in horizontal position and use your thumb fingers to control the focus and exposure. IPhocus has made it easier tan ever.

"The video camera designed for professionals to professionals" – Samuel Smith

"Mobile filmmakers are often frustrated by the fact that depth of field is all too often lost on their smartphones. There are many times when a good rack focus would make a shot more dramatic, if not artsy. However, while the state of the art with smartphone video is improving rather dramatically with even ultra high definition resolution, the ability to ramp through depth of field has been elusive. But apps like iPhocus promise to change all that. And you know what? It actually works." – James DeRuvo
iPhocus was developed by a team of filmmakers, engineers and developers from US, Spain and Colombia who while looking for expensive video cameras realized they had the key in their pockets.

Don't miss any moment, use your iPhocus app and control the focus on your images and videos.

Help us with the next updates asking for new features

Thank you for using iPhocus
Night Web Browser by Alex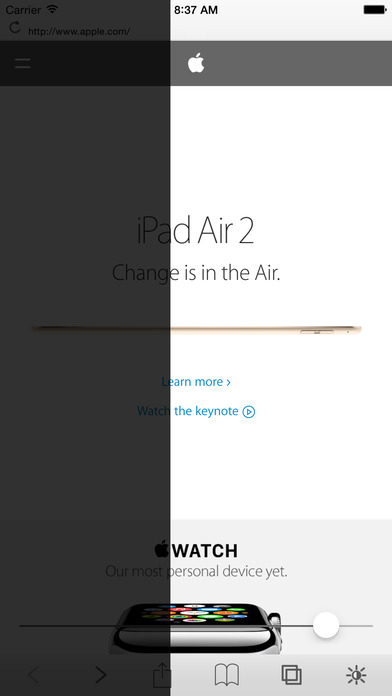 Normally $0.99.
Night Web Browser by Alex is the only web browser that lets you dim 100% of your screen, including the keyboard, status bar and web videos like YouTube.

NOTE THAT ONLY CONTENTS IN THE WEB BROWSER CAN BE DIMMED, NOT THE ENTIRE iOS!

Do you think that your iPhone's/iPad's screen is too bright when you look at it in the dark?

Night Web Browser allows you to surf the web in the dark without disturbing the one next to you and without straining your eyes.

Perfect for you who love doing some browsing before sleep without the risk of waking the one next to you because of the bright iPhone screen.

Night Web Browser lets you dim the screen including the keyboard to even less brightness than the minimum standard iPhone/iPad setting. You can simply access the brightness control whenever you want with just one tap in the browser.

NOTE THAT ONLY CONTENTS IN THE WEB BROWSER CAN BE DIMMED, NOT THE ENTIRE iOS!

Features:
– Brightness control/Darkness boost
– A new night mode with warmer color temperature
– Tabs
– Search instantly in the address field and choose from search results that instantly appear as you type
– Two finger swipes for back/forward navigation
– Bookmarks
– Share web page (email, SMS, Facebook, twitter etc.)
– Modern minimal design
– 64-bit support
– Open links direct in NWB with "nightwebbrowser://"
Download Night Web Browser by Alex
Afterlight++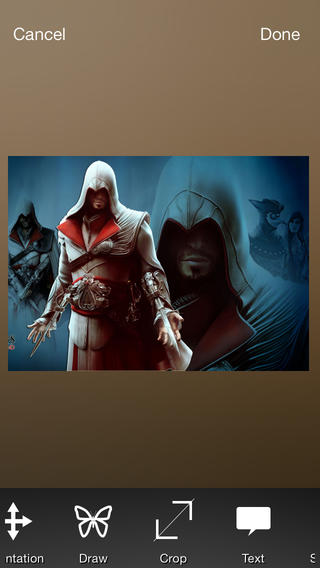 Normally $4.99.
Afterlight++ is an amazing fully featured photo editor! This is the last photo editing app you will ever need!

Here are some of the amazing features:
– Enhance Photos in Seconds
– Apply Endless Effects (Vivid, Aqua, Strato, etc.)
– Add Amazing Stickers
– Crop, Rotate, Flip
– Adjust Brightness, Contrast, Saturation & Colors
– Draw and Paint on Photos
– Add Text with Ease
– Red Eye Remover
– Sharpen and Blur Filters
– Import and Export High-Res Images
– Smile Whitening
– Blemish Remover
– Multiple Share Options (Facebook, Twitter, Mail, etc.)
– International Language Support
– Universal app

This is a great app for any photography beginner or enthusiast!
OrasisHD
Normally $1.99.
OrasisHD is a 1-shot HDR app. It takes a SINGLE image and automatically transforms it to a well-exposed, natural-looking photo, simulating the way your eyes perceived the scenery at the moment the photo was taken.

Based on a decade of academic research, OrasisHD uses a proprietary image processing algorithm: dark and bright image regions are enhanced, revealing information that was not visible previously. More importantly though, well-exposed areas are not affected! To the best of our knowledge this is a unique feature not offered by any other app in the industry.

If you are not sure that OrasisHD is good for you, please try our FREE version (Orasis), before purchasing OrasisHD. Our customer base consists of satisfied users, and we do not intend to change this any time soon :)
BriefKey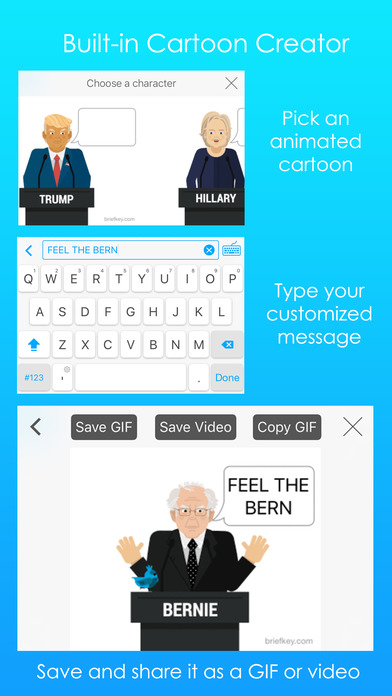 Normally $0.99.
BRIEFKEY is your fully customizable, all-in-one Swipe Keyboard with intelligent personalized prediction and auto-correct. All learning and processing occurs on your device only for privacy. Swipe in English, Spanish, and Russian with more languages coming.

BRIEFKEY provides in-keyboard access to your calendars, contacts, and photos so that you never have to switch between apps again. GIFs, emoji, and stickers are all built in. You can even translate messages into 40 languages, search the Internet, make animated cartoons, and get directions to share without leaving your message!

New GIF creator to make custom GIFs and looping videos. Select or take photos and video. Add custom text, apply filters, and adjust speed, then post or share your creation.

++++BRIEFKEYS++++

• Create your own BRIEFKEYS by assigning a custom icon to any frequently used text or action. BRIEFKEYS will then appear in the top of your keyboard. Create BRIEFKEYS for any text, including names, addresses, emails, URLs, phone numbers, signatures, directions.

• Cartoon BRIEFKEY – choose one of the custom animated characters and add your own text. Current political characters include Bernie, Hillary, Trump, Obama, Johnson, Jong-un, and Putin. More to come very soon. Send requests. BRIEFKEY is used for political and social commentary and is not endorsed by any public figure included.

• Guggy BRIEFKEY – automatically creates the perfect GIF using text from your message. After your Guggy is created, swipe left to change the GIF background. Hold Guggy brief to enter different text.

• Translate BRIEFKEY – translate text to or from 40 languages right from your keyboard

• Calendar BRIEFKEY – display your calendar in the keyboard, automatically insert calendar entries into messages and emails, and add new entries to your calendar.

• Contact BRIEFKEY – display all of your contacts right in the keyboard and share contact information easily.

• Photo BRIEFKEY – display your camera roll photos and attach multiple photos to emails and messages with one touch.

• Location BRIEFKEY – share your current location with one touch.

• Bing BRIEFKEY lets you search the Internet, insert links, and even view webpages right from your Keyboard. There are also Search Briefs for Images and Wikipedia. Check movie times without leaving your message and share with one touch.

• Foursquare and Places BRIEFKEYS – search restaurants, stores, movies, museums, parks, and more from your keyboard and send addresses, links, and maps with one touch.

• GIF BRIEFKEY lets you search for and share GIFs and Stickers in messages, Facebook posts, and across your favorite social media.

****Customize your own keyboard****

• Choose your favorite color, image, or GIF to customize your keyboard's background.

• Animate your keys with effects including explosions, floating hearts, rolling dice, and falling snow!

• Choose the size, shape, color, and font of your keys and text.

• Personalize keys with designer icons to fit any theme.

• Emoji suggestions.

• Shortcuts – swipe the space bar to move the text cursor, or swipe up on "." to insert ","
Awesome Lists
Normally $3.99.
Awesome Lists a designed as a simple and elegant solution to all the lists you make. It's uses are only limited by your imagination. With an emphasis on quick entry, a clean interface, as well as data that syncs to all your devices in real time, the app is simple but very powerful.

Features:

• Create colorful and fun lists
• Cloud syncing to all your devices
• A simple and clean interface
• Fast data entry
What could you use Awesome Lists for? Well here's a list:

• To do Lists
• Shopping Lists
• Packing Lists
• Inventories
• Bucket Lists
• Wish Lists
• Needed Items
• Projects
• Checklists
• Goals
• Outlines and Points to cover
• Places to visit
• Your Favorite Things
• And Much More!
Track Simple for iPhone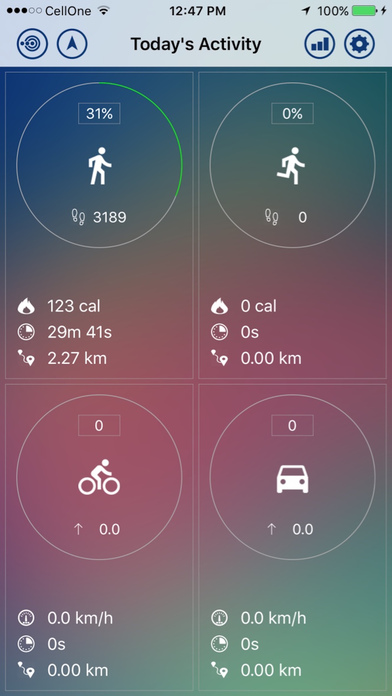 Normally $2.99.
An essential application for daily monitoring activities while carrying only the iPhone, without any requirement of external devices.

This application provides automatic trip logging based on the user activities walking, running, cycling and automotive on daily basis as well as historical information of last 7 days as trips based on activity type.
This application uses GPS, pedometer and motion activity to detect specific activity type. The best accuracy on activity result is observed on iPhone 5S model onwards. For iPhone 4s or lower model, it detects activity and calculates data based on GPS data.

Following details are available based on activity type.

For walking/running trip:
– progress(%) with respect to goal (dashboard)
– approx calories burned (based on weight, height, speed)
– steps walked
– duration
– distance
– start time
– end time
– floors ascended
– floors descended

For cycling/automotive trip:
– number of trips (dashboard)
– maximum speed
– average speed
– duration
– distance
– start time
– end time
– acceleration count
– braking count

Continued use of GPS running in the background can dramatically decrease battery life.
Download Track Simple for iPhone
LITMUS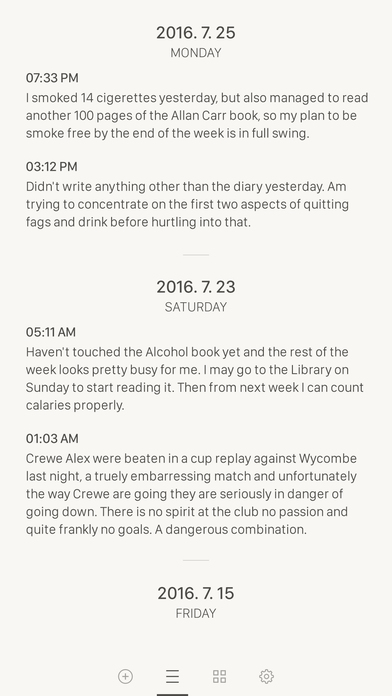 Normally $0.99.
Ever experienced a moment and wished you could share it with someone? Even the simplest of moments define our existence and make life all the more interesting. If you have one, why not note it on LITMUS?

• Simple Note
• Night Shift
• Monthly Graph
---
Our deals and product reviews are picked by BGR's expert editors and team.

Follow @BGRDeals on Twitter to keep up with the latest and greatest deals we find around the web. Prices subject to change without notice and any coupons mentioned above may be available in limited supply.