If you purchase an independently reviewed product or service through a link on our website, we may receive an affiliate commission. Learn more.
We dug through dozens upon dozens of paid iPhone and iPad apps on sale for free today, and we can up with 11 in particular that we think our readers will enjoy. There are also still a few freebies in yesterday's post, so you should have more than enough new apps to check out on your shiny new iPhone 7 — or on your not-so-shiny older iPhone.
MUST SEE: It's already getting easier to find the iPhone 7 model you want, and we'll show you how
These are paid iPhone and iPad apps that have been made available for free for a limited time by their developers. There is no way to tell how long they will be free. These sales could end an hour from now or a week from now — obviously, the only thing we can guarantee is that they were free at the time this post was written. If you click on a link and see a price listed next to an app instead of the word "get," it is no longer free. The sale has ended. If you download the app, you will be charged.
noPhone Hour
Normally $0.99.
There are so many things more important than mobile phone in our lives. So, when necessary, please lay aside it and concentrate on what you are doing.

・ This app encourages you to lay aside mobile phone and concentrate on what you are doing. You can set the time (one or half an hour), and briefly record what you've done at the end of the time. Day by day, will cultivate healthy habit of using mobile phone.
・ No limit to the functions of mobile phone, such as calls and texts. Putting your phone on silent mode is a good suggestion during the "noPhone Hour".
・ There are six themes, with the growth of the "noPhone Hour" number, one by one to unlock.
・ With iCloud, it's easy to transfer your data to an new iPhone.
・ No ads.
Watchover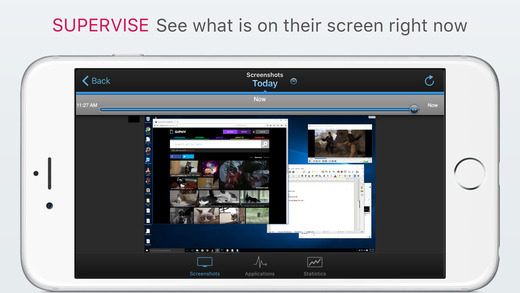 Normally $4.99.
Monitor your kid's computer use with Watchover.
Sit anywhere in your house and see what your kids are doing on their computers from your iPhone, iPod or iPad.

Free today with 'App of the Day'. (20th September)

Cyber safety is a challenge. Unless you are leaning over your kid's shoulders it is hard to know what they are doing on their computers.

Just like watching your kids in the park, Watchover lets you keep an eye on them from a distance. Watchover provides screenshots, so you see what they see, and records which programs are being used, when and for how long.

So while the children are in their bedrooms, you can connect from your iPhone, iPod or iPad and view what they've been doing for the last few days – or see what is on their screens right now.

" Gotta love it! – The makers of VLC Streamer hit another home run for anyone with a teenager….I love this app and can keep an eye on my son now without having to constantly run to my laptop. Great job guys!"
– US Reviewer

" I have a technologically advanced 13 year old boy (are there any other kind today?), and I've been looking hard for an unobtrusive, non-invasive way of keeping an eye on his internet browsing. We've tried various other approaches… Some of them got quite loud! Watchover provides concerned and caring parents with a way to discretely monitor their children's online experience and the time they spend on their computers without overtly invading their space. Everybody wins. I will, sincerely, be recommending this app to every parent I know. Thanks, Lyn."
-Australian Reviewer

• Features include •

— Free helper app monitors all your Windows or Apple computers
— Stores screenshots every minute
— Keeps a two week history
— Shows which applications have been in use, when and for how long
— Statistics show easily which applications have been used the most
— The Watchover Owl is always visible in the menu or system tray to let your child know that you're watching over them
• Frequently Asked Questions •

Q: Does Watchover block any sites, emails or people?
A: No. Watchover is just a monitoring app, it won't stop your kids going anywhere or stop anyone contacting them or them contacting people. All is does is monitor what is going on on the computer.

Q: Will my kids know Watchover is installed?
A: Yes. Hobbyist philosophy is to encourage appropriate computer use and safety through responsibility. The Watchover Owl appears in the screen tray to let your kids know you are looking out for them. The idea of Watchover is to give them some freedom to use the computer responsibly and appropriately, with the security of knowing you are there to help and keep them safe. The idea is to encourage them to keep themselves safe through educating them about computers and the internet – Watchover is there as a reminder and to let you check up on them, it will not to stop them doing anything.

Q: What will Watchover show me?
A: See the screenshots below for examples. Watchover will tell you what applications are running and for how long. You can review computer use for a whole day on one screen. You can also see the previous 14 days use.

• System Requirements •

– Supports Windows Vista, Windows 7, Windows 8 and Windows 10
– Supports Mac OS 10.7 and above
– Connects to computers using your home wifi network

• Response to feedback •

-If you do have any problems with Watchover then please just check the help instructions in the app. Feel free to drop me an email (my personal mail is in the app) if you need help.
Enjoy!
WiseDay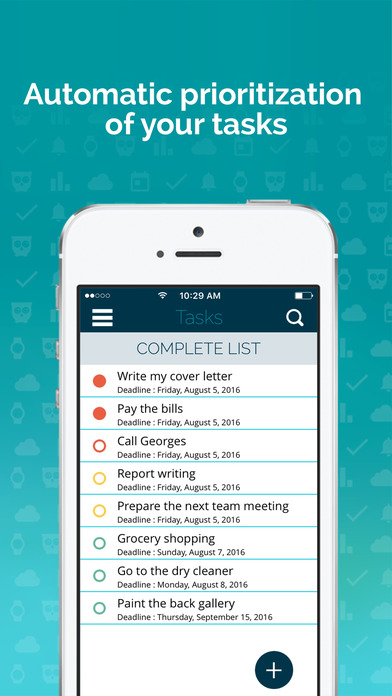 Normally $3.99.
Today, the world is moving faster than ever before ! Time goes by so quickly. Start simplifying your life with the owl that thinks for you.

WiseDay helps you to organize your life. It's a smart app that analyzes everything. Enter a new task and WiseDay will prioritize it in your to do list. Enter a new appointment and WiseDay will suggest the best time to book it, based on your current schedule. WiseDay will help to improve your day, your week and your life.

WiseDay is simple and easy to use. It's like having your own personal assistant…

Automatic prioritization of your tasks
You'll never waste time prioritizing your tasks ever again! WISEDAY helps you plan for the best time to tackle each of your day-to-day tasks.

Assistant to create appointments
Stop mindlessly searching in your agenda. WISEDAY will do it for you by suggesting time slots that are the most convenient in your schedule and managing schedule conflicts.

Integrated display of your day
Quickly view your entire day. On the same page, you'll see all your upcoming appointments, prioritized tasks and reminders.

Schedule diagnostics
Improve your time management! WISEDAY performs diagnostics on your schedule and provides recommendations on how to optimize your day, week and life.

Data security
Your data is secure. You are the only one who has access to it. Nobody else. Complete protection guaranteed.

Automatic syncing
You'll always be up-to-date! Your data is automatically synched on all of your devices: computer, smartphone and tablet.
Compass Zen PRO
Normally $7.99.
Compass Zen is an eye-catching, minimalist compass app designed specifically for your ipad or iphone. Compass Zen delivers many features with an accuracy that will exceed all your expectations. The magnetic north compass will ensure your co-ordinates are exact and will also tell you your altitude and speed.

The elegant design offering easy-to-read information also sports a background customization facility, meaning you can decide what works best for you.

There are options of reading the speedometer in km or mph, choose your GPS altitude in meters or feet and view your co-ordinates in DMS or Decimal.

All of this gives you the ultimate user experience of a compass but with a simplicity and flair that is matched by no other iOS app on the market.

Features:
– True/ Magnetic North Compass
– Speedometer (in km/h or mph)
– GPS Altitude (in meters or feet)
– Coordinates (in DMS or Decimal)
– Elegant Minimalist Design
– Background Customization
Solitaire FreeCell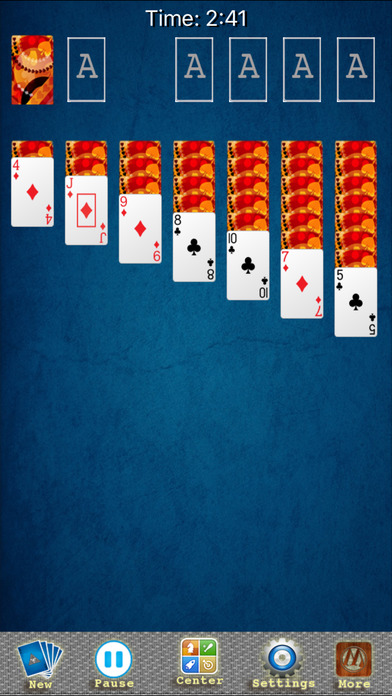 Normally $0.99.
Classic Solitaire FreeCell game also known as Klondike and Patience.
– Drag and drop to move cards
– Timer
– Option to change the background
– Option to change Back of Card
– Option to change theme of the Card
Stock Target Calculator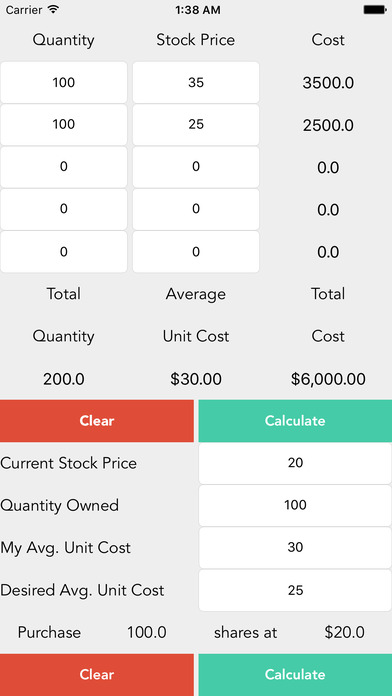 Normally $0.99.
Stock Target Calculator is an easy tool for every investor to utilize on a daily basis!

Making a decision to purchase more shares can be difficult. But with Stock Target Calculator you can make a better informed decision by calculating your expected average price per share prior to adding a position. Stock calculations have never been simpler. You can quickly calculate your expected average price per share for all your stocks. Simply enter all previous position and expected new position and click calculate.

Along with an average price per share calculator, Stock Target Calculator can calculate the number of share you should purchase to bring you average price per share to any price you want.

Stock Target Calculator does not take into account commissions, charges, or fees from brokerage firms. Calculations are rounded to the second decimal place but cannot be guaranteed. If calculations are not possible you will see negative numbers, error messages, or undefined values. Invest at your own risk.
Download Stock Target Calculator
Rune Gems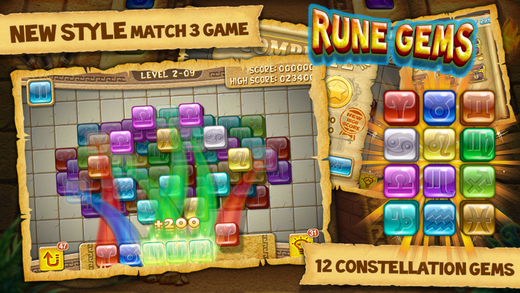 Normally $0.99.
Rune Gems is an excellent, well-presented game, friendly to both long and short play sessions.
Five Star from -insidemobileapps.com

The whole game is well executed and we really love to tap on one of the runes, for the animation is so smooth.
Five Star from -fun2tap.com

Rune Gems is a new & unique puzzle game.

HOW TO PLAY:
1.You have a tray that holds 7 tiles.
2.Any tile you tap goes into your tray.
3.All tiles that enter your tray are automatically sorted by color and once you have EXACTLY 3 matching tiles of one of one color, those 3 tiles disappear and you score some points.

If you happen to tap on too many unmatched tiles so as to clog up the tray with no way to form a group of three matching tiles from the available tiles on the board, the game ends the second you add that 7th tile and it isn't immediately part of an existing set.

A little trick:
Since a grouping can NEVER be more than 3, is to simply match as many triplets as fast as possible for an escalating speed combo bonus…but be careful, if in your haste you end up tapping on 4 red pieces, that 4th piece will now sit on the tray clogging stuff up until you find it two more partners. So always be mindful of what you put on the tray and make sure you can match it off quickly or letting it clog the flow up a bit is worth it if it is blocking your access to many other tiles underneath.
Impossible Dial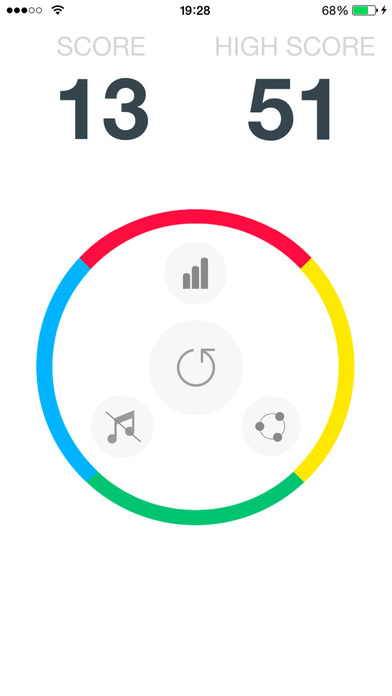 Normally $2.99.
THE ORIGINAL!! ADS FREE!
Impossible Dial

It is a fun, fantastic, engaging and very simple game.
must tap when it passes the correct color.

Try it!
Ananda
Normally $1.99.
Ananda helps you concentrate, focus and work with progressive binaural tones and high quality peaceful sounds.

-Enhance your brainwaves
Choose from one of Ananda's numerous binaural programs to focus,concentrate or brainstorm. Each program comes with binaural beats designed to help you reach a specific mood or state of mind.

-Discover a new ambiance every time
Each session provides a subtly fresh, new ambiance. A unique combination of nature sounds, chants, mantras and peaceful bells is generated on top of binaural tones every time you start Ananda.
Main Features

– 4 Binaural programs
– Conscious Thinking
– Focus & Concentration
– Increased Attention
– Learn & Memorize
– Short description and benefits of every binaural program
– High quality nature and peaceful sounds
– Choose the sounds you prefer
– Sounds are mixed together in a new way for every session
– Simple and minimalist design
– Information on brainwaves and binaural tones included in the app

Download now and let us know how Ananda Focus & Attention helps you in your daily activities.

*For more binaural beats program:
– Check the Ananda – Meditate, Focus & Relax – PREMIUM
– Or try the free version of Ananda – Meditate, Focus & Relax
IQ Test
Normally $1.99.
IQ Test
With solutions!

Available for iPad and iPhone.

2 Tests
+39 Questions Mensa iq test.
+33 Questions European iq test.

With solutions!

An intelligence quotient (IQ) is a score derived from one of several standardized tests designed to assess intelligence. The abbreviation "IQ" comes from the German term Intelligenz-Quotient, originally coined by psychologist William Stern.
Try it.

NOTE: This test is intended for entertainment purposes only.
uRelax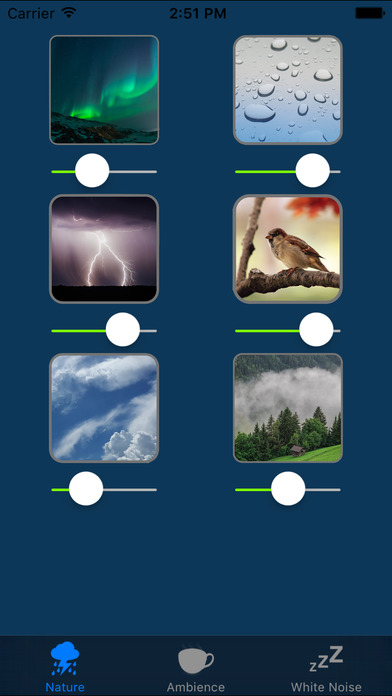 Normally $0.99.
uRelax is a simple way to rest and relax after a long day. The eighteen hand-selected ambient sounds included in this app have been shown to reduce blood pressure, stress, and anxiety. Listeners also claim to be more energetic and alert after a fifteen minute session with this app. Band members and singers can also listen to this app before shows to reduce their performance anxiety.

The three categories of sounds are nature sounds, relaxing ambience, and white noise. The nature sounds category includes thunderstorms, rain, wind, birds, rustling leaves, and an instrumental relaxation track. The relaxing ambience section includes water splashing, pond noises, a campfire, ocean waves, forrest creek, and coffee shop.

The white noise section is mainly used to drown out background noise while sleeping and napping during travel. This section includes crickets, railroad sounds, a humming fan, brown noise, pink noise, and white noise.

uRelax is extremely easy to use. Simply tap a picture to turn on the sound, and tap it again to turn it off. The sliders below the pictures control the volume of each sound. Combine different sounds in whatever way you want!