Google's big press conference might be the talk of the town today, and Apple fans might feel a bit left out. Don't worry though because we've got you covered — in this post, you'll find nine paid iPhone and iPad apps that are all free downloads right now for a limited time. If nine isn't enough, you'll also find a few remaining freebies in yesterday's post if you hurry.
DON'T MISS: A painful reminder of just how bad the iPhone 7's battery life is
These are paid iPhone and iPad apps that have been made available for free for a limited time by their developers. There is no way to tell how long they will be free. These sales could end an hour from now or a week from now — obviously, the only thing we can guarantee is that they were free at the time this post was written. If you click on a link and see a price listed next to an app instead of the word "get," it is no longer free. The sale has ended. If you download the app, you will be charged.
Photo Reminders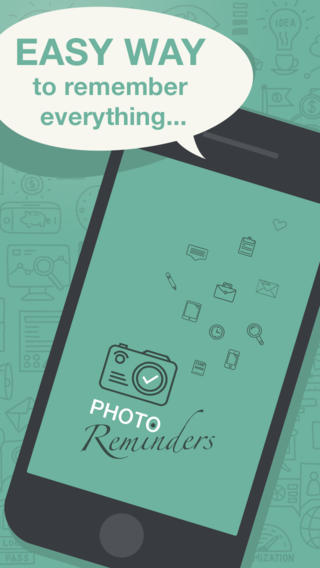 Normally $0.99.
Voice memos + Photos + Text
Ideal application for those who value their time.

"Photo Reminders" is the opportunity to make a reminder quickly and clearly about any event: a meeting, a birthday gift purchase, a concert, an important call or simply an evening walk with your pet.

It's enough to * Choose the photo from the Photos app, * Make a photo or * Record a voice message".

"Photo Reminders" enables to create reminders instantly, without spending time for the description of the forthcoming event, which is also convenient while driving.

How does "Photo Reminders" work?
For example, walking around the city, you can pay attention to the poster: premiere of the long-awaited movie. You get the phone, take a picture by the means of this application – at the necessary moment the program will inform you that it is time to buy tickets. The application remembers everything for you!

"Photo Reminders" is also an excellent helper in the office:
You can remind your colleagues about the forthcoming meeting through the application mailing.
Moreover, you can share the notes with anyone through social networks!

"Photo Reminders" combines various functions with the simplicity of usage. The clear and convenient interface enables to create a reminder in just a few clicks.

Functions:
– add images from the Photos app
– use Camera to take photos
– e-mailing a note
– create voice memos
– creating text notes
– setting the date and a sound reminder
– sharing a note through social networks
– saving in Evernote
– saving in Calendar
– sorting according to addition and reminder dates and filtrating notes
– searching notes by the name and their description.
Cheetah Note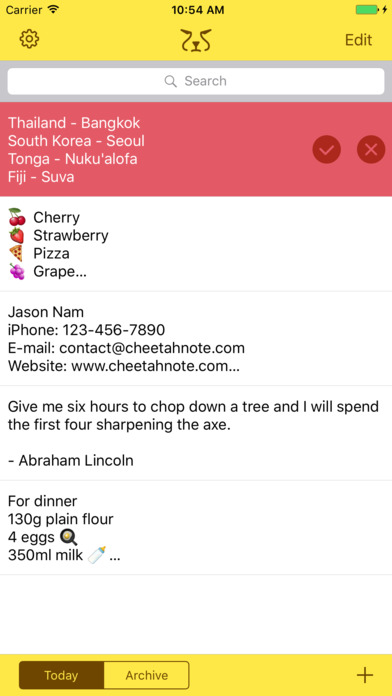 Normally $0.99.
Tired of unlocking your iPhone just for a grocery list?
Save it in Cheetah Note and it will be instantly available on your Today Widget and Apple Watch.

1. Manage Notes
– Archive unnecessary notes
– Easy share button
– Save note from system clipboard

2. Edit Notes
– Detect Phone, Email, Address and Calendar
– Clean design

3. Export and Import Backup Files

4. Share Extension Support
– Save texts and URLs for Cheetah Note anywhere you are

5. 3D Touch Quick Actions and Peek and Pop

Don't hesitate to send us your opinion!
Thank you :)
AdBlock
Normally $1.99.
The original AdBlock for iOS 8, iOS 9 and iOS 10 (32-bit and 64-bit). Blocking ads on iPhones and iPads since 2012.

AdBlock allows you to block ads on your iOS device. It works with every app, not just Safari. Get rid of 99% of annoying popups, banners and video ads in all of your apps, including games and entertainment apps. Protect your privacy, limit bandwidth use, speed up your device and improve up your overall iOS experience.

The most important advantages of AdBlock for iOS are:
• AdBlock works with Wi-Fi and cellular networks. You don't need to set it up separately for every network you use.
• AdBlock works on any iOS 8, 9 and 10 device, even if it's not 64-bit. Take advantage of ad blocking even on older iPhone and iPad.
• AdBlock works seamlessly with other iOS apps displaying ads served over the Internet. Forget about ads in games, utilities and on websites.
• AdBlock allows you to create your own list of blocked domains and synchronise your filters between all your devices using iCloud.
• AdBlock allows you to protect your privacy by blocking mobile trackers. Prevent Internet trackers from recording of your web and in-app activity.
• AdBlock does not send your Internet traffic through proxy or VPN server. All of your connections stay direct, fast and secure.
• Setting up AdBlock for iOS is very simple! Just download the app, enable the "magic switch" and tap the "Install" button. It takes less than 20 seconds to complete.
• AdBlock automatically updates to the latest version of the filters on every app run. We keep the ad servers database up-to-date.
• AdBlock works with Safari and 99% of other apps (including other browsers like Chrome). Benefit from ad blocking in your favourite Internet browser on iOS.

Limitations:
• AdBlock is not compatible with VPN connections. You can't use AdBlock simultaneously with VPN.
• Blocking ads may not work on networks where DNS traffic is intercepted by the ISP
Big Box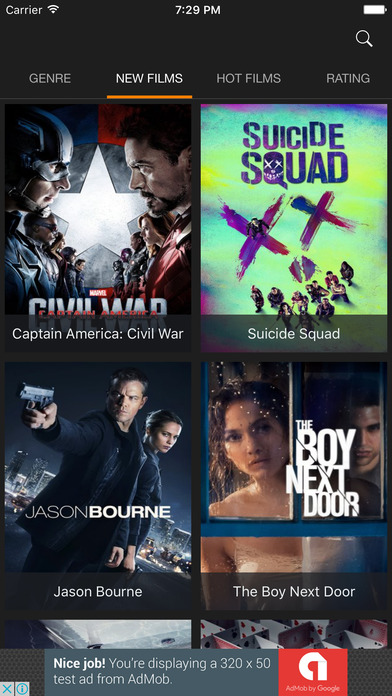 Normally $0.99.
If you have lots of movies to watch, it will be hard to keep them in mind.

Features:
– New compatible design for iOS7+.
– Search as you type, add with no difficulties.
– Browser your movies and look for similar.
– Discover new movies from Popular, Top Rated, New Release and even from Coming Soon.
– Make your movie collection.
– Share movies you like.
– Watch trailers.
– Browse movie's photos and artwork.

We hope you enjoy using our application. It's simple, it's easy to use and it's a powerful organizer.

Have fun.
Falcon Lander
Normally $0.99.
It is super hard to land a rocket on a platform in the middle of an ocean. Elon Musk has had to learn that the hard way, and now, you too can experience the crushing disappointment of trying to land the SpaceX Falcon 9 lander, thanks to this game (completely unaffiliated with SpaceX).

Yes, it is possible to land it!
Malody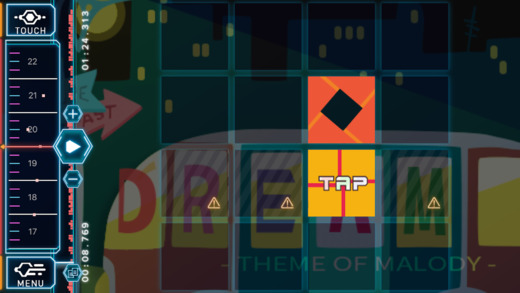 Normally $0.99.
Malody is a cross-platform music game (Simulator) which is developed by a group of dedicated volunteers.

Features:
* Support variety of chart formats: osu, sm, bms, pms, mc, tja.
* In game editor, for creating and sharing charts.
* Support full keysound chart.
* Support custom skin.
* Support play recording.
* Support play effect: random, flip, const, rush, hide, origin.
* Support online ranking.
* Wiki based community where you can upload and share charts.
* In game multiple language: English, German, Spanish, Thai, Russian, French.
Cell Storming Pro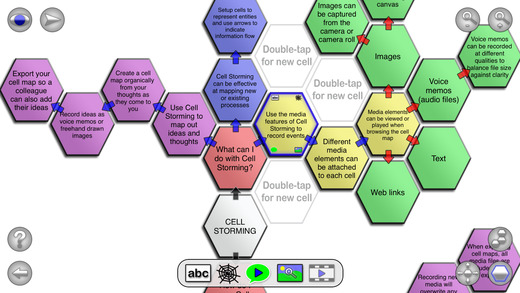 Normally $3.99.
Cell Storming is a unique mind mapping and brainstorming app that uses media for laying out thoughts and ideas.

With Cell Storming you create mind maps (cell maps) by connecting hexagonal cells together and then adding media elements to these cells. You can add images, videos, voice memos, text, web links, files, and Address Book contacts to each and every cell on the map, which can then be viewed when browsing your cell map later on.
>> RECENT UPDATES

The v1.50 update included functionality to connect cells to other cell maps which enables the creation of multi-level hierarchical cell maps! This new linking functionality even extends to the flow media exports where any linked cell maps are examined for content (images, videos, audio) for exporting with their parent cell map(s).

New to the v1.60 release is the ability to import documents from other apps and attach them to cells in your cell map. These documents can be viewed within Cell Storming as you browse media stored in the cells.

The v1.70 update provides functionality to attach Contacts from your Address Book to cells on your cell map. Tap a cell that has a contact and you can utilise the various details available to connect to that person (via telephone/mobile, email, address, etc) straight from the cell map. The contact details are stored with the cell map so it's easy to share information about all the important people in your project with others on your team!
>> MANAGING CELL MAPS

Cell Maps are easily accessible from the home screen by browsing thumbnail images showing the latest state of each map.

Extensive export options enable you to share cell maps (including their media elements) with other Cell Storming users. Or you can generate images and PDFs of your cell maps for non-users. Dropbox support is built-in along with email and iTunes document sharing.

Cell Maps can also be printed straight from your iPhone or iPad using an AirPrint compatible printer.
>> PRESENTING CELL MAPS

Cell Storming features Screen-casting functionality that allows you to present cell maps on your device to other local devices by sending what is displayed on your screen to the other devices (using local networking via Wi-Fi or Bluetooth).

Or use any of the many included export options to generate presentation videos, slides, documents, or movies.
>> CELL STORMING PRO

The Pro version of Cell Storming features additional "Flow Export" functions that can generate and export media files defined by how your cell map flows (using connection arrows from cell to cell). Flow exports include text, audio, movies, image slides, and presentation video generation.
You can watch an example Flow Video created from Cell Storming Pro on YouTube here:
http://youtu.be/7RPMQmoPCWI

Use Cell Storming to map new ideas, manage projects, document existing processes and entities, or use the media capture features to record events as they happen.
>> CELL STORMING IN THE CLASSROOM

– Present themes and observations using media elements captured in cell maps.
– Set interactive tasks or games for students that require them to explain ideas through media or patterns.
– Use the screen-casting feature to observe how students are progressing with their tasks.
– Students can present their resulting cell maps using the flow presentation video export feature, or generate audio commentary files from voice memos recorded in cells.
DigitalRev Stickers
Normally $0.99.
DigitalRev is all about entertaining and inspiring photography content. It's the leading media brand and content platform devoted to inform and inspire a cross generational group of people who express themselves visually through photography and videography.

What's included in this sticker pack:
– The iconic "Bokehlicious" logo sticker
– 9 Species of Amateur Photographers including:
— Foodie Grammus
— Gear Whoreus
— The Hipstergramanus
— Photographus Bombus
— Shootus Tittus
— Streetus Togus
— The Instagramanus
— Touristus
— Yogi Tog
– Bokeh! Sticker
– Bokehlicious T-shirt Sticker
King of Math 2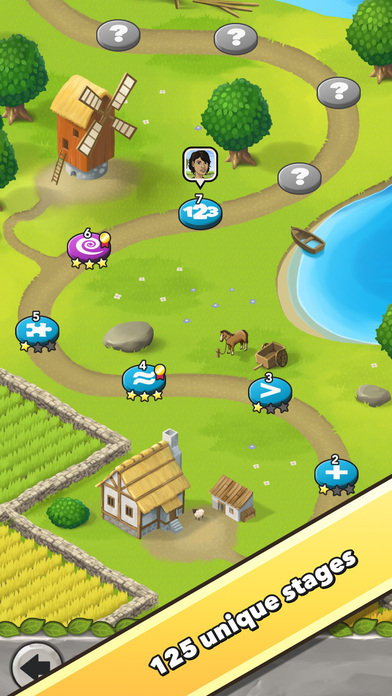 Normally $2.99.
A mathematical journey!

Here comes the sequel to the popular math game King of Math! You start on the countryside and set off on a journey packed with challenging math questions, puzzles and problems. Unlock new worlds and character levels along the road and get all the way to the throne to become king or queen!

King of Math 2 is a game for the whole family and is suitable from about age 10 and up. Improve or refresh your math skills, practice mental arithmetic and solve problems in an engaging way. Play against the clock, improve your scores and compare the results with your friends and players from around the world. If you'd like a more relaxing gaming experience, you can turn off the time limit and play at your own pace. There are also examples, help and solutions for all the problems in the game.

The game includes five worlds with 125 unique stages. Each world introduces problems in a new category such as addition, subtraction, multiplication and division.