Welcome to the start of another busy week, which is made worse by the fact that the last stretch of warm weather in many areas came to an abrupt end over the weekend. The good news is we've got just what you need to cheer you up: A new post packed full of paid iPhone and iPad apps that are currently on sale for free.
DON'T MISS: Insane new iPhone 8 design that no one saw coming may have just been revealed
These are paid iPhone and iPad apps that have been made available for free for a limited time by their developers. There is no way to tell how long they will be free. These sales could end an hour from now or a week from now — obviously, the only thing we can guarantee is that they were free at the time this post was written. If you click on a link and see a price listed next to an app instead of the word "get," it is no longer free. The sale has ended. If you download the app, you will be charged.
Thyra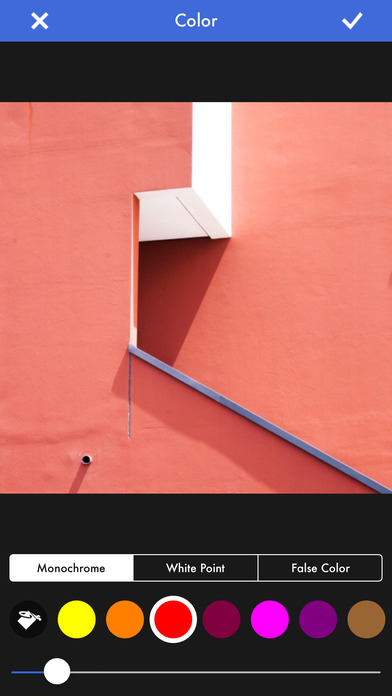 Normally $0.99.
Thyra is the premier way to create beautiful photos in seconds. Use unique, film-inspired filters, perfect adjustments and powerful, creative tools, paired with an amazing, minimal design.

PROFESSIONAL ADJUSTMENT CONTROLS
16 Precise & selective controls:
• brightness, contrast, saturation, exposure, sharpness, vibrance, vignette, shadows, highlights, temperature, tint, hue, gamma, sepia, blur, glow and angle
• adjust controls simultaneously

UNIQUE FILTERS
• 50 authentic, film-inspired filters
• Auto adjust filter for instant fixes that uniquely adapts to colors and fine tune brightness, saturation, contrast, and more

RGB CURVES
• RGB, red, green, blue curves
• Essential for photographers and assistant for artists

BOKEH, COLOR, BORDER, DRAW
• 34 beautiful bokeh shapes and light effects
• Experiment with different color palettes: monochrome, white-point, and false color
• Add and customise text and borders
• Draw on images

MIRRORS, DISTORT, HALFTONE
• 52 modern, edgy mirror effects
• Amazing distort options, including: bump, light tunnel, pinch, twirl, glass and many more
• 23 halftone filters for amazing painterly effects

SKEW, CROP, ROTATE
• Correct horizontal and vertical perspective distortion
• Straighten crooked photos
• 11 crop presets, expand, rotate and flip filters

PHOTO EXTENSION
Add Thyra filters from within the Photos apps

IMAGE ANALYSER
• Generate the histogram of the image
• Calculate average, maximum, minimum, maximum alpha and minimum alpha colours of the image

INNOVATIVE INTERFACE
• Simple, minimal design
• List of edits to jump between stacks
• Touch and hold to preview original image from everywhere

MORE FEATURES
• Photo Editing Extension to add Thyra filters from within the Photos app.
• Choose from 3 export resolutions and upload your photos directly to Instagram, Facebook, Twitter,…
• Universal app

Be sure to tag your photos with #thyra
Circles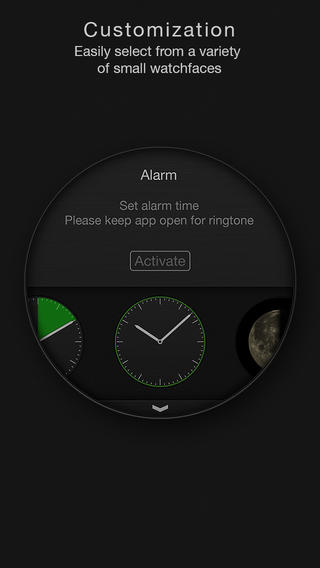 Normally $1.99.
Circles turns your device into an exceptional timepiece. Designed in the pursuit of clarity, beauty and precision, Circles is one of the most iconic smartwatch faces of all times.

*****

TechCrunch about Circles: "While Your Wrist Waits For A Worthy Smartwatch, Check Out This Stylish Timepiece App" June 04, 2014

*****

Access different time functions in the small smartwatch face:

– Planetary Positions
– Moon Phases
– Sunrise Sunset
– Seconds
– Timer
– Date
– Alarm Clock
– Second Timezone
– Stopwatch

Intuitive gestures for a modern time:

– Swipe left to change small smartwatch face
– Tap on small watchface to exercise functions
– Pinch-to-Zoom to enlarge small chrono

Please note that for the functions alarm clock and timer it is necessary to keep the app open for the ringtone to be heard.

Visit our website on http://www.smartwatchface.co

Designed in Germany
Jack Vs Ninjas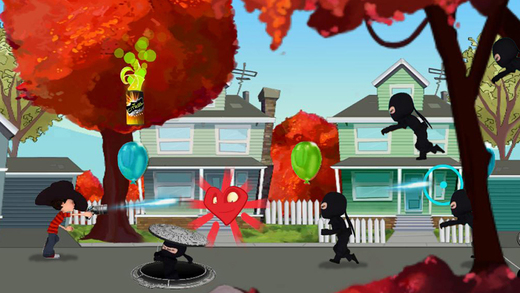 Normally $6.99.
Jack Vs Ninjas is a stunning action shooting game that's easy to play with superb graphics and is currently FREE … karate chop! … oh yeah, did we mention the Giant Panda?

Jack is a 10 year old boy who lives in a quiet sleepy town. He's always unknowingly creating epic adventures through his imagination. Jack loves adventures and he is never without his cowboy hat and trusty laser gun, the "Small Fry 3000".

In this adventure Jack is imagining fighting his arch enemy, the evil Papa Ninja. Papa Ninja is trying to take over the world, as usual, with his army of trained Ninja assassins and Jack must stop them! Everybody knows Ninjas are agile, stealthy and deadly so you'll have to use fast reflexes and accuracy to beat them all. But beware of the ultimate boss, Papa Ninja, who rides a Giant Panda… the two combined will take all of your expertise to overcome. So, what are you waiting for? Help Jack zap the Ninjas and beat the evil Papa Ninja, it would be rude not to.

FEATURES
* SMOOTH AND SUPER COOL NINJA SIDE SCROLLING SHOOTING ACTION
* SUPERB GRAPHICS
* EASY TO PLAY FOR KIDS AND ADULTS
* POWER UP COLLECTABLES, INCLUDING 'ULTIMATE SHOT' AND YOUR FAITHFUL DOG COMPANION "BUDDY"
* UNIQUE ORIGINAL SOUNDTRACK

If you like Jack Vs Ninjas then please show your support for the title by paying. We are a small indie developer, not a multi-million dollar evil faceless corporation. So if you want us to make new levels, characters, power-ups and more cool adventures for Jack then show your support and pledge!

Thanks for downloading and we hope you enjoy the game.

Wales Interactive Team
Nanotech Notes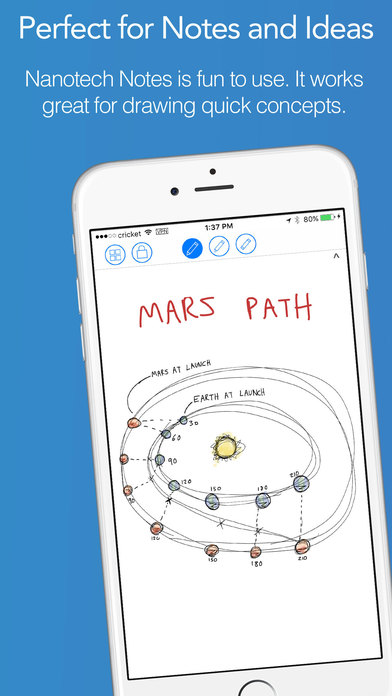 Normally $2.99.
Nanotech Notes is a simple but effective way to take notes and sketch out quick ideas and concepts. The app is super easy to use, but really powerful too! We've kept the app lightweight and fast, but don't let that fool you. Your notes are seamlessly synced to all your devices, and are available for offline viewing and editing. The drawing engine works in real time, which means that every stroke you make appears on all your connected devices instantly. Trust us, it's awesome :). So next time you have a stroke of genius or a concept that you need to sketch out, give Nanotech Notes a try!
ReliCam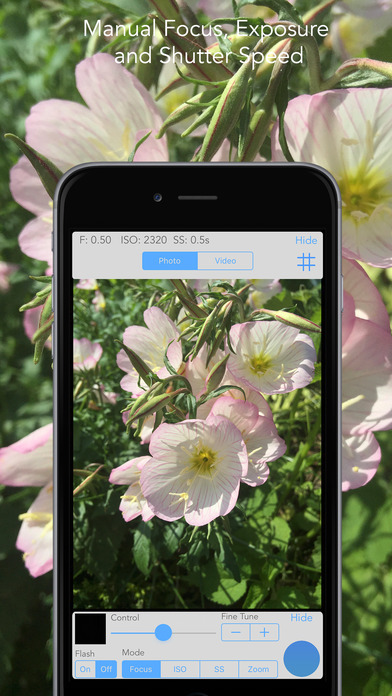 Normally $0.99.
Focus. You Control
ReliCam, the Manual Photo & Video Camera App made with photographers in mind.

ReliCam gives you Manual Controls to take advantage of your device's camera for Photos and Video including:

Focus | ISO | Shutter Speed | Zoom*

Other features include:
Grid Lines
Heads-Up Display
Fine Tuning Control
Sharing

ReliCam Remote for Apple Watch lets you use your Watch as your device's camera trigger.

* (Zoom available for iPhone).

We'd love to hear from you to help make ReliCam better, please give us feedback by writing a review and rating ReliCam here on the App Store.
Time Note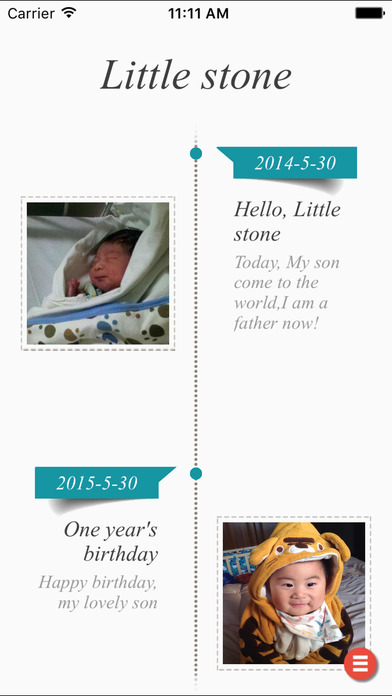 Normally $1.99.
Use time to manage your event ,travel,working,family that any thing can be connected by time.
Each event has a time date, an icon, a event detail and a photo.
Easy to use, there is no calendar grid, all thing will display on a single time line.
All the timeline can be export to the 'photo' and share to anyone you like.
Jupiter Journals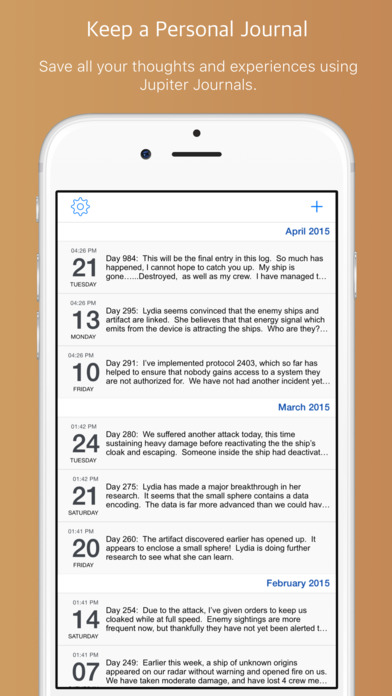 Normally $4.99.
If you are looking for a powerful yet simple solution to keeping a personal diary, Jupiter Journals is for you! The app provides a clean and elegant way to let you jot down personal thoughts or take notes without complication or bloat. We've kept Jupiter Journals fast and minimal while focusing on the following features:
OFFLINE REAL-TIME DATA SYNC
Everything you type into Jupiter Journals is saved to the cloud and syncs seamlessly to all your iOS devices in the background. The app works independently of a network connection, and all your data is available for offline editing and viewing.

BEAUTIFUL INTERFACE
Jupiter Journals is clean and beautiful. We designed it to be minimal. Careful thought has gone into each feature added to the app. Emphasis is placed on your content instead of the interface, bringing your words to front and center stage.
RICH TEXT STYLING
The App uses Markdown to provide rich text and styling options. Robust exporting makes it easy to share your work as a text, markdown, or html file.
MULTIPLE JOURNALS
Organize your entries and provide multiple contexts for your life. In Jupiter Journals, you can create multiple notebooks, making the app ideal for note-taking too!
EASY TO USE
It won't take you long to know how to use Jupiter Journals. Everything in the app is designed for fast learning. You'll be a pro in no time.
Bubble Tower HD
Normally $1.99.
"It had me addicted for days. It's definitely worth the download." -Sean Duncan, app reviewer

Pop the tower of bubbles to land the box safely to the green platform below. This requires skill and fast reflexes to pop the right bubbles as the tower starts to collapse.

Check out the youtube videos, just search
for "Bubble Tower iPhone/ipad"
FOV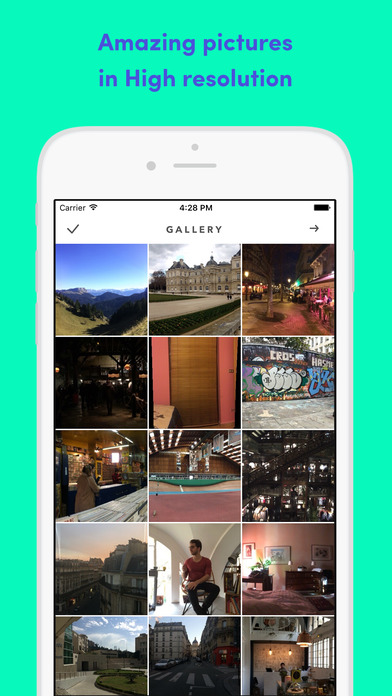 Normally $0.99.
Take stunning 360 photos with just your iPhone!

– Best 360 photo app with real-time capture
– Featured in "New Apps We Love" by Apple in 58 countries!
– #1 rating for 360 photo apps worldwide
– Compatible with Messages, Facebook, WhatsApp, Messenger

FOV lets you take interactive pictures in a few seconds. Move your arm in all directions to discover the image and experience something unique! Create your own virtual reality with just an iPhone and share what you live with your friends. Classic panoramas are outdated. With FOV, teleport yourself to the other side of the world and watch what your friends see as if you were with them.

***
For the first time, you can send 360 photos in Messages thanks to our new iOS 10 Messages app extension! We have also implemented Wide Color support for the iPhone 7, a deeper color representation for making your pictures even more beautiful and vivid.
iPicBox Pro
Normally $0.99.
Easy to use! Smooth! Awesome!
iPicBox is the most beautiful and powerful picture manager that is easy to use in the world.
If you like picture, if you are addicted to collecting pictures, if you have some privacies, and would like to show off, yeah~That is it! Got it!

******Main Features******
—Share to Facebook, Twitter, QQ, QZone, WeChat, WeChatTimeLine, Camera Roll, Email, Copy, SMS
—Daily Pic, which can bring you freshest and the most beautiful pictures daily.
—3D touch ( 6s, 6s plus)
—How-To-Use pages
—Support iOS9
—Touch ID for locking single folder and image
—Gorgeous themes that are changed by heart
—Folder cover that is splendid
—Unlimited folders that permit you to sort pictures
—Unique tree view of folders that is clear at a glance
—Unique split mode that shows tree view and list view at the same time
—Press to download picture easily
—Quick capturing as you need
—Import albums that have huge amount of pictures
—Search pictures you want and locate the position
—Lock pictures and privacies will not be touched
—Batch operations that make you better efficiency
—All kinds of gestures that make you natural
—Smooth basic operations including Add, Del, Edit, Move
—Trash box that gives you a chance to go back

* * * * * *
All your photos stored in iPicBox are 100% private. Your photos are only stored on your device and are never uploaded to our servers. We have no ability to remotely access your photos.
Two Way Translate
Normally $11.99.
Two-way communication with foreigners via dual translation windows or Bidirectional language translation check for the article comparison.

Features:
1. Simultaneously display two google translation windows.
2. Support world language.
3. Speech Translation.
4. Share and Record functions.
5. Reset button.

Fast Getting Started:
1. Choose in left tab on left translate window for language A.
2. Choose in right tab on left translate window for language B.
3. Choose in left tab on right translate window for language B.
4. Choose in right tab on right translate window for language A.