Welcome to our biggest (and perhaps best) list of the week covering paid iPhone and iPad apps that have been made available as free downloads for a limited time. How limited, you ask? There's simply no way to tell. Some of these sales might last for days while others may end just hours from now. The only way to be safe is to check them all out as soon as you can.
MUST SEE: These 5 insanely thin iPhone 7 cases are perfect for people who hate iPhone cases
These are paid iPhone and iPad apps that have been made available for free for a limited time by their developers. There is no way to tell how long they will be free. These sales could end an hour from now or a week from now — obviously, the only thing we can guarantee is that they were free at the time this post was written. If you click on a link and see a price listed next to an app instead of the word "get," it is no longer free. The sale has ended. If you download the app, you will be charged.
Context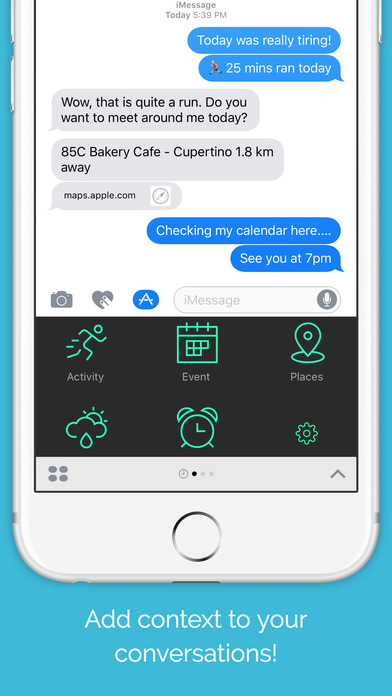 Normally $1.99.
Context lets you can add your calendar events, places around, the weather, your activity and time in just a click. Context is an iMessage app that helps you to make your conversations more meaningful!

Featured by Apple in 'Awesome Apps for iMessage' and on Product Hunt!

Features:
– Automatically share activity- Running time, Walking time, Travelling time and steps
– Share events with their timings
– Add places around you in the conversation with map links: Top places, food, drinks, trending places, outdoors and more!
– Add weather
– Add your time with the time zone

Context aims to help with making conversations more meaningful by data from your smartphone.

PRIVACY
All your data stays only on your phone.
Choicys
Normally $0.99.
You can Send recommendations or Request friends for restaurant and dish recommendations. You can save it & see who else recommended the same place. You get a curated list of restaurants from your most trusted connections.

Choicys is on a mission to save you time, provide you trusted curated food & restaurant recommendations, & you get best dining experience.Get $5 gift card when your 10 friends join Choicys.

What you can do?

**Recommend** your friend's restaurant & what to eat there.
For Example, Restaurant: Inchin's Bamboo Garden & order entree sesame chicken, Spicy Thai basil fried rice, Shrimp in garlic sauce. Yes, we help you to get Dish recommendation too. So no need to read long reviews, pre-search.

**Request** for a recommendation from your friends in a city where you plan to visit. They will receive your request notification & quickly send you recommendation.

**Save** recommendations to EatList, Favorites for quick access, all the features are location-based to make it easy access.

**Chat** about a restaurant, reviews, food, recipes through our in-app messenger.

**Get Reward** the platform is all about your trusted connection recommendations, every 10 contacts join using your unique URL you get $5.

Follow your foodie friends to discover new places.

|| Quick Statistics ||

** 15 percent of Americans spent two or more hours choosing retirement investments. (Source: TIAA-CREF)

What problem do we want to solve? Check research says,

We tend to spend 30 to 60 minutes researching on different apps like Yelp or deep Google search to pick a restaurant.

* Survey says, "15 percent of Americans spent two or more hours choosing retirement investments." (Source: TIAA-CREF).

* "81% of consumers have searched for a restaurant on a mobile device." (Source: SinglePlatform 2013)

* "A recommendation from a close friend or family member is up to 50x more likely to trigger a purchase than lower-impact marketing techniques." (Source: McKinsey)

Why $1 you will think, we help you save time, and for your time we give you $5 for every 10 friends that join Choicys.
Tollsmart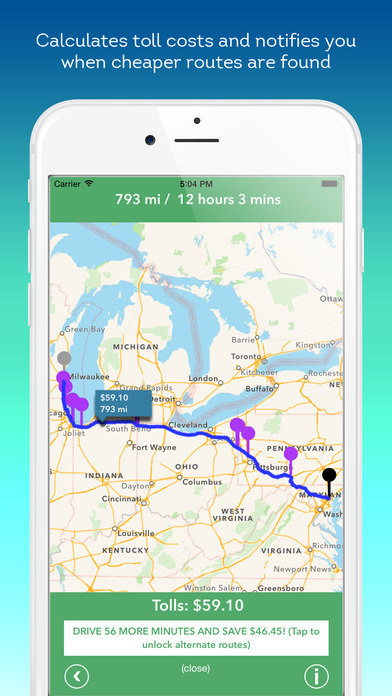 Normally $3.99.
THE ONLY APP THAT CALCULATES TOLL COSTS ACROSS THE ENTIRE US & CANADA!

Ever wish Google Maps, WAZE or MapQuest displayed the cost of tolls along routes? Now used by over 40,000 drivers, Tollsmart is the only app that calculates toll costs across all tunnels, bridges and toll roads* in the US & Canada, factoring in discounts from all ETC (transponder) agencies such as E-ZPass, SunPass, TxTag, K-Tag, iPass and FasTrak.

PLEASE NOTE REGARDING PRICING: The $3.99 purchase price of the app provides unlimited routes for 2-axle passenger vehicles. Support for adding multiple vehicles or additional vehicle sizes including trailers, RVs, commercial vehicles and trucks up to 9-axles in size is available for an additional $2.99 monthly subscription fee under the following terms:
– Payment will be charged to iTunes Account at confirmation of purchase
– Subscription automatically renews unless auto-renew is turned off at least 24-hours before the end of the current period
– Account will be charged for renewal within 24-hours prior to the end of the current period at the same monthly rate of $2.99
– Subscriptions may be managed by the user and auto-renewal may be turned off by going to the user's Account Settings after purchase
– No cancellation of the current subscription is allowed during active subscription period
– Any unused portion of a free trial period, if offered, will be forfeited when the user purchases a subscription to that publication."

View the Tollsmart Privacy Policy at http://www.tollsmart.com/privacy-policy/

Features include:
– Find alternative routes that save money (in-app purchase or share on Facebook)
– See where your transponder is (and isn't) accepted
– See where you'll encounter cashless tolls
– Track tolls while driving for easy export into expense reports via Toll Tracker™ service ($2.99 annual subscription). Note that this information is not shared with any third party and is used solely for the purpose of calculating toll fees.
-USA Express Lanes displayed when an option based on time of day and direction of travel.

*Express Lane pricing is based on peak and off-peak averages and not included in toll calculations. Real times prices are displayed for Seattle's I-405 Express Lanes.

ADDITIONAL INFORMATION

This version of Tollsmart supports toll fees for ticketed and non-ticketed toll roads, as well as toll bridges and tunnels.

***Continued use of GPS running in the background can dramatically decrease battery life.
Free Tube Music
Normally $1.99.
Turn YouTube into your personal music library!

– Play top 100 charts of your favorite genres.
– Login and access your YouTube account.
– Add videos to your own folders.
– Play videos in background, remote control.
– Advanced search for videos, channels and playlists.
– Download songs from iTunes
– Create your own playlists
noPhone Hour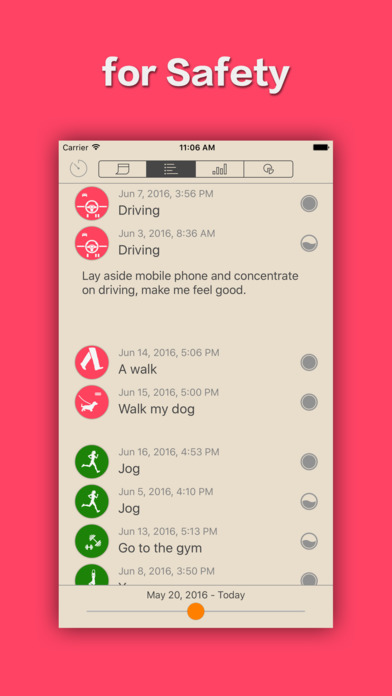 Normally $0.99.
There are so many things more important than mobile phone in our lives. So, when necessary, please lay aside it and concentrate on what you are doing.

・ This app encourages you to lay aside mobile phone and concentrate on what you are doing. You can set the time (one or half an hour), and briefly record what you've done at the end of the time. Day by day, will cultivate healthy habit of using mobile phone.
・ No limit to the functions of mobile phone, such as calls and texts. Putting your phone on silent mode is a good suggestion during the "noPhone Hour".
・ There are six themes, with the growth of the "noPhone Hour" number, one by one to unlock.
・ With iCloud, it's easy to transfer your data to an new iPhone.
・ No ads.
OneDay
Normally $0.99.
OneDay is the best app to make countdowns of the best moments in your life throughout 365 days in a year alot of things you care for and cherish will happen like business meetings, birthdays, holidays, anniversarys, weddings concerts & many many more.

OneDay will always be there for you on your iPhone ( For the the guys out there who always forget your girlfriends or your wifes anniversary this app will save your life)
Venus Calendar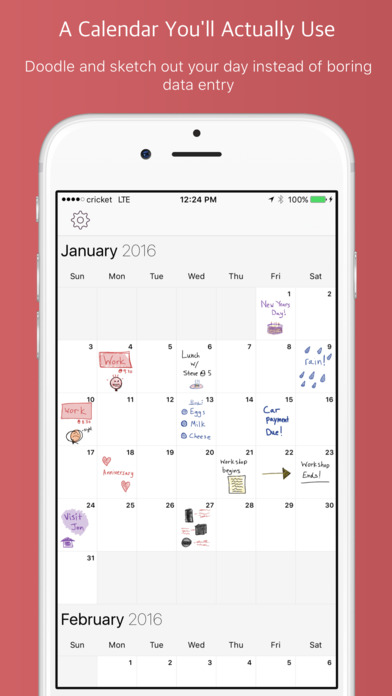 Normally $4.99.
If you are tired of the same old boring way of keeping schedules and tedious data entry, then Venus Calendar is for you! The app allows you to plan out your day by writing it in sketches and doodles – much like you would do to an old wall calendar.

Venus Calendar is designed for simplicity and sanity. Let go of all the alerts, notifications, and oppressive schedules eschewed by traditional calendar apps, and find a new a fresh way to get things done. Be creative. Express yourself. Make each day unique and different and fun.

Try Venus Calendar. Because life isn't supposed to be a time clock you punch in and out of. It is a canvas where you paint your experiences, and leave your mark.
Spher
Normally $0.99.
Have you ever wished that all the social media apps were all in one single app there's your answer, Spher has all the major social apps in it including:

– Instagram
– Facebook
– Twitter
– Youtube
– Google+
– Pinterest
– Dropbox
– Evernote
– Linkedin
– Tumblr

And many more, there are over 20 social media apps in this application
Money Manager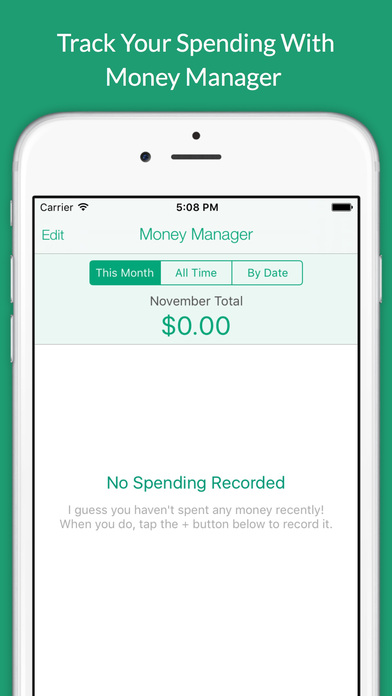 Normally $0.99.
Money Manager is a simple way to track your spending.

Press the "+" button, or 3D Touch the icon to add a new expense.
Enter the amount you spent, as well as a note on what the purchase was.

All of your expenses can be listed by: This Month, All Time, or By Date.

Can't reach your phone? Use the Apple Watch app to quickly add a new entry. You can also view how much you have spent within the last 7 Days.

Track your spending with Money Manager!
Life Hacks
Normally $0.99.
We live in the age of life-hacking. The concept, which denotes a kind of upbeat, engineer-like approach to maximizing one's personal productivity, first entered the mainstream lexicon in the mid-2000s, via tech journalists, the blogosphere, and trend spotting articles with headlines like "Meet the Life Hackers." Since then the term has become ubiquitous in popular culture — just part of the atmosphere, humming with buzzwords, of the Internet age.

Lifehacks brings you thousands of useful life-hacking tips that are deeply aimed at improving your productivity and bring calm to your life — an attempt to reclaim some leisure time and autonomy from the heavy demands of our busy lifestyles.

Categories cover a wide spectrum to appeal to everyone across various situation. We invite you to improve your productivity with a daily dose of great hacks and tips.

– Save life hacks by favoriting them.
– Share life hacks with friends via Twitter.
– New life hacks added daily.
Wakey
Normally $0.99.
Wakey is a minimalist alarm app, designed to set up nap/sleeping alarms with a simple flick. The application will then wake you with a soft white noise tone that will gradually bring you back to reality.
Life Cycle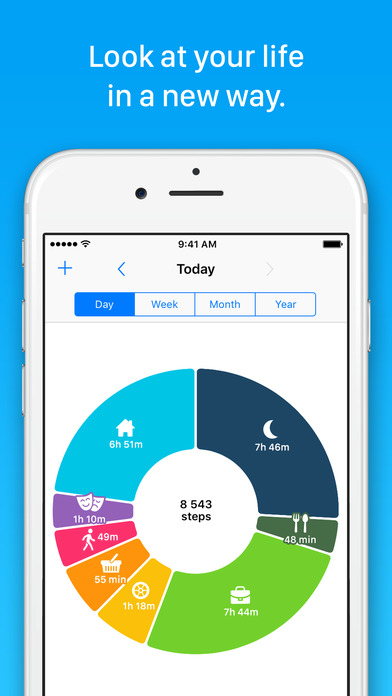 Normally $1.99.
Life Cycle – Track your time automatically
From the team that brought you Sleep Cycle, comes a new app that helps you automatically track your day.

Life Cycle automatically keeps track of your time and presents your life sorted into slices. It shows you your daily activities, places you go, and who you spend time with. Whether you're just curious of how your time is spent or looking to make a change, Life Cycle is your daily companion, providing you with all the information and insights you need. What's more – it uses only 1% of your phone's battery while it seamlessly does the work.

MAIN FEATURES
FREE
* Automatic – Life Cycle works in the background, recording and sorting what you do as you go about your daily business.

* Less than 1% of your battery per day – Life Cycle uses less than 1% of your battery per day as it runs in the background.

* From a day to a year – view your life day by day, week by week, month by month or even year by year.

* Fully integrated with Apple Health. Imports Steps and Sleep Analysis data.

* Friends – Connect with your friends on Facebook and see who you're spending time with, what you're doing and where.

* Sleep Cycle connection – For accurate sleep data, connect with Sleep Cycle alarm clock through Apple Health. (Life Cycle only reads data from Health, it does not share any data. It reads Sleep Analysis and Steps data.)

PREMIUM
* Connect to your Sleep Cycle account – If you have an online backup account with Sleep Cycle, Life Cycle will let you know how your daily habits affect your sleep quality score.

* Backup – Keep your data safe with our backup system. Never worry about losing your Life Cycle logs again.

* Graphs – Beyond the donuts, Life Cycle also shows you in detailed graphs for deeper analysis, what you're doing with your time. Just by looking at the visuals, you'll gain insights on if you're doing what's really important to you.

* Compare trends – see if you're dropping in sleep hours, if you're working too much or if you've taken longer walks this week. Compare trends over the weeks, months or years.

BATTERY CONSUMPTION
Continued use of GPS running in the background can dramatically decrease battery life. Life Cycle does not use the GPS in the background, but instead relies on cell tower and Wi-Fi locations. As a result, it consumes less than 1% of your battery per day, when the app runs in the background.