Developers must have all had a big meeting today and all decided to drop the prices on their apps because it took forever to dig through all of the sales out there and pick out the best ones. We pulled it off though, and we came up with 11 paid apps iPhone and iPad apps that are all on sale for free right now. Trust us, you definitely won't want to miss them.
DON'T MISS: The end of Samsung's Galaxy Note 7 saga is really only the beginning
These are paid iPhone and iPad apps that have been made available for free for a limited time by their developers. There is no way to tell how long they will be free. These sales could end an hour from now or a week from now — obviously, the only thing we can guarantee is that they were free at the time this post was written. If you click on a link and see a price listed next to an app instead of the word "get," it is no longer free. The sale has ended. If you download the app, you will be charged.
Camtinerary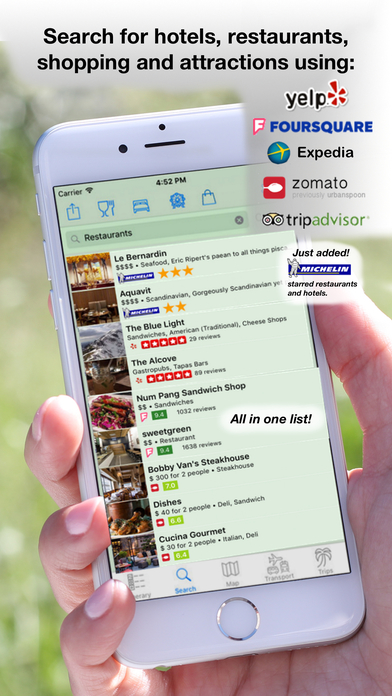 Normally $1.99.
Camtinerary is a powerful travel app that allows you to view and share itineraries with other travelers.

• View a list of hotels, restaurants, shops and attractions containing content aggregated from Yelp, Foursquare, Expedia, Michelin & TripAdvisor.
• Browse photos of a business from the entire web and Google Street View, not just those curated on a website.
• See a map of your trip that shows pins with labels showing the actual names of places.
• Add your own places to your itinerary by dropping pins at any location.
• Check out the travel time by car or by foot from one place to the next listed chronologically in your itinerary.
• Access integrated transit info using popular apps like Waze, The Transit App, Google Maps, Apple Maps, Citymapper and Yandex.
• Check updated daily weather forecasts within your itinerary for each day of your trip.
• Share the itinerary of your trip with the Camtinerary community and browse others.
• Take advantage of the unique capabilities of Apple Watch, iPhone, iPad and Mac with tailored Camtinerary versions for each.
• Enjoy your privacy while Camtinerary never asks you for your email address or Facebook login. Your travel plans, even when uploaded, cannot be identified with you, provided you do not use your actual name in your Camtinerary user name.

—————————————

Get Camtinerary now to enjoy your travels tomorrow!

Camtinerary's (almost) complete feature list:

* Be free from annoying requests for your email address or a Facebook/Twitter sign in!
* Trips are uploaded anonymously, ensuring your privacy. No login is required and no personal information is collected that you do not volunteer.
* Browse a growing library of itineraries encompassing everything from vacations to a single night out to treasure hunts.
* Upload your own itineraries to share with other Camtinerary users including photos, comments in the notes and web links.
* Search hotels, restaurants, attractions and shopping aggregated from Yelp, TripAdvisor, FourSquare, Expedia, Tomato, Michelin and Apple Maps.
* Create a detailed itinerary sorted by date and time, automatically displaying driving/walking time shown from place to place.
* Get directions from hotel to restaurant and back or to any other destination.
* See dynamic web photos shown of places for a raw, uncurated view of destinations.
* See Google Street View shown in quick photos of North, South, East and West exposures.
* Add personal photos and website links for each place.
* Search for street address.
* Drop pins manually to create your own places in the itinerary such as a favorite beach or mountain top.
* Create map pins with labels so identification does not require a cross-reference.
* Sort search results by rating or distance from the map's center.
* Perform integrated web searches for more details of places.
* Cut, Copy and Paste places from day to day of your trip.
* Share itineraries or search results in a PDF file via text message or email.
* Enjoy full privacy protection. Data and search history exists only on your device and cannot be traced to you from the cloud.
* Use iPhone, iPad, Apple Watch Mac, and soon Apple TV versions.
* Use Twitter integration allows you to read tweets on restaurants, hotels and other hot spots.
SayHi Translate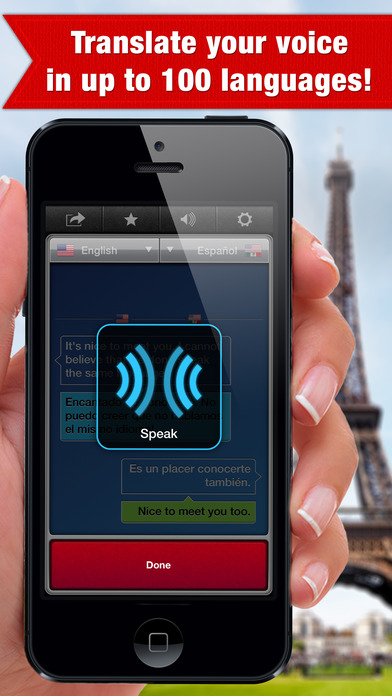 Normally $4.99.
Instantly speak another language, with SayHi Translate for iPhone and iPad.

With over 100 languages and dialects available, can you imagine talking in one language and immediately hearing yourself speaking another language?

Featured App by: NBC Today Show, Lifehacker, Gizmodo, TUAW, TechCrunch

"This is the freakin' universal translator."

"SayHi is THE interpreter in your pocket."

***********************************************************

Arabic, Bosnian, Bulgarian, Catalan, Chinese Simplified, Chinese Traditional, Croatian, Czech, Danish, Dutch, English, Estonian, Finnish, French, German, Greek, Haitian Creole, Hebrew, Hindi, Hmong Daw, Hungarian, Indonesian, Italian, Japanese, Swahili, Korean, Latvian, Lithuanian, Malay, Maltese, Norwegian, Persian, Polish, Portuguese, Romanian, Russian, Serbian, Slovak, Slovenian, Spanish, Swedish, Thai, Turkish, Ukrainian, Urdu, Vietnamese, Welsh
+ The following languages have dialect support:

Arabic: Algeria, Bahrain, Egypt, Iraq, Jordan, Kuwait, Libya, Morocco, Oman, Palestine, Qatar, Saudi Arabia, Tunisia, UAE, Yemen
English: Australia, Canada, India, New Zealand, South Africa, UK, USA
French: Canada, France
Italian: Italy, Switzerland
Mandarin: China, Taiwan
Portuguese: Brazil, Portugal
Spanish: Argentina, Bolivia, Colombia, Costa Rica, Dominican Republic, El Salvador, Guatemala, Honduras, Mexico, Nicaragua, Panama, Paraguay, Peru, Puerto Rico, Spain, Uruguay, USA, Venezuela

+ Simple User Interface
Quickly change languages, choose male or female voices (where available), and speed up or slow down the rate of speech

+ Look up words like a dictionary
Look up translations for common words & phrases, just using your voice. You can even help us improve our translation dictionary by correcting or suggesting translations!

+ Favorites & history
Browse through recent translations or save a translation for quick access.

+ Edit & share
Tap your translation to edit and make changes, without having to speak it again. Share your conversations easily via email, SMS, Facebook, or Twitter.

+ Localized in many languages

+ Perfect if you want to…
… learn a new language.
… travel to a foreign country.
… chat with people who don't speak your language.

+ Internet connection required to use app
Splashtop 2 Remote Desktop for iPhone
Normally $2.99.
Over 25 Million Users — #1 Remote Desktop App for iPhone & iPod! Splashtop is the easiest and fastest way to access your Mac or Windows PC from your iPhone & iPod!

Use Splashtop to access your computer on the local network with best-in-class video streaming performance. View and edit Microsoft Office and PDF files. Browse the web using IE, Chrome, and Firefox with full Flash and Java support. Play 3D PC and Mac games. Access your entire media library and documents. Put your PC or Mac in your pocket!

To access your computer from across the Internet, subscribe to Anywhere Access Pack via In-App Purchase.
* Use your iPhone or iPod to access all of the programs and files on your computer with 100% compatibility, including PowerPoint, Keynote, Word, Excel, Outlook, Quicken, IE, Chrome, Safari, and all other PC/Mac applications

* Use your full desktop browser (IE, Chrome, Firefox) with Flash and Java support, with all of your bookmarks and your favorite plug-ins

* Enjoy the full video and music libraries that are playable only on your computer, whatever formats they're in

* Play all the 3D games (World of Warcraft, StarCraft, Skyrim, Diablo III, etc.) and all the Flash games (FarmVille, CityVille, etc.)

* Enjoy the most vibrant experience with Apple Retina display support (when using native resolution)

===================================
Optional In-App Subscription

Get Anywhere Access Pack to access your computer over 3G/4G or from across the Internet, via our global network of secure, high-performance servers:
— Access across Internet over 3G/4G and Wi-Fi
— Optimized streaming performance under varying network conditions
— Fully secured via SSL with 256-bit AES encryption
— Subscribe monthly for $1.99 or annually for $16.99

Subscriptions will be charged to your credit card through your iTunes account. Your subscription will automatically renew unless cancelled at least 24-hours before the end of the current period. You will not be able to cancel a subscription during the active period. Manage your subscriptions in the Account Settings after purchase.

See our Terms of Service and Privacy policy at http://www.splashtop.com/terms/splashtop.
===================================
===================================
License:

You may access up to 5 computers via your Splashtop Account.

Splashtop Personal is for non-commercial use only, i.e. use it to access your personal computers for non-work related purposes.

For commercial use in a professional environment, please use Splashtop Business which is specifically designed for the workplace offering enhanced manageability, security, and compliance (www.splashtop.com/business).
===================================

Notes:
1. Install Splashtop Streamer on your PC (Windows 7/8/10, Vista, and XP), Mac (10.7 and higher), or Linux (Ubuntu 12.04). Download for free from http://www.splashtop.com/downloads
2. A computer with dual-core CPU is strongly recommended for best performance
3. Compatible with iPhone 4 and newer and iPod Touch (5th generation and later)
Download Splashtop 2 Remote Desktop for iPhone
Splashtop 2 Remote Desktop for iPad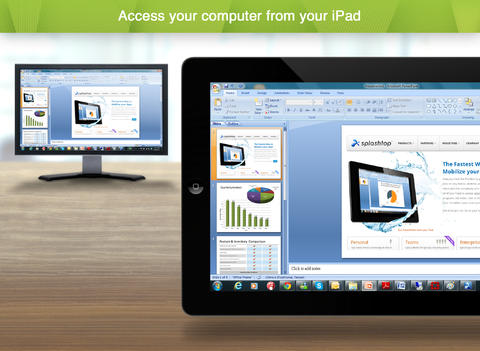 Normally $4.99.
Over 25 Million Users — #1 Remote Desktop App for iPad! Splashtop is the easiest and fastest way to access your Mac or Windows PC from your iPad!

Use Splashtop to access your computer on the local network with best-in-class video streaming performance. View and edit Microsoft Office and PDF files. Browse the web using IE, Chrome, and Firefox with full Flash and Java support. Play 3D PC and Mac games. Access your entire media library and documents. And more!

To access your computer from across the Internet, subscribe to Anywhere Access Pack via In-App Purchase.

* Use your iPad to access all of the programs and files on your computer with 100% compatibility, including PowerPoint, Keynote, Word, Excel, Outlook, Quicken, IE, Chrome, Safari, and all other PC/Mac applications

* Use your full desktop browser (IE, Chrome, Firefox) with Flash and Java support, with all of your bookmarks and your favorite plug-ins

* Enjoy the full video and music libraries that are playable only on your computer, whatever formats they're in

* Play all the 3D games (World of Warcraft, StarCraft, Skyrim, Diablo III, etc.) and all the Flash games (FarmVille, CityVille, etc.)

* Enjoy the most vibrant experience with Apple Retina display support (when using native resolution)

===================================
Optional In-App Subscriptions:

Get Anywhere Access Pack to access your computer from across the Internet, via our global network of secure, high-performance servers:
– Access across Internet over 3G/4G and Wi-Fi
– Optimized streaming performance under varying network conditions
– Fully secured via SSL with 256-bit AES encryption
– Subscribe monthly for $1.99 or annually for $16.99
Get Productivity Pack which includes Configurable Shortcuts & Gamepad and Whiteboard:
– Control your Windows and Mac apps and games easily with on-screen shortcuts mapped to your most commonly used functions. Use the built-in profiles for popular apps or create your own.
– Annotate over any live remote desktop screen. Great for presentations and classroom instruction.
– Subscribe monthly for $1.99 or annually for $16.99

Subscriptions will be charged to your credit card through your iTunes account. Your subscription will automatically renew unless cancelled at least 24-hours before the end of the current period. You will not be able to cancel a subscription during the active period. Manage your subscriptions in the Account Settings after purchase.

See our Terms of Service and Privacy policy at http://www.splashtop.com/terms/splashtop.
===================================

===================================
License:

You may access up to 5 computers via your Splashtop Account.

Splashtop Personal is for non-commercial use only, i.e. use it to access your personal computers for non-work related purposes.

For commercial use in a professional environment, please use Splashtop Business which is specifically designed for the workplace offering enhanced manageability, security, and compliance (www.splashtop.com/business).
===================================

Notes:
1. Install Splashtop Streamer on your PC (Windows 7/8/10, Vista, and XP), Mac (10.7 and higher), or Linux (Ubuntu 12.04). Download for free from http://www.splashtop.com/downloads
2. A computer with dual-core CPU is strongly recommended for best performance
Download Splashtop 2 Remote Desktop for iPad
Shadow Bug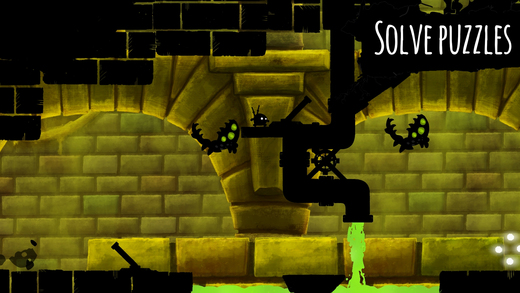 Normally $3.99.
You are the overpowered ninja hero Shadow Bug! Save your home forest from the evil factory by slicing monsters to pieces.

TAP ON THE MONSTER! Leap, slash, splash! One finger is all you need.

Become the ultimate ninja and adventure through beautiful and twisted landscapes full of action and adventure.

"Badland Meets Super Meat Boy" – TouchArcade

"Shadow Bug is very well tuned to touch-screen controls." – Hardcore Gamer

"Shadow Bug is one of the most alluring games that has graced my device lately." – AppAdvice

– Hand crafted levels filled with action, exploration and puzzles.
– Memorable boss fights.
– Mesmerizing art with picturesque parallax backgrounds and mystical silhouettes.
– Breathtaking soundscape with an epic soundtrack and immersive sound effects.
– Leaderboards for speedrunning levels.
– A completely new take on platformer games.
GPS Speedometer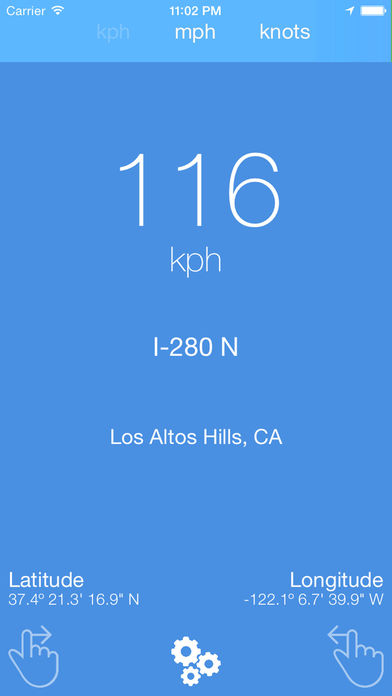 Normally $0.99.
Speed Map is an GPS Speedometer, a GPS tracker and a weather app in one. The user just by swiping it can change from one screen to another enjoying several custom transitions.

It shows the user's current speed in miles, kilometers or knots, but also his current GPS Coordinates, location and even the street where he is at any given moment.

It features also a map that keeps track of the journey. It "prints" or renders a line of the trip.

The user can zoom in and out of the map or change the units of the speed.

The Weather Section gives all relevant weather data for the current location such as temperature (ºC or ºF), air pressure, humidity, precipitation, ozone and a resume description with an weather icon depend on the conditions.

This App fits for all iOS devices.
Dream Days Until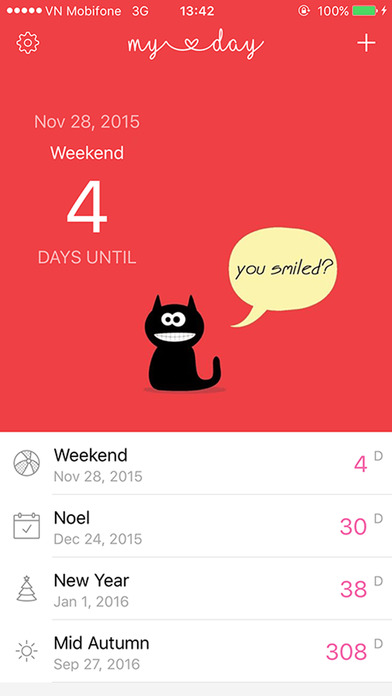 Normally $0.99.
Dream Days Until is a day tracking app which tells you the remaining days until or starts counting the days after the event with your own photos.It is the simplest and the most beautiful way to track your days.

Features:

-Supports countdown to events and counting up once they arrive
-Toggle between time in days and years/months with a single tap in each event
-Seven default categories (Event, birthday, entertainment, holiday, life, love, and study)
-Voice memos to record your thoughts for each event
-Set your favorite event as cover
-Ability to sort events by time
-Customizable background for each event (background in app)
-Customizable position show for each event
-Color-coded navigation bar (your favorite event)
-Share your joy with friends on Facebook, Twitter, Instagram, and via emails or text messages
-Today widget extension
-Optimization for the iPhone6s/6splus
-User can custom background/themes for each event
-Own background can zoom-in, zoom-out – NEW
-User can change text color
-Notifications redmine event
wakerapper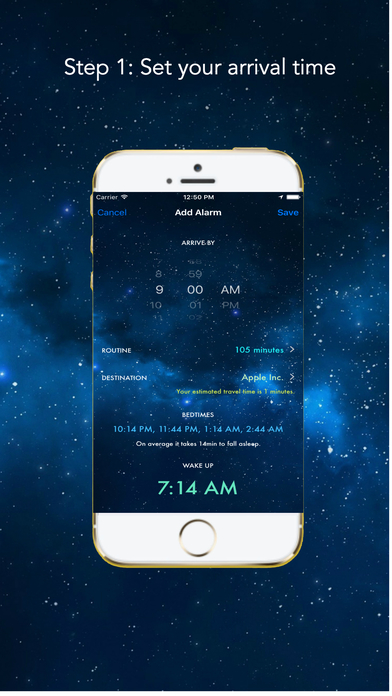 Normally $0.99.
The world's smartest alarm that checks real-time traffic and factors in your morning routine to calculate your optimum bed & wake up time.

Includes an intelligent nap timer with preset recommended nap lengths so you don't over sleep or get a sleep hangover.
GifMake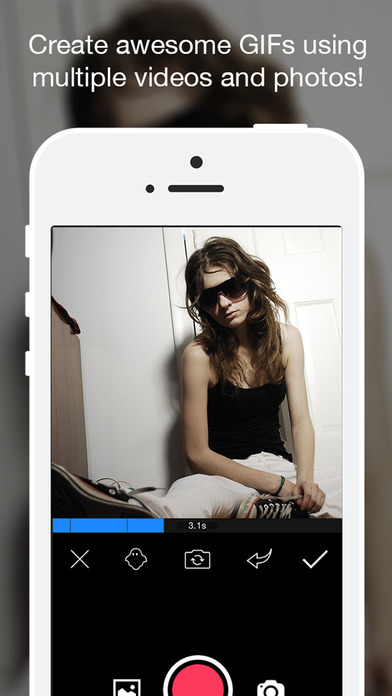 Normally $0.99.
GifMake user to create a gif by building each frame content such as the background image, the background color and the text with its font and its color. The user can add any text he/she want as the text adapts itself to the frame, can add any image from its camera or gallery and can add the Apple emojis as stickers.

As usual, the app allows the user to share the final gif (as a gif or a video) using any app installed in his/her device as Facebook or Twitter.

FEATURES:

– Create gifs using text and images: The app allows to create each frame and edit the content by adding text, an image and changing several properties as the background color.

– iPhone & iPad support: Works on any model of this family of devices.

– Share to any app: Thanks to in-built share protocol, you can share the final image using any app installed on your device.

– Creates both gif & video: In order to provide maximum support to share, the app creates a video and a gif and the user can choose which one to share or save.
Spinstrument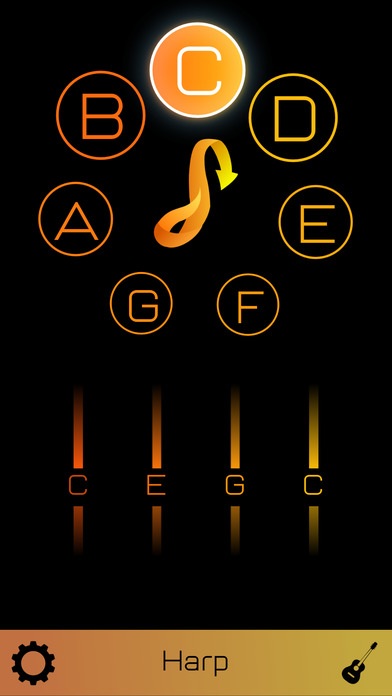 Normally $0.99.
Spinstrument is a revolutionary "twist" of the classic piano keyboard. It incorporates phone movement and compass direction into a revolutionary way of playing music on your phone. Why limit music creation on your phone to the dimensions of the screen? Spinstrument provides the perfect way for you to play the piano, guitar, drums, and many other instruments in a whole new fashion.

Includes:

-Sampler:
The sampler is similar to the keyboard instrument, but it allows you to create your own sounds. Simply record a sound through the phone's microphone, and voila – your new instrument is created.

-Keyboard:
The keyboard is a "spin-off" of the classic electronic piano. It allows you to choose your sound from a pre-loaded library and play it to your heart's content.

-Drums:
The drum instrument brings you the fullest experience of drumming on the App Store. Instead of tapping the screen, you can flick your phone to drop a beat. The drum instrument transforms your phone into a drumstick and the world around you to a drumset. Have fun.

-Chords:
The chord instrument allows you to play multiple notes of a chord at the same time. Visual strings on the app allow you to strum a chord or play arpeggios.
7 Step Hangover Cure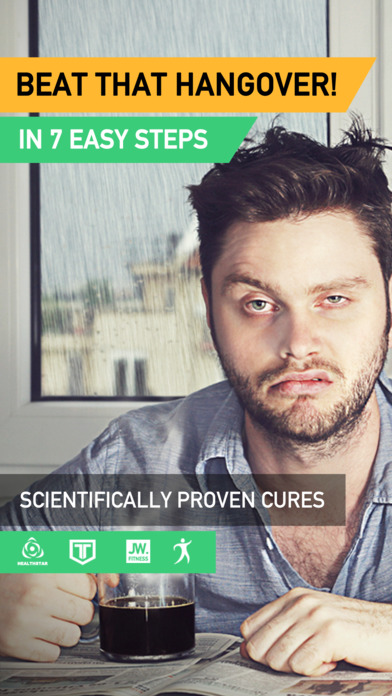 Normally $0.99.
The OFFICIAL and ultimate hangover cure app!

– 7 EASY STEPS and you'll be ready to take on the world again.

There is finally a way to feel as good as new so get ready to beat that head-throbbing, body-aching hangover with these scientific, proven approaches.

Choose between 3 effective and scientifically designed methods that will help reduce the symptoms of a big morning-after hangover by addressing the effects of your low blood sugar, the dilated blood vessels in your brain, the break-down of toxins in your liver, and the build up of inflammatory chemicals in your body.

Come out ready to fight and you'll blow away that nasty hangover in only 7 easy steps.

FEATURES:
◉ Scientifically proven and effective methods (7 steps in each)
◉ Ability to track and record all your hangovers
◉ Voice over instructions guide you through each step
◉ Profile screen to set before and after photos and compare your results
◉ Detailed text instructions for each step
◉ Settings and volume adjustments for voice cues
◉ Beautifully designed and easy to use
◉ Preparation screen shows next step
◉ Ability to skip, repeat each step
◉ No internet access needed
◉ All features fully enabled and no ads
◉ No extra medicine, pills or recipes needed
◉ Nothing to learn, just tap "Start"
USER REVIEWS:
– "I've tried like 3 of these… and this is the only one that works."
– "This is the only app you need to get you through your hangover."
THE DIFFERENCE:
What sets this app from the rest is the quality and scientifically proven methods used for each plan and the clear audio cues that help guide you along the way to help you cure your hangover. The apps counts down the seconds for each step and helps you move along easily without having to hold your phone the whole time. This makes a huge difference!

Don't forget to eat healthy, avoid your desire for greasy food and try not to drink as much next time.

If you like our '7 Step Hangover Cure' app, please take a moment to leave a review, it really helps!