No Cyber Monday is complete without a handful of paid iPhone and iPad apps that are available as free downloads for a limited time. We've got a terrific batch in store for you today, including several premium apps that have never been made available for free before. Check them all out below.
DON'T MISS: The 10 best Cyber Monday sales of 2016
These are paid iPhone and iPad apps that have been made available for free for a limited time by their developers. There is no way to tell how long they will be free. These sales could end an hour from now or a week from now — obviously, the only thing we can guarantee is that they were free at the time this post was written. If you click on a link and see a price listed next to an app instead of the word "get," it is no longer free. The sale has ended. If you download the app, you will be charged.
Locky | Your magic wand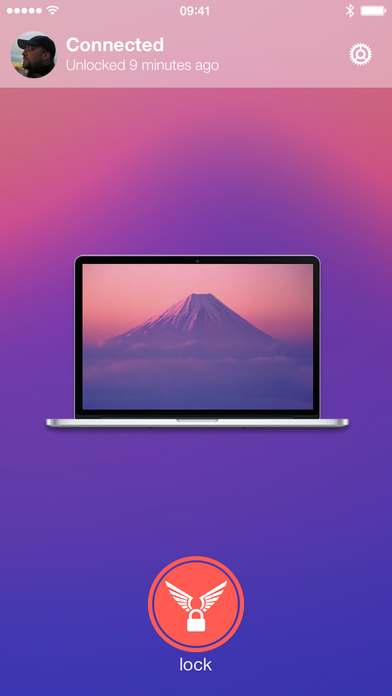 Normally $1.99.
Locky will transform your iPhone into a magic wand to lock your Mac (check eligibility of your Mac below) when you walk away, and more. You can now use Locky on your Apple Watch! Created by the security experts behind oneSafe, the premium password manager on iOS.

** Please make sure your Mac is eligible before purchasing Locky. Locky requires at least Mac OS X Yosemite, and a recent Mac (see below the list of eligible Mac).

LOCKY AT A GLANCE

1. Locky locks your Mac if you walk away with your iPhone

2. Our secret sauce to make it work seamless: we're making the most of your iPhone's sensors and the brand new Bluetooth Low Energy (BLE) to detect motion and your distance from your Mac.

3. And more, such as:
• unlock your Mac with your iPhone. And Touch ID can be activated to be secure and simple at the same time!
• use your Apple Watch to lock/unlock your Mac!
• a Today extension to make it even simpler to lock and unlock your Mac
• see your Mac's desktop background instantly updated on your iPhone
• play with the distance thresholds
• select the notification sounds you prefer

SUPPORTED MAC

• iMac from 2012 and newer
• Mac Mini from 2011 and newer
• MacBook Air from 2011 and newer
• MacBook Pro from 2012 and newer
• Mac Pro from 2013 and newer
Download Locky | Your magic wand
Split Screen Videos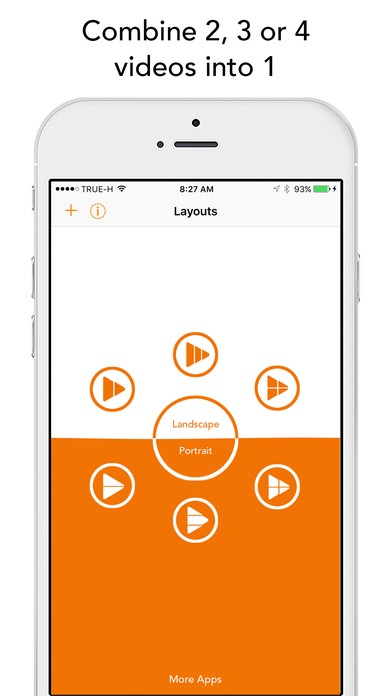 Normally $2.99.
With Split Screen Videos you can combine 2, 3 or 4 videos into one split screen video.
Just pick the videos in your camera roll then tap the play button, and the app creates the split screen videos for you; it couldn't be simpler!

Special Features:
– 6 split screen video templates to choose from to combine 2, 3 or 4 videos
– Adjust eventually each video in its frame/box
– Choose the video soundtrack(s) you want to hear in your split screen video, or use a music from your iPod library instead
– Add an eventual margin between the videos in the split screen videos
– Supports 4K videos: combine 4K videos into 4K split screen videos
– Save your split screen videos in your camera roll, send them by email, or export them to other apps installed on your device
ACDSee Camera Pro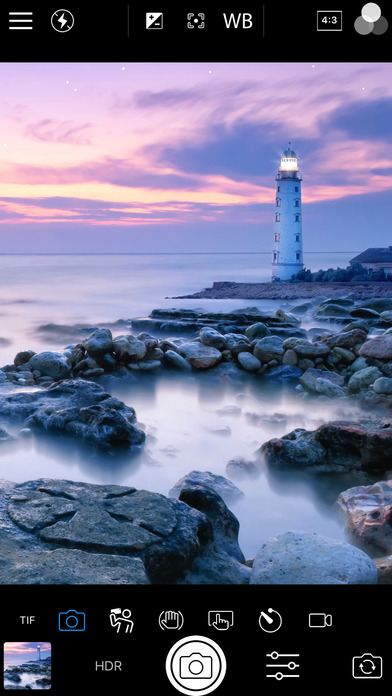 Normally $4.99.
ACDSee Camera Pro lets you harness the full power of your device's camera.

New! Support for iPhone 7 Plus Dual Camera

RAW Support
Shoot RAW on capable devices and write captured photos in DNG format.

Lossless TIFF/PNG
Write captured photos in lossless TIFF or PNG format, or choose one of three JPEG quality settings.

Manual Controls
Precisely control exposure, focus and white balance, including a custom white balance preset. Real-time overexposure and underexposure visualization.

Shutter Priority Mode
Set the shutter speed and ACDSee Camera Pro automatically chooses the ISO for proper exposure.

Selfie Mode
Look your best with skin smoothing and lightening, plus a front-facing torch/flash for low light situations.

Real-time Effect Filters
Choose from 24 effects including high quality black & white, Orton, film grain, halftone, and various color tone filters.

Real-time Adjustments
See brightness, contrast, vibrance, sharpness, clarity, skin tune and vignette adjustments in real time and add additional noise reduction during capture.

Exposure Bracketing
Capture three exposures at once at different exposure levels.

HDR Fusion
Combine three shots taken at different exposures to create a single image with high dynamic range, with manual override of composition parameters.

Flash Fusion
Combine a naturally-illuminated capture with a flash-illuminated capture.

Video Mode
Capture those special moments with video and apply filters and adjustments in real-time.

Flash Modes
Choose from six flash modes: Off, On, Auto, Torch, Torch & flash, and Flash Fusion. All modes work with either the rear-facing or the front-facing camera.

Touch Focus and Exposure
Touch to select focus and exposure point. For more precise control, independently select focus and exposure points.

Lockable AF, AE and AWB
Independently lock focus, exposure, and white balance.

Cropping modes
Crop before you shoot to square, 4:3, 3:2, and 16:9 aspect ratio. Independent settings for front and rear cameras, still photo and video modes.

Level Indicator
Compose your shots with precise alignment using a dual-axis level indicator.
Dropshare
Normally $6.99.
Dropshare is a tool for uploading pictures, videos, screenshots and files of all kind from your iOS device to a hosting provider of your choice.

Dropshare is free for subscribers of Dropshare Cloud, and Dropshare Pro (one-time In-App Purchase) is required to upload files to your own server (via SCP over SSH), Amazon S3, any S3 API-compliant service (like OpenStack Swift), Rackspace Cloud Files, Backblaze B2 Cloud Files or Google Drive.

Dropshare supports Multiple Connections: You can set up different upload destinations at the same time and switch between them easily for each upload.

** Uploads everything
Dropshare is able to open files of any kind with its Sharing and Action Extensions. Upload directly from your favourite app like the Photo Album, or any other app that offers sharing functionality. Multiple images can be uploaded at once and will be archived in a ZIP file.

** Dropshare Sync
Synchronize your upload history including preview images across all your devices, supports both iOS and Mac OS X. Easily see all the uploads made from your Mac within Dropshare for iOS. Plus, synchronise your custom landing page across all your Macs and iOS devices.

** Dropshare Safe
Easily create access-restricted URLs for your uploads with either a lifetime and/or password.

** Import your connections from Dropshare for Mac
If you've already set up Dropshare on your Mac, just export all your connections to encrypted .dropshareconnection files and import them on your iOS device.

** Beautiful individual landing pages
Use a default template or craft an individual design on your own using HTML, CSS and JavaScript.

** Choose your URL shortener
Dropshare supports URL shorteners as well – natively supported URLs (e.g. dsh.re), or configure your very own URL shortener service like bit.ly or YOURLS.

** Filename randomization
Optionally configure whether Dropshare should add a random suffix or completely randomize the filename before uploading the file.

** 1Password integration
Use 1Password to easily log in to Dropshare Sync with your account details.

** Screenshot extension
Dropshare offers a screenshot extension for your favourite browser: Capture the whole website and upload it right away.

** Image compression
Images can be compressed within 3 different levels prior uploading to save bandwidth and space.

To be sure Dropshare is the right tool for you, please read the following technical requirements:

** Dropshare Cloud
A valid Dropshare Cloud subscription is required in order to upload files with Dropshare Cloud. Please check out the Dropshare Cloud website for more information.

** Secure Copy (SCP over SSH) to your own server
Dropshare supports SCP over SSH natively. A working SSH user account is required on the server. A password or SSH key pair is also required. Please note that both the public and private key needs to be set up. To have the uploaded file displayed in a web browser, a web server needs to be installed and configured on the server. Please refer to the User Guide for more information.

** S3 API-compliant service
Dropshare supports services like OpenStack Swift. Check our User Guide for more information.

** Google Drive
A regular Google account is required in order to use Google Drive.

** Backblaze B2 Cloud Files, Amazon Simple Storage Service (S3), Rackspace Cloud Files
A subscription may be neccessary in order to use Dropshare with one of these providers. Please check out the terms of use and payment information at the website of the selected provider. Other than that, Dropshare works out of the box with any of these providers.

Please note that Dropshare does not support FTP!
Live 2 GIF
Normally $2.99.
Save and share your Live Photos as GIFs and videos!

We enable you to make GIF and Movie from Live Photos at ease. With Live 2 GIF, you can share your Live Photos with your friends on iMessage, Facebook, Instagram, Whatsapp, Email, and many more.

Live 2 GIF comes with a simple, powerful video editor that finally puts you in control. Beginner or expert – you'll be producing high quality videos in minutes.
– Choose from a wide range of custom filters to adjust the tone of your video
– Easily cut or crop to any size
– Change the video fit any aspect ratio (such as 4:3, 16:9, 3:2 etc)
– Have total control over the colours – adjust all the channels
– Tweak the contrast, brightness, temperature, saturation

What's even better, we don't charge you upfront or limit your usage. You can export as many times as you like. If you appreciate our effort, kindly do a single in-app purchase to remove ads and support our ongoing development.

**IMPORTANT: Live Photos can only be taken by iPhone 6s, iPhone 6s Plus, iPhone 7 and iPhone 7Plus.**
Triangle Draw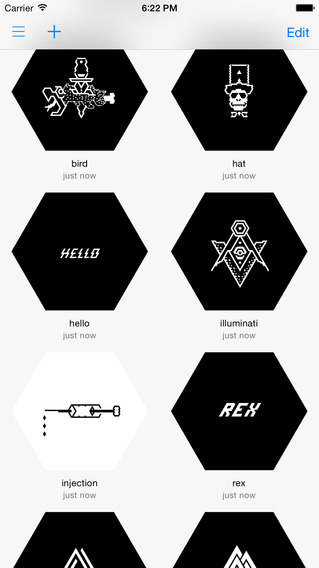 Normally $5.99.
Triangle Draw is brilliant for sketching logos. You can quickly create designs that can be used for branding on letterheads or on your website.

This app contains:

• Drawing app – with a 176×88 canvas; you have plenty of space for all kinds of symbols/logos.
• My drawings – provides you with an overview of all your drawings, where you can sort by date or by name.
• Rename drawing – to change the name, simply tap on the text just below a drawing.
• Export to PDF – you get the highest possible quality with vector graphics, that you can import into PhotoShop/Illustrator.
• Add to Photos – save the drawings as 2048×2048 png-file in your Photo album.
Features in the drawing app:

• Draw – use one finger to draw.
• Pinch – use two fingers to zoom in/out.
• Undo – if something goes wrong, then you can roll back to the moment just before it went wrong.
• Fullscreen – hide the toolbars and work without noise.
• Rotate – turn the canvas by 60 degrees.
• Move around – move the canvas by one column/row. The triangles wraps around the canvas edge.
• Mirror – flips the x axis or the y axis.
• Invert – white becomes black and black becomes white.
Thank you for your support. We hope that you like using Triangle Draw. Please send feature requests that you want in future updates.

Best regards from the triangle draw developer.
————

SUZANNE LABARRE / Fast co design

We're starting to suspect the iPad isn't just a device, but a wand that turns mere mortals into superhuman renaissance men. Case in point: Triangle Draw, an iPad app by Denmark's Simon Strandgaard that allows regular joes to create computer graphics that could pass for the stuff of professionals.
JORDAN MARKOWSKI / Trend Hunter

Triangle Draw is a fascinating iPad app that puts the capacity to create awesome logos in the hands of even the most unskilled of users.

Although the concept behind the app may seem simple, the room for creation is extensive and vast. Using acute or obtuse angles, Triangle Draw allows you to create retro gaming-inspired logos that have a minimalist, almost binary aesthetic. When it comes to creating something that fits in that very specific look, there is no app that's as user-friendly or dynamic as Triangle Draw.
DONNA BAXTER / YouTheDesigner

Top 10 Must Have iPad Apps for Logo Designers

Apart from the above mentioned apps there is Triangle Draw App which is the first of its kind providing the users an easy platform on which they can create new logos, typography and patterns using triangles. The designers also can keep a track of their previous creations and export the new designs to your email or to a photo album. Triangle Draw App can be of great help in creating stunning minimalist graphics.
JOHAN WALLÉN / MacWorld

Triangle Draw is a small drawing program where you can only draw with triangles. It sounds weird at first, but is actually really smart. It makes you thus no landscape paintings – rather stylized and abstract works. Triangle Draw are particularly good for sketching logos; Very quickly you turn up something that could adorn letterhead from any bank or airline. Basic facilities like fill, shuffle and mirror are also available for unexpected effects.
STAN LEE / Brand DNA

Somewhere out there in client land a marketing manager is playing with it on their iPad and wondering why on earth they would commission a designer to do what they can now do themselves.
Xmessy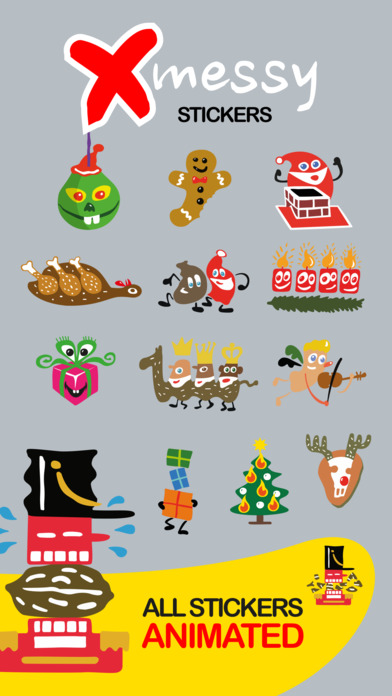 Normally $0.99.
Christmas is coming! The animated and colorful Christmas Stickers bring lots of fun in the X-mas season. Illustrator George Engelhard has illustrated and animated every sticker with love for iOS exclusively. The pack includes 17 stickers.

You can peel and place the animated stickers on almost anything in your iMessage conversation. Simply drag the sticker from the tray at the bottom of the screen onto a message bubble, a photo or even other stickers. You can also rotate and scale the sticker with a second finger before release.
Days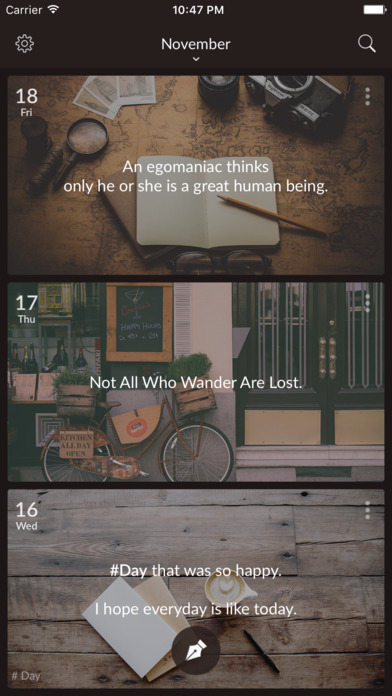 Normally $0.99.
"Good times come and go, but the memories will last forever."

Days is private photo journal to write the precious moments in daily life.

Cherish unforgettable memories with your own emotions and feelings.
It will make your life more meaningful and beautiful.

[Features]

• Photos
Write interesting moments with a daily photo.

• Hashtags
Make it easier for you to find messages with a specific theme or content.

• Passcode
Keep your daily journal more safe with Passcode and Touch ID.

• Share
Share the moments you want to share with your friends.

• Notification
Make a habit of writing a diary through the notification at a specific time.

• Backup & Restore
Easily and securely backup and restore your memories using the iCloud and Dropbox.
BoomBox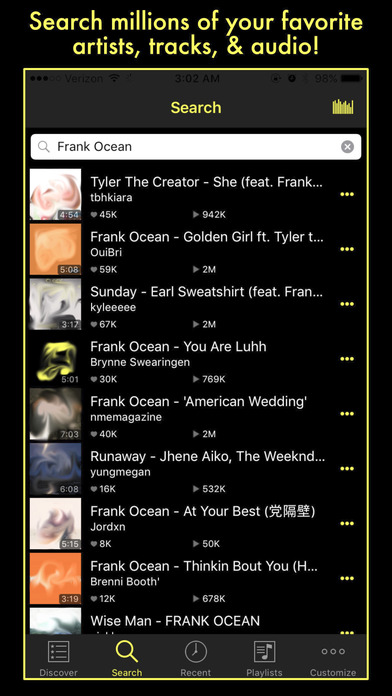 Normally $6.99.
BoomBox is the ULTIMATE music player for any Soundcloud user that finds their native app to be too clunky! BoomBox is simple and intuitive, allowing the user to focus on the music. With completely ad free listening, BoomBox is the only music player to offer exclusive access to Soundcloud with no cost and no ads. Don't waste your time skipping Soundcloud ads… Just get BoomBox!

BoomBox is the best way to search for millions of free music and audio tracks via Soundcloud… AD FREE!

Listen to any song, album, podcast, or audio recording that is available on your Soundcloud profile for absolutely free, no strings attached.

App Features:
– Explore tracks by genre and playlist
– Search unlimited free music & audio
– ENTIRELY AD FREE
– Use unique colors to customize your experience
– Background Play & Select music from the lock screen
– Create and Manage your Playlists
– Simple Music Player is available on all pages for convenience
Magic Contacts Pro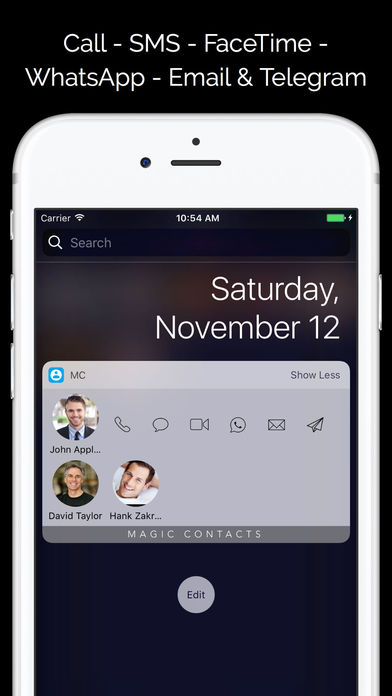 Normally $1.99.
Magic Contacts is the only Today Widget Contacts Launcher you will ever need, with ability to Call and Text your favorite contacts directly from the Widgets screen!

You can also organize contacts in groups (e.g. Family, Friends, Work) and access them directly from the widget.

This Widget support calling, message, WhatsApp, Telegram, Facebook Messenger, Email and FaceTime.

This is an app with a powerful widget that will dramatically improve everyday use of your iPhone. While currently contacting your friends can be an annoyingly long process because you must open apps and search through contact after contact, with Magic Contact just swipe right from the lock screen, home screen, or pull down the widgets screen from within any app and get immediate access to your favorites.

Features:
● Call & Text from the Notification Center
● Call & Message
● WhatsApp
● Email
● FaceTime
● Unlimited Contacts & Groups
● 3D Touch in the widget for quick call
● Full support for iOS 9 & 10
Music Cloud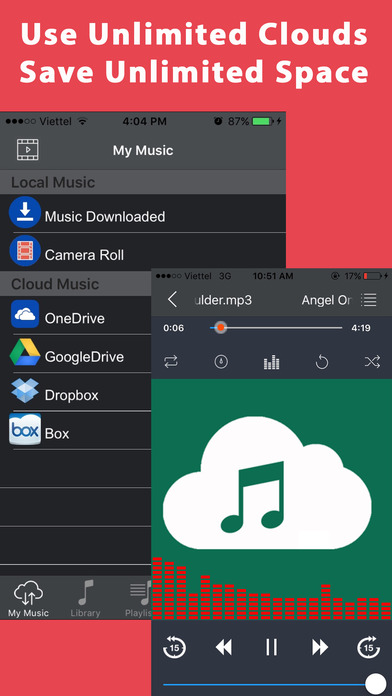 Normally $1.99.
Easily make your unlimited music library available on your device. Anytime. Anywhere.

FEATURE HIGHLIGHTS:
– Supported formats: .mp3, .aiff, .m4a, .wav…
– Create list of music with multi-cloud support.
– Offline list, to maintain located your downloaded files.
– Seamless music streaming for best user experience.
– Full-Featured Music Player: Background playback, lock screen and control center, headphones support. Playback with repeat of song or list and shuffle.
– Support remote control, lock screen control and artwork.
– Free Music is the new player with a native style that syncs all of your music stored in Dropbox,GoogleDrive, OneDrive, Box and your Computer and let you listen your music without taking up space. It's a multi-cloud system therefore you can listen lists of music regardless where they are stored.
– Universal music player for both iPhone and iPad.
– Support Sleep timer.