We've got a fresh new batch of paid iPhone and iPad apps on sale for free today, and you're definitely going to find something you like on today's list. There are also still a few freebies in Tuesday's post if you want even more free apps, but all of these sales could be over in the blink of an eye so be sure to hurry.
MUST SEE: Behold: The all-screen iPhone 8 of your dreams
These are paid iPhone and iPad apps that have been made available for free for a limited time by their developers. There is no way to tell how long they will be free. These sales could end an hour from now or a week from now — obviously, the only thing we can guarantee is that they were free at the time this post was written. If you click on a link and see a price listed next to an app instead of the word "get," it is no longer free. The sale has ended. If you download the app, you will be charged.
gTasks Pro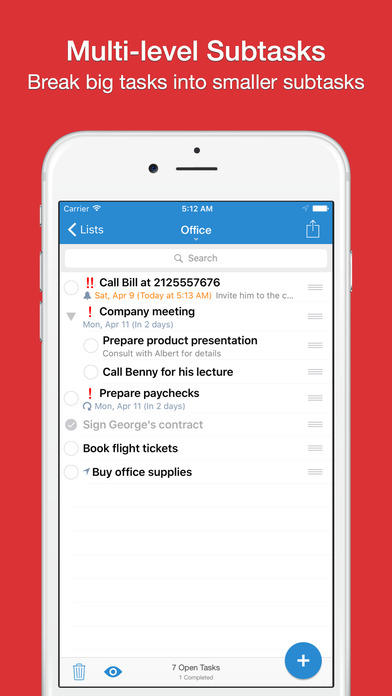 Normally $5.99.
A SINGLE PURCHASE COVERS ALL YOUR IPHONE AND IPAD DEVICES.

Sync your tasks with Google and across your Mac, iPhone & iPad devices.
Never liked your tasks app? You'll love this one :)

MAIN FEATURES
● Sync your tasks with Google Tasks.
● Sync tasks between your iPhone & iPad devices.
● View your tasks and calendar events in one place.
● Keep your tasks organized with subtasks.
● Location based reminders such as when you leave your office.
● Set repeating tasks such as "Pay bills" every month.
● Universal app, designed both for iPhone and iPad.

GOOGLE TASKS
● Naturally integrating into Google Calendar.
● No permanent internet connection required. The app will sync updated tasks as soon as an internet connection is available.
● Your tasks are backed up.
● Manage your tasks conveniently on your home/office PC, and have them synced to your iPhone/iPad and vice versa.
● Share tasks with your colleagues.
Musify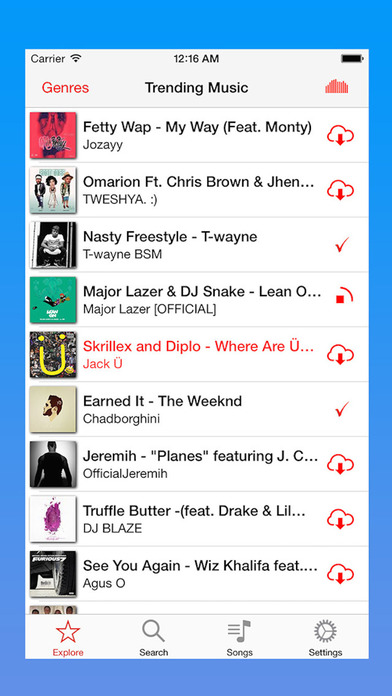 Normally $1.99.
With "MUSIFY" can SEARCH & DOWNLOAD for by many way like artist, track, album…

– Only with a few word of the songs, artist,album you can search all you need.
– Daily update playlists
– Top Playlist with many categories
– Easy control player
– Search by Track, Album, Artist
– Listen to millions of free songs.
– Create, edit, remove playlist

Let enjoy.
Thanks for use it.
God of Blades
Normally $2.99.
One of the Best iPhone and iPad Games of 2012: Action- TouchArcade

Pocket Tactics' Action Game of the Year!

God of Blades now fills your iPhone 5 screen with gorgeous, sword-swinging pulp fantasy!

5/5 TouchArcade!
"The tortured, veiny world the art conjures and the surreal music it uses to bolster its paranoid sci-fi vibe are both riveting aspects that suck you into a surreal universe and doesn't let go."

8/10 Edge Magazine!
"God Of Blades enhances its glorious alien bloodshed with lavish presentation that blends the pulp sensibilities of paperback fantasy novels with the bizarre visions found on prog rock album covers."

4.5/5 148 Apps!
"There's nothing quite like it on the App Store, and it's fun to boot. All hail God of Blades!"

5/5/ AppSpy!
"…there's not an inch of this game that isn't dripping with a strangely appealing other-worldly sheen."

A love-song to pulp fantasy tales of yore, 70s synth-prog-landscape oddities, and forgotten places, God of Blades is a gorgeous, visceral sidescrolling physics-based sword-fighting adventure.

See the trailer at http://www.whitewhalegames.com
Orderly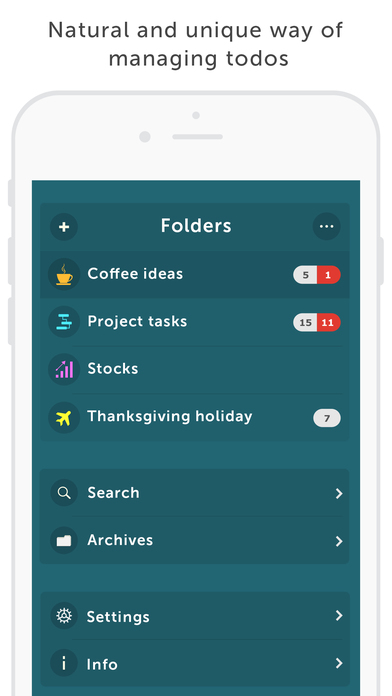 Normally $0.99.
Orderly is a nice and incredibly easy to use to-do list app designed exclusively for iOS, is now updated with great features like unlimited categories or folders, powerful search and many more customization.

"Orderly is designed based on how the human-mind visualizes to-do lists !"

Featuring a breath-taking interface, seamless cloud sync, Orderly comes with "Location Based Reminders", so that the users never miss a to-do task at a particular location and displays the to-dos using the APPLE's bookshelf metaphor, so that you get a glimpse of your to-do lists without having to open them individually.

THE BEST part of the App is:

* Orderly automatically prioritizes your to-do list items by moving around those sticky notes between various priorities *

Key Features

1. Visual interface and layout, provides absolute ease for managing errands and chores.
2. Location based reminders, alerts you of a to-do at a particular location.
3. Auto prioritizing of to-dos.
4. Recurring to-dos.
5. Cloud sync across devices
6. Unlimited categories for to-dos.
7. Powerful search within a category or across all folders.

* * * Highlights * * *

* Create multiple folders and categorize the todo lists in it.
* LOCATION based Alerts, reminds you of the to-do or task at the place you are in !
* Sync across multiple devices with DropBox sync
* Complete to-dos with simple gestures.
* Undo a completed item
* Automatically prioritizes your todo based on the time and day.
* Search through Archives of completed to-do lists.
* Store in archive for any number of days.
* Optional manual prioritization
* * GESTURES * *

# Pinch to zoom out.
# Swipe right to mark to-do tasks as completed
# Swipe right again to undo a completed task
# Swipe left to delete to-do task
# Long press to delete or drag and drop to move a to-do list to a different priority
# Drag and Drop on the "New" icon to create a copy.
# Drag and drop on the "Flip" icon to move it to another folder.
Ultimate Chess 2017
Normally $19.99.
Wow! For a strictly limited time, Mastersoft Chess Ultimate is completely free!

NO ADS

NO IAPS

NO FEES OF ANY KIND

Enjoy!
Mastersoft Chess Professional has one of the World's best Desktop PC chess engines crammed inside! This engine finished 4th in the World Microcomputer Chess Championships and is not available in any other iPhone chess game. Designed by chess champions to play like a human opponent, Mastersoft Chess will take you from Novice to Grandmaster level! Features stunning high resolution sets by renowned Chess designers.

NB This is the full enhanced version of our Chess Free App with over 100Mb of additional high resolution artwork for iPhone and iPad.
Compass Zen
Normally $7.99.
Compass Zen is an eye-catching, minimalist compass app designed specifically for your ipad or iphone. Compass Zen delivers many features with an accuracy that will exceed all your expectations. The magnetic north compass will ensure your co-ordinates are exact and will also tell you your altitude and speed.

The elegant design offering easy-to-read information also sports a background customization facility, meaning you can decide what works best for you.

There are options of reading the speedometer in km or mph, choose your GPS altitude in meters or feet and view your co-ordinates in DMS or Decimal.

All of this gives you the ultimate user experience of a compass but with a simplicity and flair that is matched by no other iOS app on the market.

Features:
– True/ Magnetic North Compass
– Speedometer (in km/h or mph)
– GPS Altitude (in meters or feet)
– Coordinates (in DMS or Decimal)
– Elegant Minimalist Design
– Background Customization
Nibmoji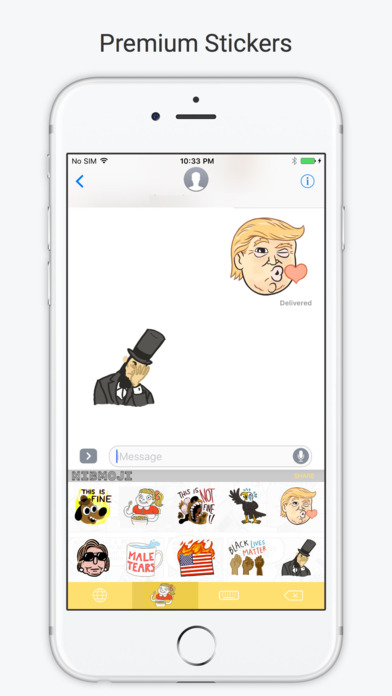 Normally $0.99.
When you need an actual image of a dumpster fire to get your point across, Nibmoji, brings you snarky and smart political emojis for your everyday communication.

The political cartoonists at The Nib rallied to bring you a full keyboard of over 80 emojis that will be frequently updated with new politically and socially relevant emojis, including the best of Trump, Hillary and Obama along with other popular memes and rallying cries.

When you need that perfect response to take on all the crazy and divisive issues in the world, skip the happy or sad face and consider one of these popular Nibmojis:
– This is Fine dog meme by KC Green
– Trump crying by Matt Bors
– Abe Lincoln face palm by Eleri Harris
– Rigged ballot box by Mark Kaufman
– Race baiting hook by Keith Knight
– Obama sipping tea by Matt Lubchansky
– Hillary and Trump Turds by Brian McFadden
– American flag on fire by Andy Warner
– Time to mansplain by Kendra Wells
– And many more!
Grumpy Stickers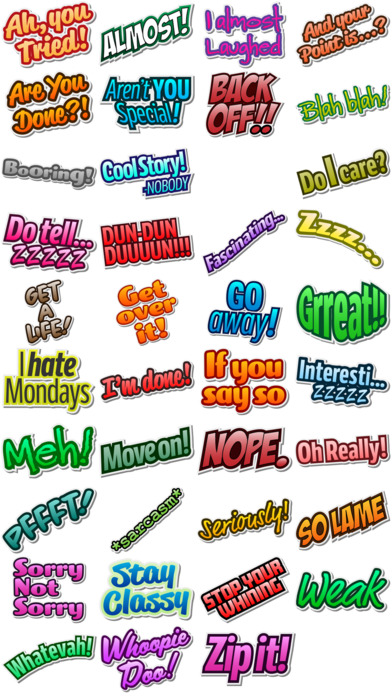 Normally $0.99.
FREE for World Vegan Day. Because all vegans are grumpy ;)

Whether it's Monday or any other day. You need a way to show your lack of interest in a topic. Grumpy Stickers allows you to do that. Your friends will appreciate your sarcasm and grumpiness.
Color Design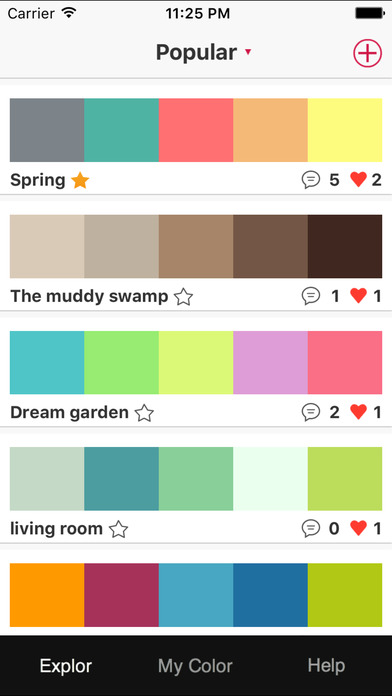 Normally $0.99.
do you want to find some good color?
or do you want to create your own color?
if so, the color design can help you solve these problems.
color design include more than 3000 colors and you can create your own color easily