November is always a month that's packed full of deals, but you don't need to wait for Black Friday to start enjoying some serious savings. Today's batch of paid iPhone and iPad apps on sale for free for a limited time includes several gems, such as a dual web browser for the iPhone that lets you see two websites side by side, and a fun meme maker app that integrates with iMessage. Check them all out below and remember that these deals could end at any time.
MUST SEE: Behold: The all-screen iPhone 8 of your dreams
These are paid iPhone and iPad apps that have been made available for free for a limited time by their developers. There is no way to tell how long they will be free. These sales could end an hour from now or a week from now — obviously, the only thing we can guarantee is that they were free at the time this post was written. If you click on a link and see a price listed next to an app instead of the word "get," it is no longer free. The sale has ended. If you download the app, you will be charged.
Dual Browser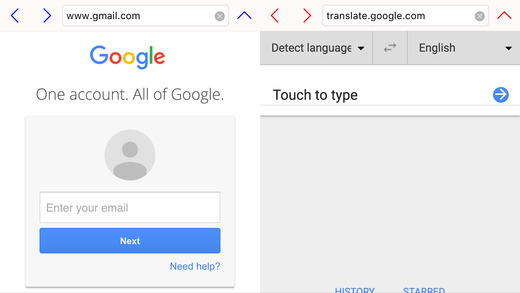 Normally $3.99.
Dual browser in one display!

Browsing web becomes easier and more efficient!

Features:
1. Simultaneously display Dual Web browser.
2. Previous / Next page button.
3. Share Screen button.
4. Dual Window Extend Mode.
5. Previous / Next URL button.
6. URL Save button.
7. Lightweight UI design to reduce memory usage can increase performance.
8. Use iPad, which has an independent ability to display video on one of dual web browser.
Gif Me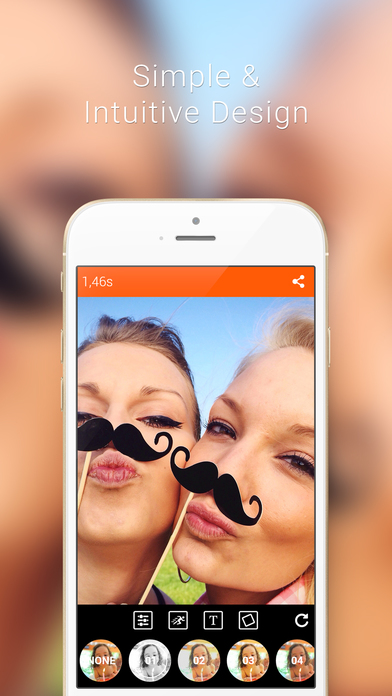 Normally $1.99.
Gif Me! is the best way to create and share short video in animated GIF or MP4.

It's easy: capture a small moment with your built in camera, and share it on social networks. You can apply an image filter too.

— Features —
* Capture frames with camera
* Import photos from your album
* Import a video file
* Import a live photo
* Real time color filters
* Add a frame, text on the animation
* Stop motion or video mode
* Send by email
* Share on social networks (Facebook, Twitter, Instagram)
* You can remove watermark in settings
* You can create stop motion, time lapse, slideshow or wiggle gifs

You like Gif Me!? Please give us 5 stars! Your feedback is very important to our work.
Addic6ion
Normally $2.99.
Dive into the frenetic world of ADDIC6ION. To solve a puzzle, just place the numbers from 1 to 9 into the grid. It sounds seductively simple but there is a catch, only one solution exists. Unleash the math gaming wizard on you and use your logic skill to master this high-class brain puzzle.

* Choose among 5 levels of difficulty.
* Unlock more than 50 challenges.
* Race against the clock and solve the maximum numbers of grids.
* Login to Game Center to rank and compare your score with friends and other players.

*** 6 reasons to play this addictive numbers puzzle game ***

– It's fun for all ages.
– It's an oddly satisfying way to kill time.
– It helps you improve your memory and logic.
– It increases your concentration power.
– It holds a genius tag when played in public.
– Over a million puzzles waiting to be solved.
Shopster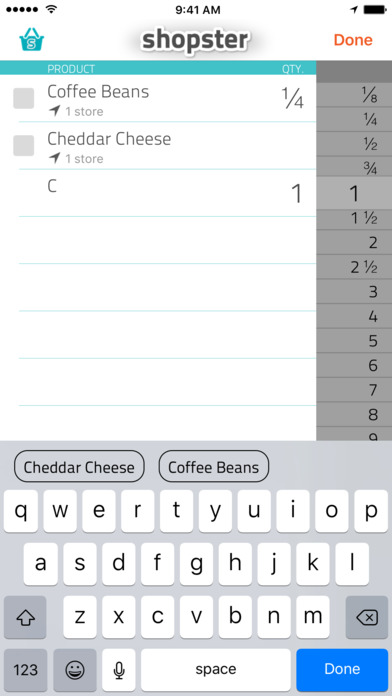 Normally $0.99.
Shopster is a new kind of groceries list app that learns what you
purchase and where, so it can remind you later on.

Whenever you check an item as purchased, Shopster learns the location where you got it. The next time you look for the same thing, a geofenced alarm will be triggered when you are near the location.

Features:
• Autolearning of locations when checking items as purchased.
• Geofenced reminders for your products, based on your prior buying history.
• In-place editing table, for quick corrections and editions.
• Unique ruler to quickly enter the number of items you need to buy.
• Smart autocomplete, to assist you entering frequently purchased products, based on your previous history.
• Reorder items with a simple tap and hold.
Mathletics Alarmy Alarm Clock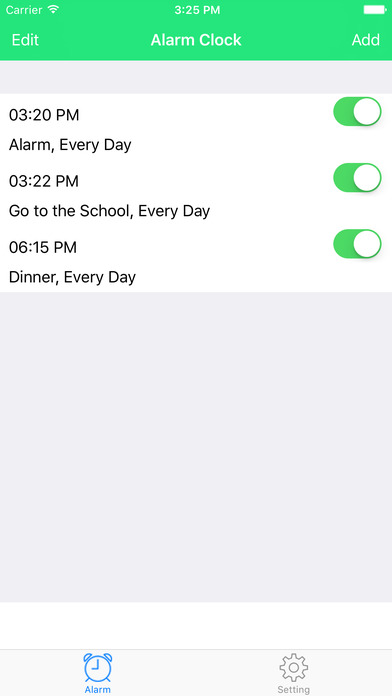 Normally $2.99.
Math Clock Alarm: With 3 options: Easy, medium , hard for maths, you should answer correct to stop the alarm.
Let's sleep if you can.
Download Mathletics Alarmy Alarm Clock
Easy Spending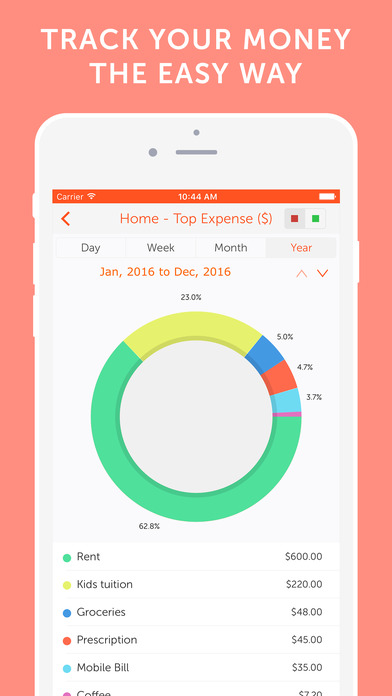 Normally $1.99.
*** Over a Million satisfied users of our apps ***
See where your money goes and take control of where to spend your money effectively using the simple and yet powerful expense manager on iOS.

The Easy Spending expense tracker, is the most powerful and convenient daily expense manager App on the GO for iPhone and iPad, that neatly tracks all your cash flow between different accounts that you can budget, and is an easy to use App on a daily basis.

It is now, all the more secure, with the addition of Automatic Backup Service as part of its In-App purchase. With this feature you never have to worry about losing valuable financial data, either through accidental deletion or change of device. You can restore it on any device with this App installed.

Comes with easy gestures with convenient layout and clutter free interface, with large fonts, well spaced layouts for easy viewing and readability.

Great for maintaining monthly recurring bills with reminders, it has the convenience of an Expense Tracker and BILL reminders at one place.

HIGHLIGHTS

@ Never loose your valuable financial data with the All new Automatic Backup Service, (available as an In-App purchase)

@ Excellent and seamless cloud sync of all your transaction data. (available as an In-App purchase)

@ BILL Reminders.

@ Recurring income/expense tracking

@ MULTIPLE ACCOUNT(S) Summary in a single screen, and nice reports.

$ Passcode LOCK.

$ Support Fortnightly transactions.

$ NOTIFICATIONS added to Default calendar for recurring transactions as an option. Using this option, NEVER forget to pay your BILL on time.

$ See future bills/payments and income using, "UPCOMING TRANSACTIONS" view.

$ Cool Search based on category and notes

$ Allows transactions to be emailed as CSV, and also uploaded to your Google Drive account

$ Store data for MANY MANY years

$ Preview comments in History while drilling down the transactions.

$ Use MULTIPLE accounts like Checking, Savings, Credit card, Cash flow, Mortgage accounts etc.

$ Preview comments in History while drilling down the transactions.
*** REPORTS ***

$ Powerful reports, timeline reports

$ Doughnut chart reports gives a clean break up of where your money is going.

$ Email csv file of all your data for single or all of your accounts.

$ Upload csv file also to your Google Drive account

— Automatic Backup Service —-
Automatic Backup Service is an auto-renewable In-App purchase that lets you take automatic backup without you having to do anything manually. Just keep using the App, and an automatic backup of all you data is safely stored either weekly or monthly. When you App is deleted by mistake or phone is replaced there is no hassle in getting your data back.

This feature is offered as a free trial for one month, and the cost of subscription is $0.99 per month, after the trial period. It auto-renews every month until it is cancelled.

This feature is also offered as an annual subscription with a cost of $7.99 per year, with a initial trial period of 1 month. It auto-renews every year until it is cancelled.

Payment will be charged to iTunes Account at confirmation of purchase, and account will be charged for renewal within 24-hours prior to the end of the current period.
Memes Maker for iMessage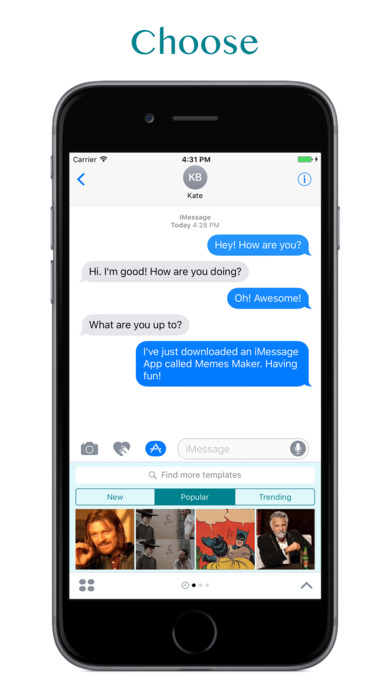 Normally $1.99.
With Memes Maker you can create the funniest memes, save and share them with your friends via Messages, Facebook, Twitter (coming more soon) without leaving Messages…

Main features:
– Multiple meme templates
– Around 10 000 memes up to date, for any tastes
– Share and save memes
– SEARCH – you can find you favorite meme in seconds
– New memes are added regularly!
– No watermarks on images
– The app DOES NOT upload any meme you create – your privacy is our top priority!
– Make funny pictures

Future features:
> Favorite memes – create your own list of favorite memes!
> Auto save meme which you are sent – no memes will be lost
> Custom memes – you can use any picture from your gallery!
> Resize/Redesign captions on edit
> Move captions anywhere you want and add your own
Download Memes Maker for iMessage
Commands for Siri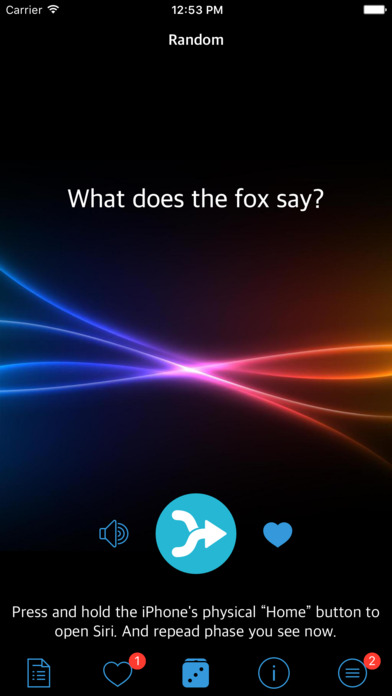 Normally $0.99.
Talk to Siri as you would to a friend and it can help you get things done and make you more happy.
You are bored and have no body to talk with or ask questions, open "Commands for Siri" and enjoy talking with your intelligent personal assistant and knowledge navigator who is very funny and friendly.
This is perheps the most complete collection of the most amazing and interesting commands and questions for Siri.
Talk with Siri will open you a whole new world of iOS advantages through the discovery of true Siri capabilities.
The more you use Siri, the more you'll realize how great it is. And just how much it can do for you.

Features:

◉ Very simple in use.
◉ Lightweight and fast perfomance
◉ Bugs and advertising free
◉ Pronunciation of phrases
◉ 100+ amazing Siri phases
◉ Favourites list
◉ Random phases
◉ Great design
Have any suggestion or idea for new features? Trouble with Talk with Siri?
Don't hesitate to contact us, we will bring your suggestions to live.
StickerFist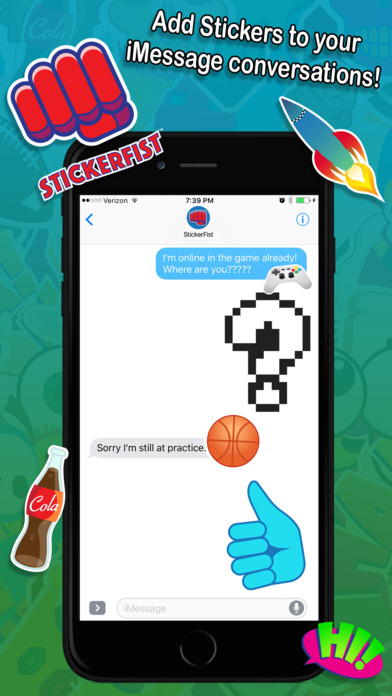 Normally $0.99.
Why use the same boring emoji everyone else uses? Get StickerFist to add some punch to your conversations! Attach fun and unique stickers to photos and texts within iMessage! Create crazy faces with thousands of combinations!

Download now and make your next conversation a knockout!
Simpler Pro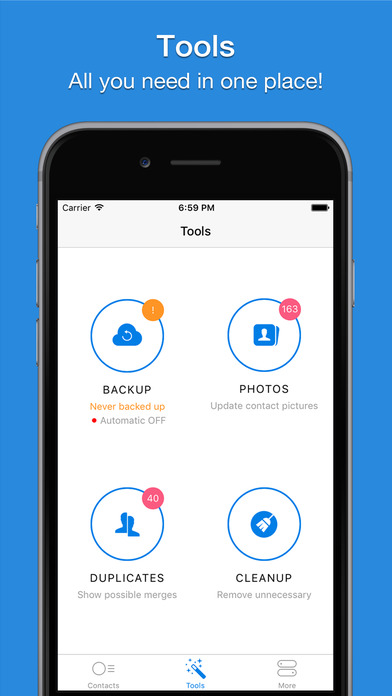 Normally $4.99.
* Over 3,000,000 people love Simpler :)

Your address book is a mess?
Simpler will fix it in few seconds!

MAIN FEATURES
○ Merge all duplicate contacts with one tap!
○ Powerful Search
○ Save your own contact groups
○ Instantly send group text & email
○ Share your groups with colleagues, friends and family
○ One tap to backup your contacts!
○ Quickly find the contacts you need

Simpler is a completely redesigned contacts app that makes your address book light, smart and user friendly.

SIMPLY MERGE DUPLICATE CONTACTS
○ Merge all duplicate contacts with one tap!
○ Find & merge contacts with similar names.
○ Find & Merge contacts with duplicate phone or email.

CLEANUP
○ Remove contacts without name
○ Remove contacts without phone & email

BACKUP
○ One tap to backup your contacts!
○ Quickly export your backups to Dropbox, Google Drive, Email
○ Keep your contacts safe in the cloud!
○ Easily restore your contacts from any mobile device!
○ Move contacts between accounts (Exchange, iCloud, Local Address Book)

GROUPS
○ Save your own contact groups
○ Instantly send group text & email
○ Share your groups with colleagues, friends and family

SMART DIALER
○ Beautiful dialer to call and add new contacts
○ T9 Dialer – quickly search by name & numbers
○ Quickly find the contacts you need

FAVORITES
○ Simply choose your Favorite contacts
○ One tap to: Voice Call / Text / FaceTime / Email

SMART FILTERS
○ Quickly find the contacts you need
○ Filter contacts by Company & Job title
○ Filter contacts by upcoming birthday & creation date

AVAILABLE IN 15 DIFFERENT LANGUAGES
English, Español, Français, Italiano, Deutsch, Português (Br.), 中文 (Simplified), 中文 (Traditional), 日本語, 한국어, Nederlands, Русский, Türkçe, العربية, עברית