Almost no one likes Mondays, but we do our best to make the start of each new work week slightly less painful. How? By supplying you with a fresh new roundup of the day's best paid iPhone and iPad apps currently on sale for free. We've got nine such apps for you to enjoy today, and you'll find them all laid out below.
These are paid iPhone and iPad apps that have been made available for free for a limited time by their developers. There is no way to tell how long they will be free. These sales could end an hour from now or a week from now — obviously, the only thing we can guarantee is that they were free at the time this post was written. If you click on a link and see a price listed next to an app instead of the word "get," it is no longer free. The sale has ended. If you download the app, you will be charged.
Hotspot VPN
Normally $0.99.
Best totally UNLIMITED FREE VPN Proxy servers for all users!
This is the PRO version for HOTSPOT VPN, just be faster and faster!
No ADs, no bandwidth limits, no registration or set up required. Unblock is just 1 click away.

Blazing Fast, Ultra Secure, Stable connect, Easy-To-Use interface & Instant Setup

HOTSPOT VPN, the fastest & the most reliable VPN service to watch HD videos online, unblock your favorite sites and unblock school Wi-Fi with lighting fast speed, while keeping you 100% safe & secure online.

Features:
– Lightning fast connect within 1 second, ultra smooth to watch HD videos online
– Worldwide server coverage with unlimited bandwidth & easy switches
– Unblock & access your favorite sites wherever you are
Stable connection as long as you want
– Incognito browsing for your online security
– East-to-use interface, unblock is only one click away

We do not provide BitTorrent and any P2P (pier to pier) service for the time being.
Photo Editor
Normally $3.99.
Install Photo Editor and you will never need to look for another photo editing app again.

Photo Editor hides great depth and richness of features behind a simple, intuitive UI, so you don't need to be a designer or a geek (like us!) to be able to use it.

Some of the stuff we (laborious, geeky developers) packed into it for you:
+ A ridiculous number of designer-grade filters. It was actually our own designer, who's also a photographer, that created them all. Much love!
+ Special filters to turn your photos into… Masterpieces! Just check them out in the app.
+ So many cool fonts to add text to your photos. We're addicted. Sorry.
+ All the other stuff you'd expect to find: pro-level adjustments, rotation, crop, blah, blah, blah.
Weather Now
Normally $3.99.
Amazingly beautiful 3D images of our planet draws your attention for so long that you may forget that the application has other useful features that allows you easy access to precise, global weather information.

Features:
• Easily select different cities using the city carousel with national flags
• Chic 3D "home screen" with high-quality real-time image of the earth, atmosphere, the stars and the sun
• 15-day forecast chart with detailed daily weather conditions, independent day and night temperature charts
• 48-hour hourly forecast with detailed information with real-time changing of chart step
• Database of 80 000 cities with weather information, quick look-up and automatic detection of location
• Temperature on the icon badge
• Customized Weather Widget
• Weather Maps

The main features of "Weather Now" are the "home screen" and the forecast page with a unique way of scaling the charts. On the "home screen", you can get information on the selected location such as local time and current weather with detailed weather conditions, and, of course, an incredibly beautiful three-dimensional image of the globe with realistic-looking atmosphere, the sun and the stars. You can manually turn it, increase and decrease its size, run the slow spinning animation or stop it. Installed in a cradle or dock station, the application can run as a screensaver, attracting your friends and fellows.

The weather forecast is provided by CustomWeather, Inc, an American weather provider of global weather information for over 15 years. CustomWeather is a leader in technology and meteorological innovation, providing local weather information to companies and application developers around the world.

The current weather data is gathered from thousands of professionally installed and maintained weather stations installed mostly at airports. WeatherNow only shows current weather from stations that have reported local weather conditions within the past hour. Current weather data is refreshed every 30 minutes; that is twice as frequent as most other weather providers can offer. Unique 48-hour forecasts from over 80,000 locations around the world provide a level of coverage and detail that simply cannot be found elsewhere.

Current weather information includes: description, air temperature, wind direction and force, humidity, dew point, pressure, visibility, as well as comfort index with reference to current weather conditions.
Detailed weather forecast information includes: description, day and night air temperature, wind direction and force, humidity, UV index, probability of precipitation, and comfort index with reference to current weather conditions.
dB meter
Normally $0.99.
dBA Meter app well calibrated with professional noise meter tool OKTAVA 110A-PRO.

Measure sound SPL level/noise:
-Current average SPL level
-Peak SPL level
-Average maximum SPL level
-Absolute maximum SPL level

Graph histogram for (change in settings):
-Current average SPL level
-Peak SPL level

Additional features:
-Save measurements
-Upside down orientation to easy use.
To reset maximum or average maximum – just tap on it.
You can self calibrate it in settings (range from -20.0dB to +20.0dB SPL)
The Hangman's Noose
Normally $0.99.
It's hangman with a fantasy twist! Great family fun for all ages!

Avoid the hangman's noose by solving word puzzles to defeat those who stand in the way of your freedom.

The Hangman's Noose is a quest set in the world of Puzzlewood. See if you can get further than your friends without dying!

Tip: If you get stuck, press the "Ask Your Friends" button to send a screenshot of your current puzzle to Twitter and other social media outlets that support it.

A good game for anyone who enjoys the classic game of hangman, crosswords, and other word games.
OneDayB4
Normally $2.99.
One DayB4 , the perfect and amazing deadline assistant of the world.

Why?

-Re-writing before the date/term is no longer necessary. The virtual assistant takes it for you.
-There will be no more forgotten appointments.
-OneDayB4 program reminds everyone with a message by email or SMS, without the people have installed this program.
-You make an appointment and the program will remind the person automatically one day before the date.
-The deadline assistant also sends messages when you have switched off your mobile phone or computer.
-Personal message.
-According to the surveys, a SMS is always read.
-SMS will be also received without internet or apps.
-Email will be received at the computer and the mobile phone.
We are glad to get your feedback.

Thank you.

Your OneDayB4 team.
Are you running out your deadlines, always forget to wish birthdays, anniversaries to loved ones, or again failed to deliver on what you promised. This is a crazy man; deadlines seems to loom around every corner of everyone's life. When you just finished one thing, a new list came and stare you on your face. Well, with a standard theory, this time, shall pass and everything will be slow down but the actual state is quite different. Don't think that you can play fruit ninja game or hack next thing to stay alive in right order. Choices must be changed but foremost change is to yourself or adjust everything according to yourself. Is it possible to play with clock and turn it off? Your answer would be No, but with OneDayB4 it is a big Yes.

Now you can approach your deadlines, either it's about professional or personal. Just take a moment, breath, grab your phone and navigate it to Google play store and you're done. You will not believe but it really works, after you download this amazing and compelling App named OneDayB4 in next minute. The method of the whole OneDayB4 is as convenient and quick as 1, 2, 3 and here you go.

You will be able to create multiple events in one go for best your schedule. However, the most exciting feature of oneDayB4 is the special reminder before 24 hours of the exact time of your event. This will not only help you to recall event but prepare you to make all those arrangements which are essential to accomplish your created event. The entire process is absolutely simple after providing your name, email address, recipient email address and exact day and there you go.

The OneDayB4 is featured with high-quality up-to-date calendar content, encompassing different domains such public holidays, school holidays, finance name days, cultural events, religious events, sports events, personal events, customized events and much more. You can compile a long range of events and occasions with ever best resolution, overview and eccentric themes at your home screen. For more precise info glance at the below-mentioned features that conclude OneDayB4 more comprehensively.
Eggggg
Normally $2.99.
Eggggg is a ridiculous two-touch platform game about vomit. It's an action packed and crazy experience, and tailored for mobile devices. Gilbert has an extreme allergy to eggs. Eating them will literally make him vomit like a fountain. He escapes from his mean aunt Doris in order to get to a birthday party, and needs to use his vomiting superpower to survive a world of angry cyborg chickens… of course.

"The most unique platformer mobile's ever seen?"
– Pocket Gamer

"The final story level is by far one of my favorite video game levels. Period."
– TouchArcade

"This is one of the best mobile games we've played in years."
– DigitalSpy

In this game you will find
* A fun and playful game for young and old
* 21 crazy levels of vomiting action
* Smooth game controls – tailored for touch devices
* Included sticker pack for iMessage on iOS 10
* Eggg, Egggg, Eggggg and Egggggg
* Awesome and unique visual style by the Spanish illustrators Brosmind

The game is developed by the Norwegian studio Hyper Games, and is based one the movie "Gilbert's Cruel Revenge" by Maipo Film.
Don't buy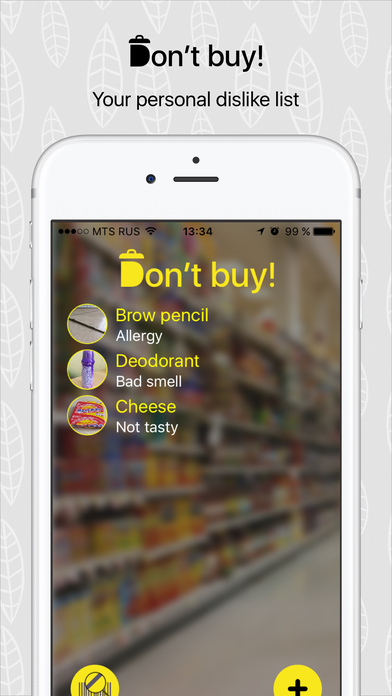 Normally $0.99.
Let's record the products or services which you dislike.

Save Barcodes and Search by Barcode.

Don't buy this again.
Mood Diary
Normally $1.99.
Are you happy? Mood Diary empowers you to track your mood over time.