If there's a better way to kick off the start of a brand new month, we have no idea what it is. You'll find eight fresh new premium iPhone and iPad apps in today's list, and each and every one of them is on sale for free for a limited time. As always, these sales could end at any time, so grab them for free while you still can.
These are paid iPhone and iPad apps that have been made available for free for a limited time by their developers. There is no way to tell how long they will be free. These sales could end an hour from now or a week from now — obviously, the only thing we can guarantee is that they were free at the time this post was written. If you click on a link and see a price listed next to an app instead of the word "get," it is no longer free. The sale has ended. If you download the app, you will be charged.
Flow
Normally $4.99.
Overwhelmed by your mobile inbox?

Flow presents your mail as a continuous feed, allowing you to review and act on your mail without ever losing context, and marking each mail as read when it is scrolled above mid screen.

Tame your mobile inbox! Install on your iPhone today!

* For the time being Flow works with Gmail / Google Apps, iCloud, Outlook/Hotmail, Yahoo, QQ mail, 163 mail and all other IMAP mail services.
* We do not store emails on our server.
* Flow is not for everyone, but some people would addicted to it.
Wi-Fi Widget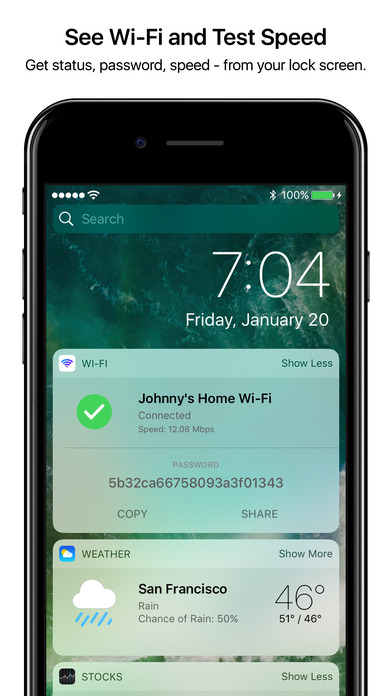 Normally $1.99.
"Why hasn't this been done before?" -MacStories
"Wi-Fi Widget does what it's supposed to do well." -Lifehacker
"A great tool for any iOS users… easily worth the price." -AppAdvice

Save time and frustration with the fastest way to see, test, and share your wi-fi, without even unlocking your iPhone.

– SEE YOUR WI-FI –
"No more waiting around for a page to load, then seeing a minute later that I'm on some random router named 'NETGEAR' with no internet. "
– R. Dewan

– SHARE PASSWORD –
"A single tap to share my wifi network and password with a colleague visiting my home. From the lock screen!"
– M. Fernandez

– SWITCH NETWORKS –
"To switch from my living room wifi to my bedroom wifi, I just tap the widget and it takes me directly to Wi-Fi Settings."
– S. Wong

– SPEED TEST –
"How fast is my wifi? I get it by tapping the widget to get results in megabytes per second. It couldn't be easier."
– D. Garg

– SECURE AND PRIVATE –
Wi-Fi passwords are synced securely and privately through iCloud Keychain, so only you have access.

– 3D TOUCH –
Put Wi-Fi Widget on your home screen for even faster access to your wi-fi summary and password sharing.

Why fight your wi-fi? Get the widget that saves you time and frustration.
Login Pad
Normally $0.99.
Login Pad is a Universal App.where you can store and manage all your logins for social networks or other websites (like credit card, web banking, online shops, etc.).

You can add/edit/remove saved logins: add username, password, site name and icon. It has a button to show/hide passwords and a Create Password screen for you to generate passwords up to 30 characters, including numbers and specials.

-NO web server needed
-Generate random passwords and copy them to Clipboard
-Save/edit logins – username, password, site name and icon
MagicShrink
Normally $1.99.
With MagicShrink app you can losslessly compress all your JPEG photos, and get extra ~10% free space from original library size.
If you don't worry about superquality you can use lossy compression to get even more space.

Features:
– smart algorithm for lossless compression
– lossy compression
– batch image processing
– preserves exif data
OneDayB4
Normally $4.99.
One DayB4 , the perfect and amazing deadline assistant of the world.

Why?

-Re-writing before the date/term is no longer necessary. The virtual assistant takes it for you.
-There will be no more forgotten appointments.
-OneDayB4 program reminds everyone with a message by email or SMS, without the people have installed this program.
-You make an appointment and the program will remind the person automatically one day before the date.
-The deadline assistant also sends messages when you have switched off your mobile phone or computer.
-Personal message.
-According to the surveys, a SMS is always read.
-SMS will be also received without internet or apps.
-Email will be received at the computer and the mobile phone.
We are glad to get your feedback.

Thank you.

Your OneDayB4 team.
Are you running out your deadlines, always forget to wish birthdays, anniversaries to loved ones, or again failed to deliver on what you promised. This is a crazy man; deadlines seems to loom around every corner of everyone's life. When you just finished one thing, a new list came and stare you on your face. Well, with a standard theory, this time, shall pass and everything will be slow down but the actual state is quite different. Don't think that you can play fruit ninja game or hack next thing to stay alive in right order. Choices must be changed but foremost change is to yourself or adjust everything according to yourself. Is it possible to play with clock and turn it off? Your answer would be No, but with OneDayB4 it is a big Yes.

Now you can approach your deadlines, either it's about professional or personal. Just take a moment, breath, grab your phone and navigate it to Google play store and you're done. You will not believe but it really works, after you download this amazing and compelling App named OneDayB4 in next minute. The method of the whole OneDayB4 is as convenient and quick as 1, 2, 3 and here you go.

You will be able to create multiple events in one go for best your schedule. However, the most exciting feature of oneDayB4 is the special reminder before 24 hours of the exact time of your event. This will not only help you to recall event but prepare you to make all those arrangements which are essential to accomplish your created event. The entire process is absolutely simple after providing your name, email address, recipient email address and exact day and there you go.

The OneDayB4 is featured with high-quality up-to-date calendar content, encompassing different domains such public holidays, school holidays, finance name days, cultural events, religious events, sports events, personal events, customized events and much more. You can compile a long range of events and occasions with ever best resolution, overview and eccentric themes at your home screen. For more precise info glance at the below-mentioned features that conclude OneDayB4 more comprehensively.
Air Swipe
Normally $0.99.
Do you ever need to navigate a web page on your iPad or iPhone but don't want to smudge the screen with your fingers? Or maybe you are cooking and want to swipe through a recipe but you have food on your hands…

… or if you just wanna look like you're from the future.

Well, now you can scroll up and down on web pages without even touching the screen at all!

Air Swipe detects your hand color as you hover it over the sensor in the app, and the web page scrolls accordingly.
Discover
Normally $2.99.
DISCOVER – Music Player allows you to SEARCH and listen to millions of songs on YouTube.

Search for artists, tracks, albums!

Discover new music every day in genres, channels and user playlists!

Features:
– Seamless listening to millions of free songs
– Background playback control & track info – use with headphones and speakers!
– Quick Youtube search – find any song
– Browse dynamic top 100 list – get all the hits worldwide and in your country
– Browse familiar music categories
– Browse trending audios list – never miss a good fresh tune
– Add songs to favorites in one single easy tap
– Playlists support – make dance, workout, travel/car, party playlists
– Watch high quality HD videos
– Airplay support
– History of watched videos
– Full featured in app media player
Bills for iPhone
Normally $0.99.
You always need a simple tool to control the amount you want to spend this month. Essentially you need a big calendar to track the amount of money you have spent compared to the amount you wanted to spend. You also need to generate lists of overdue payments, planned payments and check what has already been paid off. Bills for iPhone is made to help with those needs! Make your ongoing monthly financial planning an easy and pleasant task!

The way you work with the application:
Set a figure indicating how much you want to spend this month. Mark days on the big calendar when you need to pay for something or buy something. Then when you actually have a transaction, approve it quickly (you may also approve it partially and reschedule the rest of the payment). Easily filter your bills and payments via the calendar and special boxes to show your planned, overdue and paid expenses & bills. If you spend too much, the green bar above the calendar will let you know about it. For better payments planning you can add your income into the calendar as well. Extra features: export to HTML and CSV (Excel), and PIN code to protect your entries!

Design:
Each element reminds of real office room objects, which are so familiar and help to concentrate when taking care of the bills and expenses. Flip board shows the list of your transactions. Big projector screen shows you a calendar view of the current month. Office folders are reserved for extra features. Drawers are meant to serve as filters. And when you add or edit entries, you will see a memo book page.

Summary:
– easy management of expenses and bills
– recurring reminders until the due bill is paid
– income entries helping with planning your payments
– quickest work with entries
– filters for paid, planned and overdue payments
– easy sync: iPad, iPhone, Mac
– family sync: track your bills together with your loved ones (sync via Dropbox)
– easy export to HTML and CSV (Excel)
– PIN code available (for privacy protection)
– great special iPhone oriented interface design

Last news here: http://www.facebook.com/bills.ibear

Bills for iPhone is here to give your financial experience with iPhone a new turn.
Buy now! ►►