If you purchase an independently reviewed product or service through a link on our website, we may receive an affiliate commission. Learn more.
June is coming to an end, but not before we sneak in one last roundup of the day's best paid iPhone and iPad apps on sale for free. We've got eight great options for you on Friday, and there are also still a few freebies in Thursday's post that probably won't be free for much longer.
These are paid iPhone and iPad apps that have been made available for free for a limited time by their developers. There is no way to tell how long they will be free. These sales could end an hour from now or a week from now — obviously, the only thing we can guarantee is that they were free at the time this post was written. If you click on a link and see a price listed next to an app instead of the word "get," it is no longer free. The sale has ended. If you download the app, you will be charged.
Mini Mouse
Normally $1.99.
===============================

Support WinXP/Vista/7/810&Mac&Other Phone

===============================

****** Phone Control Computer ******
● Wireless Mouse,Keyboard
● Play Computer's Video/Music
● Computer Screen Shot
● Computer Application management
● Computer Windows Control(Like Maximize,Minimize)
● View Computer Documents(Like XLS,PPT,WORD,TXT)
● Image Transfer
● Record Video and Upload to computer
● PPT Remote Control
● Shut Down / Sleep / Restart / Log Off Remotely
● Password Protection
● Support Hotspot Connect
● Volume Control
● Program Control(Remote Open/Close, Activate…)
● File Upload/Download With Computer
● Browser Control
● Contacts Backup
● Your Phone Will Become Your Computer

****** Phone Control Phone ******
● File Transfer With Each Other
● Play Other Phone's Video,Music
● View Other Phone's Documents(Like XLS/PPT/WORD)
● Get Other Phone's Contacts Data
● Get Other Phone's Album Data
Sorted – Master Your Day
Normally $7.99.
sorted / adjective
confident, organised, and emotionally well balanced.

Sorted is a minimalistic yet remarkably powerful day planner. Master your day and take back control of your time.

STORE & ORGANISE
Store and organise your ideas and tasks in lists. Then simply select and tap the calendar to schedule them.

PLAN & EXECUTE
Schedule multiple tasks with our time ruler, multi-select and pinch gestures to come up with an execution plan in seconds.

INSTANT FEEDBACK
Things don't always go according to plan. Get instant feedback to changes in your schedule without jumping through hoops. Easily maintain perspective on your schedule and take control of even your most hectic days and come out on top.

SIMPLE ROUTINE
Start mastering your day with the following simple routine and build up your own system from there:

1. Write down your tasks and ideas into lists.
2. Schedule and execute. [Tip: Try not to over schedule yourself]
3. Update your schedule if you fall behind or when things change.
4. Repeat.

CALENDAR & SIRI INTEGRATION *

See all your tasks and events in ONE unified list. Easily create tasks using gestures or Siri.

OTHER FEATURES
• Emoji Flags – Add priority and context in a fun and delightful way with customisable emoji flags.*
• Powerful Gestures – Helps you get your planning done in seconds.
• Daily log – To track all your accomplishments.
• Repeating Tasks – Both simple & powerful custom repeating tasks to match your needs.*
• Checkboxes – For subtasks directly within each task.
• Notifications – To keep you on task without staring at your device.
• Early Alerts & Estimated Duration – To help you better plan your day.*
• Auto-Snooze – Nagging alerts so you don't miss a thing.
• Share Menu & Tappable Links – To keep track of websites and text from other apps.
• 3D Touch – For quick actions and even more powerful task scheduling shortcuts within the app.
• URL Scheme – Integrate with other apps and services like Workflow.
• Apple Watch – See your tasks on your wrist.
Download Sorted – Master Your Day
Corgioji
Normally $0.99.
React with cute corgioji – Corgi emoji Dog Stickers and Emojis Pack2!
For Corgi dog breed Lover and all people Dogs lover or owner.

Have fun with messaging with Corgi dog stickers in imessage

Get them all Now, it so cute and for all dog lover of all ages!!!
Air Contacts Pro
Normally $2.99.
Air Contacts is the only Today Widget Contacts Launcher you will ever need, with ability to Call and Text your favorite contacts directly from the Widgets screen!

This is an app with a powerful widget that will dramatically improve everyday use of your iPhone. While currently contacting your friends can be an annoyingly long process because you must open apps and search through contact after contact, with Magic Contact just swipe right from the lock screen, home screen, or pull down the widgets screen from within any app and get immediate access to your favorites.

You can also organize contacts in groups (e.g. Family, Friends, Work) and access them directly from the widget.

This Widget support calling, message, WhatsApp, Telegram, Facebook Messenger, Email and FaceTime.

Features:
– Call & Text from the Notification Center
– Call & Message
– WhatsApp
– Email
– FaceTime
– Skype
– Messenger
– Unlimited Contacts & Groups
– 3D Touch in the widget for quick call
– Full support for iOS 9 & 10
Neon Poly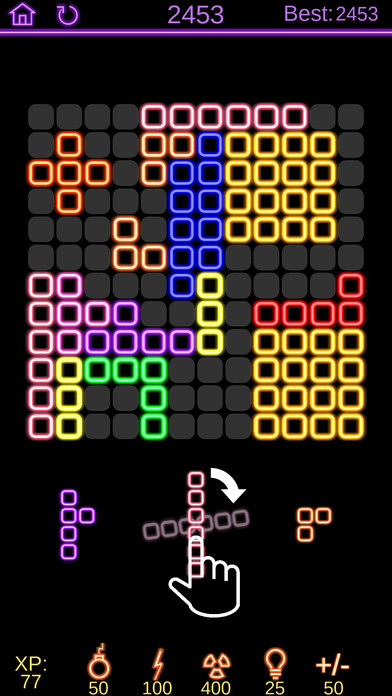 $1.99 remove ads in-app purchase is currently free.
Neon Poly is an easy-to-play yet fun-to-master brain-boosting puzzle game. Nine different board configurations provide hours of puzzling fun for all ages and skill levels.

Create and then clear full lines of squares, hexagons, or triangles by rotating and then dragging and dropping pieces onto the board. Earn bonus points by clearing multiple lines in a single move. Earn XP for each line that is cleared and spend the XP on Power Ups to perform special moves!

There are no time limits! Play at your own pace until there are no more moves on the board. Most importantly, have fun!

Three types of game boards to choose from: Square, Hexagon, and Triangle.
Three sizes of board to choose from: Small, Medium and Large.
Pieces can be rotated before being placed on the board.
Game can be played in both portrait and landscape mode. Rotate your device to your heart's content!

Power Ups include:
Bomb – Clears a small region of the board.
Lightning – Clears two to three lines of the board.
Atomic Blast – Clears the entire board.
Drop Hint – Reveals a potential drop point for one of the available pieces.
Remove a Piece – Removes one of the three playing pieces and replaces it with a random new piece that is not like the one that was removed.
Pick a Piece – Choose a playing piece from among all possible pieces, rotate it if needed, and then drag and drop it onto the board.

* Hexagon and Triangle boards are initially locked but can easily be unlocked by achieving a high score or via an in-app purchase.
* Power ups require the use of XP. XP can be earned simply by playing the game, but you can also gain XP by watching a video or making an in-app purchase.
PhotoSynthesis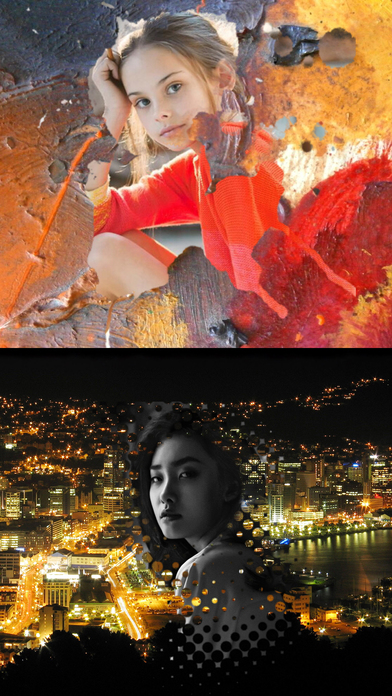 Normally $1.99.
【PhotoSynthesis】 allows you to composite several photos into one photo to create the effect similar to repeated exposure. It's easy to operate; what's more, you'll definitely find lots of fun along the way!

Product Feature:

*Just by simply smearing the screen to keep the part that you'd like to highlight and combine with another photo of your choice.

*Level of transparency of every photo can be adjusted.

*Synthesized photos can be mailed out or can be saved in the photo album

*Synthesized photos can be use as the new base picture and then can be composited with another photo

*Synthesized photos allow you to Move,and resize the upper photo

1. First select a photo to be the base picture
2. Then select another photo, smearing the screen to keep the part you'd like to keep highlight
3. Adjust the level of transparency of both pictures

Ability to move, to zoom in/out, and rotate the upper photo !

Operation is fast and easy by just three simple steps. Repeat the process if you'd like to add a third photo

[Filters]

Filters: Hue, Saturation, Contrast , Brightness, Blur, Sharpen, Transparency
12 Styles filters: Black and White, Sepia, Pencil drawing…etc.
Uzu – A Generative Design Playground
Normally $1.99.
* Winner of Apple's "App of the Week"
* Apple Rewind Best Generative Art and Sound App
* Reached #1 in the App Store
* Featured in Apple's "App Store Essentials Hall of Fame"
* Seen in the "Year of the iPad" Video at the iPad Keynote
* Featured as an Apple Staff Favorite

"This is doodling for digital natives . . . mind blowing." – Wired Magazine

"Uzu for iPad is endlessly complicated, simply fun" – Ars Technica

"This is absolutely the coolest iPad app I've ever come across. Heck, it's likely the most awesome app for ANY device ever." – Chris Pirillo

:::: DESCRIPTION ::::

Uzu is a Generative Design Playground – a sort-of math-physics-art-toy for anyone who ever loved spirographs, fireworks, planetariums, lava lamps, light sabers, pen lasers, tesla coils, christmas lights, or graphing calculators.

Points of light will shoot across the screen and fly to your command, twirling in a vortex of color and motion. Freeze and move Uzu in 3d space while contorting spirographic curves with your fingers. Uzu lets you quickly switch between 10 different modes of real-time animation by simply changing the number of touches you're using. You can spend countless hours discovering the many unique ways of playing and interacting with Uzu.

:::: FEATURES ::::

** Fully dynamic generative particle system
** Create incredible background images for your iPhone or iPad
** 21 unique animation modes can be applied to each number of touches
** 55 Pre-loaded factory presets
** Full customization of all features and settings
** Create and save user presets
** "Re-wire" animation modes as you see fit
** Rotational, translational, and reflective symmetry for each animation mode
** Thousands of possible combinations
** Drawing mode
** In-app quick help
Download Uzu – A Generative Design Playground
MM Cam+
Normally $1.99.
182 kinds of LIVE FILTERs and RANDOMLY FILTERING.
ADJUSTABLE camera PARAMETERS.
HORIZONTAL and VERTICAL MIRRORING.

MM Cam+ is a camera app that has a plethora of fabulous editing features. Besides a number of cool filters, the camera will also take mirror shots. When you're done editing your masterpiece, you can have it sent to friends and family using social media.

◉ CUSTOM MODE
– Live filters
Offers 20 types, a total of 182 kinds of live filters.
Supports randomly select vignette and live filter.

– Adjustable camera parameters
Supports manually adjust the focus, exposure, shutter speed, ISO and white balance.
Supports countdown shooting.

◉ MIRROR MODE
Supports horizontal and vertical mirroring.

◉ BROWSE THE LIBRARY
Supports photo browsing and automatic preview.

◉ EFFICIENT EDITING
This feature implemented aviary photo editor SDK.
Features include: Effects, Crop, Orientation, Overlays, Vignette, Frames, Stickers, Blur, Focus, Enhance, Color, Lighting, Text, Meme, Splash, Sharpness, Draw, Whiten, Blemish, Redeye.

◉ OTHERS
Support volume key shot, each social media share, records the date on photo, save the location information, select a photo quality, etc.

Note: iPhone 7 plus is not supported at this time.
---
Our deals and product reviews are picked by BGR's expert editors and team.

Follow @BGRDeals on Twitter to keep up with the latest and greatest deals we find around the web. Prices subject to change without notice and any coupons mentioned above may be available in limited supply.