You've got one last batch of the day's best paid iPhone and iPad apps on sale for free to enjoy before you pack things up for the weekend. TGIF! There are eight premium iOS apps listed below that are all free for a limited time, and there are also a few more in yesterday's post if you want to go back and check them out.
These are paid iPhone and iPad apps that have been made available for free for a limited time by their developers. There is no way to tell how long they will be free. These sales could end an hour from now or a week from now — obviously, the only thing we can guarantee is that they were free at the time this post was written. If you click on a link and see a price listed next to an app instead of the word "get," it is no longer free. The sale has ended. If you download the app, you will be charged.
Weather Tunes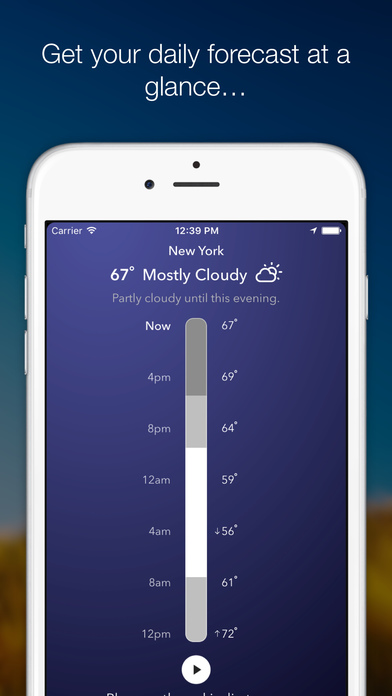 Normally $0.99.
weatherTunes
The right tunes for right now.

Just hit play and go! Weather based radio/discovery. weatherTunes creates playlists that fit the weather conditions around you, giving you the perfect songs for right now. Just choose your favorite genre and start listening.

weatherTunes works behind the scenes using conditions currently around you, including things like how cloudy it is, humidity, and even time of day, to pick songs that will fit that moment in time.

Features:
– No thinking, just hit play
– View current weather conditions
– Listen to the perfect songs for this moment in time
– Learning intelligence to help shape the song selection
– Live somewhere that has similar weather year round? weatherTunes makes sure not to keep repeating the same songs to you. There are plenty of songs around that can fit a mood.
– Background images change to match the weather conditions
– Watch the youTube video while listening
– Choose from 12 different genres

* weatherTunes needs an internet or high speed data connection to function properly. It should use around 70 megabytes in a typical hour of play.
Pinball Breaker Forever
Normally $0.99.
Pinball Breaker Forever merges pinball and brick breaking mechanics to produce a supercharged twitchy randomly generated endless gaming experience, with a vibe from the 80's! Easy to play, hard to master!!

Monster-Blocks appear in waves and slowly go down the screen one after the other. Protect your city from the invaders by destroying the blocks before they reach the bottom of the screen.

Side tracks with optional skill shot mini-games will increase your score and add another twist to the game.

Main Features:

– Endless randomly generated levels
– 6 types of power-ups like explosions, unstoppable ball or multiballs
– 15 types of side track mini-game like target arrays, bumpers, spinners or laser
– Progress through power-ups, skill shots and cosmetic unlocks
– Many types of blocks with different behaviour
– Replaykit for replays and shares
– Tactical aiming: scan the maps for weaknesses and power-ups to increase your efficiency
– MFI support
– Game Center achievements and leaderboards
– Original soundtrack
– Live broadcasting
Download Pinball Breaker Forever
WeVideo Video Editor
Normally $0.99.
Have a video and want to crop, filter or just pimp it a little, it doesn't matter how novice you are at editing your videos, with this app everything and more will be possible!

Add a simple stock filter or maker your own one for to use for all your videos! Or if you just want the right cropping for your video, no problem, with the custom built cropping tool it will be as easy as staying in bed every morning.

WeVideo Effects offers an uniq feature called Levels, Don't be afraid it's easy to use and it's very similar to the photo/video editors levels panel on pc's and macs. With Levels you can change red-, green- or blue channel or all in one called RGB.

Note : Dear users Special Effects edits videos which are in album. If you don't have any videos it shows empty page. So please take video then you can see it in app and edit it.
Coyn
Normally $1.99.
Coyn — Simple, Secure, and Stylish way to manage your cash balance. Introducing the new feature: Coyn Share.
• Manage your money like it's no one else's business.
• A brand new experience to manage your daily expenses.
• Be the only one who tracks your cash expenditures and earnings.
• Traveling a lot? No problem! use Coyn to track all your cash expenditures and focus on your adventures!
• Never lose track of where and how you spent your cash.
• Improve your financial wellness by defining budget and meeting the goals.

– Introducing Coyn Share, now you can share your expenses with anyone.
– Premium users to have Unlimited Accounts to manage their cash balance.
– 3D Touch feature allowing users to add expense/earning quickly and also see the balance instantly.
– Premium users can see their expense and income balance for each accounts using the 3D Touch features.
– Secure your Coyn using your fingerprint.

Use Coyn Share to:
– Manage expenses from your road trip with friends
– Report your business expenditures to your boss
– Pay your electricity/rent to your roommate
– Split bills at the restaurant
– or simply pay your friend for that cold beer!

-"Keep your cash and your Coyn in your pocket."

Simplicity:
Coyn is all about efficiency. We spent days and nights testing the usability of Coyn so that you can experience the unique user-interface and enjoy managing your cash. Simply swipe up to add expenses and swipe down to add income!

Privacy:
Coyn respects your privacy and will never allow your data to be posted to any websites, bank accounts, or cloud services. We don't require you to log in or add your bank accounts. With Coyn you can focus on saving money and being on top of your cash expenditures and earnings and stop worrying about privacy and accounts FOREVER!

Personalize:
You can customize all categories and set target budget to make sure you are on top of your financials.
Coyn is the most powerful tool for anyone who uses cash for daily expenses or even has cash incomes (gift cards, pocket money, etc.) it will help you track your cash activities and keep the records only to yourself.
If you travel with cash or want to track business vs. personal expenses Coyn would be your best friend!
Wordapp
Normally $1.99.
Learn a new word a day with Wordapp. In English, French, German, Italian and Spanish!

How? You have many possibilities.

You can receive a daily notification with a new word and its conception.
You can read it from the widget, and you always have it on hand.
You can open the app and have a complete list where to look for.

Simple huh?

You can also always have it on your wrist, thanks to the app for Apple Watch.

And even you can save in favorites those that do not remember or you find it difficult to learn.

They will also be automatically entered in the Spotlight iOS, so you always have it on hand.
Rock(s) Rider
Normally $2.99.
Quotes from the review with 4/5 stars rating on TouchArcade:

"Rock(s) Rider – HD Edition is absolutely gorgeous, but it's also a fun Trials-like motorbike racer."

"You know how many developers brag about their game's "console-quality" visuals? Well, Rock(s) Rider HD's visuals can definitely be called console-quality."

"Fortunately for us, Rock(s) Rider HD is very fun to play, the kind of game that's all about glorious, repeated failures on the way to a satisfying victory."

——————————————————

Do you dare? Do you want to overcome your limits? Test yourself and face the boss and his gang!

Kick-start your bike, turn on the hard hitting rock music, throw yourself into the underground race and pull the impossible off! Mastering obstacles and risky traps wait for you on the hot tracks. Everybody will see you doing incredibly mad tricks! Grab the all bonus rewards. Race the boss or bet him on a trophy. Slide with the motorbike on dangerous constructions, go through adrenaline on a trike and show to everybody how far you can get with the Hill Climbing motorcycle. Or slow down the reality as in a movie… Show off, get respect among your friends and on the Global Leaderboards… Just enjoy unexpectedly REALISTIC and POWERFUL experience!

8 EXCEPTIONAL features which DIFFERS Rock(s) Rider – HD Edition in its category:
• EXTRAORDINARILY UNIQUE GRAPHICS on the same level as CONSOLE games
• SLIDING with the motorcycle on metal constructions thanks to steel bars welded on wheels or handlebars of the motorbike
• CRAZY ride on a TRIKE
• EXTREME rising with the HILL CLIMBING motorcycle to the top of the factory chimney
• INCOMPARABLY SENSITIVE physics of the motorbike on iOS
• ROCK SOUNDTRACK including 17 full tracks ideal for headphones
• Slowing down the reality thanks to SLOW MOTION ZONES (In-App Purchases)
• Better protection against crashes with help of SAFETY CAGE SYSTEM (In-App Purchases)

Other features:
• 64 levels in 5 industrial environments
• More than 150 challenges
• RACES SIDE BY SIDE WITH THE BOSS
• RAGDOLL PHYSICS of a rider
• 56 Achievements
• 65 Global Leaderboards
• UP TO 9 CONTROL VARIANTS for perfect gameplay
• BET THE BOSS and get the better position on the Leaderboards
• Catapults, lifts, ramps and other movable traps
• Hunting fiery flames, falling traverses and car wrecks
• Nitro Oxide System for the higher performance (In-App Purchases)
• 15 graphic skins for a bike
• 15 outfits for a rider
• More than 200,000 objects on the tracks
• You do not need to be on-line to play the game!
• ReplayKit support
PhoneBook Pro
Normally $1.99.
PhoneBook Pro – it is an application to manage your contacts, that will make your address book neat and easy to use.

MAIN FEATURES
• Remove duplicates and merge contacts
• Backup and restore contacts
• Group messages and emails
• Filter contacts by any conditions
• Favorite contacts in the app and in the Notification Center

CLEANING THE CONTACTS
The app will find all the duplicate contacts, contacts with the same phone numbers or email and similar names. Before clearing you can preview result of the merging and manually select the contacts.

BACKUP
Backups can be sent by email or transferred to your computer via iTunes.
You can restore all the contacts at once, or manually selected contacts.
You can connect your Dropbox account and automatically save contacts on a schedule.

FAVORITE CONTACTS
You can bookmark the phone numbers or emails. Available the appropriate action: call, send a message or email, call by Facetime or send a message in WhatsApp.
+ Widget with your favorite contacts in Notification Center.

CONTACT MANAGEMENT
• Instantly send group text & email
• Filtering contact with any conditions
• Export contacts by Mail or in a message
• Create, edit, delete and batch delete contacts, groups and filters
• Handy organization of contacts
• Quick search
• Quick access to your own contact
• View the links and addresses on the map
iVoice Maker
Normally $0.99.
Turn your device into Powerful iVoice Maker Machine. Super Crisp Voice Recording only with "iVoice Maker"

iVoice Maker is a Fun and Versatile Voice Recording application. Use it to record business meetings, lectures, and personal notes or sing & check how beautiful your voice is, without time limits!

————— Awesome Features——————–

√ Set your preferred recording bit rate from 12 kbps to 160 Kbps.

√ Write in Text to Voice box and play it via Multiple Speakers with variations of Pitch & Speed.

√ Beautifully designed Live Pointer Analyzer shows Record and Play.

√ Save Recordings to Cloud Storage like Dropbox & other drives, Email or Post in Facebook.

√ Set schedule to play recorded files with respect to Time and Date.

√ See Voice Recordings in a fine-looking list format.

√ Several Formats available to Record.

√ Super Crisp Voice Quality and Clarity of Sounds.