If you purchase an independently reviewed product or service through a link on our website, we may receive an affiliate commission. Learn more.
You thought you were going to sneak off into the weekend without filling up your iPhone and iPad with a few more paid iOS apps on sale for free? Fat chance — we've got eight fresh apps on sale for you to check out on Friday. There are also still several freebies in Thursday's post, so be sure to check out that one as well if you missed it.
This post covers paid iPhone and iPad apps that have been made available for free for a limited time by their developers. BGR is not affiliated with any developers. There is no way to tell how long they will be free. These sales could end an hour from now or a week from now — obviously, the only thing we can guarantee is that they were free at the time this post was written. If you click on a link and see a price listed next to an app instead of the word "get," it is no longer free. The sale has ended. If you download the app anyway, you will be charged by Apple.
PrivateShare
Normally $1.99.
Are you looking to transfer files between your phone over WiFi or BT? "PrivateShare – WiFi Share, Transfer, Send Files" helps you manage, send or transfer files between mobile devices over wireless connection, no internet or USB cable needed. With the unique file sharing feature over WiFi or Bluetooth using the Wire Sharing app, you can save your data costs while transferring files over devices.
PrivateShare has an easy interface to browse and connect to devices and then initiate file transfer. This is very useful for fast file transfer feature. "PrivateShare" is a lightweight web server that lets you upload and download files to/from your phone or tablet over a wireless connection. The app also includes a bluetooth based chat feature to allow you to chat with anyone seamlessly over a bluetooth connection.

**********************
APP FEATURES
**********************
"PrivateShare – WiFi Share, Transfer, Send Files" is the most unique file sharing application to share files over WiFi. Here are the feature of the app that make is unique among all other apps –
Upload or download multiple files at once
Connect up to 10 devices with this FTP
Apply filters and crop images
Capture and share image and video files
Automatic device discovery and connection
Chat Messenger with Video, Image and Audio sending capabilities
Easy connection using WiFi or bluetooth
Best file transfer app to transfer photos, videos, music files, etc.
Ultra fast file transfer app. Much faster than bluetooth file transfer
Apply filters and crop images

ADDITIONAL FEATURES WITH IN APP PURCHASES:
‐Automatic device discovery and connection
‐Chat Messenger with Video, Image and Audio sending capabilities
-Image manipulation capabilities

For smooth functioning and file transfer, you must ensure your connecting devices are connected on the same WiFi network. The app is free to use. So, what are you waiting for? Download this unique app – "PrivateShare – WiFi Share, Transfer, Send Files" now to get started.
Voice Launcher
Normally $0.99.
Tired of looking for an app on the home screen?

This is the app for you! Instantly launch your apps with your voice!

# Features

– Voice Launcher detects the sound of keywords defined by you and launches apps using the URL scheme.

– Sound detection is processed locally in the app. No server connection makes possible a speedy response!

– Easy setup using templates for common URL Schemes.

– 519 pre-installed images to customize shortcut icons.

– Shortcuts are synchronized between your devices via iCloud.

– Spanish acoustic model is also available for Spanish speakers.

# How to use

1. Create a new shortcut with a name. It will be the keyword for the app to detect the sound.

2. Enter an URL scheme for launching your app.

3. Save the shortcut.

4. Bring your mouth closer to the microphone.

5. Speak the keyword into the microphone.
Album Cover Maker – Cash Money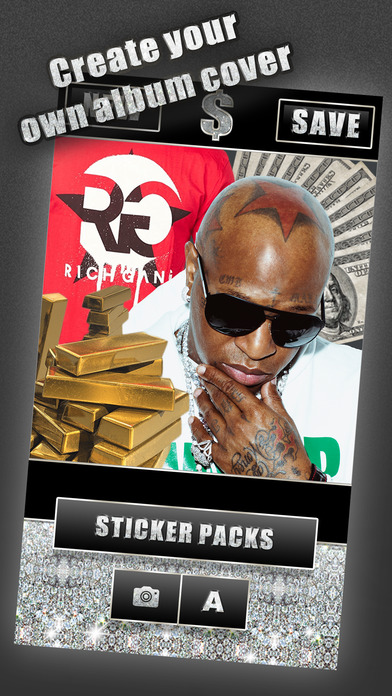 "Bling Bling" and "Tattoo" in-app purchases are normally $0.99 each, but are currently free.
Cash Money Records, the most influential record label in rap music history, is celebrating it's 20th Anniversary in 2017. Recreate and share your own versions of iconic album covers from Juvenile, Big Tymers, Lil Wayne, B.G., Hot Boyz and more using the hundreds of stickers available in the app. Take a behind-the-scenes journey through the hottest videos from the labels catalogue and access exclusive merchandise throughout the 20th Anniversary year.
Download Album Cover Maker – Cash Money
Purger
Normally $1.99.
Purger will delete all you need in seconds using the most efficient multi-photo/video select technology. Use swipes to select multiple photos/videos at ones, clear the unwanted ones and then delete them to free space.

Features:
– Easy multi-photo/video selection
– Fastest way to delete multiple photos
– Smart photo filtering
– Intuitive interface
– Full access photo library
– Album detection
– and much more…

Great for travelers or photo enthusiasts who takes many photos and device free space is a problem. No more "Cannot Take Photo", "Not Enough Storage", "Storage Almost Full" messages.
CamPro
Normally $2.99.
CamPro is the stunning editor for those who wish to go beyond the basic photo editing.
Giving the look and feel of a professional photographer and allowing you to express even the most subtle mood on your photos.
Preview feature that shows the effects at a glance

PHOTO FILTERS
Beloved by professional photographers. Linear, Vignette, Instant, Process, Transfer, Sepia, Chrome, Fade, Curve, Tonal, Noir, Mono, Invert

ADJUSTMENTS
Brightness & Contrast, Gama

EFFECTS
Spot light, Hue, Highlights, Bloom, Gloom multi zone, Posterize, Pixelate

FOCUS & CROP & ROTATE
Snap Normal, Circle, Band, Full sized crop

TONE CURVE
Provides editing features perfect for those who wish for a more sophisticated photo editing.

SAVE & SHARE
Save to maximum resolution of your device.
Photo Sharing to Facebook, Twitter, etc
Cardiograph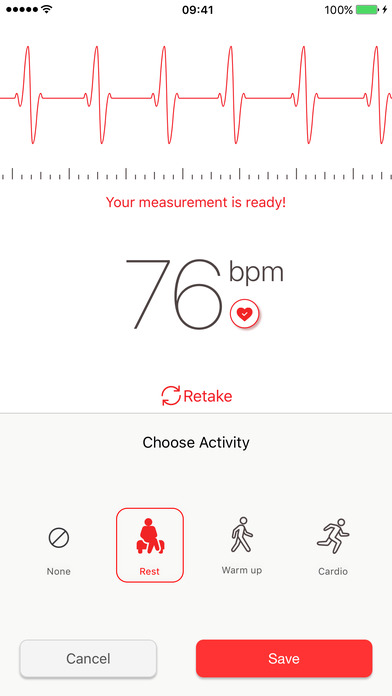 Normally $1.99.
Cardiograph is a fast and reliable way to measure your heart rate on iPhone and iPad. Using only your device's built-in camera — with no additional hardware required — allows you to keep track of your heart's rhythm anywhere and at any time. The detailed history records and ability to sync, tag, share and print individual measurements make it a versatile tool for monitoring your cardiovascular health.

Accurate Results, Almost Instantly
Having a quick and easy way to know how fast your heart is beating has many uses — from improving your exercise regime to keeping regular track of your heart's condition, or even just for fun. Cardiograph makes that easy, with precise results that appear within a few seconds.

Clean, Simplistic Design
The minimalistic and intuitive design shows you everything at a glance and makes Cardiograph approachable and easy to use for everyone.

Detailed History
Save your measurements (including every individual heartbeat!) for future reference or for sharing with your family or health care professional. You can also add a label to each measurement depending on the intensity of your exercise or your activity level.

Export & Share Your Measurements
Each measurement can be shared, exported as a PDF file and even printed on paper directly from within the app. If you have our previous app, Cardiograph Classic, you can transfer all of your measurements to the new app with a couple of taps.

Designed for iPhone & iPad
Cardiograph is a native app that takes advantage of the iPhone & iPad's distinctive features like the excellent cameras, 3D Touch (where available) and support for syncing with the Apple Health app (where available).

IMPORTANT: This application, although sufficiently accurate, is not meant as a replacement for professional medical equipment and qualified care. If you have any concerns about your heart's condition, please consult your physician or general practitioner.

If you're having issues with Cardiograph, check out the "More" section within the app or contact us at our support e-mail and we'll help you out.
Sorcery!
Normally $4.99.
An epic four-part adventure through a land of monsters, traps, and magic. Start your story here!

*** Rock Paper Shotgun Best RPG of 2016 ***

"You should choose to own this adventure" — Eurogamer

"Inkle's adaptation of Sorcery! takes the genre to a whole new level" — Kotaku

"This is some of 2013′s best interactive storytelling" — IGN UK

"Beautifully realised … this gripping tale has us well and truly hooked" — Pocket Gamer (Gold Award)

"Incredibly impressed" — Touch Arcade

Top 10 Best Mobile Games of 2013, Mashable.com
Top 20 of 2013, Touch Arcade
Top 25 of 2013, Gamezebo

+ Plot your own journey across a hand-drawn 3D world map
+ Fully interactive story, with 1000s of choices
+ The story is rewritten on the fly based on how you play
+ Unique touch-based sword-duelling, with procedurally-generated descriptions of the action
+ Adapted from the best-selling gamebook series by legendary game designer Steve Jackson
+ Outwit monsters by learning their weaknesses and tells
+ 48 magic spells to master, with weird and wonderful effects that change the story

"Sometimes I feel like I'm wasting my time writing a review when I should really just be pointing at a game and demanding that people play it. This is one of those times. Steve Jackson's Sorcery! is an absolutely marvellous fantasy storybook adventure. Lushly illustrated and expertly told, it should not be missed by anyone even remotely interested in the genre." — Gamezebo

"Let's not mince words here… Sorcery's unique blend of tabletop-like roleplaying (including an incredible combat system quite unlike anything I've seen before), and elaborate branching pathways with custom scripts preserving the feeling of Steve Jackson's work make me now want to… no, HAVE TO acquire an iOS device" – Just Press Start

From legendary designer Steve Jackson, co-founder of Lionhead Studios (with Peter Molyneux), and Fighting Fantasy and Games Workshop (with Ian Livingstone); and inkle, the studio behind the award-winning, App Store featured Frankenstein, Sorcery! is an interactive adventure like never before.

The app uses inklewriter technology to tell your journey in real-time, shaping the story around your choices. The text itself changes based on how you play and what you do, and in combat, the action is description on the fly based on how you play.

Featuring original illustrations by John Blanche, new character art by Eddie Sharam (DC Comics), an interactive map by Mike Schley (Wizards of the Coast) and music by David Wise (Donkey Kong Country).

"The Shamutanti Hills" is Part 1 of 4. Part 2, "Kharé: Cityport of Traps", is out now, and will load all of your completed Part 1 games to continue your adventure. Part 3 is coming later this year (but while you wait, check out our new game, 80 DAYS).
Gangster Granny 3
Normally $0.99.
Some time had passed since Gangster Granny went on her ferocious trip to rob a bank. Those days seemed to be left behind as she now held an icecream instead of a gun, peacefully walking on the calm, sunny streets of a small village. Little did she know it was all about to change…
An evil corporation was now ruling the world, and seemed quite interested in Gangster Granny. But why? Who is behind all this?
Looks like it's time to break in, again.

———————————–

Gangster Granny 3 brings back the adventure genre from original Gangster Granny game, and offers even more variety to objectives, enemies and gunplay.
---
Our deals and product reviews are picked by BGR's expert editors and team.

Follow @BGRDeals on Twitter to keep up with the latest and greatest deals we find around the web. Prices subject to change without notice and any coupons mentioned above may be available in limited supply.