If you purchase an independently reviewed product or service through a link on our website, we may receive an affiliate commission. Learn more.
Following yesterday's post — where you'll find several freebies that are still available for download, mind you — we're back with yet another installment in our series covering paid iPhone and iPad apps that go on sale for free. We've selected the best of the bunch for Tuesday, and they're all laid out for you in the post below.
MUST WATCH: This is our best look yet at the iPhone 7
These are paid iPhone and iPad apps that have been made available for free for a limited time by their developers. There is no way to tell how long they will be free. These sales could end an hour from now or a week from now — obviously, the only thing we can guarantee is that they were free at the time this post was written. If you click on a link and see a price listed next to an app instead of the word "get," it is no longer free. The sale has ended. If you download the app, you will be charged.
YoWindow Weather
Normally $2.99.
Accurate, beautiful weather with landscapes depicting weather, sky, season.

YoWindow is a unique new weather app. The magic of YoWindow is a living landscape that reflects your actual weather. For instance, if it's raining – it rains in YoWindow.

The sunset and the sunrise in YoWindow happens at exactly the same time as in real life.

But the great thing is you can scroll the time forward. Just swipe the screen and you will see how the weather is going to change throughout the day.

Simple!
All the weather at your fingertips. You see the current weather, the forecast for today and for several days ahead.

Beautiful!
State of the art landscapes change depending on the season. The artwork is designed down to the smallest detail. Choose a landscape that fits best for your area.

Handy!
YoWindow is a window in your pocket =)

The weather forecast is provided by yr.no and NWS – the leading meteorological organizations.
gTasks Pro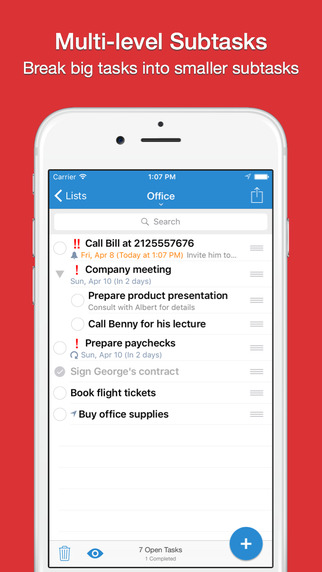 Normally $5.99.
A SINGLE PURCHASE COVERS ALL YOUR IPHONE AND IPAD DEVICES.

Sync your tasks with Google and across your Mac, iPhone & iPad devices.
Never liked your tasks app? You'll love this one :)

MAIN FEATURES
● Sync your tasks with Google Tasks.
● Sync tasks between your iPhone & iPad devices.
● View your tasks and calendar events in one place.
● Keep your tasks organized with subtasks.
● Location based reminders such as when you leave your office.
● Set repeating tasks such as "Pay bills" every month.
● Universal app, designed both for iPhone and iPad.

GOOGLE TASKS
● Naturally integrating into Google Calendar.
● No permanent internet connection required. The app will sync updated tasks as soon as an internet connection is available.
● Your tasks are backed up.
● Manage your tasks conveniently on your home/office PC, and have them synced to your iPhone/iPad and vice versa.
● Share tasks with your colleagues.
Don't Run With a Plasma Sword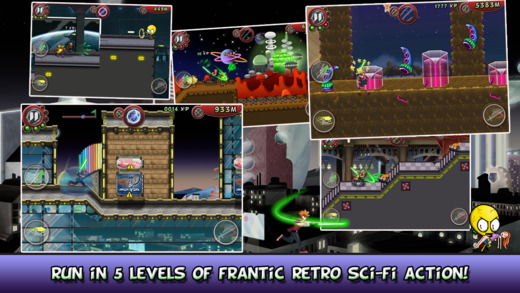 Normally $1.99.
Run to save the world in this humoristic tribute to retro sci-fi movies! A fun, challenging runner with tons of content!!

Start with a simple combat runner and evolve your gameplay to ultimately navigate masterfully through challenging level configurations and boss fights!

– Over 700 000 downloads, 10 million games played!
– Featured by Apple!
– Covered on The Totally Rad Show!
– What the press has to say:

4.5/5 touch arcade "From presentation to gameplay to overall fun factor, DRWAPS simply shines"

4.5/5 iFanzine "DRWAPS is the kind of genre mashup gold that we need to see more often in the App Store"

4/5 appspy "DRWAPS's book and try to provide an experience that goes beyond mindless platforming"

4/5 148Apps "DRWAPS is another solid endless runner with a little bit of action-platformer thrown in"

4.5/5 padgadget "DRWAPS is an action-packed infinite runner that fans of the genre won't want to miss out on."

5/5 iphonegameruk "November Game of the Month"

4.5/5 apptudes "gorgeous and full of personality, it effortlessly blends platforming, action, and RPG elements into a fantastically entertaining experience"

5/5 app-score "DRWAPS is yet another running game that has used the iPhone to the best of it's ability"

4/5 touchgen "DRWAPS is a fun entry in the endless running genre that brings both storyline, and humour to the table"

4/5 modojo "We grew tired of "runners" months ago, but DRWAPS renewed our faith in these types of games"

4.5/5 iPhone Alley "the amount of content that's here is enough to satisfy any casual gamer or the ideal hardcore"

4.5/5 crasymikeapps "DRWAPS is a side scrolling platformer with more personality than most, leveraging excellent graphics and in depth gameplay"

4/5 iphoneappreviews "DRWAPS is one of those games that keeps your coming back for more, even once all upgrades are purchased"

4/5 AppsJP

4.5/5 backtothegeek "If you like runners, jump on it"

————————-

For a long time Cornelius has been working at the local comic books stand shop. For about as long, he's been daydreaming about how somehow, someday, he'd become a Hero. After all, wasn't what the fortune cookie was saying, right? … right? Fortunately the Aliens invasion would come just in time to provide with this opportunity…

Don't Run is a breathtaking, retro sci-fi, combat based, funny sidescroller with tons of content.

Anyway, what more can you ask for than running with a plasma sword, slicing-up invading aliens?

————- Main Features ————-

– Universal App
– Retina display
– 5 environments: City, Factory, Mother ship, Alien Planet, Tandoori Moon
– 2 Game Modes:
– Story mode with fixed game progression, save points, boss fights and 3-stars rating system
– Endless mode with 4 levels of difficulty, random map generation and objectives to accomplish
– Did we say it? Boss fights!
– Breathtaking action! Hundreds of small hand crafted map sections put together dynamically to make sure to bring out a maximum of diversity and generate a controlled difficulty progression.
– A unique 3 buttons contextual controls scheme: jump, slide, slash which becomes double jump, dive and dash in the air
– Several types of monster with their own gameplay, traps to avoid, power-ups and rewards to collect
– Upgrades! Collect xp in game to level up your avatar on skills and avatar customization
– Game Center leaderboard and achievements
– Comic storyboards
– Awesome soundtrack and sound effects
– 2 supported languages, English and French
Download Don't Run With a Plasma Sword
Voice Secretary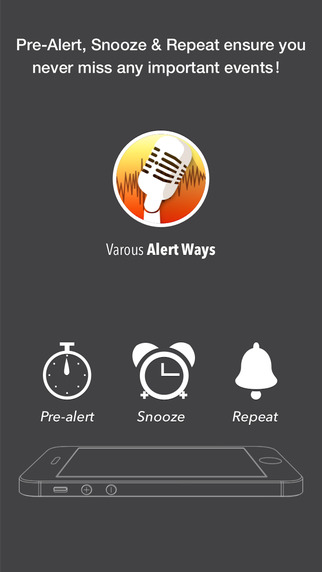 Normally $2.99.
With Voice Secretary, you will never miss any important meeting or events even when you are engaged in busy business or driving a car. Use your own voice to record reminders, saving you time from typing and customizing your own alerts. Everything is readily available even when the app is turned off. It's an amazing app which is worthy of owning for who want to remember everything quickly without typing. An awesome recorder is included also.

"Voice Secretary app was included in our best reminder applications" — AppPicker

"Voice Secretary is One of Best Voice Secretary Business Apps in iTunes" — ***** By AppDictions

"Siri is good for setting appointments, but she can't provide users with voice memos in those appointments, or allow those same voice memos to be emailed to others attending those appointments. The Voice Secretary has you covered with easy-to-make voice memos that can be referenced and shared inside appointments that are made inside this application." — ***** by CrazyMike'sApps

"Voice Secretary is a great app like the name itself. It's a voice alert app that allows you to use your own voice to remember everything. A great new twist in iOS voice alert app you have ever seen " — ***** By Best10Apps

"Not only this program is great but it saved me time.For my job the ability to sketch out ideas quickly and clearly, is of the upmost importance. Simple, elegant in design, very happy to have discovered her." — *****

"Отличная прога…..использ на все 100%" — *****

"음질 좋은편이고 멀티테스킹 및 화면 끈 상태서도 녹음되네요.
역시나 전화통화중은 안되는듯" — *****

"这个软件设计很完善,而且能够通过语音来提醒,非常方便,能够按时提醒,非常实用,能够反复提醒,让每一件事情都能得到很好的安排。" — *****

"..è lo strumento giusto per impostare promemoria alla velocità della luce anche quando ci si trova in macchina ed è meglio concentrarsi sulla guida.
Non so come faccia ma si sincronizza anche con lagenda con Informant, validissima!" — *****

"Die beste app die ich kenne und jeden Tag benutze weil es so unglaublich simple und schnell geht Erinnerungen zu erstellen ohne ewig lang tippen zu müssen…" *****
……..

More Features:
– Time-saving. It helps you save lots of time. Just turn on the software, record, and set the time and everything is done.
– Auto reminding. You can receive the reminders with no need to open the application or connection with network, only when the phone is on.
– Easy to add reminders. Click the big button, simply shake the phone or start the recording by proximity sensor.
– Email your reminders. Send your voice reminding to your friends or family members by Emails as easily as sending a file.
– Support recording in background.
– Time delay function. You will feel easy to delay the reminder when your hands are full and no schedules will be missed.
– Backup and sync up. With voice secretary, never worry about the loss of data. Backup your audio data to your PC, Dropbox or iTunes through Wi-Fi and sync up your voice files in Dropbox and iTunes.
– Nag(Echo). I deeply believe that someone may NAG to you everyday and you may think it's bothered but voice secretary just nag to you to give you reminding so that you won't ever miss any event or meeting
– Support multiple languages. Support English, simplified Chinese, Chinese traditional, Japanese, Deutsch, Française, 한국어, Русский, Portuguese, Italiano, Español, etc.
– Dozens of reminder sounds. You can choose your favorite reminder sounds out of thirty ringtones.
– Security guaranteed. Without the passcode in your phone, nobody will know the content of the voice reminding. Help to protect your private information.
Paranormal Agency
Normally $2.99.
Use your supernatural ESP to rid the city of malevolent spooks and spirits in this eerie Hidden Object game! Detective Heather Mills has the amazing ability to see ghosts and other mysterious entities that are not visible to other people. When spooky ghosts and weird creatures start showing up in local homes, it's up to Heather and her agency to get to the bottom of this macabre mystery and look for reasons behind recent poltergeist attacks on innocent citizens. Help Heather hunt for hidden items in locations all over the city and find out who is behind the attacks. Featuring over 50 levels and variety of hidden object challenges, Paranormal Agency is a thrilling, and chilling, interactive examination of the unexplained. Start your search today!

● More Than 50 Challenging Levels
● Five Different Types of Hidden Object Challenges
● Seven Unique Mini-Games
● Original Storyline Re-written Exclusively for the iPhone/iPad Version
● Nearly Endless Hidden Object Fun
● Support Game Center
● iPhone 5 Display support
Audio Notebook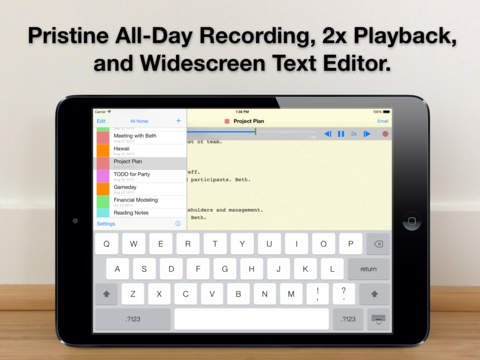 Normally $4.99.
All-Day Audio Recorder, 2x Playback, and Wide-Screen Text Editor.

Audio Notebook is perfect for:
– Students: To record all your lectures, and take notes on all your classes,
– Professionals: For every meeting and interview,
– Everyone else: To capture your thoughts and ideas for all of life's projects.

PRISTINE ALL-DAY RECORDING

Stop struggling to take notes while keeping up with discussions. Audio Notebook captures everything that is said, so you don't have to worry about missing a thing.

Record through your whole day and take notes at the same time. Edit and add to your notes while recording or reviewing later. When you're done, easily email your notes and recordings with a tap.

Leave your laptop behind. Stay on top of all your classes and meetings with just your iPad.

FAST 2x PLAYBACK

Reviews are a snap: Audio Notebook lets you breeze through recordings with up to 2x playback speed. Rewind by 5 seconds with just a tap, and capture every point with perfect recall.

EASY DATA ACCESS

It's your data: Copy all your notes and audio to your Mac or PC with iTunes File Sharing at any time. This is great for extra backups or sharing with others. It even works wirelessly over WiFi.

COLORFUL ORGANIZATION

Color code your notes with multiple categories to find them easily and stay on top of all your projects.

WIDE-SCREEN EDITING WITH LARGE FONTS

Unlike Apps ported from the iPhone, Audio Notebook makes full use of the iPad's larger screen. Notes take up the full screen width in landscape, and are presented with a large, legible font, so you don't have to squint.

Pick between three beautiful fonts for your notes: Georgia, Helvetica Neue, or Courier.

EVERYTHING YOU NEED TO TAKE GREAT NOTES

Integrated Text Editor:
– Text notes with built-in Audio Recorder
– Works great in both landscape and portrait mode
– Large, legible font
– Copy & Paste
– Automatic spell check

Flexible Note Organizer:
– Multiple color-coded categories to stay organized
– Filter notes by category, to quickly find the one you want
– Sort by name or by date
– Customizable category names
– Share notes and recordings via Email

High Quality Audio Recorder:
– Variable play speed: 1x, 1.5x, or 2x
– Instant seek
– Quick skip by 5 second increments
– Unlimited audio recording time
– High quality MPEG-4 audio: An hour takes approximately 12MB
– Record and take notes simultaneously
– Pause and continue recording as many times as needed
FontBoard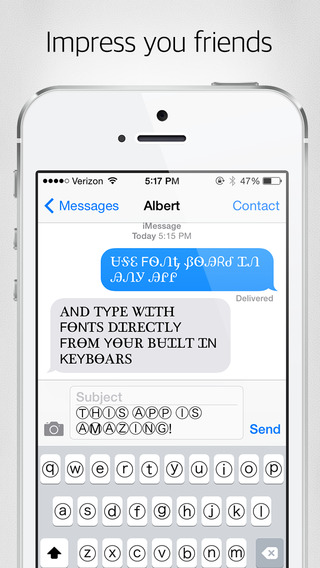 Normally $0.99.
Use these cool fonts and post them on social media platforms, text them to your friends, even use them in eMails or status updates— so what are you waiting for? Download NOW! This great-deal low-price will not last!

These breath-taking font keyboards have auto-correct functionality built into them!

All of your friend's are so jealous of your cool typeface once you get FontBoard! FontBoard allows you to install BEAUTIFUL, GORGEOUS, & STUNNING type-faces into your iOS8+ Keyboards. You can use our font keyboards to type text with styled font in ANYWHERE on your device (in any app) that allows standard keyboard input.

You are unique, your typing should match who you are! Customize, with tons of designer fonts to pick from!

Download NOW! This great-deal low-price will not last!

Thank-you.
Furniture for Minecraft PE
Normally $1.99.
Now you can create your perfect furniture dreamland! Hours of fun awaits you. Learn about lots of furniture items and different resources to design your furniture map..

Features:

– Install Furniture mod
– Complete database of furniture
– Detailed descriptions and screenshots
– Video collection
– Mod showcase
– Video for every furniture item
– And more!

What are you waiting for? Download this app today while it is on sale!

Disclaimer: THIS APP IS NOT AN OFFICIAL MINECRAFT PRODUCT. NOT APPROVED BY OR ASSOCIATED WITH MOJANG

Note: This app is for desktop version of Minecraft only. It is a guide and you cannot modify Minecraft Pocket Edition client with this app.
Download Furniture for Minecraft PE
Multiplayer Servers for Minecraft PE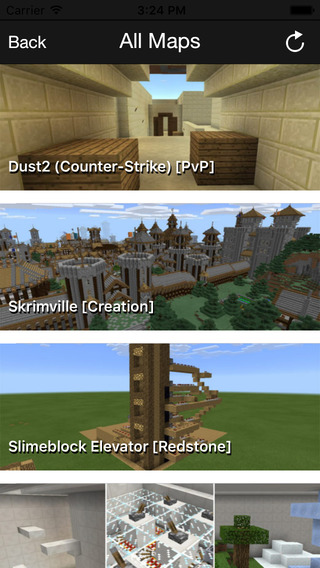 Normally $0.99.
Best app for searching all kinds of Minecraft PE Multiplayer Servers and Maps & Seeds! (IAP required)

Some of the multiplayer servers include;

Hunger Games
Adventure
Factions
Prison
PVP
Economy
Parkour
Minigames
Survival
Roleplay
Sky War
Sky Block
Spigot
Kit PVP
PVE
Pixel Mon

Easily search through hundreds of most popular minecraft PE online servers. Servers are updated every hour so that you know what people are playing or if the server is online or offline. You will always be connected to the Minecraft community and you will be able to access the most famous Multiplayer Servers in the world. Play with thousands of fellow Minecrafters online!

If you like any server then just simply add it to your favorites for quicker access.

Disclaimer: This application is not approved nor affiliated with Mojang AB, its name, commercial brand and other aspects of the application are registered brands and the property of their respective owners. This is an unofficial Minecraft app.
Download Multiplayer Servers for Minecraft PE
---
Our deals and product reviews are picked by BGR's expert editors and team.

Follow @BGRDeals on Twitter to keep up with the latest and greatest deals we find around the web. Prices subject to change without notice and any coupons mentioned above may be available in limited supply.