If you purchase an independently reviewed product or service through a link on our website, we may receive an affiliate commission. Learn more.
Congratulations on making it to the end of another week! There are plenty of ways you can celebrate, but most of them involve going out and spending a bunch of the money you just spent all week earning. Here's another option: snag these 12 paid iPhone and iPad apps that are all on sale right now for free. We've got an app that'll hide your private photos, a cool proximity chat app, an app that turns your iPhone into a mouse for your computer, a great language translator and plenty more.
MUST SEE: Two of the best iPhone 7 leaks yet both surfaced last night
These are paid iPhone and iPad apps that have been made available for free for a limited time by their developers. There is no way to tell how long they will be free. These sales could end an hour from now or a week from now — obviously, the only thing we can guarantee is that they were free at the time this post was written. If you click on a link and see a price listed next to an app instead of the word "get," it is no longer free. The sale has ended. If you download the app, you will be charged.
The Big Clock
Normally $0.99.
Stop squinting! This is the Biggest, Ad-free Clock in the App Store.

Completely Customize Your Alarm
– Set a Song from your Music Library.
– Set the Time Between each Snooze.
– Set a Maximum Number of Snoozes.
– New in iOS 8! Use Background Actions to Snooze or Stop the alarm.

Weather Widget(In App Purchase Required – $2.00 USD/yr – Auto Renewable)
– Always see the current temperature and conditions in your current city.
– Use the GPS to set your Current City or get Weather from any City in the World.
– Swipe or Tap to Reveal a 10-Day Forecast.
Weather Data Powered by Forecast(forecast.io)
MultiDrop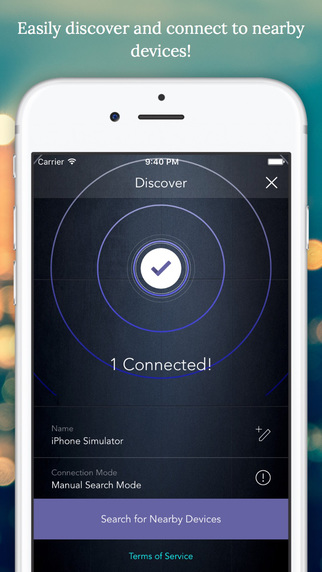 Normally $8.99.
MultiDrop is a free multi‐purpose local file exchanger with voice communication and more.
It uses the new Multipeer Connectivity framework to interconnect devices using only WiFi or BlueTooth, so no internet is needed, nor any server or databases.

You can:

‐Connect up to 10 devices with this FTP
‐Automatic and manual device discovery and connection
‐Exchange multiple big Images, Videos and any kind of files simultaneously
‐Share and send on facebook and twitter

Includes InApp purchases for:
‐Chat Messenger with Video and Image sending capabilities
‐Fancy walkie‐talkie for voice communication
‐Capture and share image and video files
-Print your photos and documents
-Share your contacts from your Address Book. Send them also with e-mail as a card.

All that in a user friendly neat UI screens.

Enjoy private risk free communication for all!
Remote Mouse
Normally $1.99.
Remote Mouse turns your iPhone, iPad or Apple Watch into a wireless user-friendly remote control for your Mac / PC. It'll surprise you with fully simulated touchpad, keyboard and featured remote panels which make your remote experience simple and efficient.

Giving a presentation? Watching an online movie? Or transferring pictures within a second? We make it dead easy to control your PC / Mac! Just sit back and enjoy the day.
** FEATURES **

• Fully Simulated Mouse
• Magic Trackpad
• Multi-Touch Gestures
• Function Keyboard in Landscape Mode (full version only)
• Key Combination Input
• Media Remote (need unlocking)
– Support iTunes, Keynote, Powerpoint, Hulu and Powerpoint for Mac
– Support Windows Media Player, Window Photo Viewer, Powerpoint and iTunes on Windows
– Physical Volume Buttons Control to adjust computer volume and change presentation slides
• Image Transfer (need unlocking)
• Spotify Remote (need unlocking)
• Application Launcher & Switcher
• Shut Down / Sleep / Restart / Log Off Remotely
• Numeric Keyboard
• Swaying Mode Control
• Remotely Typing with Voice (need Siri)
• Connect via IP & QR code
• Password Protection
• Customizable Interface
• Customizable Wallpapers
• Works under Wi-Fi and 3G network
• Compatible with Windows 10, 8, 7, XP, Vista, Mac OSX 10.6+
** TO GET STARTED, YOU ALSO NEED **

1. Visit http://www.remotemouse.net with your Mac / PC. Download & install Remote Mouse server on computer.
2. Make sure that your mobile device is connected to the same Wi-Fi (or 3G hotspot) as your computer.
3. Open Remote Mouse App, Click "Start" to connect.
Lose Weight Hypnosis
Unlock All Advanced Features in-app purchase normally $2.99, now free.
◉ Learn to enjoy healthy food and exercise after listening daily for just 1–3 weeks
◉ Change your mindset through subconscious thoughts for effortless weight loss
◉ You won't have to try to lose weight — it just happens naturally!

TRAIN YOUR MIND TO WORK ON WEIGHT LOSS THROUGH HYPNOSIS

Tired of losing weight, and then gaining it all back? Adding hypnosis to your weight loss program helps change your entire mindset, resetting your behavior for a healthier lifestyle and eating habits.

EFFORTLESS CHANGE

◎ A single audio session of 22 minutes a day that is effective in just 1–3 weeks
◎ Hypnosis audio carefully read by the soothing voice of a certified hypnotherapist
◎ Peaceful background music and nature sounds to help you relax
◎ Hypnotic Booster with binaural beats to induce your brainwave frequency into an optimal state for receiving hypnotic suggestions
◎ Separate volume controls for Voice, Background, and Hypnotic Booster
◎ Awaken at End feature can be disabled at bedtime for a relaxing, restful sleep
◎ Repeat sessions or loop while you sleep
◎ Continue listening to background sounds after the session ends
◎ Works with Apple Watch! Pause, resume and adjust overall volume from your wrist via the Now Playing glance

READ OUR USER REVIEWS

"After just one week of listening to this app, my "sweet tooth" was gone and I was able to get my stress eating under control. This app literally helped me turn a corner in what has been a life-long struggle."

"This app has helped me control my appetite in a way that nothing else ever has. My ability to control my appetite is virtually effortless. Food is not the center of my world anymore. It's very liberating."

"I was really skeptical and I normally don't do reviews unless an app was horrible but seriously…wow. I started using this app 2 weeks ago and while I know your suppose to shoot for no more than 2lbs a week….I've lost 12lbs. I do this one in conjunction with their exercise one as well as another weight loss hypnosis app & an intuitive eating hypnosis. and this one is my favorite. I throw it on mid-day when I start craving sweets. I have not had processed sugar for a week and when I did break down for a brownie it tasted chemically. I'm in love with hypnosis now. I have 40lbs to go till my goal but I'm finally feeling ready for it!!!!"

"At first I didn't think it would work, but after listening to it just once I began to pick healthier choices and wasn't hungry all the time. I now use this app every morning to start my day right with the right mind set and the wake up feature is like my own cup-o-coffee."

"So glad I downloaded this app!! I never thought this would work but boy I was wrong!! I use it every night to help me fall asleep and I've lost 40lbs!!"

THE BEST WEIGHT LOSS HYPNOSIS APP AVAILABLE

Lose Weight Hypnosis is FREE and effective with the default settings. A one-time in-app purchase is required only if you wish to change the default settings. (Each of our free hypnosis apps includes its own in-app purchase; in-app purchases cannot be shared among separate apps.)
Speedafari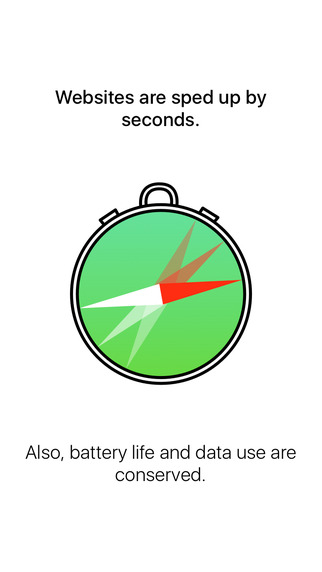 Normally $1.99.
Stuck in a slow connection? Speed up Safari with Speedafari!

"Kinda crazy, but it works." – Federico Viticci, Macstories.net

Speedafari blocks unnecessary parts of websites from loading. By removing part of the experience (ads, tracking scripts, external fonts, videos, etc.), you gain speed, battery, and data.

Speedafari is always just a swipe away, in the notification center. Just tap once, and — boom — Safari speeds up. No need to switch browser.

Choose between three different aggressiveness levels — low, medium or high. The higher the aggressiveness, the more will be blocked, and the faster the page will load. Note that some website functions may not work at all with the medium and high levels.

You're out in the woods? Now don't worry about slow internet anymore!

"Speedafari is a blocker that strips away everything it can so you can still load pages even when your connection is crap." – Thorin Klosowski, Lifehacker.com

Oh, and don't worry about privacy! Speedafari has no access at all as to what web pages you visit.

Brought to you thanks to the power of iOS 9.

Developed and designed by Arvid Lunnemark.
The Little Fox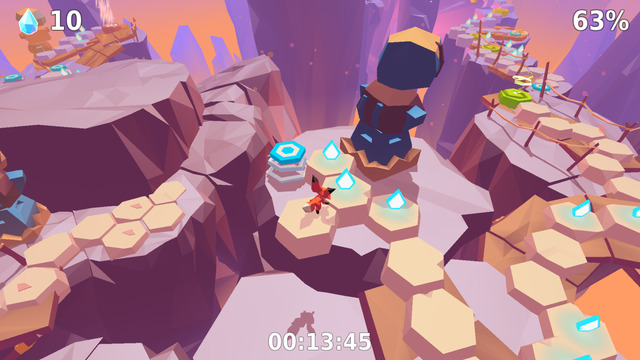 Normally $0.99.
The Little Fox is an alternative perspective on the world-renowned 'fairy tale for adults', The Little Prince by Antoine de Saint-Exupéry, where the Fox takes the place of the protagonist – a charming little character with a big heart.

======

Every once in a while, a game manages to stand out with having the right mix of everything. The Little Fox has a lot of the right stuff – charm, eye candy, storyline, platforming, original and challenging mechanics, an impossibly cute protagonist.
-Phonearena

In beautifully serene levels that feature relaxing, atmospheric music, the fox seems to be trying to travel faster than the speed of light.
-Pocketgamer

You get a game that is both casual-friendly but also a real game.
-Toucharcade

======

In search of the Little Prince, you'll have to:

run through thirteen fairytale planets, passing icy cliffs and volcano craters, finding your way through a bog and a dark cave
take care of the abandoned Rose by collecting tears literally by the drop
inspire a multitude of familiar characters to change their lives

Beauty

Taking the best examples of minimalist low-poly graphics as inspiration, we've created thirteen colorful and unique three-dimensional planets for you, along with an animated comic that tells the tale of the main characters.

The picturesque landscapes of Eternal Winter and the Forgotten Asteroid, the Sweltering Canyon and the Secret Cave, all of these are sure to stand out in your memory and make you want to set a screenshot of the game as your background.

Gameplay

The Little Fox is the first runner of its type on a hexagonal field.

Our ace in the hole is innovative gameplay that is easy to learn, but hard to master. Just two taps (on the left side of the screen to turn left, on the right to turn right) provides full freedom for moving through the game world.

Rest assured, no level will give in on your first attempt. But each successfully completed level will satisfy your sense of perfectionism.

Music

It is advised to play The Little Fox with headphones. A selection of unique tracks, each written with the specifics of each setting in mind, provides complete immersion in the game's atmosphere.
Multi Translate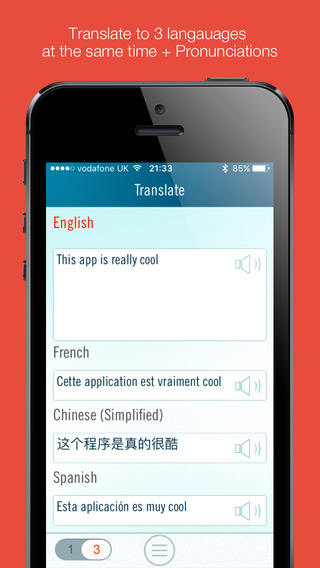 Normally $0.99.
This is a translator app which can translate voice, translate speech, translate Spanish and translate any language into 3 others at the same time!

Powered by Google Translate, Multi Translate is a very handy yet powerful translator.

Main Functions:
1. Translate any language to any 3 other languages with one tap.
2. One to one translator.
3. Share the translate results via Facebook, Twitter, email or SMS.
4. Save all the translate history automatically.
5. Custom the source and target languages within the translator settings.
6. Auto detect input language.
7. Support 80+ languages

v1.3.2
Listen to all your translations for Free!

v1.3.3
1.Fully support Apple Watch, try it now!
2. Minor bug fixing!

v1.3.4
Improve the results from the watch app translator.

v1.3.5
1. Support 3D Touch preview and short cuts.
2. Search history via Spotlight
3. Search language while selecting
4. Speed enhancement.
5. Bug Fixing.

v1.3.6
1. Control the speed and volume while listening to the results.
2. Listen to the results even when your device is mute.
3. Enhance the performance of the watch app.
RadioApp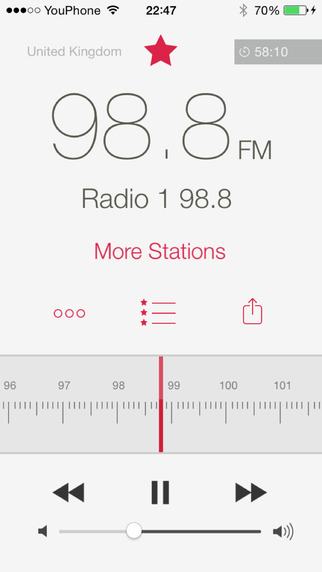 Normally $1.99.
Easily tune in to local radio stations and to radio stations from all over the world, using a unique analog-like tuner.

• Internet Connection Required

Features:
• Unique analog-like FM/AM tuner
• Use remote control to seek stations
• Supports multiple countries at the same time
• Name of playing song when available
• Favorite stations
• Alarm clock
• Sleep timer
QuickClip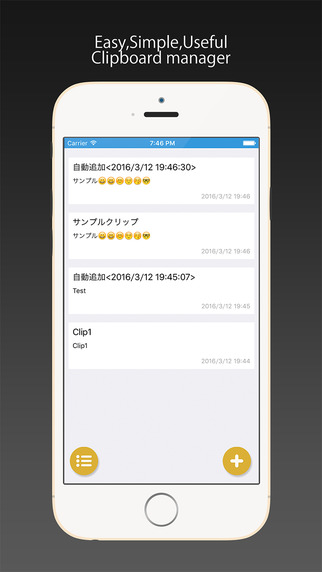 Normally $0.99.
Save copied text too easily and quickly.
QuickClip is very useful clipboard manager.
You can quickly and easy copy and paste.

App Features
– Simple UI
– You can access all clips from Widget
– iCloud Sync
– No Ads
– Folder

*This application is only supported iOS7 or higher.
Zen Sketch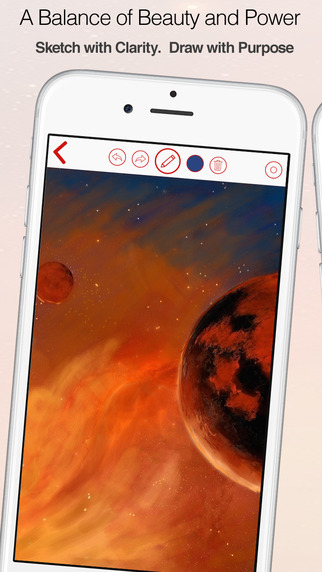 Normally $1.99.
Zen Sketch is a cross between a note-taking and a painting app. We wanted to give people an app with a balance between power and simplicity: A place that could stay out of the way and let them think, but also contained an environment with the ability to add serious detail to their work. And so Zen Sketch was born. The app goes beyond regular ink handwriting apps by using an industry standard drawing/painting engine, but still organizes your work in a logical fashion like any good note-taking app.

Use Zen Sketch to create powerful notes or paintings. All your work can easily be exported out of the app as images or PDFs, and shared in just about every way imaginable. The app has no learning curve, and lets you work in a streamlined and clean interface designed with the latest technology in mind.

We hope you like the Zen Sketch. And if you do, be sure to check out some of the other great Zen apps we've made.
Ananda
Normally $2.99.
Ananda helps you meditate, focus and relax with progressive binaural tones and high quality peaceful sounds.

-Enhance your brainwaves
Choose from one of Ananda's numerous binaural programs to focus, relax, meditate, or even to get the most out of a nap. Each program comes with binaural beats designed to help you reach a specific mood or state of mind.

-Discover a new ambiance every time
Each session provides a subtly fresh, new ambiance. A unique combination of nature sounds, chants, mantras and peaceful bells is generated on top of binaural tones every time you start Ananda.

-Recharge and feel good
Take a break at home, at the office, or in the subway. Even a few minutes of Ananda will get you refreshed and ready to deliver your best while staying calm and zen.

Main Features

– 13 Binaural programs
– Conscious Thinking
– Focus & Concentration
– Increased Attention
– Learn & Memorize
– Creativity
– Energize
– Deep Meditation
– Lucid Dreaming
– Intuition
– Relaxation
– Restorative Sleep
– Power Nap
– Wake Up

– Short description and benefits of every binaural program
– High quality nature and peaceful sounds
– Choose the sounds you prefer
– Sounds are mixed together in a new way for every session
– Simple and minimalist design
– Information on brainwaves and binaural tones included in the app

Download now and let us know how Ananda Meditate, Focus and Relax helps you in your daily activities.
Muzzyc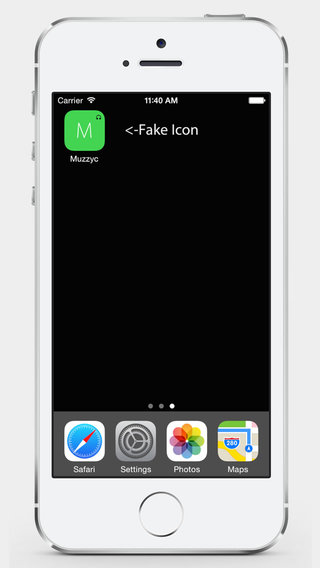 Normally $0.99.
– Protect your private photos and videos of unauthorized persons.

– With specially inconspicuous icon so that no one clicks on this app because it looks like a music player.

– With pattern unlock

– Create folder

– Share on social networks

– Photos and Videos Import / Export

– View photos and videos directly.
---
Our deals and product reviews are picked by BGR's expert editors and team.

Follow @BGRDeals on Twitter to keep up with the latest and greatest deals we find around the web. Prices subject to change without notice and any coupons mentioned above may be available in limited supply.