If you purchase an independently reviewed product or service through a link on our website, we may receive an affiliate commission. Learn more.
Amazon really turned up the heat on today's sales as Prime Day approaches, and you can catch all the best deals by following along in our Prime Day 2016 hub. Of course, Amazon isn't the only place to find killer sales. We've got 10 paid iPhone and iPad apps for you in today's post that are all free downloads for a limited time. These sales could end at any time, of course, so definitely check them out now.
MUST READ: iPhone 7: Seriously, this phone sounds boring to you?
These are paid iPhone and iPad apps that have been made available for free for a limited time by their developers. There is no way to tell how long they will be free. These sales could end an hour from now or a week from now — obviously, the only thing we can guarantee is that they were free at the time this post was written. If you click on a link and see a price listed next to an app instead of the word "get," it is no longer free. The sale has ended. If you download the app, you will be charged.
Draw Pad Pro 2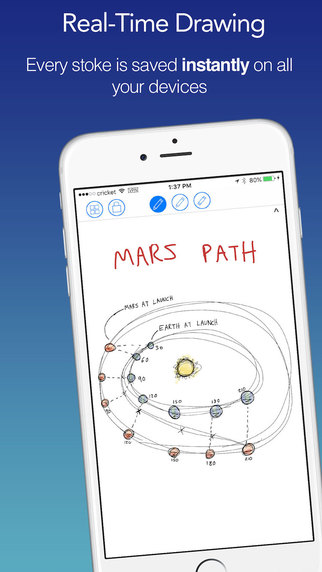 Normally $2.99.
Draw Pad Pro² is a simple yet powerful way to capture your thoughts, notes, and ideas. With a beautiful and clean interface designed for iOS 9, the app is a joy to use and easy to learn. Underneath the simplicity, Draw Pad Pro² packs powerful features. Each stroke you make is synced in real time to all your devices. Your work is organized into notebooks, with the ability to add titles to each page.

Features:
• Robust drawing engine
• Beautiful iOS 9 design
• Cloud Syncing to all your devices
• Notebooks Galore

Give Draw Pad Pro² a try today. We think you'll love it!
Cross DJ Pro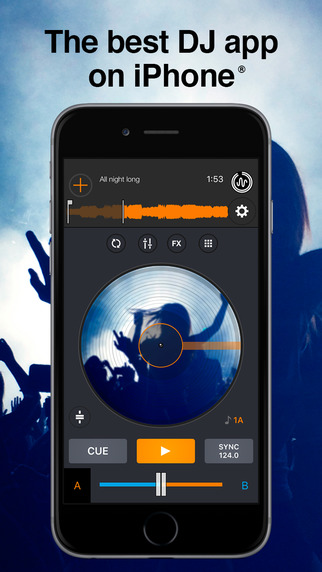 Normally $4.99.
The best pro DJ app on iPad & iPhone, downloaded by millions worldwide. Mix tracks in perfect sync on a powerful audio engine. Engineered & designed by Mixvibes, digital DJing pioneer for 15 years.

Free today with 'App of the Day'.

FULL VERSION, ALL FX – NO ADDITIONAL PURCHASES, NO POP-UPS

***Due to copyright reasons, recording mixes with streamed tracks from SoundCloud is not possible.

"Loved the sleek interface & functionality" – Digital DJ Tips
"Killer keylock" – DJ WORX
"A full-featured quality mixing app" – About.com
"Clean, simple & professional look & feel" – Best-dj-software.com

/// MIX IN PERFECT SYNC

• Accurate BPM detection of your music, down to the last decimal
• Stable sync: one-press & the 2 tracks never go out of phase
• Quantize mode: hot cues & loops are automatically set on the beat
• Ableton Link: jam in sync with other Link-compatible apps (Remixlive, another Cross DJ Pro, Ableton Live, etc.).
• Inter-App Audio (node) & Audiobus (input master): send Cross DJ Pro's audio to other compatible apps.
• Customizable, manual pitch range (4 to 100%). Progressive, manual pitch bend.
• Waveform view: parallel waveforms for pitch-bending
• Accurate beat-grid editing: make any track sync properly (iPad only)
• Split audio: pre-listen tracks in your headphones before mixing them
• Automix: Cross DJ mixes your tracks & play music automatically, from any sources (playlist, album, etc.)

/// OUTSTANDING AUDIO PERFORMANCE

• Realistic scratch sound – as on real turntables
• Audio FX: Hi & Low-Pass, Echo, Delay, Flanger, Chopper, Roll, Phaser, Brake & much more
• Loops (16 to 1/32), slip loops, 16 large hot-cues pads
• Sampler: 72 samples, synced to the main player
• Record your mix & share it to SoundCloud, Facebook & Twitter
• Keylock mode: change BPM without affecting the tone
• Key detection: detect the key of the songs & know which tracks sound good together
• Autogain: automatically equalizes the levels of 2 tracks + Autosync
• External mixer: control EQs & crossfader with hardware mixers
• MIDI control with Pioneer DDJ-WeGO1&2, Mixvibes U-Mix Control Pro I & II, Numark Mixtrack Pro I & II, Numark iDJ Live I & II, Hercules DJ Console RMX 2, Hercules DJ Control Instinct, Hercules DJ Control AIR, Vestax Spin2
• Multichannel audio for USB compliant multichannel soundcard

/// INTUITIVE INTERFACE

• Industry standard DJ setup: 2 decks, crossfader, Cue/Play/Sync buttons
• 3-band mixer with DJM EQ preset
• iTunes integration: sort tracks by BPM, title, artist, album or genre
• Mix SoundCloud: your SC account in Cross DJ for free. Fast loading of tracks
• Sort your music library by title, artist, album, BPM or length
• History pane: display previously mixed tracks
• Play MP3, AAC, WAV & AIFF
• Separate tabs: swipe to display different panels on each side
• Big waveform view: scratch & see the music + set cue accurately
• Portrait mode: big single player
• Change each deck's color: blue, orange, red, yellow, green, purple, pink
• Large pads & controls
Destroy Them
Normally $0.99.
Classic action game style where you can play solo or with your friend.

– Use the accelerometer or Virtual Joystick. You can change it during gameplay at any time in Menu
– 2 players online co-op mode
– Game Center
– Boss Fights
– Voice Chat (2 players)
Note-Ify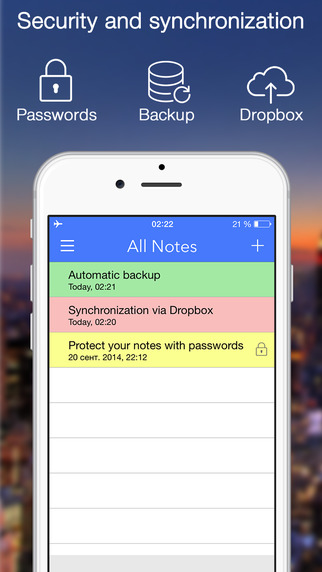 Normally $0.99.
«Note-Ify Notes» – is a simple and convenient note-taking app. Organize your notes, ideas, shopping lists, tasks and different reference information. It features user-friendly and customizable interface.
Key features:
– FOLDERS – for easy grouping of notes
– ICLOUD-SYNC – Your notes are available on the iPhone, iPad, Mac OS X *
– COLORS – if you want to highlight the different types of notes just mark Important notes as red, Affairs – as green (for example)
– Favorite Notes – select and group important to you notes
– PASSWORD on a separate note – you can lock notes with password that contain confidential information (passwords, card numbers, love letters ;-))
– MAIL-TO-SELF – fast "one-click" sending of notes to the selected email-address, don't waste your time on typing your email. Just click on the button and note is in your mailbox
– SKINS, FONTS, COLORS – configure the application so as you want

= PRESS ABOUT US =
APPADVICE.COM:"This application provides you with an elegant and easy way to keep your thoughts "

APPPIPE: "Simple, efficient and beautiful, FNotes might just be the best iOS notes app you've never heard of"

APPSAD: "Note-Ify – minimalistic replacing to standard notes"

APPLEDIGGER: «Note-ify – this is the best alternative to the standard notes"

APPLENEWS: "Note-Ify – a new look at the minimalist notes that fit perfectly into the new design of the Apple"

YABLOCHNO.COM: «Note-Ify – a new look at familiar application notes … Note-Ify is quality and useful … synchronization and customization of appearance make it a viable alternative to the standard" Notes ".

APPLEMAGAZINE.COM: "… application in its current form is certainly the easiest way to create notes, and will make a great addition to your performance"

APPPICKER.COM: «Note-Ify features a very basic interface, and I actually prefer Productivity apps of this kind which keep things nice and simple. I definitely think the streamlined layout is a huge benefit for busy bodies like you and I!»

APPPICKER.COM: «I've used a fair few apps that are similar to Note-Ify in that they attempt to keep things simple and streamlined. Some developers manage to pull it off, while others fail miserably, and I would say that Note-Ify Notes definitely falls into the former category, with a fantastic minimalist interface and some of the smoothest overall functions you'll ever see»
Data Manager Pro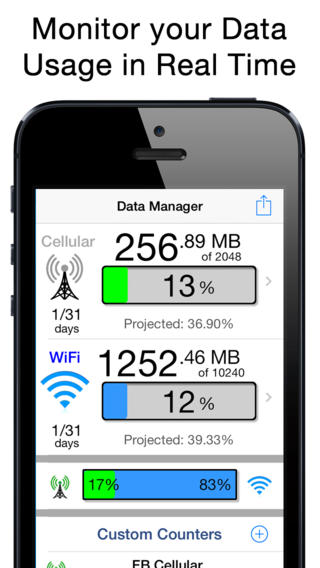 Normally $1.99.
Data Manager Pro will manage both Cellular (4G/LTE/3G/Edge/GPRS) and Wi-Fi data usage in real time from your device. This app will let you be in control of your data usage to avoid the costly overage charges your provider may charge providing alerts when data usage reaches user thresholds. This app monitors data usage from the device itself and is not reliant on setting up or logging into your provider's server or web site. Data Manager Pro also includes the ability to Speed Test your cellular or WiFi connection rate and response for you device. This simple, easy-to-use app provides consistent, accurate internet speed testing from any location.

Data Usage Features include:
– Monitor mobile Cellular data for all technologies (4G LTE 3G Edge GPRS etc.) int real time.
– View the amount of internet data you use over your WiFi connection.
– Simple and clear user interface with custom progress bar that graphically shows your data usage and predicted usage.
– Works with ANY cellular provider in any country including AT&T, Verizon, Sprint, T-Mobile, Rodgers, Virgin Mobile, Orange, O2, etc. by reading data usage from the device.
– Billing periods and quota limits can be configured on a monthly, weekly or custom time basis to match your providers billing schedule.
– Works on any iOS device (iPhone/iPad/iPod Touch) running iOS 7.x or later.
– Works in the background using battery efficient background monitoring in iOS 7 to monitor usage and notify users when data usage reaches configured limits.
– App Badge Monitoring shows the % as a app badge without even opening the app.

Pro Data Features:
– Custom counters can be setup allow you to monitor usage during a certain period to help identify data hogging apps. Counters can be easily enabled or disabled and can even be configured to end at a predetermined time.
– History graph shows previous data usage for each day.
– Email your usage information at any time.

Speed Test Features:
– Simple, one button tap performs (or cancels) the internet speed tests.
– Simple, easy-to-read tracking and reporting.
– Testing features download rate, upload rate and latency (response) time.
– Includes the number of hops/gateways between the mobile client and the server (Trace Route).
– Works on either Cellular data from any carrier or when connected via WiFi.
– Conveniently share results with others via email.
– Testing servers located around the world for accurate results.
– Unlimited on-the-go testing – mobile speed testing.

Data Manager Pro is a must have app for anybody on a restrictive data plan and to verify your network speed! Don't pay those expensive overage charges again.
Red Tube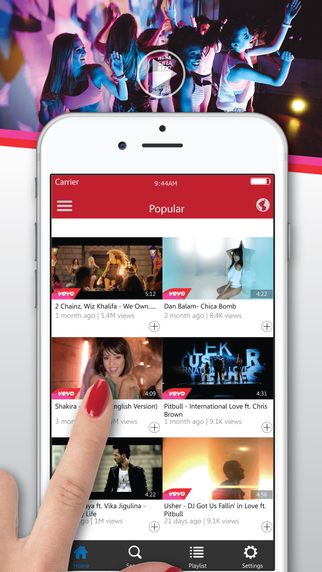 Normally $0.99.
– Easy & simple user interface with tons of feature.
– Sign in to Youtube.
– Lots of categories to sort your favourite videos.
– Most popular, most recent & hottest videos of youtube.
– Create your own playlist.
– Add any videos into your playlist.
– Edit, remove & create unlimited playlist.
– Intelligent search suggestions.
– Subscribe any videos of Youtube.
– Watch your previous subscribed videos.
– Filter videos by your desired criteria.
– Watch videos of your own country or any other specific country or the whole world by the region option.
– Like, comment & share Youtube videos.
– Search, list and play YouTube videos
– Full screen and embedded video playback
– Infinite video listing (endless scrolling)
– Sort videos by Relevance, Upload Date, View Count and Rating
SpeakSafari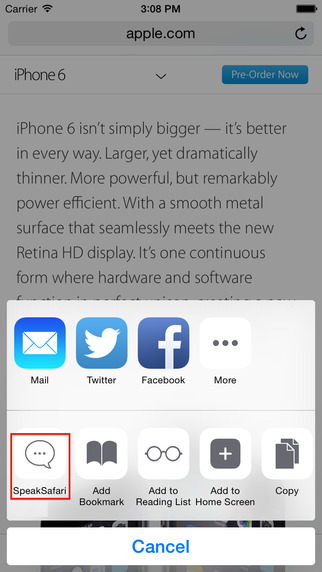 Normally $4.99.
SpeakSafari – Speak Extension for Safari
The app is a Safari extension that speaks aloud the entire web page of Safari app.
A must have app to speak aloud web pages of Safari.
Useful Features
● Speak aloud the entire English web page of Safari app.
– Add favorite web pages with "Starred" to speak aloud later.
– With funny bear and human face animations while speaking.
– Support useful speaking repeat, pause, speed and pitch options.
● Optimize speak functions (Pro)
– Background operation support: keep reading aloud web pages in the background while using another app.
– Lock screen support: play, pause, skip a sentence, adjust playback volume and see the sentences list on the lock screen.
– Headphone support: play, pause, adjust playback volume and detect headphone plugged and unplugged.
● Add favorite web pages with "Starred" to speak aloud later.
● With funny bear and human face animations while speaking.
● Support useful speaking repeat, pause, speed and pitch options.
Features
● A Safari extension that speaks the entire English web page sentence by sentence
The app integrates a built-in English text-to-speech engine, speaks aloud offline sentence by sentence without internet connecting.

● Background operation support (Pro)
The app can keep reading aloud web pages in the background while using another app.

● Lock screen support (Pro)
The app provides the lock screen support that you can play, pause, skip a sentence, adjust playback volume and see the sentences list on the lock screen.

● Headphone support (Pro)
The app provides the headphone support that you can play, pause and adjust playback volume. It also detects headphone plugged and unplugged.

● Optional high quality voices (In-App Purchases)
English HD, British HD, Spanish HD, Chinese HD, Japanese HD and Korean HD.

● Add favorite web pages with "Starred"
Add favorite web pages with "Starred" to speak aloud later.

● Support useful speaking options
The app provides some useful speaking options, such as speaking repeat times of each sentence, speaking pause seconds between sentences, speaking speed speaking pitch and font size options.

● Speaking face animation
The app provides funny face animations while speaking.
You can choose bears and humans face animation with two types of mouth each.
You could use the pinch to zoom gesture to change the face size, drag and drop to move to other position features.

● Highlight words while speaking
Words will be highlighted on many web pages while speaking.
Please note that words with special format may not be highlighted properly.

● This app is designed for both iPhone and iPad
Recorder++ Pro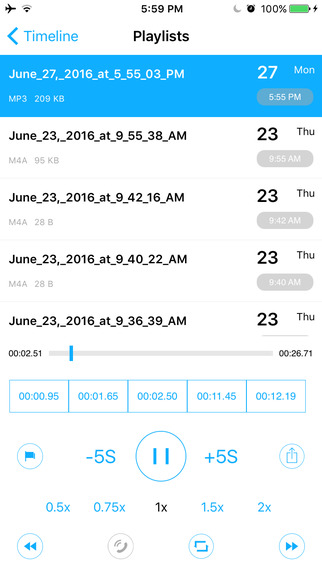 Normally $3.99.
The easiest recording app ever!

FEATURE
Custom Format, Playlists, Timeline, Trash, Waveform & Markers.
MiniStats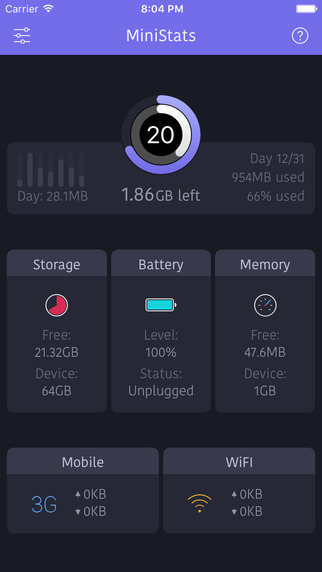 Normally $1.99.
MiniStats allows you to check your data usage and the status of your phone.

Your mobile data usage at a glance on your iPhone, your Apple Watch or in the widget.
Stop being afraid about your data cap and instantly recognize if you're running out of data with the ring chart.

Ever wondered how much battery life your phone has left and wished you can check it from your wrist?
Want to see your phone's connectivity without taking it out of the pocket?

Then MiniStats is the app you need.

• Mobile Data Usage counter
• Works with all carriers
• Notifications
• Current transfer speeds
• Monthly / 30days / weekly / daily plans
• Statistic for last days
• Connected WiFi network
• Mobile connection type (3G, LTE, …)
• Battery state of your phone
• Free disk space

See whether your connection has stalled or is still transfering data, when your phone seems to be loading forever.

Use it as a speed-meter to see how fast another app is loading over your current connection.

Check from the living room whether your phone, plugged in in the office, already finished charging.

Receive notifications when a specific amount of your data volume is reached
Front Flash
Normally $0.99.
Satisfy your selfie craving even in the dark!

‣ "Used this app at a birthday party tonight and it works fantastically. Took selfies with it all night, in a dark room and photos came out great. Great app!" – GLouBu

‣ "Really simple and easy to use app. But that's all you need! Snap a picture in low light with the touch of your finger anywhere on the screen. I love it! Great camera app!." – MrMikeG

‣ "This app does exactly what it promises! Now the photos I take with my front camera in the dark look so great! :)" – thechampishere93

FEATURES
〉Take self-portraits in low-light using the front camera
〉Tap anywhere on the screen to take a picture
〉Can also be used as a mirror
〉Share with your friends

Perfect for those times when you want to take a selfie in bed, but usually can't since it's pitch black.

It creates a virtual flash by setting the screen brightness to max and turning the screen white while the picture is being taken. The brightness will reset back when you close the app.
---
Our deals and product reviews are picked by BGR's expert editors and team.

Follow @BGRDeals on Twitter to keep up with the latest and greatest deals we find around the web. Prices subject to change without notice and any coupons mentioned above may be available in limited supply.