What a week it's been, Apple fans. You got to feast your eyes on three new iPhones, a new Apple Watch, a new Apple TV, and even some nifty accessories set to be released later this year. Of course, you also got your fill of paid iPhone and iPad apps on sale for free. We've got one more roundup for you before the week is over, so be sure to grab all these apps soon while they're still free.
This post covers paid iPhone and iPad apps that have been made available for free for a limited time by their developers. BGR is not affiliated with any developers. There is no way to tell how long they will be free. These sales could end an hour from now or a week from now — obviously, the only thing we can guarantee is that they were free at the time this post was written. If you click on a link and see a price listed next to an app instead of the word "get," it is no longer free. The sale has ended. If you download the app anyway, you will be charged by Apple.
Taskcode
Normally $0.99.
Taskcode is a masterfully created task manager with a unique data input system. Unlike other reminder apps, where the user constantly have to tap from one option to another, Taskcode allows the easiest way of specifying all attributes of a reminder like due date, time, subtasks, title, repeat function etc. simply by typing. This allows for a much quicker and efficient way of inputting data.

There are 6 simple codes, a user can use in combination to set reminders:

" " for title
# for due date
@ for due time
$ for repeat functionality
% for subtasks
* for color of a tile

Preview 1:
"Office Task" Meeting with John & Julie #tomorrow @noon
When you type the above and tap save, Taskcode automatically accepts due date as the next day and time as 12:00 pm, with title as 'Office task' – because # is used to specify due date, @ is used to specify due time and any character inside double quotes become the title of the tile.

Preview 2:
"Buy from Supermarket" %Milk %Sugar %Apples #010716 @0300p
Here the task will be titled as 'Buy from Supermarket' with subtask items listed as Milk, Sugar and Apples with the due date as 1st of July 2016 (010716), and time as 3:00 Pm (0300p).

Preview 3:
"Take Medicine" $daily @0800a
This will remind you to take your medicine every day ($daily) in the morning at 08:00 am (@morning can also be used).

Any text without these codes will be saved as a simple note.
Detailed tutorial and walkthrough tutorial are available inside the app.

Added Features include:
•Auto suggestion for codes
•Code & Color shortcut drawer
•Dark theme & White theme
•Snooze control
•Multi-select for batch actions
•Archiving of tiles and more

Master these 6 simple codes and discover how logical and faster it is to input data.There are hundreds of apps available to enter data manually but you deserve something better.
noScroll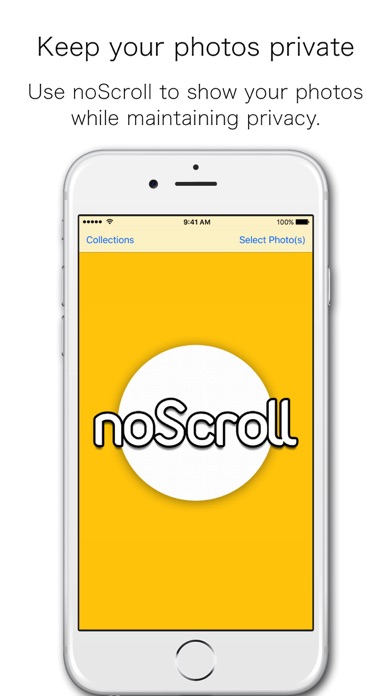 Normally $1.99.
Gone are the days of asking friends and family not to swipe through when showing pics from your last trip!

Pass your device to friends and family to show them only the photos you've selected.

noScroll gives you control and convenience when showing your photos in person – you can skip over all those in-between shots and focus on the highlights!

Keep your photos secure with touchID or a passcode.
Clearvue
Normally $0.99.
Are you one of those who cannot stop typing and texting while walking? Nowadays, it's kind of impossible to find someone who don't use their phones on the streets and you'll find everyone is texting and checking different social networks on the go. The experiments show that while you walk and text, your main focus will be on texting and you won't notice the obstacles and pedestrians ahead of you. So, how about a utility application to assist you focus on your texting while walking and see your way through the camera of your phone. It's amazing, isn't it?

Clearvue uses a unique idea and combines your text messaging services with your front camera, so you get to easily view the things in front and below of you and text as much as you want at the same time.

In other words, Clearvue functions as your third eye and lets you simultaneously look at the streets and things in front and below of you, and type a text message to send to anyone in your contact list. The process is super quick and once you have selected the contact you want to send a message to, finish typing your message (of course while viewing the street via the camera) and hit the send button to be redirected to your SMS app to send the message and you are all done.

Super Easy to Setup and Use

Clearvue comes with a clean and neat design and the interface is so user-friendly that doesn't take a genius to figure out the whole idea after trying the app for a couple of times. To get started, you just need to follow a few simple steps and grant the required permissions to the app.

In the app, you first need to approve the access to camera and contacts, and before typing your message, you need to select the contact you would like to send a message to.

In the iMessage app, you need to activate Clearvue as a custom keyboard by opening the SMS app, tapping on the iMessage Store button and selecting the Clearvue app.

Note that, due to the Apple's security setting, you must open the SMS app to send message; however, the experience is super quick and after a few times you'll completely get used to sending messages using Clearvue.

Clearvue Main Features at a Glance:
• Works with SMS
•Clean and neat design with fresh and intuitive interface
•Use your camera to see what is in front of you
•Supper battery efficient
•Easy to setup, select contacts, message, and quick to use
•Useful for people addicted to texting and walking
•No disturbing ads

So, Clearvue provides you a clear view using your camera, so you get to text with no worries. This walk and text application delivers everything you should expect from such messaging apps and it even sets the bar to a higher level by offering super easy to learn interface, seamless and near-uninterrupted texting and walking experience, integration with your texting applications, and a lot more.

Download Clearvue, enjoy texting and walking, and let us know about any bugs, questions, feature requests or any other suggestions.
ADDY
Normally $7.99.
Everyone can BE CREATIVE with ADDY!
Add remarkable MULTICOLORED artworks with handpicked PRESETS, stunning FONTS, amazing FILTERS and gorgeous OVERLAYS to your photos.

FOR EVERYDAY USE:
– Start your day with positive GOOD MORNING Artworks and a cup of fresh coffee
– Capture your MUSIC mood
– Motivate yourself and others by posting your morning routine achievements with ADDY multicolored NUMBERS and great FONTS
– Express your LOVE with hearts and beautiful phrases
– Thank creatively with lots of THANK YOU Artworks
– Design BIRTHDAY GREETINGS
– Invite to Parties and make jovial celebration reports
– Share new skills
– Express feelings

FOR BLOGGERS:
Use our rich FONTS collection to generate masterpieces for your BLOG or SOCIAL networks. Present your thoughts in a sophisticated inspiring way or use our everyday collection to attract attention to your content.

FOR PHOTOGRAPHERS:
Experiment with ADDY's FILTERS and OVERLAYS. They will change the familiar objects and transform them into ART.

Features:
– Broad and vivid collection of ARTWORKS (Phrases, Basic Shapes, Birthday, Doodles, Frames, Fun, Love, Music and Numbers – more than 400 items)
– 40+ cool FONTS
– Great Effects ( 10 Filters and 50+ Overlays)
– Specially designed PRESETS for multicolored Artworks
– Possibility to change opacity and add shadow
– Friendly Interface and LAYERS!!!
COP Cam
Normally $9.99.
COP Cam is a dash cam, which can record more than 100 hours straight. No other dash cam app can do that in App Store!

Uses
– Uber / Lift drivers. Something happened in your ride? Get it on a video recording!

– Road rage drivers. You see one? Get it on the video!

– Road trip drivers. You can record the entire road trip on one shot.

– Daily commuters, who need safety in mind. Record a whole commute! If anything happens, you have it on a video recording.
PlayerXtreme Media Player PRO
Normally $3.99.
PlayerXtreme is a video player worthy of the elegant iPhone. With PlayerXtreme you can watch your movies on the go from anywhere even if they're in any format even if they don't normally play or even sync with your iPhone! Download PlayerXtreme & start transferring & watching your favorite movies without conversion!

PlayerXtreme is able to run files in almost any video format. It has currently the following formats covered:

3gp, asf, avi, divx, dv, dat, flv, gxf, m2p, m2ts, m2v, m4v, mkv, moov, mov, mp4, mpeg, mpeg1, mpeg2, mpeg4, mpg, mpv, mt2s, mts, mxf, ogm, ogv, ps, qt, rm, rmvb, ts, vob, webm, wm, wmv

PlayerX Features:
Library:
• Mac Finder/Window Explorer like interface.
• Easy to organize you movie collection.
• Tag/Color folders.
• New Navigation and search

Network:
• SMB, UPNP and Wifi support.
• Access your file from browser.
• Map you library as drive.
• Transfer file between two iPhone PlayerXtreme devices over Wifi.
• Download files from network to your local library.

Player:
• Play files from your email attachments.
• Supports HD playback (in 1080p) for MP4, MOV and M4V.
• Support .srt subtitles in almost all languages.
• Quick forward and backward controls
• Control subtitle's font size, track, language.
• Boost volume upto 12 times the original sound for watching movies without headphones.

Security:
• Set Passcode on your library to restrict anyone from accessing your folders/files.
• Can enable guest access.
• Hiding folders. Hidden folders are not visible to guest users.
Download PlayerXtreme Media Player PRO
Tiny Runner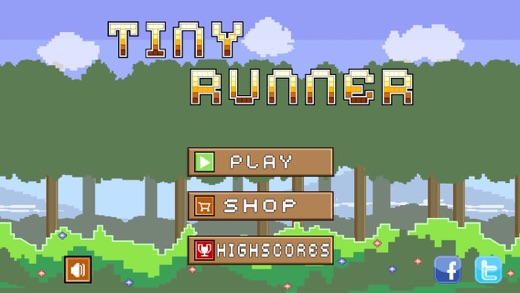 Normally $0.99.
An endless running game. Tap the screen to jump and avoid all obstacles on the way. How far can you run?!
Let's start an adventurous and exciting journey!
Enjoy!

Features:
– Fun, challenging, random and endless tracks.
– Simple controls.
– More roles available.
– An Universal App with hd optimized for retina resolution.
Since I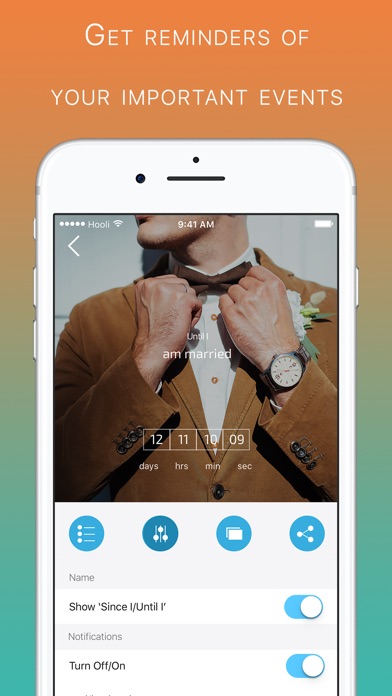 Normally $0.99.
This application allows you not to forget about life events, important to you. You can keep track on the time, lapsed from your first date, how long has it been since you started working out, adopted a kitten or started growing a beard. Did you give up smoking, started a diet? Motivate yourself, remembering how long has it been since you changed your life!
Are you procrastinating a lot and can't keep yourself organized? Set up a goal and keep track on how long it took you to achieve it.
You can use this app for such events, as:
Dating
Marriage
Birth of a child
Vacation
Relocation to a different city
Change of your looks
Giving up smoking
Opening of a new business
Starting working out
Setting up a goal