If you purchase an independently reviewed product or service through a link on our website, we may receive an affiliate commission. Learn more.
You somehow managed to make it to another Friday, and now it's time to collect your reward. Before you escape into the weekend, be sure to check out our roundup of the eight best app sales of the day. All of these apps are paid iPhone and iPad apps that have been made available for free for a limited time, and these sales could end in minutes or days — no one knows, so hurry!
This post covers paid iPhone and iPad apps that have been made available for free for a limited time by their developers. BGR is not affiliated with any developers. There is no way to tell how long they will be free. These sales could end an hour from now or a week from now — obviously, the only thing we can guarantee is that they were free at the time this post was written. If you click on a link and see a price listed next to an app instead of the word "get," it is no longer free. The sale has ended. If you download the app anyway, you will be charged by Apple.
ActionPad
Normally $0.99.
ActionPad is an app that allows you to create your own custom control panels to remote control applications on your computer.

This app requires the ActionPad Server desktop software to be installed on your computer for full functionality. For more information on this, visit http://actionpad.co/go. Compatible with Mac and Windows, requires Java 1.8 or later to run.

Panels can contain buttons and other objects, which can be used to simulate keyboard and mouse input, as well as open files and URLs. Drag and resize elements around to organize your panel however you like, and customize objects to give them a distinct look. Get ready to make your keyboard and mouse jealous.

With ActionPad, you may implement buttons on your panel that:
-Execute keystrokes, such as Command C or Ctrl V.
-Move your mouse pointer or hold keys as you hold down the button.
-Launch applications and open files on your computer.
-Open websites in your default browser and interact with them.
-Launch an application, click somewhere on your screen, type into the application, then open an Internet URL when you are done, wait a few seconds, and type into the website (all with one press).

All of this, along with visual elements such as images, text, and containers can all be combined to create individual control panels, each of which with it's own purpose.

Don't feel like creating your own panel, or want to use some pre-created panels for some of your favorite desktop apps? ActionPad features the Community Panels Hub, which allows users to upload and share panels they create. It's very easy to share panels and build upon everyone's creations. Along with sharing through the Community Panels Hub, you can also export your panel and send it via E-mail, AirDrop, or a variety of other mediums.

Whether it be a panel used to quickly access the most commonly used tools in Photoshop, or a remote control for your PowerPoint presentation, there is no limit to what you can create and control with ActionPad.
Crazy Halloween Sticker for iMessage #10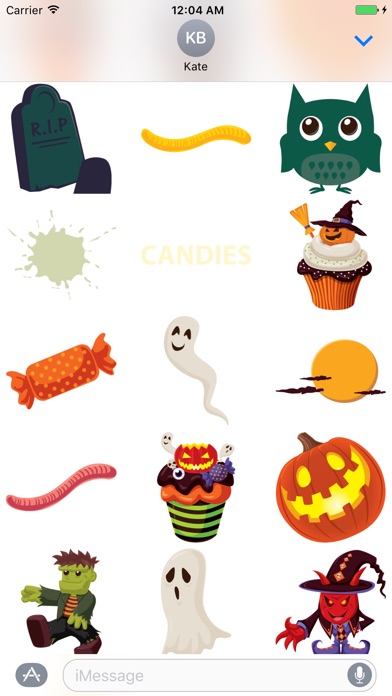 Normally $0.99.
THIS IS HALLOWEEN!!

It's time for scares, It's time for screams!
Time to indulge in sweets, watch horror movie marathons, cook pumpkins, wear scary or sexy or both costumes, experiment with makeup, party like tomorrow is the end of the world, color everything Halloween!!
And don't forget your phone!! Everything so colorful, fun and spooky compared to boring texts and emails? Do you want a more special, personalized and expressive form of communication? This APP IS WHAT YOU NEED to add a special touch to our messages! Add some personality to your messages, spice up your chats by adding high quality emojis and stickers to them.
Huge selection of monsters, characters, zombies, skeletons, pumpkins, witches and potions to choose from!! !
HAPPY HALLOWEEN!

Halloween, or Hallowe'en (a contraction of All Hallows' Evening), also known as Allhalloween, All Hallows' Eve, or All Saints' Eve, is a celebration observed in a number of countries on 31 October, the eve of the Western Christian feast of All Hallows' Day. It begins the three-day observance of Allhallowtide, the time in the liturgical year dedicated to remembering the dead, including saints (hallows), martyrs, and all the faithful departed.
Download Crazy Halloween Sticker for iMessage #10
Pickup lines
Normally $1.99.
"Pickup lines" contains sets of hilarious and ice breaker lines. Pick up lines make people laugh and smile, and it takes some skill to successfully use it to pick up. Some lines will make them walk away; some may stick around for more of your funny self.

We've collected some of the best if not funniest pickup lines that you can employ, with our fingers crossed hoping the conversation eventually leads past that first awkward "Hello" (that's the point, right?). Here we give you "Pickup lines".

Feel free to share these messages with everyone and have fun! This easy to use app is absolutely free to install and with a continuous stream of lines added daily!
Dice World Dice Game
$2.99 in-app purchase to remove ads is currently free.
6 Great games in one App! Yatzy, Farkle, Pig, Threes, Balut and 24!

3D Real Dice Rolling! YES! Now you can roll the dice using real 3D dice and physics. No more random number generator to determine the dice results!

10 new 3D rooms to play in!

All of your favorite dice are also available in full 3D!

Arnold, Hoff and Trump characters added with funny dice quotes!

Dice doesn't get any better than this!
Download free and get Dice'n!

Dice World is designed so blind and sighted can compete against each other! It is completely accessible to the blind!

Voted best game of year by AppleVis.com!

Easy tutorials for all games!

Play friends, play computer, play tournaments, play however and whenever you want. On YOUR schedule!

Play against:
– Computer – Can you beat Trump?
– Friends
– Contacts
– Facebook friends
– Twitter followers
– Random opponents
– the possibilities are endless!

Key Features:

•Daily Tournaments!

•Play multiple games against different opponents at the same time.

•Turn based game play. There is no need for both players to be online at the same time.

•Track from which countries around the world your opponents are playing!

•Superior stats – Wins, Losses, Ties, High Scores… it's all recorded!

•Leaderboard – Are you good enough to make it onto the worldwide leader board? Represent your country!

•Chat with your friends during game play – multiple lingual support for chat text (even user names support all languages)!

•Player ranking – work your way up from a starting level of DiceJoke to the surprise highest level! Be the first in your country to accomplish this feat!

•Offline? No problem – play some games against the computer opponents to hone your skills!

•Seamless integration with Push Notifications for lightning fast game play.

•Detailed help for each game to help new players get up to speed.

•100% Voice over Accessible!

***** Inducted into the AppleVis.com Hall Of Fame! *****

*** User Reviews ***

"best Game in the world. Period. Get it NOW. Play All Day!" – iHateMyJob
"Best game ever made" – Johna
"As wonderful as a sundae on a hot summer day" – Aysela
"If you're not playing Dice World, you're doing it wrong!" – dicedreve

We are constantly improving this game. Our goal is simply to provide the best dice gaming experience available. Give it a try!!

We look forward to you joining us here in Dice World!
AllPass Pro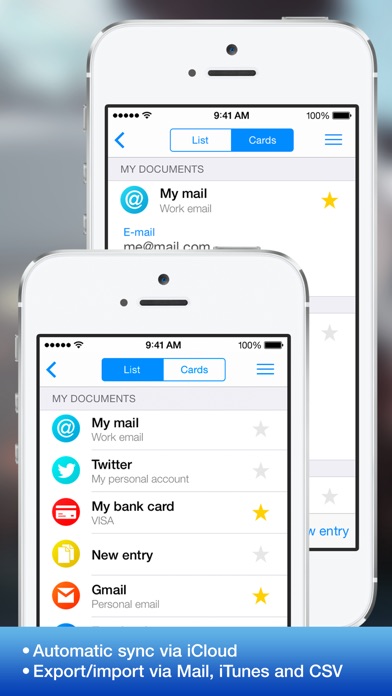 Normally $2.99.
AllPass is an app that keeps all your vital information in one secure vault.

• Quick opening of data using Touch ID
• Store your logins, credit cards, identities, and secure notes
• Log in to websites without having to remember any of your passwords
• Fill credit cards and identities without typing
• Quickly access your most used items using Favorites and History
• Fast search to find what you need
• Support Folders for better file organization.You can select a template for any folder to create records as fast as possible
• Unlimited number of databases
• Encrypts all your data using best and most reliable AES 256-bit encryption
• All protection mechanism is offline on your device only
• Auto-lock protects your vault even if your device is lost or stolen
• Syncs securely with your other iOS devices
• Backup & Restore your data via iCloud, Mail or iTunes
• Export and import via Mail, iTunes and CSV text files
• 180 icons to personalize your records
• 5 standard templates for fast data entry with the ability to create or edit custom templates with unlimited fields
• Integration with iOS
• Optimized for all types of devices and screen resolutions

Choose the AllPass for storing important information and your digital life will become more comfortable and safe.
Gif Me! Camera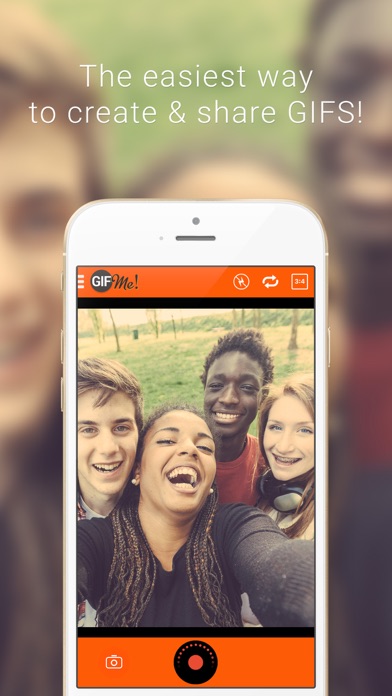 Normally $1.99.
Gif Me! is the best way to create and share short video in animated GIF or MP4.

It's easy: capture a small moment with your built in camera, and share it on social networks. You can apply an image filter too.

— Features —
* Capture frames with camera
* Import photos from your album
* Import a video file
* Import a live photo
* Real time color filters
* Add a frame, text on the animation
* Stop motion or video mode
* Send by email
* Share on social networks (Facebook, Twitter, Instagram)
* You can remove watermark in settings
* You can create stop motion, time lapse, slideshow or wiggle gifs
Remote KeyPad for Mac
Normally $0.99.
Use your iPhone or iPad as wireless numbers & key pad for your Mac. Extend your MacBook keyboard without buying hardware or carrying additional weight.

AT A GLANCE
– Numeric pad – easily enter numbers in your Mac applications;
– Key pad – navigate through text, spreadsheets and presentation from a distance;
– Enjoy the ease of use in a slick user interface you will love;
– Use the Personal Hotspot of your iOS device to control your Mac when you don't have access to other networks.

SYSTEM REQUIREMENTS
– Mac with macOS 10.9 or above and Helper app installed;
– iPhone, iPad or iPod touch with iOS 9 or above;
– Shared wireless network connection between your computer and iOS device.
Download Remote KeyPad for Mac
BrainWave Tuner
Normally $3.99.
***29 + preset brainwave patterns. Nominated as 'Best Healthcare and Fitness App' by Handango. ***

You must have heard about brainwave test in medical field. Doctors can detect people's mood condition according to the brainwave frequency. Since you know it, have you ever hear the sound of brainwave in reality? Maybe not. Now BrainWave Tuner can help you experience the wave sound with your earphones on your iPhone.

BrainWave Tuner is an integration of advanced Electroencephalography theory and considerate humane operating design. The most distinctive feature of BrainWave Tuner is that the wave sound is specially designed to cater users' unique needs. With different wave patterns, user can relax his body and mind and stimulate his thought. Once tuned in, the brain will be closed into a quiet status and become calm. The wave strength can be changed from weak to strong to achieve best effect.

*Distinguished Features

– Easy-to-use user interface
– Advanced Electroencephalography theory fully employed
– 26 professionally built brainwave patterns with more to come
– Pleasant ambient nature sounds to accompany the brainwave session
– Adjustable volume/strength for both brainwave and ambient sounds
– Configurable duration for your brainwave sessions

*29 Brainwave Entrainment Programs

– Headache Treatment Ⅰ(steady 10/5)
– Headache Treatment Ⅱ(steady 10/5, circular)
– Headache Treatment Ⅲ(varying 10/5)
– Pain Relief
– Meditation
– Schumann Resonance
– Dreamy
– Sleep Induction
– Relaxation
– De-Stress
– Self-hypnosis
– Attention Increase
– Creativity EnhancingⅠ(steady)
– Creativity Enhancing Ⅱ (quavering)
– IQ Increase
– Memory Boost
– The Awakened Mind
– Quick Mental Refresher
– Energy Boost
– Confidence Boost
– Learning Aid Ⅰ(for subliminal)
– Learning Aid Ⅱ(for studying)
– White Noise of Ocean Waves
– White Noise of Shoveling Sand
– White Noise of Rain and Windshield
– High Frequencies

*Here Are Recent Feedbacks From Brainwave Tuner Users

"I bought Brainwave Tuner just to try it out and have some fun with this "brain stimulator". I never really believed in it. But then I noticed it really did work!"

"The Brainwave Tuner has helped me to regularize disrupted sleep and waking cycles in a very short time. The headache treatment is very efficient."

Note: Don't exercise while listening to Delta. Don't sleep while listening to Beta. And never operate anything dangerous when listening.
---
Our deals and product reviews are picked by BGR's expert editors and team.

Follow @BGRDeals on Twitter to keep up with the latest and greatest deals we find around the web. Prices subject to change without notice and any coupons mentioned above may be available in limited supply.