If you purchase an independently reviewed product or service through a link on our website, we may receive an affiliate commission. Learn more.
We have one month and one day to wait until Apple finally releases the hotly anticipated iPhone X. That's a heck of a lot of time to wait before the first redesigned iPhone in over three years finally arrives, but hopefully some paid iPhone and iPad apps on sale for free will help take your mind off it for a few minutes.
This post covers paid iPhone and iPad apps that have been made available for free for a limited time by their developers. BGR is not affiliated with any developers. There is no way to tell how long they will be free. These sales could end an hour from now or a week from now — obviously, the only thing we can guarantee is that they were free at the time this post was written. If you click on a link and see a price listed next to an app instead of the word "get," it is no longer free. The sale has ended. If you download the app anyway, you will be charged by Apple.
Dark Night Browser
Normally $1.99.
Do you think your iPhone is too bright in the dark?
Do you have a problem about eye strain and fatigue when you surf the web?

If so, Let Dark Night Browser protect your eyes now.
Dark Night Browser is Eye care web browser come with all standard features that web browser should have and also plus many advanced features for an advanced user.

Eye care features:
– Brightness filter : Lower brightness than the system offer.
– Blue light filter : Help you sleep better.
– Dark mode : Help you read better in the dark.
– Increase font size : Help you read easier.
– Turn off all animation : Prevent you from dizzy and motion sickness.
– Rest your eye warning : Prevent you from Computer vision syndrome.

Standard features:
– Portrait and Landscape supported.
– Multiple Tab browsing.
– Bookmark.
– History.
– Clear history, cache, cookie.
– Request desktop site.
– Find on page.
– Reader View.
– Translate website language.
– Full screen browsing mode.
– Private browsing mode.
– Save and Autofill passwords.
– Selectable search engine.
– Search suggestion when typing.
– Most visited list.

Advanced features:
– Download and preview file.
– Many swipe gestures supported.
– Capture website screen to image : Both visible area and entire website.
– User Agent switcher : Simulate your device as Mobile, Tablet, Desktop.
– Manage MIME action : Change default action for each file type.
– Customize Display, Font size, User Agent etc. for each website individually.
– Keyboard helper : Help you type a number and symbol without switch keyboard layout.

The Screen Filter and Dark Mode feature is work IN THIS APP ONLY.
911 Help SMS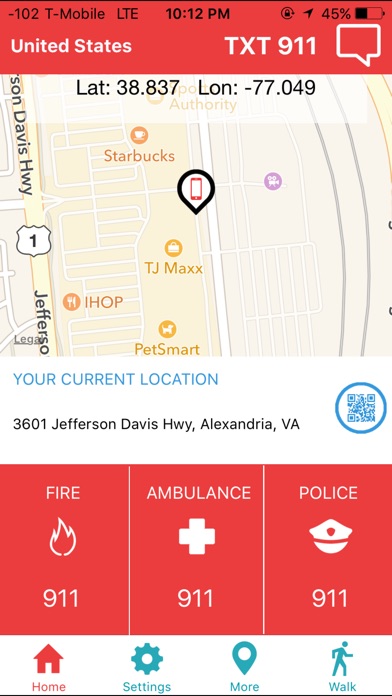 $8.99 "911 Help SMS Pro" in-app purchase currently free.
Know where you are during an emergency before calling 9-1-1. The App will inform you of alternative 911 numbers in other countries.

911 Help SMS is medical safety and emergency alert application that provides additional security by alerting family members via email and text messages when you call or text 9-1-1.

————————–
Subscription Information

Lite Version: You will receive up to 1 family contact to send alerts to. There is no time limit.

911 Help SMS 365
Includes up to 5 family contacts to send alerts to.
Yearly Plan $0.99/year

911 Help SMS Wearable
Includes up to 5 family contacts to send alerts to.
Includes support for the Apple Watch and Flic Button.
Yearly Plan $1.49/year

911 Help SMS Pro
Includes up to 5 family contacts to send alerts to.
Includes support for the Apple Watch and Flic Button.
Not an annual purchase.
One Time Purchase $8.99 (for the life of the product)

Your subscription payment will be charged to your iTunes Account at the confirmation of your purchase. Your subscription will automatically renew unless auto-renew is turned off at least 24-hours before the end of the subscription period. Your account will be charged for renewal within 24 hours prior to the end of the current subscription period, at the same price as the current subscription. You can manage your subscription and auto-renewal by going to your iTunes Account Settings after purchase. Any unused portion of a free trial period, if offered, will be forfeited when you purchase a subscription.

————————–

Continued use of GPS running in the background can dramatically decrease battery life.
Hotspot VPN Unlimited Proxy
Normally $4.99.
Best totally UNLIMITED FREE VPN Proxy servers for all users!
This is the elite version for HOTSPOT VPN, just be faster and faster!
No ADs, no bandwidth limits, no registration or set up required. online security is just 1 click away.

Blazing Fast, Ultra Secure, Stable connect, Easy-To-Use interface & Instant Setup

HOTSPOT VPN, the fastest & the most reliable VPN service to watch HD videos online, while keeping you 100% safe & secure online.

Features:
– Lightning fast connect within 1 second, ultra smooth to watch HD videos online
– Worldwide server coverage with unlimited bandwidth & easy switches
– Stable connection as long as you want
– Incognito browsing for your online security
– East-to-use interface, online security is only one click away
Download Hotspot VPN Unlimited Proxy

Doozyrama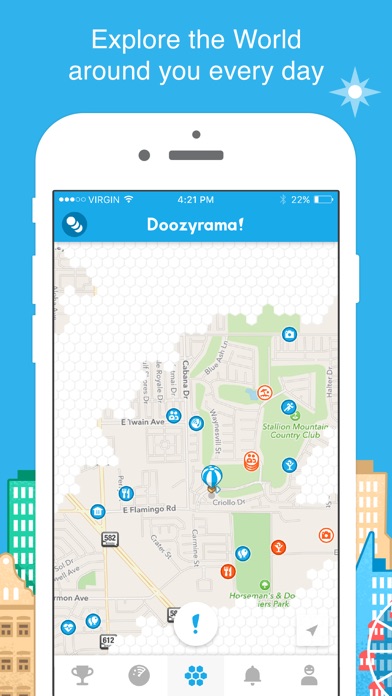 Normally $1.99.
Create a united map together with your friends or community to share with each others places you like.
Doozyrama's united maps are all about discovering the world (or just your city) together with your friends.
As you add a friend you will see his places on your map and he will see your places on his map as default, this is how the united map works. It's so easy:
– map places you want to spread the word about to share them with friends;
– see friends' places together with yours on the single map;
– memorise visited places all around the world.

We added "Fog of War" for all unvisited areas to make it fun and help you to explore the city. Just move around to open the map.

No matter how did you find the place, you can instantly map any place to keep it on the united map and recommend it to your friends.

Why to map a place, but not choose from pre-loaded database:
– we don't want to impose any places on you, you decide which places worth to be mapped and recommended;
– you decide yourself how to describe the place, which photo to use and which aspect of the place is the most important;
– you can map literally any type of places even they don't exist on other maps or databases (such as street art, temporarily places like flea markets, viewpoints etc);
– as an "author" of the place you will be able to see how many people checked-in to it, how people like it and delete it any time you want.

Every single time when you map a place, your friends are notified. They can check-in to your places and like them as they visit them. And if you want to see places mapped by other people you need to follow them or to be friends.

To sign up with the app your phone number is required. Why it is so:
– to ensure a quick sigh up process and safety of your personal data;
– to easily find and flawlessly connect with your friends within the app;
– to minimise fake accounts and ensure that places in the app are mapped by real people.
Your phone number will not be shown to other users and will not be shared with third parties.
Android – Fast Paced LodeRunner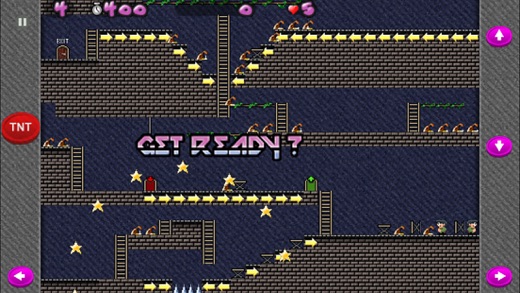 Normally $1.99.
Android is a Fast Paced LodeRunner game with many more features :
– Large levels in landscape
– musics
– Horizontal left/right bumpers
– customs levels for endless of fun

Android is a 2D platformer very similar to Brøderbund's classic Lode Runner. The goal is to guide an android around each level, collecting every bag of gold on the screen while avoiding roving enemies and collecting bonus fruit. As with Lode Runner, gameplay involves running, climbing, hanging, and dropping bombs in order to dig holes or trap enemies. All is done via touchscreen controls.
Download Android – Fast Paced LodeRunner
Note Genius Pro
Normally $2.99.
« Your brain is the worst place to store things » (David Allen – Getting Things Done).

Note Genius is a unique management system that you can trust. With Note Genius, you
can capture, clarify and organize all your engagements in any field.

1. Empty your mind and collect things in your «Inbox».
2. Classify each note in milliseconds through the «Drag and Drop» innovation.
3. Organize those notes by location, date & time, priority or recurrence.
4. Do your tasks at the right time and right place thanks to the notification system by location and time.

* Features:

1) Take notes :
– Voice recorder
– Text
– Image
– Video

2) Share notes via :
– WhatsApp
– Facebook
– E-mail
– SMS

3) Import all kind of files :
– Sound
– Text
– Image
– Video
– Screenshots

4) Create folders :
– Create a folder in 1 click
– Fast classification through Drag and Drop

5) Notifications by :
– Date
– Time
– Location
– Recurrence

6) Sort by :
– Priority
– Notes number
– Date
– Time

7) Delete / Archive.

8) To Do :
– Quickly visualize all your notes for a single day
– Sort by time, priority or folder
RT Camera
Normally $2.99.
The first app for a camera with cinematic 3D real-time filters. This is the same technology that professionals use in filmmaking. RT Camera is your choice when you want to really take a great photo or video rather than a quick snapshot.

FEATURES:
• Minimal, standard and manual shooting mode
• Zoom up to 5x
• Professional 3D LUT filters with real-time preview
• Custom filters import via Mail and iTunes file sharing
• Adaptive noise reduction for clear and beautiful picture
• Photo shooting always in the highest possible quality
• Video shooting in resolution up to HD 1080p and at speed up to 60 frames per second
• With backlight, front camera can be used even in total darkness
• Support for selfie sticks
• Manual mode for difficult situations where too little or too much light
• Manual mode tools: adjustable shutter speed and ISO, live image histogram, level meter and grid overlay
• Photo/video preview screen
PugMoji
Normally $0.99.
New Pug Dog Stickers and Emojis Pack!
Enjoy The conversation with Pug Emojis Now

_Features_
– 20+ Pug Emojis
– Simple & easy to use

_How to Use the app_
Just Click on the Pug emoji you want to use and share it directly to any social media you want or copy it and past any place you want.

_How to Use Imessage app_
– Open your imessage
– click on app store icon
– click in the 4circle in lower left corner
– click on PugMoji icon
BizCard Scanner For Me
Normally $0.99.
Tired of carrying too many business cards? turn your device into the best and easiest mobile business card scanner there is. With easy to use features such as:

– Page detector ( Makes cropping much easier)
– PDF documents
– The best scanner cropping tool
– Unmatched scan fidelity
– Simple UI
– Rotating tool
– Greyscale
– Black & white
– Color
– Share with many social and cloud services (if they are
downloaded on your device)
Download BizCard Scanner For Me
---
Our deals and product reviews are picked by BGR's expert editors and team.

Follow @BGRDeals on Twitter to keep up with the latest and greatest deals we find around the web. Prices subject to change without notice and any coupons mentioned above may be available in limited supply.