If you purchase an independently reviewed product or service through a link on our website, we may receive an affiliate commission. Learn more.
I've always thought of Tuesday as the most pointless day of the week. It's not the middle of the week, it's not the beginning of the week, it's not Friday and it's not the day before Friday. It's just kind of there. But no matter what you think of Tuesday, we're about to make yours better with a bunch of paid apps gone free on the App Store.
This post covers paid iPhone and iPad apps that have been made available for free for a limited time by their developers. BGR is not affiliated with any developers. There is no way to tell how long they will be free. These sales could end an hour from now or a week from now — obviously, the only thing we can guarantee is that they were free at the time this post was written. If you click on a link and see a price listed next to an app instead of the word "get," it is no longer free. The sale has ended. If you download the app anyway, you will be charged by Apple.
Basic Calc Pro
Normally $1.99.
Focusing on the most basic calculation system

This calculator is focused on the most basic calculation system than other calculator apps.

Excluded engineering calculations. It shows present modifications. It provides calculation history.

This is for common people using in the most easy ways.
It is available for people seeking the simplest method.

Basic Calc Pro for iPad
– No Add
– Calculation history
– Universal app
– Intuitive design
– Able to see present modifications
---
Cleaner Pro
Normally $2.99.
* Easily Remove Duplicate Contacts! *

MAIN FEATURES
○ Find & Merge duplicate contacts!
○ Remove contacts without name or phone number
○ One tap to backup your contacts!
○ Quickly find the contacts you need

Your contacts are the most important data in your phone which easily becomes messy if not consistently updated.
Cleaner Pro easily helps you detect and merge duplicate contacts.

SIMPLY MERGE DUPLICATE CONTACTS
○ Find & Merge duplicate contacts!
○ Find & merge contacts with similar names.
○ Find & Merge contacts with duplicate phone or email.

CLEANUP
○ Remove contacts without name
○ Remove contacts without phone & email

BACKUP
○ One tap to backup your contacts!
○ Quickly export your backups to Dropbox, Google Drive, Email
○ Move contacts between accounts (Exchange, iCloud, Local Address Book)

SMART FILTERS
○ Quickly find the contacts you need
○ Filter contacts by Company & Job title
○ Filter contacts by upcoming birthday & creation date

AVAILABLE IN 15 DIFFERENT LANGUAGES
English, Español, Français, Italiano, Deutsch, Português (Br.), 中文 (Simplified), 中文 (Traditional), 日本語, 한국어, Nederlands, Русский, Türkçe, العربية, עברית

Cleaner Pro offers unlimited backups for your address book
To keep your contacts even more protected, turn on Cleaner Pro to save every single change in your contact list, even when you are not using the app.
Cleaner Pro allows you to restore your contacts from any mobile device for $9.99 a year through an auto-renewing subscription.
Subscriptions will be charged to your credit card through your iTunes account.
Your subscription will automatically renew unless cancelled at least 24 hours before the end of the current period
You will not be able to cancel a subscription during the active period. You can manage your subscriptions in the Account Settings after purchase.
---
Coloresque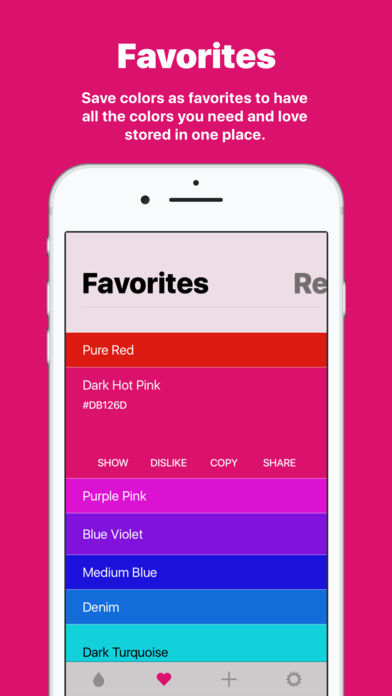 Normally $0.99.
You need inspiration for your next design and a place to store all the colors you use for a project? Or you simply want to find out which color code corresponds to apple green or fire engine red?

Coloresque is a handy essential for everyone who works with colors. It's a simple yet powerful tool for color inspiration, creation, identification and modification.

PLAYGROUND
******************************
Start by generating a completely random color to help inspire your next design creation. Just with a single tap, Coloresque can show and name any one of over 16 million possible colors.

Additional tools allow you to modify your selected color. Drag down the main view to reveal a variety of automatically generated, associated color schemes, or use sliders to precisely adjust it.

• Generate a broad range of colors
• Each color is identified and named
• Create numerous colour schemes (shades, tints, tones, analogous, monochromatic, triad, tetrad, complementary, split complementary, inverted & components)
• RGB and HSL sliders
• Go back to the previously selected colour

FAVORITES
******************************
Once you find a color you like, you can save it as a favorite in a beautiful overview of all your preferred colors, which you can filter by hue. Coloresque will identify which colors you view most often and emphasize them by increasing the cell size.

• Save the colors you like
• Identify your most viewed colors
• Colors are automatically sorted into lists of hues
• Share color codes and preview images
• Copy&Paste color codes

ADD FAVORITES
******************************
By providing multiple methods, Coloresque makes it super easy to add colors to your favorites. You can grab a color from an imported image, search colors by name or enter a color code in any supported format and it will be interpreted correctly.

• Grab a color from a photo or screenshot
• Search and view colors by their names or codes
• Big color database with different color packages and standards (CSS, Crayola, RAL, Resene, Pantone, ISCC-NBS, X11, AS 2700, XKCD & London Underground)
• Precise conversion between all supported color spaces
• Search for color codes
• Smart color format detection

COLOR PICKER
******************************
Simply select a photo or screenshot from your camera roll. A hair cross points at the pixel of which the color will be grabbed. For higher precision, a magnified aspect of the image is shown on top of the screen.

• Import photos, snapshots and screenshots from your camera roll
• Easily pick a color from any image
• Magnifier for precise color selection
• Pan, pinch & zoom to select a color from a pixel

PREFERENCES
******************************
The Preferences page enables you to customize Coloresque to your needs. You can set your preferred color format which will be used throughout the app, exclude certain hues from being generated or hide and rearrange color schemes.

• Supports all common color formats (Hex, RGB, HSL, HSV, CMYK, CIE XYZ & CIE L*a*b)
• Disable/enable and rearrange hues and color schemes
• Reset preferences and favorites

DARK THEME
******************************
The whole user interface adapts to the currently selected color in Playground to provide a preview of the color being used in a real life scenario. This includes the ability to decide if it should be combined with dark or light colors to retain the visibility and readability of interface elements.
---
Life Hacks
Normally $0.99.
We live in the age of life-hacking. The concept, which denotes a kind of upbeat, engineer-like approach to maximizing one's personal productivity, first entered the mainstream lexicon in the mid-2000s, via tech journalists, the blogosphere, and trend spotting articles with headlines like "Meet the Life Hackers." Since then the term has become ubiquitous in popular culture — just part of the atmosphere, humming with buzzwords, of the Internet age.

Lifehacks brings you thousands of useful life-hacking tips that are deeply aimed at improving your productivity and bring calm to your life — an attempt to reclaim some leisure time and autonomy from the heavy demands of our busy lifestyles.

Categories cover a wide spectrum to appeal to everyone across various situation. We invite you to improve your productivity with a daily dose of great hacks and tips.

– Save life hacks by favoriting them.
– Share life hacks with friends via Twitter.
– New life hacks added daily.
---
Pacific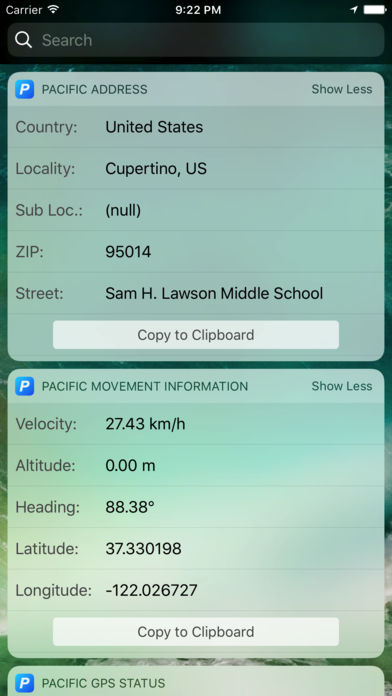 Normally $0.99.
Pacific is an application made to keep track of your location.
If enabled, it equips your notification center with widgets showing you exactly where your are, as well as if and how fast you are moving.
Additionally, the configurable in-app Dashboard displays information about your location (altitude, speed, country, …).

These widgets are included:
– Movement (Altitude, Speed, Heading, Lat, Lon)
– Address (Country, Locality, Sub Locality, ZIP-Code, Street)
– Barometer (Pressure, Relative Altitude)
– GPS Strength

These item categories are available:
– Altitude
– Speed
– Heading (Course)
– Distance from start
– Latitude
– Longitude
– Vertical & Horizontal Accuracy
– Air Pressure
– Country
– Locality
– Sub-Locality
– ZIP-Code
– Street
– Ocean

Continued use of GPS running in the background can dramatically decrease battery life.
This app may use your location even when it isn't open, which can decrease device battery life.
---
Pic Navi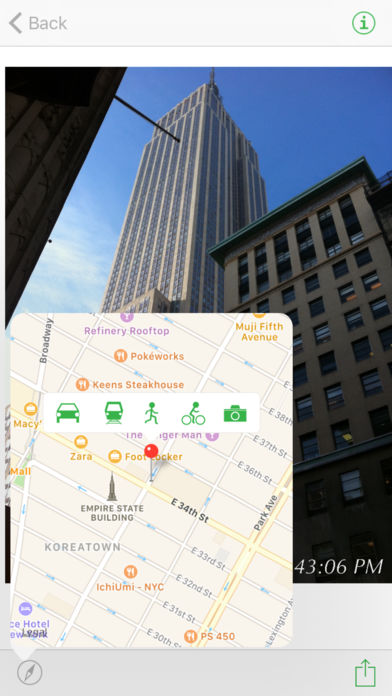 Normally $2.99.
Pic Navi is an easy-to-use photo location viewer and editor. Browse pictures normally, and when you find a photo that you want to know where you took it, you can open a map that gives you driving, walking, cycling and transportation direction from your current location. You can adjust the photo location just by dragging a pin on a map. When you have a photo without GPS information, you can add it by typing an address. You can also remove GPS information when you want to make sure your privacy is protected.

Pic Navi can edit date and time of the photo. When you save photos you get from someone else, they are saved with the date and time they are saved, not when they were actually taken. You can modify it with Pic Navi, so for example, your photos and the photos you get from your friends can stick together. With Timezone Support, Pic Navi shows you the local time of the photo location, instead of your current timezone. Travel pictures with the accurate timestamp make revive your memory more vividly.

Use Pic Navi when you want to share a photo with its timestamp, like an old school camera. You can customize its size, format, font and color to your liking. You can also hide the timestamp by setting the font size to zero.

Features
– Direction from your current location to the location of the photo using a map app of your choice.
– Add, edit or remove location
– Customizable timestamp.
– Edit date and time.
– Timezone Support
– Albums in alphabetical order, plus search function
– Share one or more pictures with timestamps inscribed.
---
Ruler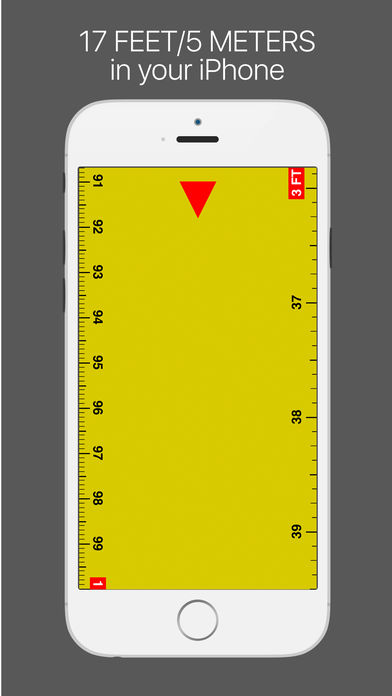 Normally $0.99.
This is simple virtual Ruler app 17 feet/5 meters long.

How to use Ruler to measure length:
Put your finger on screen and slide phone with the other hand.
Pull arrow down to reel off.

See video and little practice and you may get 1% accuracy.
---
Yoga – Poses & Classes
Normally $0.99.
YOGA POSES LIBRARY
-HD video of poses easy to follow for one pose to next
-111 Poses developed, and thought by a qualified yoga instructors.
-Search Poses by Name in English, based on type, focus and ability.
-Find information and description about each poses, benefits, and instructions.

CLASSES
-Focus on improving your, flexibility, strength, balance.
-9 unique yoga classes in great HD video.
-Suitable for all abilities: beginner, intermediate, balance choose your favorite.
-Choose classes from 10 to 30 minutes.
-You can save the history of your classes and schedule your next one

MORE
-Discover new Apps from VGFIT and achieve fitness goals.
-Find out more Yoga Classes and Guides for your healthy lifestyle.
-Play classes on your TV with AirPlay or Chromecast mirroring.
-Get Motivation and share it with friends Join vgfit.com community.

Find out even more about Yoga, health and fitness at http://www.vgfit.com
Download Yoga – Poses & Classes
---
Our deals and product reviews are picked by BGR's expert editors and team.

Follow @BGRDeals on Twitter to keep up with the latest and greatest deals we find around the web. Prices subject to change without notice and any coupons mentioned above may be available in limited supply.