If you purchase an independently reviewed product or service through a link on our website, we may receive an affiliate commission. Learn more.
Another day, another roundup of the best paid iPhone and iPad apps on sale for free. You'll find eight fresh free downloads on today's list, and there are even a few more if you want to head back to Tuesday's roundup, since there are still some freebies left in there.
This post covers paid iPhone and iPad apps that have been made available for free for a limited time by their developers. BGR is not affiliated with any developers. There is no way to tell how long they will be free. These sales could end an hour from now or a week from now — obviously, the only thing we can guarantee is that they were free at the time this post was written. If you click on a link and see a price listed next to an app instead of the word "get," it is no longer free. The sale has ended. If you download the app anyway, you will be charged by Apple.
Tap Tap Evil Mastermind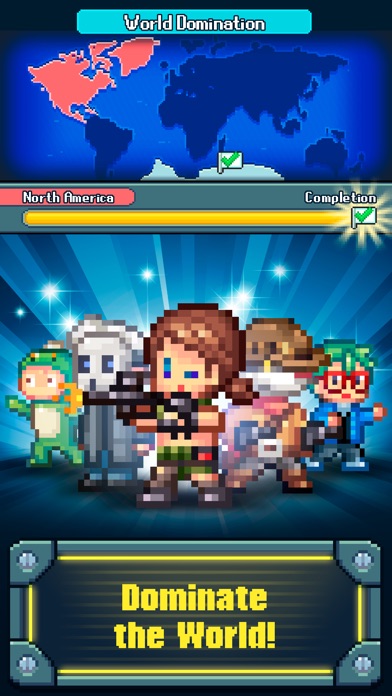 $1.99 in-app purchase to remove ads is currently free.
What do you do when you become a trillionaire? Start building an evil empire – duh!

After making a whopping 1 trillion dollars, life became boring. All the fast cars, nice houses and money just wasn't giving you what you needed. You wanted something dangerous. Something more exciting.

The secret evil organisation – The League of Evil – terminate Warren Buffalo and recruit you into their ranks as their newest evil mastermind. Now you must work for them, using your infamous fingers to tap your way to world domination.

BUILD AN ARMY OF LOYAL HENCHMEN, HENCHWOMEN AND HENCH.. THINGS
Recruit henchmen to your cause – from the legendary Big Bad Wolf to Foxx the Cyborg, each character has their own unique skills to help your quest to become an evil titan. Upgrade your henchmen to improve their success rate in trades, intel gathering rate and combat skills.

INVEST & TRADE IN THE SHADY BLACK MARKET
Using your knowledge as a business tycoon, you'll have to invest and trade in questionable businesses and resources on the black market to make your evil quest a profitable one. View charts to predict the markets, get your henchmen to trade for you and – hopefully – make another trillion dollars! As you grow you'll get fans and receive free gifts as a reward for being so damn evil!

DEFEND YOUR HEADQUARTERS FROM RIVAL VILLAINS
You can't build an evil empire without making a few enemies along the way! Rival villains will attack your secret HQ and your henchmen will try their best to defend you. The better your henchmen's combat ability, the more damage they do in a fight.

IMPROVE YOUR SUPER-SECRET BASE OF EVIL OPERATIONS
Furnish your base of evil operations with a variety of desks, tap doors, stolen artwork, cutting edge tech and more. Is your base getting a little small? Move to bigger and better HQs including a sky fortress, volcanic lair – even Santa's workshop!

—————————————
TAP TAP EVIL MASTERMIND – HIGHLIGHTS
—————————————
• Start an evil empire from nothing and grow it into a multi trillion dollar organisation
• Collect, hire and upgrade loyal henchmen
• … Or fire them!
• Make huge profits by investing & trading in the black market
• … Or have your employees invest for you!
• Decorate your office with a huge range of cool stuff for a super villain
• Upgrade your HQ and move to a volcano, secret fortress, Santa's workshop and more!
• Defend your empire from rival villains using hand to hand combat
• Accumulate vast riches and make trillions of coins. Sweet, gold coins.
• Achieve your quest for world domination

START BUILDING YOUR EVIL EMPIRE – DOWNLOAD FOR FREE TODAY!
Download Tap Tap Evil Mastermind
Focus – Productivity Timer
Normally $7.99.
Meet Focus – The time manager that helps you beat procrastination and get your stuff done.

"It's a task manager and a time manager in one app, integrating the two in a way that makes clearing your to-do list a breeze, and it's a must-have for anyone who finds themselves easily getting distracted or forgetting to take occasional breaks." – iDownloadBlog.com

Focus is the best tool for students, professionals and creatives to be more productive while working on iPhone, iPad, Apple Watch and the Mac.

BE YOUR OWN PROJECT MANAGER

Use Focus to improve your productivity and reach your goals. The app assists you in planning, executing and controlling the success of your projects. And it will boost your motivation!

You can benefit from Focus while working, studying, reading, cleaning and in many other areas of your everyday life.

======================
AN OVERVIEW OF FOCUS
======================

INTEGRATED TASK MANAGEMENT
Focus syncs your work activities with your tasks. That way you'll be perfectly organized on your path to success.

IN-DEPTH STATISTICS
Check what you've already done! Extensive and motivating statistics help you estimate your progress so you don't lose sight of the big picture.

EASY-TO-USE INTERFACE
The name says it all: Focus draws your attention to the most important things. You'll intuitively master its collection of features just by using them.

APPEALING DESIGN
Focus utilizes a clear, tasteful layout that perfectly harmonizes with iOS. This makes completing tasks a breeze!

INNOVATIVE TECHNOLOGY
Focus is powered by state-of-the-art technology to offer you a first-class user experience. iCloud keeps your tasks and sessions in sync while you can use Handoff to pick up your current session on another device. A Today Widget shows your progress at a glance and you can use actionable notifications to start or extend a session without opening the app.

FOCUS & APPLE WATCH: A PERFECT FIT
Using Focus on your wrist seems like a natural fit. Build natively for watchOS 2, it's made for easy and lightweight interactions that lets control sessions and see your progress for the day. Furthermore, you can set and adjust your daily session goal. The Focus glance shows your daily achievement and a Focus complication shows the current session state on your watch face.
Download Focus – Productivity Timer
PRO Screen – Lock & Home Skins
Normally $3.99.
▶ AWESOMIZE YOUR IPHONE!

Nobody wants a boring iPhone. That's why we've created Pro Screen to make it awesome!
Let your imagination run wild!
Discover beautiful and unique designs for your iPhone. Get creative and customise status bars, slider bars, clock overlays and so much more.

—————————-

This app is designed to work on all iPhone models newer than 4th generation iPhone.
Even though it's uniquely designed for iOS 8 and above, it does also support iOS 7 and everything works fine on that software version as well.

Do NOT try to copy this app in any way, shape or form. This will lead to prosecution by law.

*"iPhone", "iPod Touch", and "Status Bar" are terms of Apple, inc.

NOTE: Please keep in mind this app lets you customise your photos to make them fit lock screen and home screen designs. Wallpapers is what it allows you to create.
Download PRO Screen – Lock & Home Skins
8bitWar: Apokalyps
Normally $2.99.
8bitWar puts your strategical and tactical thinking to the test. Hire units and place them in strategic formations to counter the enemy army.

A total of 180 levels, play against a friend on the same device or online!
IQ Test & IQ challenge
Normally $2.99.
IQ Test
With solutions!

Available for iPad and iPhone.

2 Tests
+39 Questions Mensa iq test.
+33 Questions European iq test.

With solutions!

An intelligence quotient (IQ) is a score derived from one of several standardized tests designed to assess intelligence. The abbreviation "IQ" comes from the German term Intelligenz-Quotient, originally coined by psychologist William Stern.
Try it.

NOTE: This test is intended for entertainment purposes only.
Download IQ Test & IQ challenge
Dunk for Dibbble
Normally $0.99.
Dunk is the best way to browse Dribble sots on your iPhone. We support:

– Automatic GIF animation playing
– Personal feed
– Like shots
– Comment shots
– Save all attachements shots
– Follow/Unfollow
– Share/Save shots
– Search for shots
– Browse followers and followers for all users

Disclaimer: This is not the official app
Rain Sounds – sleep and relaxation sounds
Normally $0.99.
Simple app with recorded rain sounds for sleeping and relaxation.
Good night.
Download Rain Sounds – sleep and relaxation sounds
Lock Photo – Hide Photo
Normally $1.99.
[Lock Photo] enables you to hide your secret photos and data with pattern lock, passcode and touch ID.

It provides the perfect privacy with passcode, double protection, decoy mode, album leve lock and photo level lock.

You have no limit on format of the media to hide. The app supports photo, video, GIF, live photo, text and URL.

• Protect your secret photos and data with pattern lock
• Double protection with pattern lock, passcode and touch ID
• Decoy mode
• Break-in detection with video and location capture
• Lock individual photo and album
• Integrated support for photo, video, gif, live photo, text and URL
• Add photos from anywhere – camera, camera roll, iTunes sharing, clipboard and text input
• Input secret text and url
• Full screen browsing
• Slideshow in single step
• Edit photo with powerful photo editor
• Supports emergency backup and recovery
• Save to camera roll and iTunes sharing
• Share to SNS
Download Lock Photo – Hide Photo
---
Our deals and product reviews are picked by BGR's expert editors and team.

Follow @BGRDeals on Twitter to keep up with the latest and greatest deals we find around the web. Prices subject to change without notice and any coupons mentioned above may be available in limited supply.