If you purchase an independently reviewed product or service through a link on our website, we may receive an affiliate commission. Learn more.
We're now officially a week removed from the iPhone X, and the consensus from consumers and critics alike has been overwhelmingly positive. To celebrate, we've gathered eight apps from the App Store that have temporarily gone on sale for the low price of free in the post below, for your downloading pleasure.
This post covers paid iPhone and iPad apps that have been made available for free for a limited time by their developers. BGR is not affiliated with any developers. There is no way to tell how long they will be free. These sales could end an hour from now or a week from now — obviously, the only thing we can guarantee is that they were free at the time this post was written. If you click on a link and see a price listed next to an app instead of the word "get," it is no longer free. The sale has ended. If you download the app anyway, you will be charged by Apple.
AirDisk Pro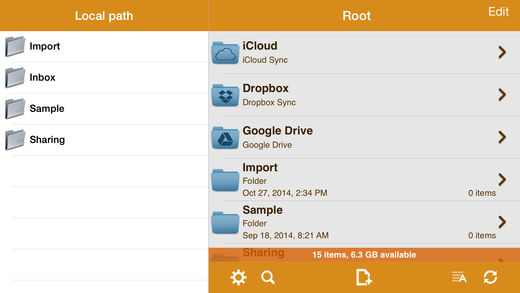 Normally $1.99.
AirDisk Pro allows you to store, view and manage files on your iPhone, iPad or iPod touch. You can connect to AirDisk Pro from any Mac or PC over the Wi-Fi network and transfer files by drag & drop files straight from the Finder or Windows Explorer.

AirDisk Pro features document viewer, PDF reader, music player, image viewer, voice recorder, text editor, file manager and support most of the file operations: like delete, move, copy, email, share, zip, unzip and more.

— KEY FEATURES —
– DOCUMENT READER:
Support MS Office, iWork, Text & HTML
– MULTIMEDIA PLAYER:
An ability to in app create your own audio playlist with repeat, shuffle, background playback and remote control from multitask.
– HTTP/FTP PASSWORD PROTECTED:
Files transfer between PC/Mac with password protected.
– FILE OPERATION:
Move, Copy, Rename, Delete, Zip, Unzip, UnRAR, Create File and Folder.
– FILE SHARING:
File sharing with other iPhone/iPad devices via Bluetooth or Wi-Fi connection with automatic search of nearest available devices around you.
– EASY FILE UPLOAD:
Drag and drop files upload via your PC/Mac web browser or USB via iTunes File Sharing.
– TEXT EDITOR:
Built-in text editor that allows you to edit your text files or source codes on your iOS device.
– IMPORT/ FILES CREATION:
An ability to create text files, image captures, video records, voice recordings and import pictures from photo library.
– PASSCODE LOCK:
An ability to protect your files from viewing by others.
Use your fingerprint to unlock AirDisk with TouchID support. (iOS 8 only)
– CLOUD SERVICES SUPPORT
iCloud Drive, Dropbox & Google Drive.
– UNIVERSALITY:
This app is developed for both iPhone and iPad, you need to purchase only once.

— AUDIO PLAYER —
– Able to in app create audio playlist.
– Plays all MP3 files from a folder as a playlist.
– Repeats and shuffles songs.
– Supports background audio playback.
– Supports Audio Remote Control from multitask.

— VIEWABLE FORMATS —
– Audio (WAV, MP3, M4A, CAF, AIF, AIFF, AAC)
– Images (JPG, PNG, GIF, BMP, TIF, TIFF, ICO)
– Movies (MP4, MOV, MPV, M4V)
– iWorks (Pages, numbers, and Keynote)
– Microsoft Office (Word, Excel and PowerPoint)
– RTF (Rich Text Format)
– RTFD (TextEdit with embedded images)
– PDF Documents
– Plain text
– Source code
– HTML web pages
– Web archives
---
IDEAZ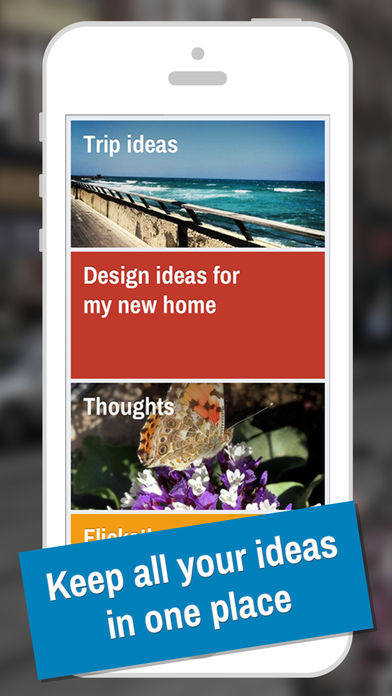 Normally $0.99.
You know that you have an amazing idea, so you run as fast as you can to your mobile, open the nearest note app, writing your idea ,and the next week you can't remember what was your 'one billion dollar' idea, and where you've wrote it… For people like you IDEAZ app was made!

IDEAZ created to help you Save & organize your great ideas in one place, In a few simple gestures, you can add new ideas, save it or share it, and build the next big thing.

How it works?
Every idea you've got is built from small ideas, inspirations and sketches.
So IDEAZ created for you a list of ideas that every idea contain four different tools to express yourself: Text, Photo, Audio or Free drawing.

• Swipe down to add new idea.
• Swipe left to edit are your idea, and make it better.
• Swipe right to share your idea by email, Facebook or Twitter.
• Arrange your main ideas list as you like – just hold and drag it to change the order.

IDEAZ is esay to use, clear and fun,
So don't let your big ideas be forgotten.
---
MemoMa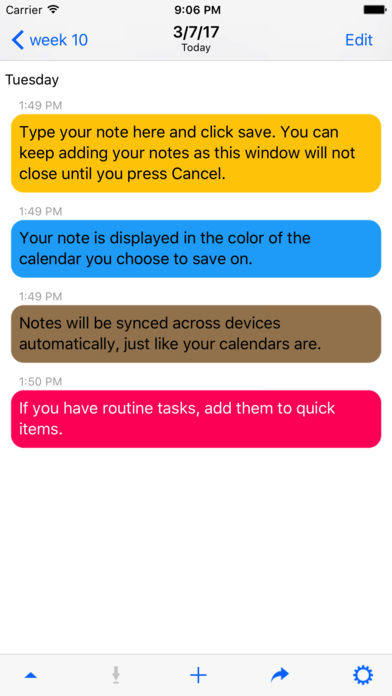 Normally $3.99.
MemoMa is a simple note taking app. It saves your notes in your calendar, which means you can read the same notes from any device or web site as long as the same calendar can be configured. Your notes can be displayed next to other calendar events. Having both your notes and your events on a single timeline makes the context easier to understand when you review them. Also, because your data is on your calendar, it's synced across devices automatically and seamlessly. You can move your notes from MemoMa to other apps if your calendar supports exporting, such as CSV. Because your notes are saved reliably on portable media, you do not have to worry about losing them when you upgrade your OS or purchase a new device.

What It Can Do:
Write a plain text message with non-animated emojis.
Show notes and events on the same timeline, all expanded (no need to tap each item).
Off-line access. Automatic syncing when online.
Spotlight search or search within app Supports iPad & Apple Watch

What It Can NOT Do:
No tags
No formatted text
No images or videos
---
Phoenix Photo Editor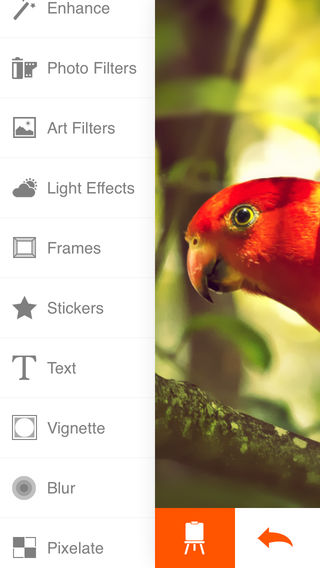 Normally $0.99.
Phoenix is a powerful and fast photo editor with a lot of editing tools, importing and sharing options.
With Phoenix you will have all the freedom to customize your photos with pretty filters, effects, borders and fonts.

– it saves your current progress, you can continue in any time
– undo/redo feature
– supports high resolution output (up to 3000×3000)
– share your project to socials directly, send via mail or print it
– preserves EXIF data while editing
– you can add, edit or delete geolocation

Tools:

– Enhance
– Photo Filters
– Art Filters
– Light Effects
– Frames
– Stickers
– Text labels with bunch of fonts
– Vignette
– Blur (5 types)
– Pixelate area
– Color Splash
– Draw (5 tools, color picker, undo/redo)
– Brightness/contrast
– Hue/Saturation
– Exposure
– Warmth
– Sharpness
– Crop
– Resize
– Orientation

Supported socials:
– Twitter
– Instagram (import, search by hashtag, share)
– Flickr (import, search, share)
– Tumblr
– VKontakte
---
Photo Retouch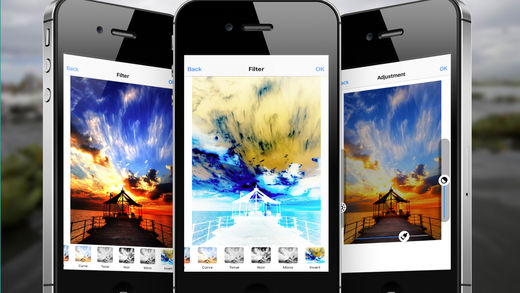 Normally $0.99.
Change your Prisma photo with various glorious visual effect with different kind of sticker. An easy-to-use photo editor, providing a wide array of photo manipulation instruments such as, photo blending , photo filters, live camera, and filters, masks, shape masks, text tool, stickers, rotation,resize,mirror and so much more effects. Change your favourite photo
as like prisma effect using various editing tools. collect your group selfies photo and make it different

With photo editor you can change your photos effect and much more color and can also add text and stickers.Highlight your selected portion of photos with more color and stickers. This is amazing all in one photo editor apps and support all latest device. Photo Editor is a fun and simple way to make beautiful photos in seconds with amazing photo editing tools
Photo editing made fun, fast and easy. Touch your way to better-looking iPhone or iPad pictures using slide bar adjustments, or let automatic one-touch fixes do it for you and share with your friends and family members.
Make your holiday with more even happier with this free photo editor app.

Some Feature:
————————————————————————
+ Import photo from your gallery or camera
+Enhance with Hi-Def, Scenery, Food, Portrait, and Night
+ Simple operation step for enhance photos.
+Touch-up selfies with red-eye and blemish removal
+ Get creative with stunning stickers, frames and overlays
+Selectively remove and replace color with Splash
+ Gorgeous photo effects and frames
+Draw, add text and create your own memes
+ Color balance
+Crop, rotate, and straighten your photos
+ Adjust brightness, contrast, color temperature, and saturation
+Import and Export High-Resolution Images
+ Sharpen and blur
+Modify brightness, contrast, highlights and shadows
+ Color Splash
+ Draw attention to the subject of your photo with Focus or Vignette
+ Share to social network
---
Space Story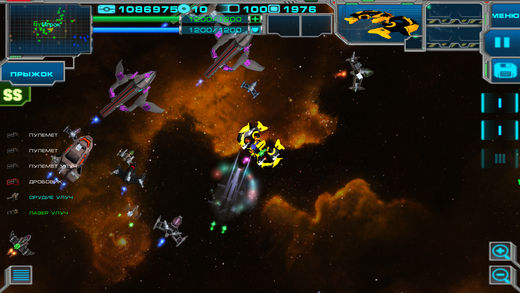 Normally $4.99.
Border sectors are attacked by unknown ships.The player takes the role of a captain,who is caught up in star war.
Fight,trade,mining,exlore,even steal to survive in a world that is on the verge of destruction.
Having passed all the circles of space hell,you have to make a choice – save the galaxy or let it burn in the flame of an ancient anger.

### VAST GENERATED GALAXY ###
Amazing world with complete freedom of action. Mine, fight, trade, research, steal!

### MORE THAN 15 CUSTOMIZABLE SPACESHIPS ###

### 3 TITANs ###
A HUGE unique ships with a large number of weapons on board.

### OWN SPACE STATION ###
Space Station Kit – mount your own station in any place in any sector.

### MORE THAN 100 WEAPONS, EQUIPMENTS ###
With unique names, random generated levels and params.

### INTERACTIVE WEAPON SYSTEM ###
You see all mounted weapon on your ship, how it turns, reloads, fires.

### AI CAPTAINS WITH FULL LIFE CICLE ###
They mine, fight, trade, researche, LIVE as you are.

### CRAFT SYSTEM ###
All weapons, equipments can be crafted from blueprints. Unique randomize system. And, ships, of course. Some of them couldn't be bought, only crafted!

### BLACK HOLES ###
Six level depth, ancient secrets and ancient guardians, Nightmares.

### SECRET PLACES ###
To discover and unlock.

"Save the galaxy or let it burn in the fire of ancient anger!"

«Space Story» is not only space combat and trading simulation with adventure and RPG elements, it's your own story, space story!

Infinite space adventure in your pocket. In bus, train, subway, airplane – you can discover fantastic world of DeepWalkers and Nightmares.
---
SquirrelWarz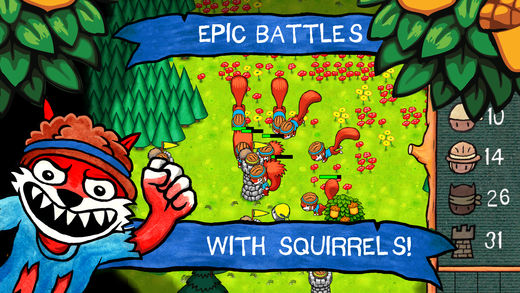 Normally $1.99.
The squirrels have organized and chosen you as their leader! Gather resources, protect your home tree, and reclaim your territory with your own loyal army of furry fighters.

• Great for beginners new to real time strategy games.
• No ads.
• Beautiful hand-drawn and watercolor animations.
• Original soundtrack filled with melodicas, Marxophones, mouth harps and toy pianos.
• Easy to learn and filled with our fun sense of humor.
• Support for Game Center with Achievements and Leaderboards, with custom artwork for each one.
• iPhone and iPad support.
• No in app purchase. One price gets you 20 maps, and 2 breeds to play.

From the creators of Bob's Journey for the Sidekick… SquirrelWarz is a handcrafterd real time strategy mixed with casual game-play – perfect for short and addictive games on the go. We've taken the best parts of strategy games and combined them with hand-drawn squirrels and painted watercolor backgrounds.

An army of squirrels is awaiting your orders. Do you have what it takes to lead your furry troops to victory?
---
Telepaste
Normally $0.99.
Download Telepaste for Mac for free at: https://jinghan.me/telepaste/resources/Telepaste4Mac.zip

Copy and paste between devices within 1 second!
Not more than one button need to be pressed!
No wifi/bluetooth connection is needed!
Auto generate QR codes from clipboard!
Auto copy decoded content to clipboard!
You can even auto save to your photo library!
URL, phone numbers or time detection, one tap to browse, to call or to create an event!

Especially useful for those who have more than one iOS devices.

Telepaste uses QR codes as a media, is able to auto capture contents from your pasteboard and generate QR code before you get in the app. You don't have to press any button to generate the code! Telepaste also supports auto-copying the decoded contents to the pasteboard, really a convenient utility! Don't miss it!
---
Our deals and product reviews are picked by BGR's expert editors and team.

Follow @BGRDeals on Twitter to keep up with the latest and greatest deals we find around the web. Prices subject to change without notice and any coupons mentioned above may be available in limited supply.