Happy Friday! Before you bail on work or school and get ready to relax or do something fun this weekend, check out one last roundup of the day's best app deals. We've got eight paid iPhone and iPad apps for you to consider on Friday, and each one is on sale for free for a limited time. Enjoy!
This post covers paid iPhone and iPad apps that have been made available for free for a limited time by their developers. BGR is not affiliated with any developers. There is no way to tell how long they will be free. These sales could end an hour from now or a week from now — obviously, the only thing we can guarantee is that they were free at the time this post was written. If you click on a link and see a price listed next to an app instead of the word "get," it is no longer free. The sale has ended. If you download the app anyway, you will be charged by Apple. Subscribe to our feed to be notified as soon as these posts are published, and you'll avoid missing the sales we cover.
Altimeter GPS – Hike & Trek
All in-app purchases currently free.
This app is only available on the App Store for iOS devices.

Altimeter GPS – Hike & Trek 4+
Travel Altimeter for Outdoors
Gaurav Babbar
Free Offers In-App Purchases
iPhone Screenshots

Description
Download now the best Altimeter app for Hikers, Trekkers, and GlobeTrotters.

Altimeter GPS is a multipurpose app equipped with features like an altimeter, barometer, compass over your current satellite location, weather updates, pedometer, and speedometer. Use maps and binoculars for scouting and flashlight, SOS for exigencies.

Features Include :

ALTIMETER and BAROMETER: Get to know the latest elevation/altitude and atmospheric pressure around you using Altimeter and Barometer.
COMPASS: Compass above your satellite position always pointing according to real-time direction.
SPEEDOMETER: Speedometer to get real-time speed readings along with real-time direction and location address.
PEDOMETER / STEP COUNTER: Pedometer provides you the data about the steps taken and distance traveled in a specific time period along with Floors traversed.
WEATHER: Weather provides you the real-time weather updates based on your location. Get Current Temperature, Humidity, Sunrise/Sunset Time, Min/Max Temperature and Wind Speed.
WEATHER FORECAST: Weather Forecast provided for two weeks.
BINOCULAR: Super digital binocular app with HIGH-QUALITY ZOOM up to Maximum Zoom Level.
FLASHLIGHT: Bright, optimized and reliable flashlight. The easiest to use and useful flashlight.
SOS: In problem? Message your dear ones with real-time Coordinates using SOS function.
MAP: Track your position in maps with Standard/Hybrid/Satellite maps in Altimeter GPS.
MARK LOCATION: Save a location and track back to that location using RADAR, AUGMENTED REALITY and MAP DIRECTIONS.
RADAR: Locate your marked location using RADAR
AUGMENTED REALITY: Real-Time Directional ARROW point towards the direction of your marked location.
PHOTO AND NOTES: Take a picture along with written notes of your marked location and save it. So you can find your marked location even more easily.
MARKED LOCATION TIMER: Set timer alert and get push notification after the timeout.
SHAKE TO SAVE: Manually mark your location by shaking up your iPhone/iPod in Altimeter GPS.
GET COORDINATES: Now you can copy your current coordinates and your marked coordinates using Get Coordinates section in "MAP SETTINGS".
VOICE INSTRUCTIONS: Get voice instructions when you: Mark/Unmark your location.

Altimeter is Bootstrapped with features for urban as well as backwood areas
Altimeter GPS is an essential app for outdoor activity enthusiast like Hiking, Trekking, Mountain Biking, Skiing, Rock Climbing as well as the urbane on a day-to-day basis.
Download Altimeter GPS – Hike & Trek
Yapa – Podcast Player
Normally $0.99.
GET STARTED LISTENING QUICKLY
Yapa is a simple way to listen to podcasts. Starting from either the top picks or the charts in each category, it is easy to browse, find and listen to the latest popular podcasts. A large selection of podcasts is available for you to choose from in 17 different categories. Or you can search for just about any podcast. The latest episode of each podcast is played with one tap.

STAY IN TOUCH WITH WHAT PEOPLE ARE LISTENING TO
With unique chart data, easily see what is moving up and down the charts. Sort by what is popular, trending up the charts or new.

MORE POWERFUL CONTROLS
With swipes you can favorite what you like, save shows for later listening and manage all your recently played episodes easily and quickly.

Listen at the speed of your choice and setup a sleep timer to stop playback after a timer delay. Tap and hold on a show to quickly see the description of the show.

You can also swipe left and right or double-tap and triple-tap on the mini-player at the bottom or your earbuds clicker to easily skip forward 30 seconds and back 15 seconds.
Download Yapa – Podcast Player
Digital Barometer S10
Normally $0.99.
Turn your iPhone into a portable barometer.

Key Features
– Easy To Use
– Sea Level Adjusted Pressure
– Charts
– Barometer Units: hPa, mBar, inHg, atm, kPa, cmHg, mmHg, psi, torr
– 20 Background Colors
Download Digital Barometer S10
Maze Lord
Normally $0.99.
Become a part of legend in this hand painted rogue-like puzzler. Traverse an underground kingdom of mazes and seek fortune and victory against an insidious dragon.

An intricately tangled labyrinth constantly changes to conceal exciting new monsters and treasures. Explore the maze's hidden depths and discover the secret Treasury of the dungeon's king, only found by the most skilled seekers of adventure.

Emerge victorious and exchange your well-earned rewards for special artifacts in the local Magic Shop.

Overcome endless armies and crucial dangers with unique objects located in each dungeon. Items like the shield will save you from snake bites and magic boots are not "afraid" of floor spikes. A torch will get you through a giant spider's web.

Become the Maze Lord.

Featuring:
– Unique puzzles
– Interesting, interactive objects
– ReplayKit Streaming
– Game Center Achievements and Leaderboard
– Tons of different enemies
– Over 100 handmade levels
– The hidden Treasury and Magic Shop
Binaural Energy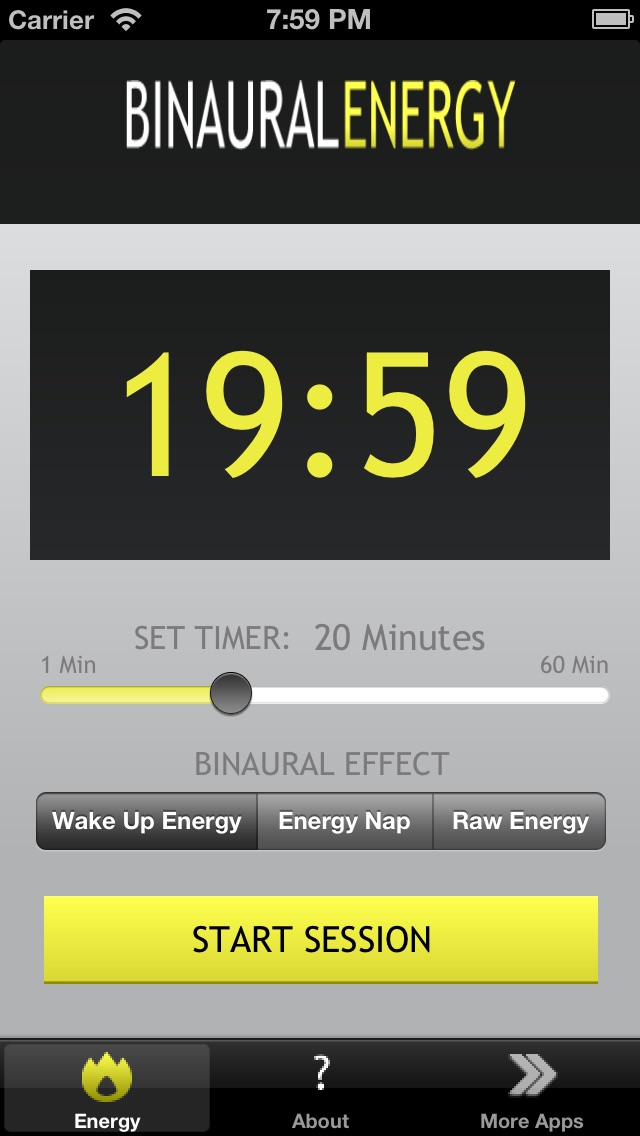 Normally $0.99.
Binaural beats are scientifically proven frequencies designed to induce specific states of mind. The beats in Binaural Energy have been engineered to help you wake up, quickly give yourself an energy boost, and give yourself the raw energy you need in order to take charge of your day!
Hatchi – A retro virtual pet
Normally $0.99.
Hatchi is a retro-looking iPhone and watch app sure to get the nostalgia burning for all those who cared for a virtual pet back in the 1990s when they were at the height of their popularity. Just as with the keychain-sized pets of the 90s, iPhone, iPod and iPad users now will feed, clean, play with and generally look after their pets to ensure they grow up to be healthy, happy little Hatchis. He needs YOU!

*** Featured on Touch Arcade Best iPhone and iPad Games***

Your Hatchi monster will go through several stages of growth, and will look different depending on the type of care the player provides. There are also NEW EGGS you can get which give you all new types of Hatchi!

Customise your Hatchi!! You can:
* Choose different backgrounds like the park or the beach!
* Use stickers to customise the background to give Hatchi a better environment!
* Change the color of your Hatchi's pixels!

How will YOU customise your Hatchi?

Play mini games!! including:
* The Hatchi Matchi memory game
* Hatchi Squares – play against your Hatchi!
* Roshambo – What Hatchi will you pick?
* Hatchi Catchi – move your Hatchi to catch falling food
* Its raining meds – avoid the meds!
* Whack a Hatchi – whack as many as you can!

and now our ALL NEW MULTIPLAYER BATTLING GAME!!
Play Hatchi Battle with your Game Center friends and see who wins!

Feed, clean, play and watch it evolve over several days.

"Say goodbye to your productivity. Say hello to your new friend." Gizmodo.com

"It's hilarious, but I really, really, really don't want Big Poppa Pump (his Hatchi monster) to bite the dust. I've somehow bonded with the thing" TouchArcade.com
Download Hatchi – A retro virtual pet
Easy Spending
Normally $0.99.
Easy Spending is an easy way to grow your wealth on a daily basis, by improving spending habits. Its excellent reports and spreadsheets saves lot of time during tax filing.

The Easy Spending money tracker, is the most powerful and convenient daily money management App on the GO for iPhone and iPad, that neatly tracks all your cash flow between different accounts that you can budget,

It is now, all the more secure, with the addition of Automatic Backup Service in addition to the free email backup. With this feature you never have to worry about losing valuable financial data, either through accidental deletion or change of device. You can restore it on any iOS device with this App installed.

Comes with easy gestures with well spaced layouts and large fonts, for easy viewing and readability.

Great for maintaining monthly recurring bills with reminders, it has the convenience of an Finance Tracker and BILL reminders at one place.

HIGHLIGHTS

@ Never loose your valuable financial data either with the free email backup or the All new Automatic Backup Service, (available as an In-App purchase)

@ Excellent and seamless cloud sync of all your transaction data. (available as an In-App purchase)

@ BILL Reminders.

@ Recurring income/expense tracking

@ MULTIPLE ACCOUNT(S) Summary in a single screen, and nice reports.

$ Passcode LOCK.

$ NOTIFICATIONS added to Default calendar for recurring transactions as an option. Using this option, NEVER forget to pay your BILL on time.

$ See future bills/payments and income using, "UPCOMING TRANSACTIONS" view.

$ Fast Search based on category and notes

$ Allows transactions to be emailed as CSV, and also uploaded to your Google Drive account

$ Store data for MANY MANY years

$ Preview comments in History while drilling down the transactions.

$ Use MULTIPLE accounts like Checking, Savings, Credit card, Cash flow, Mortgage accounts etc.

*** REPORTS ***

$ Powerful reports, timeline reports

$ Doughnut chart reports gives a clean break up of where your money is going.

$ Email csv file of all your data for single or all of your accounts, saves a lot time during tax season.

$ Upload csv file also to your Google Drive account

— Automatic Backup Service —-
Automatic Backup Service is an auto-renewable In-App purchase that lets you take automatic backup without you having to do anything manually. Just keep using the App, and an automatic backup of all you data is safely stored either weekly or monthly. When you App is deleted by mistake or phone is replaced there is no hassle in getting your data back.

This feature is offered as a free trial for one month, and the cost of subscription is $0.99 per month, after the trial period. It auto-renews every month until it is cancelled.

This feature is also offered as an annual subscription with a cost of $7.99 per year, with a initial trial period of 1 month. It auto-renews every year until it is cancelled.

Payment will be charged to iTunes Account at confirmation of purchase, and account will be charged for renewal within 24-hours prior to the end of the current period.

Privacy policy and terms of use

https://tektontek.com/termsofuse.php

*** What our users say ***

@ As a financial planner for 42 years this App is all you need. Its simple clean and to the point. If you think you need more than this, then you don't get it.
– LouCFP

@ Excellent
I am using this app to track our club income/expenses. So easy to use and to create reports then email to whoever needs a copy ! I love it !.
– i apple

@ User Friendly Plus!
"I use this app every single day and is by far the most valuable app on my iPhone." – John Fredrick NY
VeryPDF PDF to Word
Normally $5.99.
VeryPDF PDF to Word Converter for iOS does convert your PDF files to editable Word files on your iPhone and iPad.

VeryPDF PDF to Word Converter for iOS is using same source code as "VeryPDF PDF to Word Converter for Windows" which can be downloaded from following web page, "VeryPDF PDF to Word Converter for Windows" is a popular software on Windows system,

http://www.verypdf.com/app/pdf-to-word/index.html

Convert PDF to Word; Convert PDF to Text; Convert PDF to JPEG; Convert PDF to PNG; Convert Office to PDF; Convert HTML to PDF; and more functions to process your documents.

VeryPDF PDF to Word Converter for iOS is an utility designed to convert Adobe PDF document to Microsoft Office Word files (.rtf), PDF to Word can keep the original content, layout and formatting for easier editing or reusing the content, support opened in popular mobile office editor app (such as: Microsoft Office Mobile, Polaris Office, Smart Office or QuickOffice).

Convert from PDF to Microsoft Word documents and edit them with Office for iPad or other editors.

VeryPDF PDF to Word Converter for iOS Can Help You,
* Easily import PDF, convert a 50 pages PDF to Word within 10 secs, Extremely fast!!
* Support convert PDF to Word, RTF (.rtf), Text (.txt) and Image (.jpg, .png) formats.
* Conversion Process 100% on your local iOS device, No internet connection need.
* Output well organized Word content, preserving content layout, the color, font style and images remain the same as the original pdf document, Very convenient tool.
* Offer you 4 ways to transfer files (Open in.., iTunes USB file sharing, WiFi Sharing and Dropbox)
* Support Microsoft Office 2003, 2007, 2008, 2011 Word Applications, not completely compatible with iWork Pages.

== Quick Start ==
Export Office Word from a PDF file in mail app can be as easy as three steps:
1. Open Mail app, use "Open In.." to send source PDF file to "PDF to Word".
2. Go to "PDF to Word" app, touch on PDF file, click "PDF to Word" button to convert this PDF file to Word document.
3. Transfer the converted RTF file to others via WiFi Sharing, they can reuse Word document in MS Word application easily.

VeryPDF PDF to Word Converter features:
* Build in PDF Reader.
* Build in Word Viewer.
* Convert PDFs to editable Word files.
* Dropbox integration allows you to transfer files between your Dropbox account.
* Use WiFi Transfer mode to upload and download files between your computer and iPhone.
* Transfer your converted files to any other software on the iPhone that can accept Word files.
* Import PDF from Mail, Safari, PDF Reader, GoodReader, Dropbox and other apps ("Open In…" function).
* Mail out documents as email attachments or Send files to other apps("Open In.." integration).
* File manager, rename, copy, move, delete and compress.
* USB file transfer (iTunes USB file sharing).
* Support both iPhone and iPad!
* Import and convert files from your mobile device, email, or other online storage services such as Dropbox.
* Once your file is converted, open and edit it in other apps such as Office for iPad and QuickOffice or upload it to Dropbox or other storage services.
* Easy to use: simply import the file into the app and conversion will instantly start.
* Offline Conversion, all conversion will be done in your iPhone or iPad, no any data will be sent to VeryPDF Servers, this will 100% protect your PDF files.
* Support PDF in languages of English, French, German, Italian, Chinese Simplified, Chinese Traditional, Czech, Danish, Dutch, Japanese, Korean, Norwegian, Polish, Portuguese, Russian, Spanish, Swedish, etc.