We've got another fresh batch of paid iPhone and iPad apps for you to check out on Wednesday, and they're all on sale for free for a limited time. There's no telling exactly when these sales will come to an end, so be sure to grab apps that look appealing right away if you want to download them for free.
This post covers paid iPhone and iPad apps that have been made available for free for a limited time by their developers. BGR is not affiliated with any developers. There is no way to tell how long they will be free. These sales could end an hour from now or a week from now — obviously, the only thing we can guarantee is that they were free at the time this post was written. If you click on a link and see a price listed next to an app instead of the word "get," it is no longer free. The sale has ended. If you download the app anyway, you will be charged by Apple. Subscribe to our feed to be notified as soon as these posts are published, and you'll avoid missing the sales we cover.
Vectornator Pro
Normally $7.99.
Vectornator Pro is the best professional vector graphic software that allows you to create sensational graphics from anywhere, whether you're in a café, in a park, on the train or at home. Vectornator offers a rock-solid set of tools for professional designers and, at the same time, a radical simplicity for graphic arts amateurs — a fantastic all-around package for everyone.

Thanks to the outstanding performance, intuitive usability and high user-friendliness, working with it is incredible. Specifically designed for iPad and iPhone everything is incredibly fast and creating outstanding high-quality illustrations with your fingers and a pencil is simply a dream.

USER-FRIENDLINESS AND OPERABILITY
A touch application needs to be different than a mouse-operated program. The interface of Vectornator is perfect for touch. You can even use more advanced and more targeted operations like Shift and Alt on the desktop with multi-touch gestures. Still interested in a keyboard? Vectornator supports all the usual keyboard shortcuts and you will not miss anything.
– Perfectly designed for touch
– Shift and Alt with multi-touch gestures and dedicated buttons.
– Support for shortcuts on an external keyboards

PERFORMANCE
Vectornator Pro provides the complete bundled power of a desktop graphics application as a mobile app. It's the easiest, fastest, and best way to create illustrations, from any place and in a phenomenal quality.
– Outstanding smooth performance
– Scaling, rotating and selection of hundreds of objects at zero lag
– Takes full advantage of powerful iOS technologies such as Metal, Grand Central Dispatch and SIMD.
– Completely optimized for 64-bit and multi-core processors for complete hardware utilization—a jet plane among sailboats.

EXTENSIVE PROFESSIONAL FEATURES
With Vectornator Pro you have everything a professional needs for work.
– Rock-solid vector tools
– Live blend modes, masks, and alignment tools
– Color profiles, like CMYK
– Blur elements
– Custom fonts
– P3 color space support
– Split screen support
– Drag and Drop
– Pressure sensitive brush tool
– Numerically change coordinates and element sizes

WORKFLOW INTEGRATION AND CLOUD
Already have existing files? Easily import all common file formats, edit them on the go, and then seamlessly fine-tune them on the computer with a simple click.
– Import PDF*, SVG, PNG and JPG
– Export to other file formats such as SVG, PDF, PNG or JPEG
– Import from and export drawings to iCloud and Adobe's Creative Cloud

* (You can find an overview of what is already supported here: https://vectornator.io/supported_file_formats.html)

SYMBOLS
A prefabricated library of standard user interface elements for the most common platforms enables rapid creation of user interfaces. Three clicks and you have designed the most beautiful app. Everyone can thus be convinced hands on.

SHARING
Share your work of art with everyone in the world. With just one click, you can post your drawing on Facebook or Twitter—and your followers will love it!
Shoonya Farm Animals:Languages
$3.99 in-app purchase of the "Complete Animal Pack" is currently free.
"A stunningly beautiful, culturally rich app for children to learn multiple languages and be exposed to other cultures. Different types of interactions for different ages and learning styles are cleverly integrated into the app."
— Prof. Dorothy M. Chun, (Second language acquisition,computer-mediated communication for language learning, and learning and teaching with digital media)

Children, across the world and of all ages, love animals! They view animals as their friends, enjoy them as pets, and delight in dressing them up as they do themselves. Shoonya Farm Animals offers an interactive experience for children to experience all of the above while learning the names of fourteen farm animals in nine different languages: English, Spanish, German, Arabic, Hindi, Marathi, Punjabi, Telugu, and Gujarati.

Although this app is designed for children of different age ranges, the age groups are merely suggestions. All children are unique, so allow your child to be the guide.

Watch Mode : This is an auto-play mode allowing for a full language immersion experience.

From the home screen:
– Tap on the scroll bar to select a language
– Tap the top windows to select age
– Tap on an animal from the carousel to play

Motive: To entertain and stimulate children's brains with images of delightful animated animal characters, representative of cultures around the world, while introducing the name of each animal. Research shows that a human brain is hardwired to learn as many as three languages by the age of six. This full immersion technique takes advantage of this special window by exposing children to multiple foreign languages, or a single target language.

Play Mode: This is an interactive play mode that allows children to explore and learn animal names in multiple languages.

– Use the scroll bar to select language
– Use the forward and back arrows to select animals
– Tap the animal icon in the upper right corner to view an animation of the animal dressed in culture-specific attire, accompanied by world music

Motive: To engage children with interactive play. This is the age range during which most children are learning to relate animal names and sounds to actual animals. This mode offers an opportunity to learn by interacting with the content. Children can learn the names of the animals in a target language, become exposed to various foreign languages or simply enjoy the fun animations, ethnic apparel, and world music.

Create Mode: This is an interactive play mode that introduces children to full sentences and vocabulary words in multiple languages.

– Use the scroll bar to select language
– Use the forward and back arrows to select animals
– Tap the box to the left of the screen to select clothing, accessories, hats and shoes
– Tap the box to the right to select a background landscape
– Tap the animal icon in the upper right corner to view an animation of the animal dressed in culture-specific attire, accompanied by world music

Motive: To encourage children to learn languages and gain familiarity with apparel, accessories, and music from cultures other than their own. Each animal name is introduced in a full sentence, along with vocabulary words describing outfits and landscapes. Designed to spark imagination as children dress up the animals with clothing, textiles, and designs sourced from around the world. Created and tested in classrooms to enhance fine motor skills by expanding and rotating the clothing and accessories.
Download Shoonya Farm Animals:Languages
Sleep Sounds: relaxing sounds
Normally $1.99.
All sounds recorded with high quality stereo condenser microphones and preamps. (besides generated sounds: white pink brown noises and binaural beats)

Additional features:
Auto off timer
Reliable alarm clock

Sounds:
white noise
pink noise
unicorn music box
teddy bear music box
ballerina music box
cat purring
morning forest
creek in forest
forest
tropical jungle with tree frogs
loro park
bonfire
heavy rain
heavy thunder
distant thunder
rain under umbrella
rain near window
light rain on street
rain on city street with traffic
sea with seagull
sand beach
baltic sea beach
underwater volcano
night sea
wind in open window
wind at the door
london train station
australian subway
moscow subway
chinese bus
highway
new york silent street
highway bridge
oscillating fan
3D printer
old radio tuning
old english clock
vacuum cleaner at work
wind chimes
gong 40″
gong 38″
binaural beat 1Hz lethargic
binaural beat 2Hz deep sleep
binaural beat 3Hz dreamless
binaural beat 4Hz drowsy
binaural beat 6Hz fantasy
binaural beat 8Hz relaxed
binaural beat 12Hz conscious
binaural beat 16Hz focus
binaural beat 24Hz active
Download Sleep Sounds: relaxing sounds
Hitman Sniper
Normally $0.99.
BECOME THE ULTIMATE SILENT ASSASSIN
Step into the shoes of Agent 47 in Hitman: Sniper and discover the most compelling sniper experience on mobile.

TACTICAL MISSIONS IN MONTENEGRO
Hone your strategic skills and orchestrate the perfect assassination.

ACTION ZOMBIE CHALLENGE IN DEATH VALLEY
Prepare for non-stop action in a true test of your accuracy and speed of execution.

MORE THAN 150 MISSIONS AND 11 DIFFERENT CONTRACTS
Improve your strategy for the perfect assassination as you uncover secrets and subterfuges.

17 UNIQUE WEAPONS
Eliminate targets, collect weapon parts and complete blueprints to unlock the most powerful rifles.

COMPETE AGAINST YOUR FRIENDS TO DOMINATE THE LEADERBOARD
Boost your score and climb up the ranks to become the world's finest silent assassin.

Hitman: Sniper is memory intensive. Devices such as iPad 2, iPad Mini, iPhone 4S and iPod Touch 5th Generation will suffer from occasional dips in performance and will not support Everyplay.
unText it
Normally $0.99.
Ever regret sending a text? Maybe you texted the wrong person. Now you can have a second chance to take back your words.

* unText It will not show up on the Home Screen, It will only show up in iMessages. For more information on how to use iMessages apps please visit my website there is a link to Apple's website that shows you how to use iMessage apps.

* Use finger to drag stickers over text bubbles, pinch to resize stickers.
Tiny Runner
Normally $0.99.
An endless running game. Tap the screen to jump and avoid all obstacles on the way. How far can you run?!
Let's start an adventurous and exciting journey!
Enjoy!

Features:
– Fun, challenging, random and endless tracks.
– Simple controls.
– More roles available.
– An Universal App with hd optimized for retina resolution.
Dog Park Finder Plus
Normally $1.99.
** Top of the 'Best Five Apps for Dog Owners' list! – Appolicious
** LA Times, Jen Leo- "Dog owners, snap a collar on this app, and quick!"

**Featured by Modern Dog Magazine, June 2013 – Perfect for Traveling!**

Get over 6,000 dog parks and beaches, now with 12,000 dog friendly restaurants (North American Only).

Bob Tedeschi, NY Times – "A useful tool for socially minded dog owners is the Dog Park Finder"

Powered by over four years of DogGoes.com editorial research, user photos and reviews, gives you all the information you need for a quick trip to the dog park, or a vacation across the country.

* National Geographic Channel features data in their park finder

**** What You say (from the reviews) ****

This app could not be easier to use. Read review, see photos and all kinds of information.

Great app that helps us since we travel with our 2 doggies.

****

All You Need to Know
– 6600+ Dog Parks, Beaches and Hikes (twice as many as the free app!)
– 12000+ Photos and Reviews
– Accurate, hand-checked location markers!
– More details added in this PLUS version that are not in the free app (fenced, small dog areas, restrooms, benches, hiking, hours and days of operation …)
-1000+ dog friendly rest stops

– Advanced search (near current location, nearby cities, zip code search).

– New to Plus version! Results update when you move the map for continual searching.

The Dog Park Finder Plus displays local dog parks and search results in both map and list pages. Park details include user ratings, fenced and un-fenced markers, on-leash rules, hours and days of operation and many other notes and features of the dog park.

Since Dog Park Finder Plus is powered by DogGoes.com, we already have four years of reviews, photos and ratings included.

Data Features
-3000+ legal off-leash dog parks (second to none!)
-3000+ dog friendly beaches and hikes.
-1000+ dog friendly interstate rest stops
-Shows local parks near current location
-Browse by states and cities
-Advanced city, state and zip code searches.
-Precise locations, correct location within city parks (no auto placed pins!!)
-Over 14 information fields including park fees, hours, fencing, address, park size, restrooms and other notes. Expanded from the free version.
-5000+ photos
-7000+ reviews and ratings

User Features
-Get Directions to park
-View a list of nearest dog parks
-View a map of nearest dog parks
-Results updates map scrolls
-Search for parks (both list and map views).
-Email to your friends.
-Forward dog park info to a friend.
-View detailed website park information in the app
-Read and write reviews in the app

Upcoming Features
-Other Dog Friendly business and hotels
-Always adding more dog parks
-Submit other Dog Friendly locations

About DogGoes.com: We are committed to the promotion of happy and healthy canine friends by advancing the awareness of responsibly maintained public dog play areas. Started in August of 2007, we have compiled, vetted and published information regarding over 3000 dog parks. New members have also added over 12000 reviews, pictures, groups and events to the site.
Costom Notch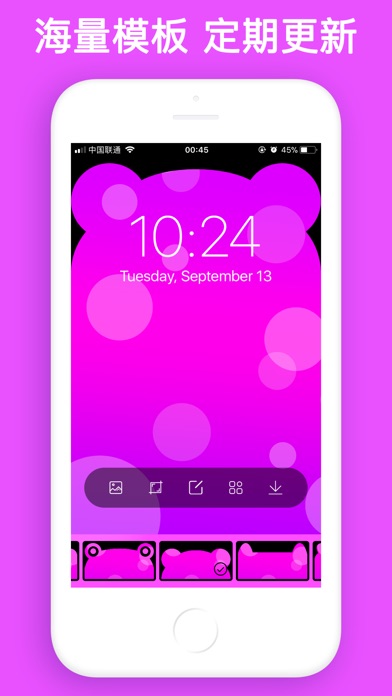 Normally $0.99.
Modifies your wallpaper to adjust for the iPhone. Check out some of the amazing results in the screenshots!

Features;
1, More than 60 styles for your use;
2, More than 90 beautiful wallpaper.

Custom Steps:
1, Choose your photo
2, Adjust your photo
3, Save photo
4, Set as Wallpaper

Finally, enjoy yourself.