We had a great list of paid iPhone and iPad apps on sale for free yesterday, and some of them are still free downloads if you hurry. Of course, we've got a fresh new list for you on Wednesday, and you'll find all of today's picks below.
This post covers paid iPhone and iPad apps that have been made available for free for a limited time by their developers. BGR is not affiliated with any developers. There is no way to tell how long they will be free. These sales could end an hour from now or a week from now — obviously, the only thing we can guarantee is that they were free at the time this post was written. If you click on a link and see a price listed next to an app instead of the word "get," it is no longer free. The sale has ended. If you download the app anyway, you will be charged by Apple. Subscribe to our feed to be notified as soon as these posts are published, and you'll avoid missing the sales we cover.
Bitcoin Convert
Normally $0.99.
Bitcoin Convert is the fastest/easiest way to check BTC/Altcoin rates and historical price points against fiat currencies at a glance. It's simple and intuitive.

We know that most people like to diversify their portfolio, so we've added support for also checking fiat rates against the following popular altcoins:
Ethereum
Ripple
Dash
NEO
Bitcoin Cash
Monero
Litecoin
Dogecoin
NEM
IOTA
Ethereum Classic
OmiseGo
Zcash
Bitcoin Gold
Stellar
Cardano
EOS
TRON
ICON
Nano
Lisk
Electroneum
Qtum
Ardor
Ark
Tether
VeChain

Bitcoin Convert is the best way for:
-Keeping up to date with market fluctuations
-Checking the value of your Bitcoin/Altcoin investments
-Getting a Bitcoin/Altcoin value for a certain Fiat amount

Bitcoin Convert supports calculations against most Fiat currencies.
Pinball Breaker Forever
Normally $1.99.
Pinball Breaker Forever merges pinball and brick breaking mechanics to produce a supercharged twitchy randomly generated endless gaming experience, with a vibe from the 80's! Easy to play, hard to master!!

Monster-Blocks appear in waves and slowly go down the screen one after the other. Protect your city from the invaders by destroying the blocks before they reach the bottom of the screen.

Side tracks with optional skill shot mini-games will increase your score and add another twist to the game.

Main Features:

– Endless randomly generated levels
– 6 types of power-ups like explosions, unstoppable ball or multiballs
– 15 types of side track mini-game like target arrays, bumpers, spinners or laser
– Progress through power-ups, skill shots and cosmetic unlocks
– Many types of blocks with different behaviour
– Replaykit for replays and shares
– Tactical aiming: scan the maps for weaknesses and power-ups to increase your efficiency
– MFI support
– Game Center achievements and leaderboards
– Original soundtrack
– Live broadcasting
Download Pinball Breaker Forever
Two Way Translate
Normally $11.99.
Want to confirm the translation of the article?
Want to communicate with foreigners?

Now use this App can easily meet your needs!

Communication with foreigners.
Article translation cross comparison.

Features:
1. The left and right display two Google translation window.
2. Windows refresh button.

Quickstart:
1. On the left side of the left translation window, select: Input language A.
2. On the right side of the left translation window, select: Display language B.
3. On the left side of the right translation window, select: Input language B.
4. On the right side of the right translation window, select: Display language A.

Application example:
(1) communicate with foreigners, such as picture illustrations.

(2) real-time translation cross comparison function:
Ex: left window (Chinese translation into english), right window (English and then translated back to Chinese) can confirm the translation is correct.
Contacts Cleaner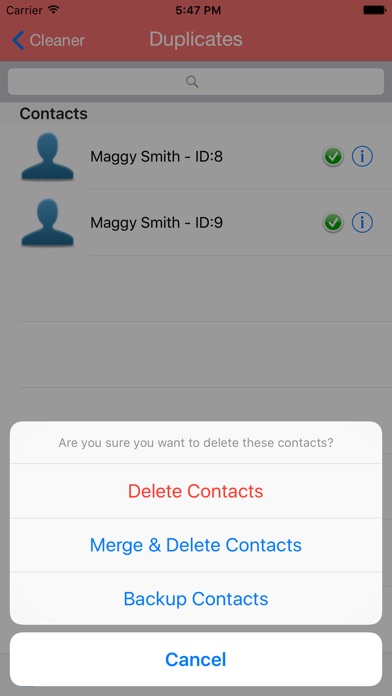 Normally $0.99.
Do you find deleting contacts cumbersome with default contacts app? Do you have tons of duplicate records that you don't know how to get rid of? With this app you can do all this with just one touch.

* Delete Contacts
This app lets you delete one or multiple contacts from your address book simultaneously

* Delete Duplicate Contacts
With this app you can find all the duplicate contacts from your address book and permanently delete them

* Merge Duplicate Contacts
With this app you can find all the duplicate contacts from your address book and Merge them. You can merge whichever ones you like and delete the ones you don't want. You are in complete control!

* Backup Address book (in-app purchase required to unlock item)
This app lets you backup all your contacts from your address book in comma delimited, Microsoft Excel & VCard formats. You can quickly and easily restore your entire address book or just a few missing contacts. Great use if you get a new phone

* Filter Contacts
This app lets your filter your entire address book by just typing any words or letters that match your contacts name

* Smart Filters
This app also lets you filter contacts by no phone, no email, no address, no company, no birthday, no photo, no http link.

* Delete Groups
This app lets you delete custom groups

* Remove Users From Groups
You can also remove users from your custom groups

* Modify Contacts
This app lets you modify any field in your address book directly from with in this app.

Real User Reviews:

Easy and efficient
This is a free app with no limits on how many you can delete before you have to upgrade like all the other apps out there. It took me about three minutes and that's it! I've been wanting to clean out my contacts for months but could only do so much since it took forever! So grateful for this app!

Great App
Tried so many contact deletion apps. This one got rid of over 18,000 groups that I wanted gone in one button push. Great work.
Earthquake PRO
Normally $0.99.
Most fun and easy to use earthquake monitoring app. Get latest earthquake data for any country in the world directly from the most reliable source USGS.

Features
• Super easy to use app
• Universal app. Download it once and use it on all Apple devices.
• Monitor quakes for the entire globe!
• Get complete USGS data for each and every earthquake. We provide you with full quake information that is sent by USGS.
• Show them right on the map
• Three map features to switch from – Map, Satellite, Hybrid
• See depth longitude and latitude GPS coordinates
• Perform historic or daily searches by entering a time period and Richter scale (in-app required)
• You can sort them by most recent or with the highest magnitude
• You can narrow the search down based on a particular country. (in-app required)
• Share info with your family and friends

Download now!
Relax White Noise
Normally $1.99.
Relax White Noise is the best way to say no to distracting noise. Open up the app and sounds start playing automatically so you can sleep, focus, meditate or just get some quiet time right away. The app includes all the White Noise essentials created to a high definition quality including: Blue Noise, White Noise, Brown Noise and Pink Noise all in a beautiful and easy to use interface.

Benefits
– Helps with insomnia
– Get to sleep quicker
– Improve quality of sleep
– Use the app to block out distracting noise
– Boost concentration by drowning out distracting thoughts with relaxing sounds!
– Stay calm & stress free!

Features
– High quality sounds
– Simple gesture-based design, swipe between sounds!
– Sleep timer with progressive fade out
– Plays in the background and when your iPhone is locked
– Bluetooth enabled
– Exclusively for iOS7
– Simple sharing