There are still some freebies left in yesterday's post, but we've got a fresh batch of paid iPhone and iPad apps on sale for free on Tuesday. There are seven fresh apps on today's list, but they won't be fresh for long because these sales can end at any moment. If you want them for free, grab them now while you still can.
This post covers paid iPhone and iPad apps that have been made available for free for a limited time by their developers. BGR is not affiliated with any developers. There is no way to tell how long they will be free. These sales could end an hour from now or a week from now — obviously, the only thing we can guarantee is that they were free at the time this post was written. If you click on a link and see a price listed next to an app instead of the word "get," it is no longer free. The sale has ended. If you download the app anyway, you will be charged by Apple. Subscribe to our feed to be notified as soon as these posts are published, and you'll avoid missing the sales we cover.
Canary Mail – Secure Email App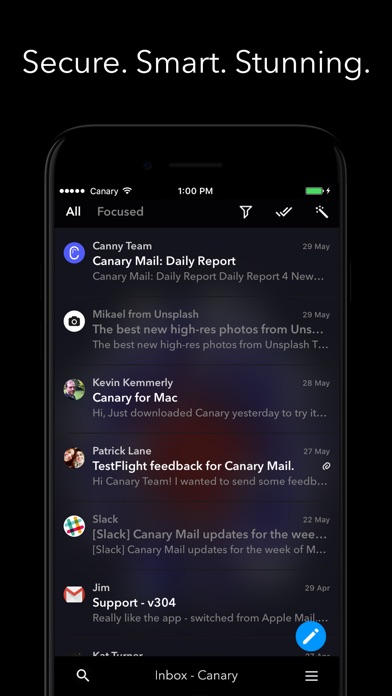 Normally $4.99.
Modern email apps compromise on security or features. Canary does not.

Some of your most important info is shared via email, which is why we built end-to-end encryption into our app. This ensures only you and the person you're communicating with can read what is sent, and nobody in between, not even your provider.

All of this happens automatically: no need to turn on settings or set up special secret keys to secure your emails.

Welcome to secure, effortless, email.

**ENCRYPTION ON DEMAND**

With Canary's one-click encryption, you can effortlessly enhance your email security. The email is encrypted on your device and decrypted on your recipient's device. It will be unreadable on your provider's web interface, or by anyone else on any other app!

• Automatic: Automate the key exchange to focus on crunching emails, without worrying about security.

• Manual: Advanced PGP users can manage their own keys and exchange encrypted emails with anyone.

**FOCUS ON WHAT'S IMPORTANT**

With natural language search, smart filters, algorithmic bulk cleaner, and intelligent typography enhancements, Canary helps you easily find and act on what's important, and get rid of what's not!

• Focused Inbox:Canary learns which emails are important to you and highlights them for easy access. Intelligent typography enchancements ensure optimum readability.

• Natural Language Search: Search for photos from dad, receipts this month, or unread newsletters. Canary understands what you're looking for and finds it first time, everytime.

• Smart Filters: Quickly isolate unread emails, or emails with attachments. Check if you've missed replying via the unanswered filter. Gmail users can also access their Inbox tabs / categories.

• Bulk Cleaner: Canary's adaptive algorithms learn which emails are likely to be unimportant. Tap on the magic wand and scroll to automatically find, select, and then delete unwanted emails.

**POWERFUL FEATURES**

Don't pay a monthly fee for features you want and need. With Canary, you always have full access!

• Read Notifications: Get notified when your emails are read.

• Snooze: Deal with emails at your convenience.

• Email Templates: Avoid repetition. Save and re-use frequently sent emails.

• One-Click Unsubscribe: No need to look for pesky unsubscribe links.

**SEAMLESS INTEGRATIONS**

Email plays a central role when it comes to files, events, and tasks.
So we made sure Canary plays nice with your favorite apps!

• Google Drive

• Dropbox

• Todoist

• Things

• iCal

• Google Calendar

• Giphy

• Keybase & MIT

**USE YOUR FAVORITE EMAIL PROVIDER**

Get all of Canary's powerful features and cutting-edge encryption technology with your existing email account(s). Just add your account(s) and go!

• Gmail

• iCloud

• Office 365

• Yahoo

• Custom IMAP

• Exchange (if IMAP is enabled on server)
Download Canary Mail – Secure Email App
VPN – Unlimited VPN Fast Proxy
Normally $0.99.
Our VPN unblocks the web in one tap! Our VPN is simple to use and is one of the Faster ways to browse the web and apps securely.

► Fast and reliable VPN

► Unblocked geo-specific content

► A simple solution
Unblock the web in one tap with Opera VPN
Download VPN – Unlimited VPN Fast Proxy
PicFrame
Normally $2.99.
PicFrame helps you combine multiple photos and videos into amazing looking frames and share them with your friends and family via Instagram, Facebook, Email, Twitter, and more!

With 73 fully adjustable frames supporting up to 9 photos or videos, text labels, rounded corners, photo effects, shapes, shadows, music, plenty of patterns and an easy color picker you will always have a unique look.

Main Features
– 73 fully adjustable frames (resize each frame area for unlimited customization)
– Combine up to 9 photos or videos in a single frame
– Add text labels to your frame (plenty of fonts, square, rounded and torn tape labels, adjust the color of the text and label)
– Add stickers to your frame
– Add your own music to video frames (select under "Options")
– Change the shape of your photos and videos to a circle, heart, hexagon and more
– Rounded corners on photos and videos
– Apply effects to individual photos
– Add a shadow to the photos and videos
– Easy color picker for the frames background
– Patterns for the frames background
– Change the border width
– Square format and 3:2, 2:3, 4:3, 3:4, 16:9, 9:16 ratios
– Zoom, pan, rotate or mirror each photo
– Select multiple photos and videos at once
– Easily move photos and videos to different areas by drag and drop
– High resolution
– Share via Instagram, Facebook, Twitter, Tumblr and more!
– Send as an email
– Send the photo or video to another app e.g. Dropbox
– Support for the iPhone and iPad

Popularity
– Top 5 in iPhone Paid Photography Apps
– Top 25 iPhone Paid Apps Overall
– Selected for Best Of App Store 2013 in Australia and New Zealand
– 27th Top Paid iPhone App for all of 2012
– Top 10 in iPad Paid Photography Apps
– PicFrame scored 9/10 in the Wired App Guide
Remote Control for Mac
Normally $4.99.
Turn your iPhone or iPad into the ultimate remote control for your Mac. Take full control over your Mac – use your iOS device as a trackpad and keyboard or launch any app from anywhere within your home.

Tired of sitting on the couch, having to handle keyboard and mouse on your lap to control your media center Mac? Use Remote Control on your iPhone as a trackpad and keyboard to comfortably browse on the big screen TV. Using AirPlay Mirroring and an Apple TV, your Mac could be located anywhere in your home. Simply select your Apple TV from the list of available AirPlay devices and control your Mac from the comfort of your couch or bed.

You can even start any app on your Mac, send your Mac to sleep, wake it up and perform many more useful actions to control your Mac remotely. All you need to do is download the Mac Helper application and connect your Mac and iOS device to the same WiFi. Remote Control will guide you through the simple setup process.

AT A GLANCE
– Control volume, playback and Airplay speaker selection on your Mac;
– Use your iOS device as a Mac trackpad and keyboard;
– Launch and quit Apps on your Mac comfortably from your iOS device;
– Restart or shut down your Mac, change display brightness and many more useful actions;
– Enjoy the ease of use in a slick user interface you will love;
– Use the Personal Hotspot of your iOS device to control your Mac when you don't have access to other networks.

CONTROL
– iTunes
– Amazon Prime Video
– Netflix
– YouTube
– Plex
– Kodi
– VLC
– SoundCloud
– Spotify
– Deezer
– IINA

SYSTEM REQUIREMENTS
– Mac with macOS 10.9 or above and Helper app installed;
– iPhone, iPad or iPod touch with iOS 9 or above;
– Shared wireless network connection between your computer and iOS device.
Download Remote Control for Mac
SMS ++
Normally $5.99.
SMS ++ is an innovative app that lets you send your SMS messages by using your voice only. Since speaking is a lot faster than typing, this easy-to-use app will help you send your text messages easily and quickly.

In addition to speech recognition, the app instantly translates your speech into the foreign language of your choice. Wouldn't that transform the way you communicate with the world?

In addition to providing a more efficient way to type your texts, SMS ++ can also be up to 5 times faster

:: MAIN FEATURES ::

● Use your voice to send text messages
● Send messages using WhatsApp.
● Send your message in a foreign language.
● Intuitive and easy-to-use interface
● Full support for 34 languages
● Beautiful and minimalistic design.

:: SUPPORTED LANGUAGES ::

Speech recognition support

العربية, English (Australia), English (UK), English (US), Español (España), Español (México), Bahasa indonesia, Bahasa melayu, čeština, Dansk, Deutsch, français (Canada), français (France), italiano, Magyar, Nederlands, Norsk, Polski, Português, Português brasileiro, Pyccĸий, Română, suomi, Svenska, Tϋrkçe, Ελληνικά, 한국어, 中文(中国), 中文(臺灣), 廣東話, 日本語.

Translation support

Arabic, Basque, Catalan, Chinese, Chinese (traditional), Czech, Danish, Dutch, English, Filipino, Finnish, French, German, Greek, Hindi, Hungarian, Indonesian, Irish, Italian, Japanese, Korean, Latvian, Lithuanian, Malay, Norwegian, Polish, Portuguese, Romanian, Russian, Spanish, Swedish, Tamil, Telugu, Thai, Turkish, Ukrainian, Urdu, Vietnamese, Welsh.
PetMoji Emoji Sticker Maker
Normally $0.99.
Tired of your old classic emojis? Want to customize your keyboard with some awesome stickers for iMessage? Want to send some new stunning animal emojis to your friends and family while chatting with them? If your answer is yes, then PetMoji – Emoji Pet Stickers is just the perfect app for you right now!

Enjoy typing and make your phone's keyboard more exciting and fun with our app! This new emoji for iPhone app is filled with some awesome and creative packs of pets with new ones being added regularly! We designed that animal emojis especially for you to fit all your needs! So, even if you are a boy or girl, a man or woman, you will find some awesome stickers to send! We will let you have more fun while chatting with your friends or simply when you are typing some comments on Facebook.

PetMoji – Emoji Pet Stickers is a super cool application that provides free stickers for iMessage on your iOS device to use them in the text messages, social media posts, and emails. While you are chatting with your friends, you can send these cute dog emojis easily and fastly. We guarantee that you will like these new stunning emojis and your friends will also like it. And the best thing is that our emojis are compatible across devices so the receiver doesn't need to have the app installed (or even an iPhone) to see them. Do not forget to tell them about our app as they can be able to send the same emojis.

Our PetMoji app is very easy to use and we will include a tutorial to let you know how to use our app easily. You can activate the emoji pack that you like and ignore the rest and also switch between emoji packs easily.

Why do you need to download and install PetMoji – Emoji Pet Stickers on your iOS device instead of other animal emojis or stickers for iMessage apps?

▶Very easy to use:
√ Our app is very to use and contains a great user interface. The best thing is that you don't have to create an account or sign up to use our app, just download and start using the best stickers for iMessage app ever!
√ Very easy to use. Just follow the tutorial that we will show once you install the app and you will learn how to use it quickly.

▶Awesome packs:
√ Our app contains an awesome selection of High Quality and stunning animal emoji packs.
√ The packs that we have inside our app now are Shih Tzu, Golden Retriever, Labrador, Dachshund, Kitties, and Horses etc..
√ We will add more packs regularly to give you an amazing chatting experience.

▶Beautiful emojis:
√ Stop being bored with the classic iOS emojis, we will give you a new awesome selection of the best emojis. These emojis were created by us and you will not find them elsewhere.
√ Easy input of Emojis, Emoticons, and Stickers in the text messages, social media posts, emails, etc.
√ Pet Emoji Keyboard can be used for all chat apps such as Messenger, WhatsApp, LINE and much more. Enjoy chatting with new themes.
√ You can add emojis to your Facebook comments easily!

▶Use it anywhere:
√ You can use our app anywhere you want because it supports the offline mode and you can use it without having a 3G, 4G or Wi-Fi internet connection.

▶Use it anytime:
√ Want to use our app on all your devices? It's possible, because our dog emojis app is responsive and you can use it on all your iOS devices. Enjoy it anytime and anywhere!

▶Works on all devices:
√ The emojis are compatible across devices so the receiver doesn't need to have the app installed (or even an iPhone) to see them.

What are you waiting for? Download PetMoji – Emoji Pet Stickers now and enjoy the best free stickers for iMessage app ever!
Download PetMoji Emoji Sticker Maker
Dual Calendar
Normally $9.99.
Workday plan? travel plan? Or other calculation date? Now use this application to easily plan!

Dual calendar shows that you can easily arrange planning matters.

Feature:
(1) This app can display two calendars.
(2) From today to calculate, show the number of days before and after.
(3) From another calendar to calculate, show the number of days before and after.
(4) Calendar [Week] is displayed.

Applications:
(1) discuss the progress of the date.
(2) the estimated number of days required.