If you purchase an independently reviewed product or service through a link on our website, we may receive an affiliate commission. Learn more.
Friday is finally here, which means you have one more roundup of paid iPhone and iPad apps on sale for free to enjoy before you slide away into the weekend. We've got seven solid apps for you to check out today, including Minecraft: Story Mode – S2 and an unlimited VPN app that protects your privacy and typically costs $7. They're all laid out below, so take a look through the list soon before these sales end.
This post covers paid iPhone and iPad apps that have been made available for free for a limited time by their developers. BGR is not affiliated with any developers. There is no way to tell how long they will be free. These sales could end an hour from now or a week from now — obviously, the only thing we can guarantee is that they were free at the time this post was written. If you click on a link and see a price listed next to an app instead of the word "get," it is no longer free. The sale has ended. If you download the app anyway, you will be charged by Apple.
Minecraft: Story Mode – S2
Normally $4.99.
Now that Jesse and the gang have vanquished the Wither Storm, saved the world, and become totally super famous heroes, life has gotten a bit more…complicated. With more responsibilities and less time for adventure, old friendships have started to fade — at least until Jesse's hand gets stuck in a creepy gauntlet that belongs to an ancient underwater temple. Together with old pals and new comrades alike, Jesse embarks on a brand new journey filled with tough choices, good times, and at least one temperamental llama.

Includes Episode 1 of a 5 part series in this brand new season from the award-winning studio, Telltale Games.

***PLEASE NOTE: NOT RECOMMENDED FOR DEVICES BELOW iPhone 5S and iPad Air 2. The full list of recommended minimum devices for the best gameplay experience is as follows – iPhone 5S and up, iPad Mini 4 and up, iPad Air 2 and up, and iPad Pro – also requires iOS 10.0 and up.***
Download Minecraft: Story Mode – S2
Hotspot VPN Unlimited Proxy
Normally $6.99.
Best totally UNLIMITED FREE VPN Proxy servers for all users!
This is the PRO version for HOTSPOT VPN, just be faster and faster!
No ADs, no bandwidth limits, no registration or set up required. Accessing any site is just 1 click away.

Blazing Fast, Ultra Secure, Stable connect, Easy-To-Use interface & Instant Setup

HOTSPOT VPN, the fastest & the most reliable VPN service to watch HD videos online, access your favorite sites and bypass school Wi-Fi with lighting fast speed, while keeping you 100% safe & secure online.

Features:
– Lightning fast connect within 1 second, ultra smooth to watch HD videos online
– Worldwide server coverage with unlimited bandwidth & easy switches
– Access your favorite sites wherever you are
– Stable connection as long as you want
– Incognito browsing for your online security
– East-to-use interface, connect is only one click away
Download Hotspot VPN Unlimited Proxy
Resize for Story – No Crop
Normally $1.99.
Post any of your images or videos to Instagram Stories regardless of their size and date!

Noticed how your Instagram Stories posts always get cropped when you choose photos from your Camera Roll, and often not in the way you'd like them to? With Resize for Story you can post the whole picture or the original format video without having to rely on the automatic cropping by Instagram!

Post full size photos: Resize for Story makes any pictures taken outside of the Instagram app fit perfectly into Story format by adding boarders in different styles: Black, White, Custom Color, Photo, Blur or Pixel.

Post full size videos: Don't let the app ruin your landscape videos by cropping them from the centre! Choose one of the border options and share your clips the way they were intended to be.

No 24 hour limit: The app saves all photos and videos as new to your Camera Roll, so you can share any content right away regardless of when it was taken! Plus, there's no image quality loss as compared to simply taking a screenshot.

Bulk Upload: Save your time by editing up to 10 photos at once!
Download Resize for Story – No Crop
Check My Device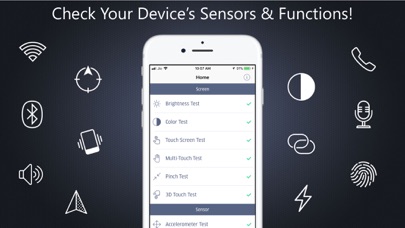 Normally $0.99.
# Recommended for users buying used iPhone / iPad devices from friends or strangers!

Check your device with functions and sensor tests to ensure that device is working properly.
With this app perform tests on your iPhone / iPad devices.

List of Tests / Checks :

Screen :

> Brightness Test
> Color Test
> Touch Screen Test
> Multi – Touch Test
> Pinch Test
> 3D Touch Test

Sensor :

> Accelerometer Test
> Shake Test
> Compass Test
> Touch ID Test
> Proximity Test

Parts :

> GPS Test
> Flashlight Test
> Vibrate Test

Multimedia Test

> Sound Test
> Microphone Test
> Camera Test
> Video Test

Connectivity Test

> Wi-Fi Test
> Bluetooth Test
> Hotspot Test
> Phone Call Test

Other

> Warranty Check
> Activation Lock Check
> Water Damage Check
> iTunes Sync Check
> Button Check
> Cosmetic Damage Check

Summary

> Report – ( Generate PDF report and share via Whatsapp / Messenger / Mail Client Apps )
iLiveThemes – Wallpapers
Normally $0.99.
Best wallpapers are conllected and updated everyday.
Thousands of hand-collected wallpapers
Download iLiveThemes – Wallpapers
Superimpose X
Normally $2.99.
Turn your ideas into magnificent piece of artwork with Superimpose X, the next generation of the Superimpose app.

Packed with wide range of editing capabilities from multiple layers, blending modes, masking, adjustments, brushes, smudge, warp, effects, clarity to casting shadows, Superimpose X is a modern tool for creating your photo contents.

Whether you are a professional or an amateur, you will be amazed by the power Superimpose X gives to your finger tips. Composing images with multiple layers, double exposure, superimposing is easier than ever.

All your projects are saved in beautifully designed session area. So, you do not have to lose your current project if you want to move to another one in the middle.

And of course Superimpose X comes with Masking Library, where you can save all your masked images, like stickers for later use.

And all of this, packed in a beautifully designed interface that does not intimidate you, despite the amount of capabilities it comes with.

To list out a few features…

• Multiple layers. (Up to 8 on iPhone 7 and above).
• Blending modes, 18 of them.
• Opacity control.
• Numerous masking tools. From Magic Wand to Magic Lasso to predefined shapes.
• Filling of a layer directly from camera, with real time rendering with its mask and blending modes.
• Built-in shadow creation tool.
• Masking Library to store your masked images.
• Session Library, that automatically stores all your projects.
• Non destructive adjustments and layer blur.
• Non destructive beautiful photo effects (63 of them).
• An amazing Clarity tool.
• Advanced adjustment tools.
• Tools like Text, Selective Blur, Motion, Zoom and Spin Blur, Gradient and more.
• Number of distorting tools like Warp, Perspective transform and more.
• Numerous paint and effect brushes and option to customize them.
• Smudge brush

…and more.

And if you are already using the classic Superimpose app, you can seamlessly transfer all your masks into the new Superimpose X. This is how you could transfer the masks…

1. Open the original Superimpose app.
2. Press the "?" button on the top right corner of the "Home" screen.
3. There you should see an option called "Transfer masks to Superimpose X".
4. Press that and your masks should be available in Superimpose X.
MySpecialKey
Normally $0.99.
THE FIRST KEYBOARD THAT IS COMPLETELY CUSTOMIZABLE !!!
With THREE ADDITIONAL LINES OF KEYS and 56 functional buttons always visible, against the 26 on the system keyboard.

It's innovative but easy to use, with everything you need in the foreground.

SPECIAL FEATURES:

– THREE ADDITIONAL KEY LINES, this means having a complete keyboard that best fits the larger screen sizes of current devices.
– FAVORITES: you certainly have Emoji or frequently used characters / #hashtag / phrases / email addresses.., you can match them to the favorite line and always have them visible and handy as you type.

– YOUR COMBINATION: with each key you can associate characters, Emoji, #hashtag, phrases, etc … for a quick and personal choice of what you need.
– Your WRITING REQUIREMENTS are the basis of the operation of this keyboard.
– DO NOT CHANGE SCREEN to access punctuation, numbers, Emoji that you use most.
– KEY-UP function: writing with one hand has never been easier!
The keyboard is positioned higher in the screen, so you reach all the keys and you have a more balanced and secure grip, limiting the danger that the device will slide and fall. (Only for iPhone 7plus, 7, and equivalent)
– AUTO-CORRECT and Auto-suggestion (16 languages). Language support has been greatly enhanced and the predictive feature has been complemented by a FUNNY "swearword".
– TOUCH FEEDBACK for iPhone 7 and 7 Plus.
– Optimized for Phone 7, 7 Plus, 6s, 6s Plus, 6, 6 Plus. Also Compatible with 5s, 5c, 5, iPad and iPod touch

KEYBOARD NEEDS THE COMPLETE ACCESS TO PERMIT CUSTOMIZATIONS (we assure you that the informations you enter are NOT SAVED OR ANALYZED). It works OFFLINE and it does not use the network and internet in any way to save or transmit what you type. IF YOU DO NOT ALLOW THE COMPLETE ACCESS, THE KEYBOARD WILL NOT WORK

General features:

– Everything in the foreground: in particular numbers and punctuation, symbols and Emoji
– Customizable: You can match to any key: phrases, Emoji or symbols that you use most often
– Various color variations
– Key-Up for iPhone 7Plus, 7 and equivalent in size
– Auto-correct and Auto-suggestion (16 languages)
– Automatic Uppercase Letters
– Automatic space selection after the point ->.?!
– Automatic space selection after the comma ->,;
– Keys Sounds
– Touch Feedback for iPhone 7 and 7 Plus
– Horizontal mode with key to hide the keyboard
– It works with your favorite Apps like WhatsApp, Facebook, Twitter, Instagram, Mail, Messages and many more
– It works offline (it means that it does not use the network and internet and not save or transmit what you type)
---
Our deals and product reviews are picked by BGR's expert editors and team.

Follow @BGRDeals on Twitter to keep up with the latest and greatest deals we find around the web. Prices subject to change without notice and any coupons mentioned above may be available in limited supply.