We're starting off the list with a roundup of paid iPhone and iPad apps on sale for free that is short, but sweet. We've got six apps for you to check out on Monday, and they're all premium apps that are currently free to download. As always, these are all limited-time sales that could end at any moment, so download them while you can.
This post covers paid iPhone and iPad apps that have been made available for free for a limited time by their developers. BGR is not affiliated with any developers. There is no way to tell how long they will be free. These sales could end an hour from now or a week from now — obviously, the only thing we can guarantee is that they were free at the time this post was written. If you click on a link and see a price listed next to an app instead of the word "get," it is no longer free. The sale has ended. If you download the app anyway, you will be charged by Apple. Subscribe to our feed to be notified as soon as these posts are published, and you'll avoid missing the sales we cover.
Better Habits: Real Motivation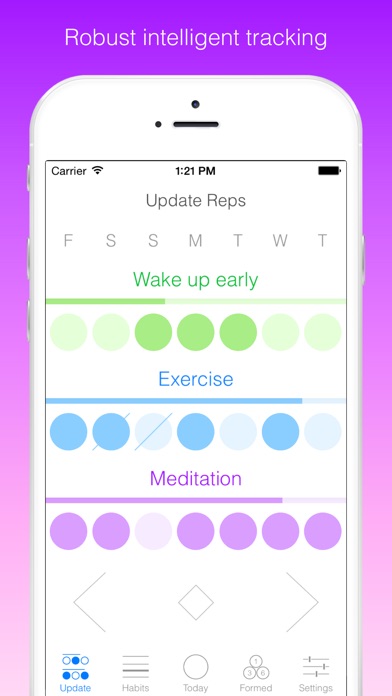 Normally $3.99.
Get addicted to forming positive habits with a results-driven habit tracker app. Better Habits is the only habit builder app that is backed by scientific research. With features including streaks, custom difficulty settings and a smart progress bar that grows or SHRINKS based on your performance.

Full features:
– Backed by science
– Lose progress if you don't perform
– Difficulty setting for each habit
– See your current streak and best streak
– See you progress over time, the peaks and valleys
– Intelligent affirmations of progress
– No monthly fee
– No in-app purchases
– No ads
– Set a reminder for each habit
– Nag alerts that will annoy you until you do the action
– See your total lifetime actions performed
– See a full history of every action performed

The Better Habits app has become one of the best apps to help you change your habits. The best habit app is not a goal-setting, stat-tracking, or coach-networking app. It's a smart goal tracker that is laser-targeted on forming habits that last. Forty-five percent of all daily behavior is habit. Changing those habits can be incredibly difficult and many, unfortunately may never succeed at doing so because they don't have a reliable habits building app that lets you track your daily tasks and build strong habits. It IS possible to change your core habits and many Better Habits users already have. We tap into your natural pain/pleasure triggers as you track your habits. You are rewarded for performance with visual anchored progress. When you fail to perform, you lose portions of that progress. Rather than a static, black and white, 'all or nothing' answer, we offer a sophisticated living algorithm that is backed by science and flexible to fit everyone. This is why many people all over the world consider our app to be one of the best habit-forming apps available.

The app is deceptively simple, and users are stunned at why — and how well — it works. Behind its elegant surface and easy interaction, is a union of serious study and complex technology that gently guides you along the path to success.

It's time to form better daily habits and better your life.
Download Better Habits: Real Motivation
SpeakText Air
Normally $4.99.
SpeakText Air – Speak & Translate
Speak 20+ and translate 30+ languages sentence by sentence.

Useful features
1. All-new design for simplicity with 25 themes.
2. Air Speak (send text to another user's iPhone, or iPad device and translate using bluetooth).
3. Speak 20+ and translate 30+ languages sentence by sentence
4. Support powerful speaking repeat, pause and speed options.

Features
● All-new design for simplicity with 25 themes

● Air Speak (Translate text by air)
Send text to another user's iPhone, or iPad device and translate using bluetooth.

● Speak 20+ languages sentence by sentence
Arabic (Saudi Arabia), Chinese (China), Chinese (Cantonese), Chinese (Taiwan), Czech (Czech Republic), Danish (Denmark), Dutch (Belgium), Dutch (Netherlands), English (Australia), English (Ireland), English (South Africa), English (United Kingdom), English (United States), Finnish (Finland), French (Canada), French (France), German (Germany), Greek (Greece), Hebrew (Israel), Hindi (India), Hungarian (Hungary), Indonesian (Indonesia), Italian (Italy), Japanese (Japan), Korean (South Korea), Norwegian (Norway), Polish (Poland), Portuguese (Brazil), Portuguese (Portugal), Romanian (Romania), Russian (Russia), Slovak (Slovakia), Spanish (Mexico), Spanish (Spain), Swedish (Sweden), Thai (Thailand) and Turkish (Turkey).

● Translate 30+ languages sentence by sentence
Arabic, Bulgarian, Catalan, Chinese Simplified, Chinese Traditional, Czech, Danish, Dutch, English, Estonian, Finnish, French, German, Greek, Haitian Creole, Hebrew, Hindi, Hmong Daw, Hungarian, Indonesian, Italian, Japanese, Korean, Latvian, Lithuanian, Norwegian, Persian, Polish, Portuguese, Romanian, Russian, Slovak, Slovenian, Spanish, Swedish, Thai, Turkish, Ukrainian, Vietnamese.
The app supports Microsoft Translator service.
The service requires internet connection while speaking & translating. Please turn on Wi-Fi while 4G is running slow.

● Support powerful speaking & translating options
The app provides some powerful options, such as speaking repeat times of each sentence, speaking pause seconds between sentences, speaking speed options.
Auto repeat function for a sentence.
Speaking speed setting.
Speaking pitch setting.

● Support Twitter and Facebook
Send text by Twitter, Facebook and Message.

● Email Text (Pro)
Email Text that includes all translated text sentence by sentence.

● New, Open and Save functions (Pro)

● Long text (Pro)

● This app is designed for both iPhone and iPad
Monefy
Normally $4.99.
Monefy Is the easiest way to save money. Monefy tracks your expenses and were are you investing or not investing your money. Monefy will help you on having more control on your budgets and making sure your money is kept on the right place. Your pocket!
Simple Progress
Normally $1.99.
Simple Progress is the app that puts quick and easy into the LDS Young Women's Personal Progress Program. Even the busiest teen has five minutes a day, which is all it takes, thanks to Simple Progress.

Each experience has been simplified into daily, five-minute tasks that pop up on your phone and allow you to track each action so you never have to start over or remember where you left off.

By simply clicking on your daily alarm, you are brought to that day's task where the content is already highlighted for you, your journal is at your fingertips, and you can easily share the daily tasks or progress reports with others.

Personal Progress has never been so simple.
Capital – Scan, Sign & Send any doc in seconds
Normally $2.99.
A revolutionary document scanner that fits in your pocket. Allowing you to scan, sign and send a pdf document in under 15 seconds or your money back period!

Despite the trend of everything going digital, paper documents still matter considerably. Given we have excellent devices in our offices to capture, organize and share the information in paper form, a solution for exceptional documents scanning on the go that solves this need completely is nonexistent until now.

What if you're not in the office and you desperately need to scan a file and send it to someone else? Sure, you could take a picture with your iPhone, but when only the best will do you will only use Capital.

I've worked with people who take photos of documents and say it's good enough, like Jim one minute it was documents the next it cost us $30 million…he was fired and now I'm CEO of this great company and the first thing I did was change its name, to represent the very best.

Have you looked at that result…Using your phone's camera alone to scan documents produces low-quality results. You also have to worry about lighting, focus, aspect, cropping, quality and file size with Capital we handle all of that automatically.

We also have smart scan technology integrated that recognizes the outlines of your document and tries to detect the intent of your document.

So, in the end you receive only the actual document you need and the actions you desire based on what you're actually scanning without a useless background or having to crop anything out.

Our whites are spectacularly white….You mean whiter than a Panasonic KV S3105 that pumps at beauty at 600 dpi? Ha yes and that's a $17,000 document scanner.

Because I only use and deserve the best I'm assuming you do too. This is only the beginning I'm sitting her using my eyes as a biometric protocol for verification to close a contract…and yeah that's coming soon to you all.
Download Capital – Scan, Sign & Send any doc in seconds
Word Puzzle
Normally $0.99.
Best new Word puzzle game in 2017! Challenge your brain with addictive & fun puzzles!