If you purchase an independently reviewed product or service through a link on our website, we may receive an affiliate commission. Learn more.
Happy Friday, iPhone and iPad users. We're celebrating the weekend early with a roundup of the day's best paid iOS apps that are currently on sale for free. As always, these sales could and anytime the developer chooses, so grab these apps while they're still free.
This post covers paid iPhone and iPad apps that have been made available for free for a limited time by their developers. BGR is not affiliated with any developers. There is no way to tell how long they will be free. These sales could end an hour from now or a week from now — obviously, the only thing we can guarantee is that they were free at the time this post was written. If you click on a link and see a price listed next to an app instead of the word "get," it is no longer free. The sale has ended. If you download the app anyway, you will be charged by Apple. Subscribe to our feed to be notified as soon as these posts are published, and you'll avoid missing the sales we cover.
Crypto Market

Normally $0.99.
Do you want to know what the current price of your favorite crypto coin is? Do you need a brief overview about the
current market cap or whether bitcoin is still the number one cryptocurrency? Are you annoyed by all those apps crowded
with unnecessary features?

Then use Crypto Market.

The app serves two functions:

Have a look at the up2date data of the crypto currency markets provided by CoinMarketCap:

– View the Global Coin Market Data.
– All on CoinMarketCap listed Coins are available
– Sort the Coin list by their Market Cap, Name or 24 Change in value
– Filter by name and Symbol
– Have a in depth look at their key stats and the historical data

Integrate your Portfolio to always know the value(s) of your coins:

– Add your own Portfolio of Cryptocurrencies and get their value in USD or Bitcoin
– You can add hundreds of coins by their name or symbol
– Your Portfolio can be shown via the Today Widget

Follow the breathtaking journey of Bitcoin, Ethereum and various other currencies!
Animated Food
Normally $0.99.
Share these little guys with your friends, family and your iMessage contacts. You can place them over pics, text bubble or even on other stickers.

You can find a wide variety of food: fast food, desserts, asian food, Ice cream.
Translator
Normally $0.99.
Forget your language difficulties with this app!

Translate any text in over 30 languages!

Write the text to the application which will instantly translate it into the language you want.

Try this app and you won't be able do without it!

Suitable for both professional and private use.
Color Keys Keyboard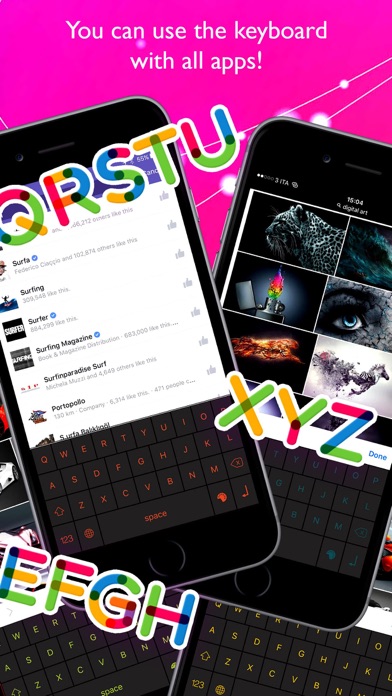 Normally $0.99.
Tired of the usual keyboard?

Customize your device's keyboard with this app!

You can use the keyboard with all apps!

Make your device unique by choosing from many keyboards!

Try this app and you won't be able do without it!
All In One Contacts Manager
Normally $0.99.
This app allows you to extend your phone book features!

Favorites management, backup, sharing and much, much more all in one!

Change your way of communicating with this application for managing your contacts. It was developed with the intention to make using your phone more enjoyable.

Try this app and you won't be able do without it!

Suitable for both professional and private use.
Download All In One Contacts Manager
IQ Test & IQ challenge
Normally $2.99.
IQ Test
With solutions!

Available for iPad and iPhone.

2 Tests
+39 Questions Mensa iq test.
+33 Questions European iq test.

With solutions!

An intelligence quotient (IQ) is a score derived from one of several standardized tests designed to assess intelligence. The abbreviation "IQ" comes from the German term Intelligenz-Quotient, originally coined by psychologist William Stern.
Try it.

NOTE: This test is intended for entertainment purposes only.
Download IQ Test & IQ challenge
Good Woofy
Normally $1.99.
Good Woofy – Train your dog when you're not there.

Good Woofy can train your dog to stop barking while your not home by playing short recordings of your voice that play automatically when your dog barks.

Simply set Good Woofy on an iOS device that you normally leave at home, perhaps your iPad or an old iPhone or iPod touch.

Good Woofy will listen out for when your dog barks, and if activated your Command to tell your dog to quiet down and your Praise to reward your dog for obeying your Command will play automatically.

Later you can view your dog's progress with Stats and Recording playback.

Share stats and recordings via iTunes, email, and more.

We'd love to hear from you to help make Good Woofy better, please give us feedback by writing a review and rating Good Woofy here on the App Store.

Thank you to everyone for your feedback.
Neo Angle
Normally $0.99.
Creators of Blyss and UNWYND bring you their next title, Neo Angle.

Neo Angle is a minimalistic puzzle game inspired by retro visuals, neon artstyle and 80s Synth music. Groove to the nostalgic chilled out synth track and guide Neo through complicated mazes in a neon filled world.

Help Neo in his secret quest. Pick up all the fuel cells and head to the exit. But its not as simple as it sounds, there are treacherous traps and tricky areas. And don't forget, once a path is chosen, there's no going back. ;)

Reviews:

Neo Angle supplies just the right mix of relaxation, challenge, and fun. – 4/5 – Touch Arcade

A clever, good looking puzzler that's got enough going on under the hood – 8/10 – Pocket Gamer

The fun in Neo Angle is in the constant frustration. If you're someone who loves Sudoku, logic puzzles, crosswords or taking IQ tests recreationally, Neo Angle is a fast way to exercise your geo-spatial reasoning. – 4/5 – Gamezebo

Features:

– A new take on Neon Art Style
– Innovative puzzle mechanics
– Yury Savitski's Original composition inspired by the 80s retro synth music.
– Hand-Crafted levels
– Diverse range of level elements to keep it fresh and challenging
– Hyper Minimalistic UI
---
Our deals and product reviews are picked by BGR's expert editors and team.

Follow @BGRDeals on Twitter to keep up with the latest and greatest deals we find around the web. Prices subject to change without notice and any coupons mentioned above may be available in limited supply.