Don't let this week slip away without looking through one last roundup of the day's best paid iPhone and iPad apps that are on sale for free. We've got seven fresh apps for you to check out on Friday, and they're all free downloads for a limited time. These sales could end a day from now or an hour from now — there's no way to tell, so grab them for free while you can.
This post covers paid iPhone and iPad apps that have been made available for free for a limited time by their developers. BGR is not affiliated with any developers. There is no way to tell how long they will be free. These sales could end an hour from now or a week from now — obviously, the only thing we can guarantee is that they were free at the time this post was written. If you click on a link and see a price listed next to an app instead of the word "get," it is no longer free. The sale has ended. If you download the app anyway, you will be charged by Apple.
SYS Pro – A Network Monitor
Normally $0.99.
SYS Pro is a system data real-time monitoring application with a perfect design , which can add the monitoring data plug-in to the notification center, so you can keep abreast of the data of the equipment.

SYS Pro supports monitoring of multiple system data:
* Hardware data
* Battery data
* Disk data
* Memory data
* Network data
* Carrier data
* Localization data

SYS Pro Widget supports real-time monitoring of multiple system data:
* Network upload / download speed
* Disk usage
* Memory usage

You can enable the SYS Pro Widget in the "Today" page of the Notification Center for easy access to device data.
Download SYS Pro – A Network Monitor
VeeR Editor
Normally $0.99.
VeeR Editor is the most intuitive and fun 360 video/photo editor for smartphones. It supports all major 360 cameras, including the new Samsung Gear 360, Insta360 One, Ricoh Theta S and Mi Sphere Camera.

Features:
* Specifically designed for VR: Configure initial perspective, live-preview in 360/VR;
* Live stickers and texts: The only 360 video editor that offers animated stickers in panoramic format;
* Hundreds of royalty-free music: You have a wide selection of background music to match your videos; adjustable volume of both the soundtracks and your videos;
* Multi-clip editing and special effects: Smooth drag-and-drop to reorganize your clips for a natural transition;
* Real-time filters: Moments of your life are even better with Instagram-ready filters;
* One-click sharing: Share your content to VeeR and other VR platforms with just one tap.

(Due to iPhones' memory limit, our app supports 2K resolution for all models, while 4K is currently only available for iPhone 7Plus and 8Plus.We will improve this capability to support 4K editing for all models very soon.)

Share your VR videos to VeeR, Facebook and YouTube using #VeeReditor for more likes and comments. Follow us on Facebook, Twitter and Instagram @letsveer.Any feedback, please write to us at support@veer.tv. We read every one of your emails. Features you suggest might be released in our future updates!

VeeR (veer.tv) is a leading VR video content network dedicated to connecting VR content creators from all around the world. VeeR VR app has been featured on App Store's front page in many countries and regions, and handpicked by editors on Google Daydream, Gear VR and HTC Vive.
Rainbow — Custom Color Keyboard Themes & Skins
Normally $0.99.
"Equipped with some useful features, the Rainbow keyboard is a fashionable luxury you would like to have"
— iGeeksBlog – http://bit.ly/rainbowkeyboard

Bored of the classic grayish iPhone keyboard? Now is the time to add some rainbow color strokes to your keys with the new Rainbow keyboard, exclusive for iPhone & iPad!

Changing the color of your keyboard can be done in seconds, choose the theme that matches your style or even your clothes!

Features
• Select from a set of 20 stylish colorful themes for your keyboard (12 themes are for the Pro version only);
• Familiar layout for both iPhone and iPad. The Rainbow keyboard is using the same layout and functionality as the standard keyboard;
• Auto-capitalization will work just as you expect it;
• Tapping the keys will have the same audio feedback as the standard keyboard (you can also disable this from settings);
• When tapping on a key it will be highlighted to clearly show your selection;
• Special characters are displayed when you tap and hold a key;
• Option to display the keyboard compressed for easy one-hand access to keys on the iPhone 6 and 6+
• Option to display the letters on the keyboard as lower case, when typing in lower case;
• QWERTY and QWERTZ layouts.

Privacy Note: At Bits&Coffee we greatly value our users' privacy. The Rainbow keyboard will not record key strokes nor send them over the Internet. The "Allow Full Access" option is only required to enable features otherwise not possible.
Download Rainbow — Custom Color Keyboard Themes & Skins
Remote Drive for Mac
Normally $2.99.
Turn your iPhone or iPad into the wireless flash drive for your Mac. Have full access to your Mac files – use your iOS device to stream videos, view photos and documents, from anywhere within your home.

AT A GLANCE
– Stream any video directly from your Mac;
– View photos or documents stored on your Mac;
– Transfer files between your Mac and your iOS device;
– Store anything on your iOS device and take it with you on the go;
– Mount your iOS device as drive on your Mac or Windows machine using WebDAV;
– Use the Personal Hotspot of your iOS device to control your Mac when you don't have access to other networks.

SYSTEM REQUIREMENTS
– Mac with macOS 10.9 or above and Helper app installed;
– iPhone, iPad or iPod touch with iOS 9 or above;
– Shared wireless network connection between your computer and iOS device.

Do you enjoy using Remote Control? Please help us by rating the app, so we can continue to offer more features and implement your feedback into the app to make it even better.
Mr. Cocktail
Normally $0.99.
Every drink and ingredient has an actual picture to highlight its' qualities.
Recipes are historically accurate and have a description about their origins and evolution.
Ingredients are non-specific. Regardless of what brand of Bourbon you own, you can make any Bourbon cocktail. Mr. Cocktail is also smart enough to know what ingredients can be substituted for others.

DISCOVER BEAUTIFUL COCKTAILS
• Add whats in your liquor cabinet and discover what cocktails you can make
• Cocktails and liquors are organized in a meaningful way to other related ingredients and drinks
• Every cocktail and liquor have a description of their history
• You don't have to be exact, substitute ingredients that are close enough
• All recipes have been specifically selected, tested, and perfected
• Quality recipes over quantity

This app is regularly updated with new ingredients and recipes
Blinq: Simple Expense Tracker
Normally $0.99.
Blinq allows you to keep track of your expenses easily and quickly. It's an entry point to money saving, the easiest way to keep your home budget balanced.

The app combines pragmatic approach to personal finances and an intuitive UI to help you keep track of your personal finances without struggle. Every time, everywhere, in a blink of an eye.

Blinq is a personal finance journal for a busy people.

Thanks to Apple Watch companion app an build-in force touch options it enables you to save an expense in literally 5 seconds straight from your springboard or wrist.

Features

– The easiest, quickest and most intuitive way to keep track of your finances
– Add your expenses quickly
– Customise budgets/spending categories to suit your needs
– Track your spending history on beautifully designed charts
– Learn where and when your money is leaking and save it

– Use touch ID to secure your personal data
– Choose your currency
– Edit, delete and add custom expense categories
– Edit and delete expenses
– Beautiful and intuitive UI
– No registration needed
– Apple Watch companion app
– Made with Swift 3

What's the story?

Financial security is one of the keys to stress-free life. Yet, many people struggle to keep their funds balanced because they don't understand their personal finances. Keeping track of your spendings is a key to learn where and when your money leaks and, in the end, saving them.

People fail in keeping track of their finances because it's difficult and time consuming. Personal finance apps tend to be confusing and overcomplicated when most of us need quick and efficient tool instead.

Blinq solves this problem. As cliche as it may sound we believe that because of its simplicity Blinq is an one of a kind app: It makes you think about your purchases while making it as quick and easy as possible. It's a powerful tool for busy people.
Download Blinq: Simple Expense Tracker
Ninjas – STOLEN SCROLLS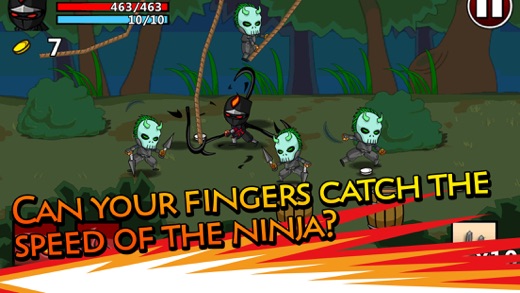 Normally $0.99.
Here comes an authentic cartoon art style 2D belt scroll arcade action!

Can your fingers catch the speed of the ninja?
A new operation system enables speedy, smooth action!

A great adventure will start to take back a stolen scroll!
Many obstacles, including evil ninjas, ninja dogs, monsters, demi-humans, zombies, traps, castles, dungeons, will prevent your adventure!

Explore a broad world map and push into the castle of vice!
Then, take back the scroll!

▪ Select among four ninjas!
– Select one from ninjas of fire, water, thunder, and wind!
You can use secret characters by achieving records!!
Can you find iOS original characters!?

▪ Master legendary ninjutsu!
– You can master ninjutsu by getting scrolls.
Can you master the legendary last ninjutsu!?

▪ Get legendary blade!
– It is not only ninjutsu that helps you!
Get legendary blades with the power of shinobi!

▪ Level system
– Allocate points obtained by increasing your level to Power, Strength and Ninriki.
The higher your level, the stronger the blades you will have!

▪ Available game mode
– You can select a game mode from Easy, Normal, and Hard.
The more difficult the mode you complete, the higher the score you can achieve…

▪ Animation, graphics, and system
– Smoother animation has been achieved by displaying 3D data in 2D.
– Numerous effects have been used for ninjutsu, weapons, and monsters.
– You can enjoy unique new combos shot from skill.

Download now to shoot the ninjutsu!