Yesterday's post covering the day's best paid iPhone and iPad apps on sale for free was a great one, and there are still a few freebies left if you hurry. We've got another terrific roundup for you today though, and it includes something for everyone. Check out all the apps below while they're still free!
This post covers paid iPhone and iPad apps that have been made available for free for a limited time by their developers. BGR is not affiliated with any developers. There is no way to tell how long they will be free. These sales could end an hour from now or a week from now — obviously, the only thing we can guarantee is that they were free at the time this post was written. If you click on a link and see a price listed next to an app instead of the word "get," it is no longer free. The sale has ended. If you download the app anyway, you will be charged by Apple.
Timepage
Normally $4.99.
Get Timepage – the most intuitive and delightful calendar app you'll ever use. It's a powerful and fun way to get organised!

"Fun to use and provides essential consolidated information in a way that makes you want to use your calendar."
– ZDNet

"Moleskine Timepage keeps bringing us these terrific updates and enhancements, making the app better all the time. The exquisite interface and smooth animations already make the app not only beautiful but impressive."
– AppAdvice

"The new calendar app Timepage will make you forget the rest."
– Gizmodo

–––WHAT'S TIMEPAGE?–––

Timepage is a revolutionary smart calendar that is effortless to use. It makes every day more productive by combining your events, maps, contacts and weather into one easy app.

Beautiful Design:
• Uncluttered, stunning design that let's you see a whole week at a glance and scroll into the future to see what's next.
• Fully adjustable week calendar to show between five and ten days.
• An intuitive month heatmap that instantly shows when you are busy and free
• Personalise your calendar with authentic Moleskine themes colors
• Apple Watch app with weather, useful travel time complications and glance.

Plan Your Day:
• See beautifully animated temperature and rainfall forecasts for the day so you know what to wear and how to get around.
• Never be late again! Timepage automatically gives you travel time estimates to walk, cycle, drive or catch public transport to your events.
• Timepage will give you helpful hints like "2 hours free after this event then Gym at 6pm".
• Widgets for weather and events so essential info is always a swipe away.

It Just Works:
• The fastest and easiest event creation of any calendar app, just type something like "Coffee with George at Monks" and let Timepage take care of the details.
• Works with any calendar already on your iPhone like iCloud, Google Calendar, Outlook, Exchange, Facebook, Yahoo and CalDAV.
• Fast background sync so your events are always up to date when you edit events on the web, your computer or iPad.
• Search for events using Spotlight on your iPhone.
• Advanced calendar features you need like repeating events, reminders, calendar colours, app icon badge customisation, 24 hour time and more.

Download Timepage and make today more productive.
Typcas
Normally $4.99.
Everyone can be a creative Typography editor with Typcas! Featured as "BEST APPS of the WEEK" by AppAdvice!

Typcas helps you create stunning typographic photo effects with beautiful FONTS, amazing 3D TOOLS, and gorgeous STICKERS & FILTERS!

Top Typcas Features:

Fonts
* Over 100 hand-picked font styles
* Multiple text boxes available
* Easy adjust text color, brightness, transparency, and layout
* Easy choose photo size templates for Instagram, Twitter, Facebook post

Tools
* 3D – make your text alive and speak more
* Eraser – use eraser to make amazing "text BEHIND anything" effects
* Shadow – adjust shadow effects behind your text to create more depth
* Draw – you can draw freely on your photo

Stickers
* Merry Christmas – celebrate Christmas in a special way
* Bloggers & Vloggers' Favorite – stickers boost your social media growth
* Funny Food Overlays – funny food stickers to eat, meet and love
* Typcas Energy Quotes Pack – witty words inspiring you at the right moment
* Share & Express Love – express how you feel about people you Love
* More stickers available: Status, Pets, Shapes, Numbers, etc.

Special
* Hundreds of hand-picked inspirational quotes available
* Easy choose or search beautiful background wallpaper from the library
* Unique filters for photo enhance visual enjoyment
* Enjoy your creation experience without any ads

You Can Use Typcas for:
* Social media post maker – for Instagram, Pinterest, Twitter
* Social media banner – Facebook cover, Twitter header, YouTube video thumbnail maker
* Logo & watermark maker for business
* Blog & website posts – Inspirational quotes
* Poster maker – for sale, events, party
* Flyer maker – for brand, club, business
* Cards maker & invitations maker – for birthday, party, wedding, business
* Book & Album covers maker – playlist, music
* iPhone wallpapers & cases designer
* T-shirt design
* Interior Decoration Design for new home
* Presentation slides

More Info
Share your Typcas works with #Typcas, inspire people around you, gain recognition and acceptance, or get brand exposure! Also stand a chance to be featured at Typcas official social networks!
Warship Solitaire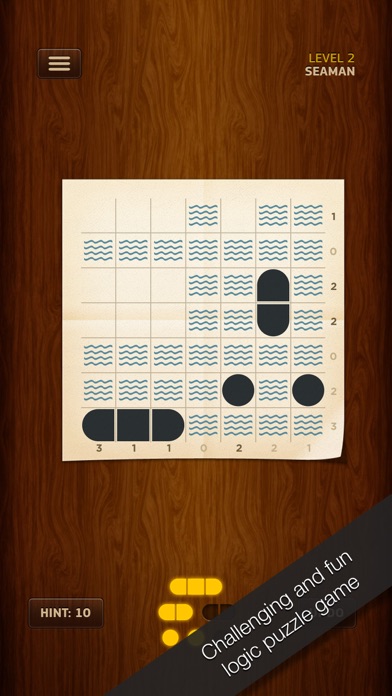 Normally $1.99.
Warship Solitaire is a challenging and fun logic puzzle game that's similar to Sudoku and Picross.

Your objective is to locate the hidden enemy ships on the map, using the given hints and the number indicators within the map. Test your mind in over 125 challenging levels.

"What could be more perfect than two classic games combined into one?" (5/5) – iOS Etc

"For fans of challenging games, this app is a must have." (4.5/5) – FanAppic

"A thrillingly engaging and challenging little puzzler." (9/10) – iPhoneGlance

"Solid puzzling take on classic strategy" – Kaiju Pop

• Challenge yourself in easy Seaman puzzle rank through to the absurdly difficulty Admiral puzzle rank
• Over 125 solvable puzzles using pure logic and deduction. No guessing!
• Autosave to continue each puzzle right where you left off
• Game Center achievements
• Optimized for iOS 8 and latest iPhone 6, iPhone 6 Plus
• Universal app (iPhone, iPad & iPod touch)

Available exclusively, only on the App Store.
iNeon – Neon signs
Normally $1.99.
Create neon signs for your iPhone, iPod or iPad!

With iNeon, you can have a different sign every time: Customize your neon sign with different fonts, colors and texts.

Proud of your neon? Save and share your favorite neons with your friends!

iNeon is perfect for a business, a concert or just for fun.
InsTuner – Instrument Tuner
Normally $0.99.
Just appeared on Appstore for this year!
Instruments Tuner is the useful tool to tune your musical instrument.
Let's try it, don't forget to leave your feedback so we can improve!
Download InsTuner – Instrument Tuner
Either Or
Normally $0.99.
Featured on AppPicker as one of "The best decision making apps for iPhone and iPad"

"A visually appealing app"
– AppPicker

This simple app provides an elegant alternative to a coin flip. Want to be different? Instead of asking yourself heads or tails, why don't you ask yourself red or blue? Tap the button and you will only get one of two outcomes: red or blue. Simple? Now go on and start solving those hard dilemmas with style.

LIGHT MODE AND DARK MODE
Easily switch between light mode and dark mode by shaking your phone! We find that dark mode is easier on the eyes at night!

BEAUTIFUL ANIMATION
Be mesmerized by minimalistic animation and visuals

ONE TAP
Simply tap once and get a result with style: red or blue

RANDOM
Your result will be random

AND FINALLY, AWESOMENESS LIKE YOU
No, really! The fact that you came this far to see what this app is all about means that you have great taste! Your gut is probably telling you to download it. Listen to it!
MemoMa
Normally $3.99.
MemoMa is a simple note taking app. It saves your notes in your calendar, which means you can read the same notes from any device or web site as long as the same calendar can be configured. Your notes can be displayed next to other calendar events. Having both your notes and your events on a single timeline makes the context easier to understand when you review them. Also, because your data is on your calendar, it's synced across devices automatically and seamlessly. You can move your notes from MemoMa to other apps if your calendar supports exporting, such as CSV. Because your notes are saved reliably on portable media, you do not have to worry about losing them when you upgrade your OS or purchase a new device.

What It Can Do:
Write a plain text message with non-animated emojis.
Show notes and events on the same timeline, all expanded (no need to tap each item).
Off-line access. Automatic syncing when online.
Spotlight search or search within app Supports iPad & Apple Watch

What It Can NOT Do:
No tags
No formatted text
No images or videos
Tank Battle – Mini War
Normally $4.99.
It is a very classical tank battle game like NES Battle City. Almost everyone should played this type of game before.

We modified this classical game, and bring it back to 21 Century.
Mini War is 2nd Generation, the 1st Generation is Super Tank Battle. Mini War inheritance all advantages of Super Tank Battle. And we have added many new elements into it.

Game Rules:
– Defense your base
– Destroy all enemy tanks
– If your tank or your base is destroyed, it will game over

Features:
– 5 different difficulty levels (from easy to crazy)
– 3 type of different game zones (Normal, Danger, and Nightmare)
– 6 different type of enemies
– Your tank can have 3 Level upgrade
– Helper tank, now you can order it to hold position
– Many different type of map elements, you can see the screenshot
– Every map elements can be destroy
– 4 types of different board size, 26×26, 28×28, 30×30, and 32×32
– Helping items, which can help you to finish the game
– 280 maps can be played.

* Different difficulty levels should meet different people need. Expert player can direct choose Crazy level.
** When finish normal zone, danger zone will be opened. After finished danger zone, the nightmare zone will be opened. In danger and nightmare zone enemies power will be greatly increased.
*** Every 2 to 4 months we will add new maps into Mini War, just like Super Tank Battle. Super Tank Battle is now have 500 maps inside.
Download Tank Battle – Mini War
QVert Pro – Units Converter
Normally $1.99.
The #1 Unit Conversion App. the most perfect, the most number of units.

Look at other peoples how to say:
"The best conversion app I've seen"
"Best looking converter. Good Ui. Currency is a plus"
"This app is small, but it very best and simply to use. Thanks for your awesome app."
"Simple to use and customizable. What more can you want. :)"
"Great program that once mastered is pretty straightforward"

· 63 Categories, 1522 Units
· Add custom units to meet all your requirements
· Customize need to show the categories and contain units, and display order
· Support 158 country's currency
· Currency conversion rates updated in real time
· Extremely Easy-to-Use
· Backspace key
· The simplest way to create and use favorite lists

63 Categories, 1522 Units:
Acceleration, Acceleration Linear, Angle, Area, Calorific, Capacitance, Centistoke, Charge, Circumference, Concentration Molar, Conductance, Cubic Attometer, Cubic Decimeter, Currency, Data Storage,Date, Decigram, Dekagram, Density, Digital Image, Electric Current, Electric Conductance, Electric Field, Electric Potential, Energy, Entropy, Flow, Flow Mass, Flow Molar, Force, Frequency, Fuel Consumption, Heat Capacity, Heat Transfer, Illumination, Inductance, Inertia, Length, Light, Luminance, Magnetic Flux, Magnetomotive Force, Moment of Force, Moment of Inertia, Power, Pressure, Radiation, Radiation Absorbed, Radiation Exposure, Radioactivity, Resistivity, Sound, Specific Heat, Specific Volumn, Speed, Surface Tension, Temperature, Time, Torque, Viscosity(Oil & Water), Volume, Weight, Weight Mass

Save Your Time. Quickly & Easily!