Our posts covering paid iPhone and iPad apps that go on sale for free make up one of our most beloved and longest-running series here at BGR. In fact, our inboxes are swarmed with emails each and every time we forget to run one, or if we simply don't have time to put a list together one day. Well don't worry, Apple fans, because we've got you covered today with a fresh roundup of the eight best premium apps on sale for free on Wednesday. Grab them while they're still free!
This post covers paid iPhone and iPad apps that have been made available for free for a limited time by their developers. BGR is not affiliated with any developers. There is no way to tell how long they will be free. These sales could end an hour from now or a week from now — obviously, the only thing we can guarantee is that they were free at the time this post was written. If you click on a link and see a price listed next to an app instead of the word "get," it is no longer free. The sale has ended. If you download the app anyway, you will be charged by Apple.
Star Wars™ Pinball 5
Normally $1.99.
Set in a galaxy far, far away, Star Wars Pinball lets you interact with the most iconic characters, and relive the greatest moments of the Star Wars universe mixed with exciting pinball action! Star Wars Episode V: The Empire Strikes Back, Star Wars Episode VI: Return of the Jedi, Darth Vader, Starfighter Assault, Star Wars: The Clone Wars, and Boba Fett.

Choose to support the Galactic Empire or the Rebel Alliance with your high scores as the Star Wars Pinball community fights for the Balance of the Force!

The initial Star Wars Pinball download comes with the Star Wars Episode V: The Empire Strikes Back table. Other Star Wars Pinball tables can be purchased as in-app purchases.

Additional Star Wars Pinball tables are coming soon!

May the Force be with you!

**For players already enjoying Star Wars™ Pinball tables in Zen Pinball, we want to give you a heads up that there is no way for us to transfer purchases or make tables available in both apps. Thanks for your support!**

What the Press Are Saying:

Penny Arcade Report (Ben Kuchera)
If you're a fan of pinball, Star Wars, or fun things, this is pretty much a must-purchase.

GamesRadar
As a complete package, Star Wars Pinball delivers the kind of arcade experience that makes you crave just one more game, constantly chasing to surpass your own score for the sheer satisfaction of it.

Desctructoid – 9.5/10
Each table is chock full of beautiful art, character cameos, and tracks pulled straight from the films' soundtracks. These first three tables are a bold and equally stellar introduction to Star Wars Pinball, and they'll keep you more than busy until Zen Studios drops the next batch.

Game Informer – 8.5/10
You don't need to be a Star Wars fan to recognize the creativity Zen has brought to the new tables. The company continues to include more fantasy elements in its designs.

AppAdvice
"Star Wars fans will certainly enjoy the visual treat this game offers. That, combined with the fun gameplay make this a must have. It is impressive. Most impressive.
Jump into hyperspace to check it out in the App Store."

MacLife
For fans of the franchise or virtual pinball in general, it's a real treat!
SimplyNoise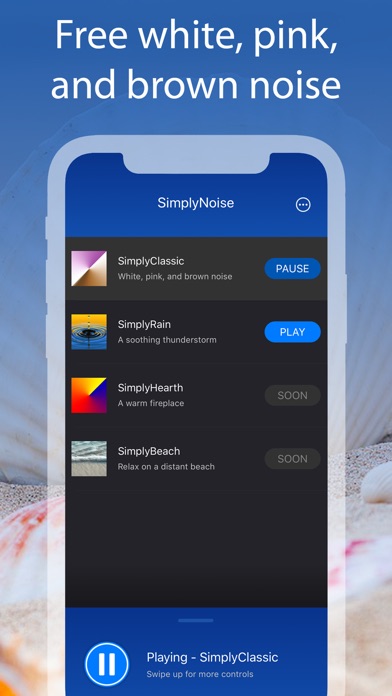 Normally $0.99.
SimplyNoise is the best sound machine $0.99 can buy. Featuring the highest fidelity white, pink, and brown noise samples that have helped thousands of people from all age groups and professions block distractions, enhance privacy, aid sleep, soothe Tinnitus, and melt away stress. The benefits of color noise have been utilized in clinics, schools, households, and offices around the world. Enjoy the benefits and features of SimplyNoise many expensive sound machines can't match, at a fraction of the price.

♦ ♦ ♦ APPLICATION HIGHLIGHTS: ♦ ♦ ♦

● Simple, clean, intuitive user interface
● Seamless multitasking + background audio
● 16-bit / 44.1kHz CD quality samples of white, pink, and brown noise
● Oscillation toggle for a dynamic listening experience
● Sleep timer automatically closes SimplyNoise to conserve battery life
● Brightness overlay to adjust light emission and battery usage

♦ ♦ ♦ USES OF SIMPLYNOISE: ♦ ♦ ♦

✔ Sleep Aid
✔ Enhance Privacy
✔ Block Distractions
✔ Soothe Tinnitus
✔ Pacify Children and Pets
✔ Soothe Migraines
✔ Increase Focus
✔ Melt Away Stress

Still not convinced? Visit http://www.simplynoise.com and try all of our application features absolutely free. Hear what your mind has been missing…
Space Weather App
Normally $1.99.
Push notifications!
Space weather is the concept of changing environmental conditions in near-Earth space or the space from the Sun's atmosphere to the Earth's atmosphere. Space weather affects our planet, our technology, and all living things in many different ways. Solar flares, geomagnetic storms, and solar radiation are a few ways space weather can wreak havoc on the earth. It can also create beautiful auroras that can be seen near the poles and sometimes much further.

Space Weather App includes the following:

Push Notifications!
Real-time solar storm status
Reports and displays over 50 real-time measurements, reports, and readings or data
Real-time alerts, reports, and predictions for space weather

Web cam images from around the world
Real-time images of the sun
UV Index maps
Real-time images of the Earth as seen from space
Real-time images of the aurora oval
Real-time movies of the sun
Beautiful artwork, animations, transitions, and fades
Real-time solar movies
Plus more
Many features scheduled in future releases.
5coins Expense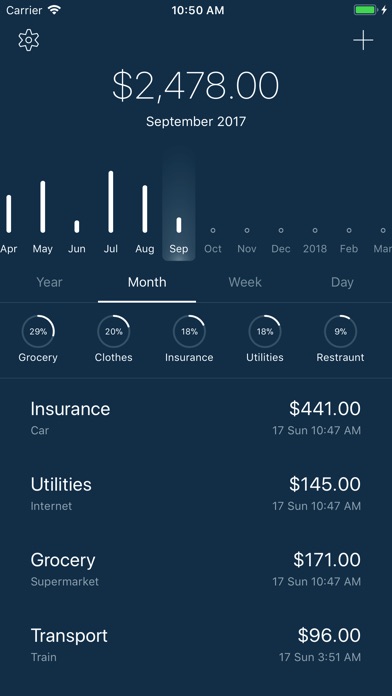 Normally $1.99.
5coins is a simple, beautiful and smart app for tracking your daily expense. It lets you know how much you are spending, when and where your money goes. That's it!

Highlights:

1. Super Easy User Interface
No hassle to switch between different views. 5coins lets you do most things on a single user interface. Adding expense can be as easy as entering a number.

2. Budget View & Overspend Alert
Just set your monthly budget. 5coins will let you know beforehand when you are spending too much. Just tap on the amount to view your current status. Support peek&pop, if your device supports 3D touch,

3. Regular Expenses
5coins remembers your regular expense and list them in today's widget as well as application shortcuts (iPhone with 3D touch only). So adding expense is just a few taps away.

4. iCloud Support
Data is always available to all your iOS devices. Anytime, Anywhere.

5. Spotlight Search Support
You can search expense in Spotlight without opening the app.

6. Privacy
Protect your information with pin code and Touch ID.

7. Multi Currencies
World traveller? No problem, multi-currencies are built in.
InstantGrid
Normally $1.99.
InstantGrid is a quick and powerful image editing tool for social media, allowing you to correct and add effects to your images in just a few taps.

InstantGrid has a number of tools to choose from, including Grid, Panorama, Rotate and Watermark.

The Grid tool is a quick and easy way to create Instagram grids from your photos in 3 steps.
1. Just upload a photo.
2. Select from one of the three grid modes – 3×1, 3×2 or 3×3
3. Move your photo to the perfect position and save to photos.
You can then upload your photos to Instagram and show of your beautiful photos in full screen.

The Panorama tool allows you to cut your Panorama photos into 3 images, ready to upload to Instagram's multi-select feature to swipe through your panoramas in their full glory.

The Watermark tool allows you to upload a custom watermark image and add it to your social media photos in a single tap. With a range of three locations and sizes to choose from, adding your signature to your photos couldn't be easier!
Your watermark will also upload to your iCloud account to make it available across all of your other devices.

Add watermarks to your images without leaving the Photos app with just a single tap using the InstantGrid Photos Extension.
Ella – GPS Elevation Tracker
Normally $0.99.
Record your elevation in real-time with Ella. Perfect for hiking, climbing, or road trips.

Ella records & graphs your elevation changes and provides you statistics when your trip is completed. Ella's color scheme changes from gray to green or red as your elevation gain or loss exceeds 100 ft. from your starting point.

When your trip is over, interrogate the elevation profile chart or view detailed statistics about your trip.

Recording Statistics
– Elevation gain
– Start elevation
– Finish elevation
– Highest recorded elevation
– Lowest recorded elevation
– Cumulative elevation gain (Up)
– Cumulative elevation loss (Down)
– Duration (Time)
– Gradient

Elevation Chart
– Interrogate the chart by touching different points of the graph to see your elevation gain/loss at that point in the trip

Take Ella with you on the trail, up mountains, and down canyons.

Please Note: Continued use of GPS running in the background can dramatically decrease battery life.
Download Ella – GPS Elevation Tracker
Easy Backup Pro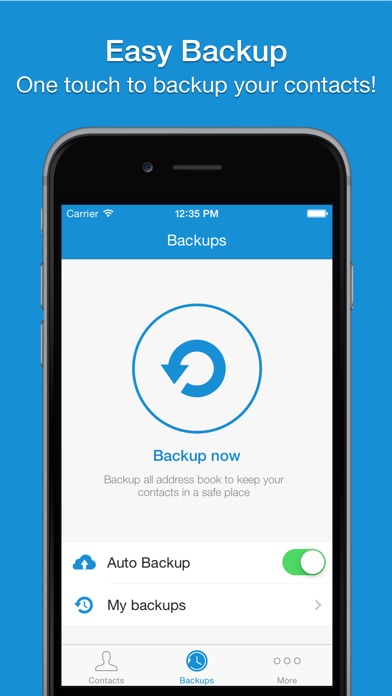 Normally $2.99.
Easy backup pro is free today with AppGratis

* Over 1,500,000 people love Easy Backup Pro :)

* Backup your contacts with one tap! *

MAIN FEATURES
○ Backup your contacts with one tap!
○ Send the backup to your email!
○ Export your address book to Excel!
○ Restore contacts easily from any iOS device!

Your contacts are the most important data in your phone which may be lost in seconds.
Easy Backup Pro keeps your contacts in a safe place.

BACKUP
○ One tap to backup your contacts!
○ Quickly export your backups to Dropbox, Google Drive, Excel, Email
○ Keep your contacts safe in the cloud!
○ Easily restore your contacts from any mobile device!
○ Move contacts between accounts (Exchange, iCloud, Local Address Book)

CLEANUP
○ Find & Merge duplicate contacts!
○ Remove contacts without name
○ Remove contacts without phone & email

Easy Backup Pro offers unlimited backups for your address book
To keep your contacts even more protected, turn on Easy Backup Pro to save every single change in your contact list, even when you are not using the app.
Easy Backup Pro allows you to restore your contacts from any mobile device for $9.99 a year through an auto-renewing subscription.
Subscriptions will be charged to your credit card through your iTunes account.
Your subscription will automatically renew unless cancelled at least 24 hours before the end of the current period
You will not be able to cancel a subscription during the active period. You can manage your subscriptions in the Account Settings after purchase.
Passport Photo Free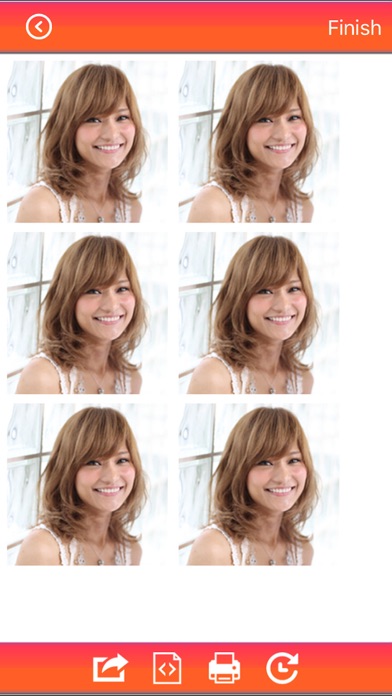 Normally $0.99.
Passport Photo Studio brings you the biggest collection of photo effects and filters available for iPhone. Get creative and make amazing photo styles.

Passport Photo Studio is the biggest collection of photo filter effects available on iPhone and frame effects to help you snap the perfect photo.