How is it already almost September!? 2017 is flying by, but hopefully all of you can spare a few minutes to slow down and check out some new apps. We've got 10 paid iPhone and iPad apps in today's roundup, and they're all on sale for free right now. These sales will of course only last for a short time, so definitely grab any appealing apps as soon as you can.
This post covers paid iPhone and iPad apps that have been made available for free for a limited time by their developers. BGR is not affiliated with any developers. There is no way to tell how long they will be free. These sales could end an hour from now or a week from now — obviously, the only thing we can guarantee is that they were free at the time this post was written. If you click on a link and see a price listed next to an app instead of the word "get," it is no longer free. The sale has ended. If you download the app anyway, you will be charged by Apple.
Air Dialer Pro
Normally $2.99.
Air Dialer is Fastest & Easiest Dial Phone Widget whenever you use it.

Features:

1. Widget Speed Dial

2. Search for a exact telephone number with T9 keypad
– Enter alphabet or telephone number

3. Fully support Chinese (Traditional & Simplified)

4. Easy Speed Dial
– You can register and use a Air Dialer simply
– Assign favorite contact to a keypad then quickly make a call by long pressing on it

5. One Hand, Left/Right-Handed mode

6. Dark/Light Theme

7. Smarter dial whenever you use it
– Your favorite telephone number is first viewed when searching
– Priority of Searching : Most frequently used contact > Short name contact > Contact with a photo registered
Fake GPS Pro Location Spoofer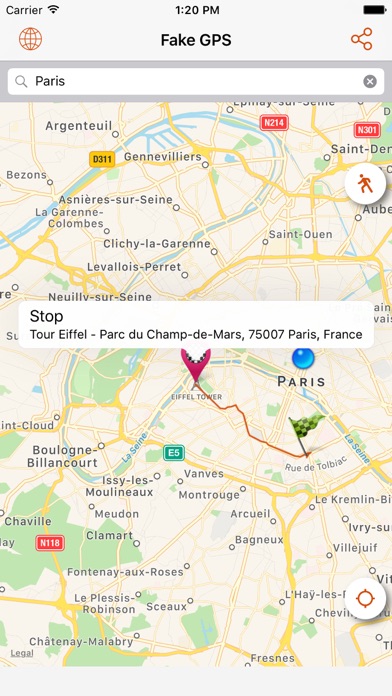 Normally $2.99.
Pretending to be somewhere you have never been.
You can send to your friends 'Hey I'm here! top of the Mt. Everest'

Trick your friends into thinking you are on top of Mount Everest

Convince your spouse you're having a late night at work instead of getting plastered at the bar!

Pretending to be somewhere you are not has never been easier! Fake Gps Location™ allows you to pinpoint where you want them to THINK you are! Simply choose your fake location, and send the 'GPS reading' to whoever you want to fool!

Text and email includes correct street address and longitude and latitude of the location you select. These details along with a link to Google Maps showing the location are then included in your email or text. Receivers of the text will think it contains the location you are currently at!

PLEASE NOTE: This app does not change the real GPS location of your device, it will show a random location after you select the city.
Download Fake GPS Pro Location Spoofer
CubicToDo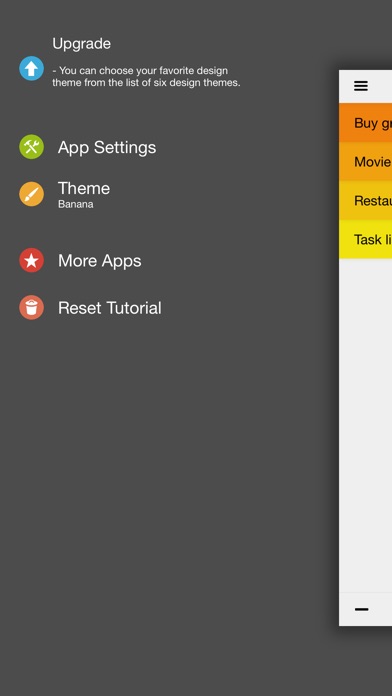 Normally $1.99.
With CubicToDo, you will be able to manage the ToDo in the sense, such as fiddling with three-dimensional cube.

Have fun!

Function
-You can return to the previous page by swiping left.
-You can easily add and pull down lists and items.
-You can edit the list and press and hold the item.

Recommended for applications such
-Project management and work
-Inventory list of travel
-Restaurant list that I want to go
-Shopping list
-List of books you want to read and want to watch movies
-List of things you want to do before you die
-Quotations list
-Grocery Shopping list
-Wish list
-Check list
-It is recommended to people to feel that it is a bit difficult with Clear and Toodledo, OmniFocus, task +, Any.Do To-do list, the Wunderlist.
8mm Vintage Camera
Normally $1.99.
AN OSCAR WORTHY APP – 8mm was used by director Malik Bendjelloul in his Oscar-winning film "Searching for Sugar Man"!

The most authentic, versatile, & easy-to-use retro VIDEO camera on the App Store.

8mm Vintage Camera captures the beauty and magic of old school vintage movies right through your viewfinder. Dust and scratches, retro colors, flickering, light leaks, even frame shakes, all can be instantly added with a single tap of the finger.

RECORD VIDEOS WITH SOPHISTICATED LIVE EFFECTS
• Total live view of the effects. What you see in the viewfinder is what you get.
• Support up to 4K HD recording with real time video effects.

INSTANTLY SWITCH EFFECTS FOR 70 DIFFERENT LOOKS
• 7 Lenses: Super 8, Clear, Flickering Frame, Spotlight, Light Leak, Color Fringing and Classic.
• 11 Retro & Aged Films: 1920, Noir, 60s, 70s, Sakura, XPro, Siena, Pela, Indigo, Tuscan and Two-Color.
• Jitter Button to imitate frame shakes of real 8mm projectors.
• Sound Switch to add projector sound for extra authenticity or mute the video for a silent movie effect.

APPLY EFFECTS TO EXISTING VIDEOS
• Apply and adjust effects while playing a video from Photo library.

CREATE PRO-QUALITY MOVIES FROM 8MM CLIPS
• Choose from 5 unique themes with matching titles, transitions & music. Free themes: Minimalism, Elegant. In-App Purchase themes: Silent Film, Countdown, Light Leak.
• Add soundtrack from iTunes library.
Bubble Tower 2
Normally $9.99.
A new gameplay experience: Now with 110 new levels!

Bubble Tower 2 – Popping the tower of bubbles to land the blue box on the green platform below.

Sounds simple right?

Here's what a has been said about Bubble Tower 2:
"It had me addicted for days! It's definitely worth the download."
Voice Record – Memos
Normally $0.99.
Concise,multifunctional,easy to operate
your wise choice,your recording APP.
Barcode
Normally $0.99.
Barcode is the fastest, most precise and most user-friendly QR reader and barcode scanner for iPhone, iPad, or iPod Touch. It's from the makers of the award winning ProCamera app – the photographers' app – and it offers the same level of sophistication and quality.

Use Barcode for pure recognition, for price comparison with Amazon, or instantly browse the web for the scanned information. Use its ability to directly utilize the data of any code you scan: you can add calendar events to your calendar, vCard information to your address book, or open maps to view a location – all with just one tap. You can also easily share the scan results on Twitter and Facebook or via mail and text.

HOW IT WORKS
Open the app and simply point your device at the code – done! Fully automatic recognition.

Barcode will then offer appropriate actions according to the content:
– Contacts: add new contact or add individual fields to existing contacts
– Call phone number
– Add event to Calendar
– Copy to clipboard
– Open location in Maps
– Open URL
– Open YouTube link
– Open iTunes link
– Open App Store link
– Call or send SMS to a phone number
– Send email
– Display WiFi credentials: Copy & Paste SSID, network type, and password to iOS Settings App
– Display EAN or ISBN: Search products in Amazon or web (opens in Safari/Chrome)
– Embedded Facebook integration: Post to wall
– Embedded Twitter integration: Send Tweets

On devices with flash, the app provides a torch light with adjustable intensity.

You can even define a custom URL action to use this app for your own special purpose.

BARCODES SUPPORTED
Unlike competing apps, this scanner can scan ALL common kinds of codes reaching from the well-known QR codes, AZTEC, EAN-8, EAN-13, UPC-E, UPC-A, ISBN-10, ISBN-13, I-25, CODE39 (3of9), CODE128, to Data Matrix codes!
zOutline
Normally $0.99.
A straightforward, uncomplicated outline editor.
Multiple outlines can be edited at once in different tabs.
You can send outline files as email attachments, and open outline file attachments.
zOutline permits export as HTML, RTF or text.
Outline items can be enumerated or dotted.
Items can be bold, italic, underlined.
Several fonts and text colors are available.
Days Photo Journal
Normally $0.99.
Days is a simple photo journal to record precious moments with your photo background.

Write a short story with your photo if you have wonderful memories of your trip or you have unforgettable moment in your daily life.

A special photo album with your own memories will be created.

MAIN FEATURES:

• Photos
Write interesting moments with your photo or emotional 20 photos as the default.

• Hashtags
Make it easier for you to find messages with a specific theme or content.

• Passcode
Keep your photo journal more safe with Passcode and Touch ID.

• Share
Share the moments you want to share with your friends.

• Notification
Make a habit of writing a diary through the notification at a specific time.

• Backup & Restore
Easily and securely backup and restore your memories using the iCloud and Dropbox.

• Export to PDF

"The best moments I once lived are the ones I absolutely forgot to take pictures of."
Super Tank Battle – CityArmy
Normally $4.99.
NES Battle City is very Classical Tank battle game. Super Tank Battle is a modern style NES / FC Battle City with new attractive elements.

This is the game of modern war, please boom the map, summon your alliance, and strike the Enemy! Clash It!
Prepare the tank battle, prepare the tank modern war!

There are 5 different difficulty levels (from easy to crazy). It should meet different people need.

Game Rule:
– Defence your base, and destroy all enemy tanks.
– If your tank or your base is destroyed, it will be game over.

Features:
– have 500 Maps can be played ( Super Cool! )
– helper tank, it is like a 2nd player to help you
– special items in game
– classical tank battle game's style
– 20 enemy tanks per map

It also available on others mobile platform. Simply search "Super Tank Battle" on search engine.