The Galaxy Note 8 might be the biggest gadget news of the day today, but don't worry if you're an Apple fan because we've got you covered. You'll find 10 paid iPhone and iPad apps on sale for free in this post, and they should occupy you until the Note 8 buzz dies down. If not, there are also a few more freebies left in yesterday's post.
This post covers paid iPhone and iPad apps that have been made available for free for a limited time by their developers. BGR is not affiliated with any developers. There is no way to tell how long they will be free. These sales could end an hour from now or a week from now — obviously, the only thing we can guarantee is that they were free at the time this post was written. If you click on a link and see a price listed next to an app instead of the word "get," it is no longer free. The sale has ended. If you download the app anyway, you will be charged by Apple.
PepDash – Celebrity Guessing
Normally $1.99.
Party? PepDash! Play the super-fun celebrity guessing game for groups or parties. Each round, one person gives clues to their team to guess the most celebrities in 60 seconds. How many famous people can your team name? You will crack up at the crazy clues and guesses people give.

Capture the laughter on video! Share your funny videos with celebs on Twitter!

Do you have friends? A family? Then you will love PepDash!

This party game goes by lots of names offline: Celebrity, Punch Bowl, The Game, Names in a Hat and Lunchbox.

Banish Boredom! Play anywhere, right away:
– In your living room
– At dinner
– Waiting in line
– On a roadtrip

Features:
– Automagically manage a celebrity guessing game
– Any size group can enjoy it
– No paper, pencils, timer, scorecard, scorekeeper or brainstorming needed
– Record the video of your team's guesses
– Save or share your video

Packs of celebrities include:
– Super Famous – easiest for adults!
– Movies & TV
– Sports
– Music
– Animated
– Heroes – Super and Real Life
– Reality TV
– And packs for every AGE group!
Download PepDash – Celebrity Guessing
SkySafari 5
Normally $2.99.
SkySafari 5 is the newest version of the world's best astronomy app!!

If you've used an older version of SkySafari, here's what's new:

1) Complete support for iOS 9 & 10!

2) Support for Apple Watch! Everything you need to know about the Sun, Moon, Planets, and ISS on your wrist.

3) Tonight at a Glance: the location and rise/set times of the Sun, Moon, Planets, and International Space Station in one handy view!

4) Notifications when the ISS and other major satellites will pass overhead, and when the planets rise!

5) Completely new sound effects, and a new look to the sky and horizon. A brighter, more visible Moon. Better transitions between portrait and landscape mode.

6) Object lists in the Search menu now show thumbnail images for every object which has a photograph, and also now shows their rise/set times.

7) Updated object descriptions, now with images in-line on iPhone and iPod touch! Every object now has a description!

8) A new Share button lets you share your sky by email, text, or social media!

9) Reworked Time Flow controls, which let you set the date and time directly from the main toolbar.

If you haven't used SkySafari before, here's what you can do with it.

• Hold your device up, and SkySafari will find stars, constellations, planets, and more! The star chart updates automatically with your real time movements for the ultimate stargazing experience.

• See an eclipse now, in the past or in the future! Simulate the night sky from anywhere on Earth many years in the past or in the future! Animate meteor showers, comet approaches, transits, conjunctions, and other celestial events with SkySafari's Time Flow.

• Locate the Sun, Moon, or Mars from our extensive database and track the arrow to be directed to their exact locations in the sky before you. See spectacular views of Venus, Jupiter, Saturn, and other planets!

• Learn about the history, mythology, and science of heavens! Browse from hundreds of object descriptions, astronomical photographs, and NASA spacecraft images in SkySafari. Explore tons of NASA Space Missions! Stay up-to-date with SkyWeek, for all major sky events every day – miss nothing!

All this is built into SkySafari 5 – no need for an Internet connection. It's a powerful planetarium that fits in your pocket, puts the universe at your fingertips, and is incredibly easy to use! This app is everything the casual stargazer will ever want.

Additional Features:

• 120,000 stars; over 200 star clusters, nebulae, and galaxies; all major planets and moons, and dozens of asteroids, comets, and satellites including the International Space Station (ISS).

• Animated meteor showers with complete viewing information & spectacular graphics.

• Orbit Mode – Leave the Earth's surface behind, and fly like a NASA space probe through the solar system. Requires in-app purchase.

• Night Vision – Preserves your eyesight after dark.

• Apple Maps Integration – Choose your location from a built-in Maps view.

• Horizon Panoramas – choose from beautiful built-in vistas, or customize your own!
Remote Drive Pro for Mac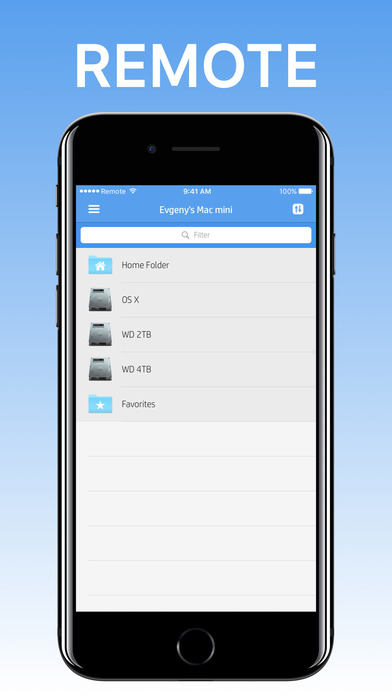 Normally $2.99.
Turn your iPhone or iPad into the wireless flash drive for your Mac. Have full access to your Mac files – use your iOS device to stream videos, view photos and documents, from anywhere within your home.

AT A GLANCE
– Stream any video directly from your Mac;
– View photos or documents stored on your Mac;
– Transfer files between your Mac and your iOS device;
– Store anything on your iOS device and take it with you on the go;
– Mount your iOS device as drive on your Mac or Windows machine using WebDAV;
– Use the Personal Hotspot of your iOS device to control your Mac when you don't have access to other networks.

SYSTEM REQUIREMENTS
– Mac with macOS 10.9 or above and Helper app installed;
– iPhone, iPad or iPod touch with iOS 9 or above;
– Shared wireless network connection between your computer and iOS device.
Download Remote Drive Pro for Mac
Easy Spending
Normally $1.99.
Over a Million satisfied users agree that Easy Spending is the way to go easy on your spending, reduce debt, and grow your wealth. Easy Spending is an easy way to grow your wealth on a daily basis, by improving spending habits.

Its excellent reports and spreadsheets saves lot of time during tax filing.

The Easy Spending money tracker, is the most powerful and convenient daily money management App on the GO for iPhone and iPad, that neatly tracks all your cash flow between different accounts that you can budget,

It is now, all the more secure, with the addition of Automatic Backup Service in addition to the free email backup. With this feature you never have to worry about losing valuable financial data, either through accidental deletion or change of device. You can restore it on any iOS device with this App installed.

Comes with easy gestures with well spaced layouts and large fonts, for easy viewing and readability.

Great for maintaining monthly recurring bills with reminders, it has the convenience of an Finance Tracker and BILL reminders at one place.

HIGHLIGHTS

@ Never loose your valuable financial data either with the free email backup or the All new Automatic Backup Service, (available as an In-App purchase)

@ Excellent and seamless cloud sync of all your transaction data. (available as an In-App purchase)

@ BILL Reminders.

@ Recurring income/expense tracking

@ MULTIPLE ACCOUNT(S) Summary in a single screen, and nice reports.

$ Passcode LOCK.

$ NOTIFICATIONS added to Default calendar for recurring transactions as an option. Using this option, NEVER forget to pay your BILL on time.

$ See future bills/payments and income using, "UPCOMING TRANSACTIONS" view.

$ Fast Search based on category and notes

$ Allows transactions to be emailed as CSV, and also uploaded to your Google Drive account

$ Store data for MANY MANY years

$ Preview comments in History while drilling down the transactions.

$ Use MULTIPLE accounts like Checking, Savings, Credit card, Cash flow, Mortgage accounts etc.

*** REPORTS ***

$ Powerful reports, timeline reports

$ Doughnut chart reports gives a clean break up of where your money is going.

$ Email csv file of all your data for single or all of your accounts, saves a lot time during tax season.

$ Upload csv file also to your Google Drive account

— Automatic Backup Service —-
Automatic Backup Service is an auto-renewable In-App purchase that lets you take automatic backup without you having to do anything manually. Just keep using the App, and an automatic backup of all you data is safely stored either weekly or monthly. When you App is deleted by mistake or phone is replaced there is no hassle in getting your data back.

This feature is offered as a free trial for one month, and the cost of subscription is $0.99 per month, after the trial period. It auto-renews every month until it is cancelled.

This feature is also offered as an annual subscription with a cost of $7.99 per year, with a initial trial period of 1 month. It auto-renews every year until it is cancelled.

Payment will be charged to iTunes Account at confirmation of purchase, and account will be charged for renewal within 24-hours prior to the end of the current period.

Privacy policy and terms of use

https://tektontek.com/termsofuse.php

*** What our users say ***

@ As a financial planner for 42 years this App is all you need. Its simple clean and to the point. If you think you need more than this, then you don't get it.
– LouCFP

@ Excellent
I am using this app to track our club income/expenses. So easy to use and to create reports then email to whoever needs a copy ! I love it !.
– i apple

@ User Friendly Plus!
"I use this app every single day and is by far the most valuable app on my iPhone." – John Fredrick NY
Presentation Using Watch
Normally $0.99.
Presentation In Watch is application for presentation and is available for iPhone and Apple Watch.

When you start presentation in your iPhone, with the help of iPhone and Apple Watch connectivity features that same presentation you can control from your Apple Watch. From Apple Watch you can change your slides when giving presentation So, no need of holding iPhone and using it. This application makes it easier for you to give presentation using Apple Watch.

Features-

You can import PPT files form iCloud Drive, DropBox and Google Drive
Save PPT files from Email attachments
You can set reminders for your presentation
Start PPT presentation in iPhone and control using Apple Watch.
Download Presentation Using Watch
Pic Navi
Normally $2.99.
Pic Navi is an easy-to-use photo location viewer and editor. Browse pictures normally, and when you find a photo that you want to know where you took it, you can open a map that gives you driving, walking, cycling and transportation direction from your current location. You can adjust the photo location just by dragging a pin on a map. When you have a photo without GPS information, you can add it by typing an address. You can also remove GPS information when you want to make sure your privacy is protected.

Pic Navi can edit date and time of the photo. When you save photos you get from someone else, they are saved with the date and time they are saved, not when they were actually taken. You can modify it with Pic Navi, so for example, your photos and the photos you get from your friends can stick together. With Timezone Support, Pic Navi shows you the local time of the photo location, instead of your current timezone. Travel pictures with the accurate timestamp make revive your memory more vividly.

Use Pic Navi when you want to share a photo with its timestamp, like an old school camera. You can customize its size, format, font and color to your liking. You can also hide the timestamp by setting the font size to zero.

Features
– Direction from your current location to the location of the photo using a map app of your choice.
– Add, edit or remove location
– Customizable timestamp.
– Edit date and time.
– Timezone Support
– Albums in alphabetical order, plus search function
– Share one or more pictures with timestamps inscribed.
Action Tasks
Normally $0.99.
Action Tasks is an artisanal to do list app that makes completing your tasks fun and rewarding with action sounds and force feedback.

Get in on the fun! Action Tasks animates and vibrates with amusing sound effects when you complete a task. Choose from a selection of more than forty task completion sounds including: whip cracks, cartoon sound effects, nuclear bombs, robots, gun shots, laser blasters, explosions and more.

Action Tasks features a simple no clutter user interface that helps you focus on the tasks at hand. Custom lists keep track of your to dos and reminders in style.

Set due dates and alarms with notifications to never forget. Share lists via email, automatically hide completed tasks and manage and organize your lists with simple gestures. Action Tasks makes organizing simple, fun and motivational.

Featured by Apple as "New and Notable" in Productivity at its debut.

What our users are saying:

"Amazing app! I'm never forgetting anything anymore."
-Gabriel

"This is just what the iPhone needs! Not only is it easy to use, but the sounds and vibrations after completing a task are cool."
-Rich

"I love this app! Such a fun way to keep track of your to do lists. Love the sound effects, too."
-AGrrrl
Fitness Point
Normally $0.99.
From the creators of Fitness Point – best app for all fitness lovers!

Do you want to stay fit? Now you can! You only need 7 minutes a day to accomplish that!

Scientific research has proven that you need to perform 12 bodyweight exercises a day to stay fit. The best part: you don't need any equipment and can do the exercises everywhere!

With this app you just click the "start" button and will be guided through the whole workout.

Here are main features of the app:

– Stunning design (based on famous Fitness Point app).
– List of exercises with animation, description and trained muscle.
– Body tracker to control your weight and other body measurements.
– Calendar for past workouts.
– Burned calories count.
– Voice feedback and motivation.
– Game center support with many achievements.
– English or metric units.
– iCloud backup
– Health app support for calories, body weight and body fat percentage.
– Universal app. Purchase once and load it on your iPhone and iPad.
– iPhone 6/ iPhone 6 Plus support.

Get the app now and start working out today! No Excuses!
Calendoodle
Normally $1.99.
Welcome to Calendoodle, the app that allows you to write, doodle and mark up your calendar the way you want it!

Now you can replace the paper calendar that you've scrawled all over next to the fridge or the beloved planner with the worn out edges…. but still retain the personalization that you love.

Enjoy a simple, clean and intuitive interface. Start handwriting, drawing, sketching and personalizing your calendar entries with Calendoodle today!
Anatomy Dictionary
Normally $4.99.
This appication will help you look up anatomy terminal with 4 languages: Latin, English, French, Vietnamese.

Features:
– Latin -> English, French, Vietnamese.
– English -> Latin, French, Vietnamese.
– French -> Latin, English, Vietnamese.
– Vietnamese -> Latin, English, French.