If you purchase an independently reviewed product or service through a link on our website, we may receive an affiliate commission. Learn more.
We've reached the end of yet another week, which means we have one last list of paid iPhone and iPad apps on sale for free that you can enjoy. Today's batch includes several fan-favorites as well as some sweet apps you might never have come across before. As always, each of these sales could be over at any time, so definitely check them out soon.
These are paid iPhone and iPad apps that have been made available for free for a limited time by their developers. There is no way to tell how long they will be free. These sales could end an hour from now or a week from now — obviously, the only thing we can guarantee is that they were free at the time this post was written. If you click on a link and see a price listed next to an app instead of the word "get," it is no longer free. The sale has ended. If you download the app, you will be charged.
Continual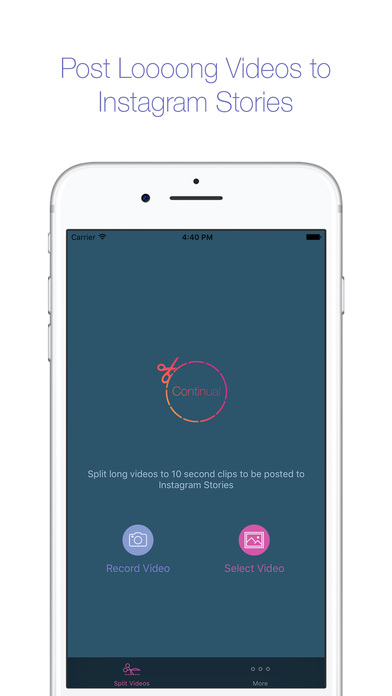 Normally $7.99.
Continual lets you post videos of any length to Instagram Stories.

Now you don't have to squeeze your stories to 10 seconds . Talk and record as long as you want, Upload it all

Continual will take any video from camera roll and split it to clips of 10 seconds so that you can upload them to IG Stories effortlessly.

A must have utility, if you promote your business through Stories.

In Instagram Stories you can post videos only up to 10s in length, Continual app helps by cutting long videos in to 10s clips so that you can upload them sequentially.

FEATURES:

+ Output videos in Highest Quality Possible
+ Upload old videos – Your videos don't have to be taken with 24 hours
+ Clips are arranged in correct order so you can upload to Instagram stories in correct order with no hassle.

+ Record straight from the app and Split to clips immediately
+ Jump to Instagram easily after splitting the video.
+ Pick a video from any folder in your camera roll
+ No Ads – (We hate 'em).

ADDITIONAL FEATURES:
+ Contact support in 2 taps – Email directly to developer's inbox
+ Frequent updates and new features
nRadio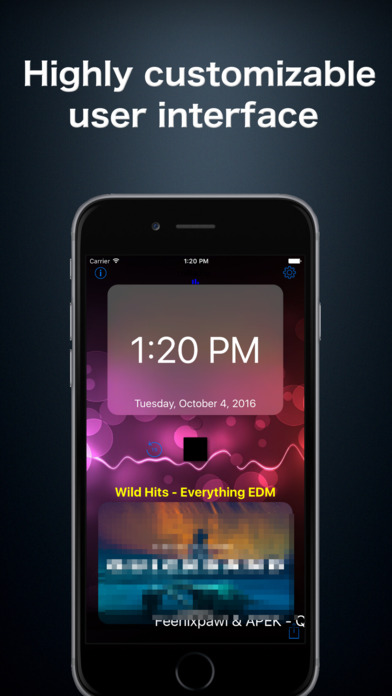 Normally $1.99.
nRadio is a radio player for iPhone, iPad and iPod, which lets you listen to radio stations over the Internet, but it's not just another Internet Radio app!

It has a unique user interface, because you customize it the way YOU like it.
Listen to your local radio stations or explore stations from other countries. Save them in your favorite list, share the radio gems you've found with your friends.

While listening to radio on the move, use the app's built-in speedometer. Or when going to sleep, use the alarm clock with nightstand mode and be gently woken up to your favorite radio station in the morning.

Try it out, you might just love it!!
In addition to US channels, it also has:

Canadian, German, UK channels. Some Irish, Australian, New Zealand channels, Finnish, Icelandic, Faroe Islands, Latvian, Norwegian, Swedish, Danish, Bulgarian, French, Italian, Spanish, Mexican, Chinese, Russian, the Netherlands, Belgium, Greece, Czech Republic, Poland, Estonia, Lithuania, Belarus, Portugal, Austria, Switzerland, Cuba, Slovenia, Hungary, Slovakia, Ukraine, Romania, Moldova, Japan, Pakistan, India, Argentina, Brazil, Serbia, Croatia, Montenegro, Macedonia, Bosnia-Herzegovina, Korea, Thailand, Nepal, Egypt, Venezuela, Colombia, Peru,Turkey, Morocco, Ecuador, Panama, Costa Rica, Jamaica, South Africa, Iran, Iraq, Chile, Guyana, Paraguay, Uruguay, Bolivia, Belize, Honduras, Guatemala, Nicaragua, Indonesia, Malaysia, Philippines, Sri Lanka, Kazakhstan, Mongolia, Cyprus and a list with random stations from around the world.

Start your most used radios directly from the home-screen, via 3D-Touch. Browse over 23.000 radio stations from 81 countries.

You can also add other stations manually if you know the address, or simply import stations directly from the radio station website, if they have posted a "import to nRadio" link on their site.

Some of the features that makes nRadio stand out from the crowd:

– Simple but nice user interface
– Information about what's playing and album art on supporting stations
– Universal: iPhone, iPad and iPod
– Easy to customize the interface and "make it yours".
– Easy searchable radio lists and easy adding radios to favorites
– 3D-Touch to play your favorite radio on 3D-Touch supporting devices.
– Alarm clock radio that works even if your app is in the background!
– Adjustable snooze time from 1 – 99 minutes
– Optional decreasing snooze. One minute shorter snooze-time every time you press the snooze-button
– Warns you when switching from wireless to cellular network to prevent additional unforeseen charges, but gives you the option to continue and be warned again in an hour, or never be warned again.
– Optional Speedometer with altimeter and temperature. Choose between mph/kmh/knots, meter/feet, Fahrenheit/Celsius
– Ability to add radio station URLs manually
– Import radio stations directly from link on stations websites (Broadcasters; visit nRadio website for instructions. It is a free:-))

If you are a Internet Radio Broadcaster, offer your station to nRadio users easily by having them click on a custom link that will import your station into the app!
Cycloramic for iPhone 6/6S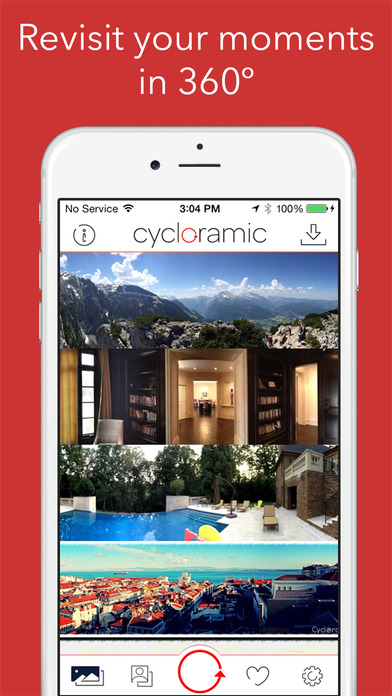 Normally $1.99.
▶▶ The Handsfree mode only works with the iPhone 6/6S (Not the iPhone 6+/6S+) and must be used on a polished level surface (granite/marble counter top or wood desk).

As Seen on SHARKTANK!
Cycloramic Revolutionizes the way you take panoramic photos and videos! Handsfree!
– Steve Wozniak: "Unexpected, fanciful and useful all at the same time!"
– TechCrunch: "The Best iOS And Android Apps Of 2013"
– The New York Times: "Pogie Award for Brightest Ideas of 2012"
– Gizmodo: "Coolest thing we've seen an app do in a while."

15 Million total downloads worldwide.

▶ GUIDED Mode (All iPhones and iPads): The easiest, fastest panorama taking app. Just follow the guided system to take the perfect panorama photo every time.

▶ HANDSFREE Mode (iPhone 6 ONLY): This revolutionary, fully automated mode lets your phone do all the work.
Just put your iPhone 6 on top of your power adapter on a smooth and level surface (granite, marble or wood desk) and it will automatically rotates 360 degrees using the phone's internal vibration motor. As it rotates, the phone takes multiple photos, instantaneously stitches them together, and generates a panoramic photo viewable in our immersive viewer.

▶ CYCLORAMIC UNIQUE FEATURES:
– The easiest panorama guidance system.
– The fastest panorama capture (less than 3 sec for 180 degree panorama with the iPhone 6)
– up to 360-degree panoramas.
– Award winning photo editing and enhancement tools from Aviary: filters, frames, stickers, adjustments (crop, rotate, contrast, brightness, etc.) and more. The photo suite can also be used on your regular photos taken outside of Cycloramic.
– Immersive viewer.
– Video Conversion: Convert any photo into a video (240p, 360p, 480p, 720p or 1080p resolutions).
– Panorama Photo to INSTAGRAM Video converter.
– Share to Facebook, Twitter, INSTAGRAM (photo and video), email, sms and camera roll.
– … And for the iPhone 5/5S, the revolutionary Handsfree Mode.

▶▶▶ CYCLORAMIC's Patented Technology:
If you are interested in using Cycloramic's Vibration-Induced Rotation Patented Technology SDK, contact us at contact@egosventures.com

Also featured in Petapixel, ABC News, INC, Sharktank, Business Insider, Entrepreneur, USA Today, Crunchbase, NY Times, Gizmodo, CNET, Lifehacker, TUAW, TechCrunch, LA Times, The Telegraph, mac4ever, Le journal du geek, Presse Citron…

Visit Cycloramic.com for our Blog, Pressroom, YouTube, Facebook, Twitter, Pinterest, Support and Tutorials.

If you are not 100% satisfied or need help please contact us at contact@cycloramic.com

Capture the world!
The Cycloramic Team
Download Cycloramic for iPhone 6/6S
Tasky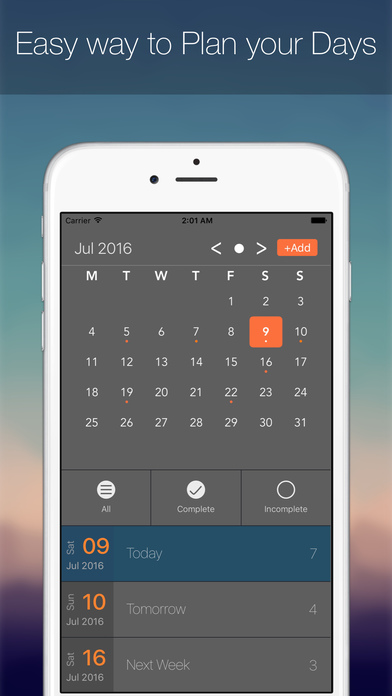 Normally $0.99.
Tasky is a great task management tool for organizing your daily tasks in an easy and simple way. With this app, users will be able to add tasks much faster and plan future events in minutes. It has been designed with a smart and intuitive interface that gives you dedicated sections adding tasks on Today, Tomorrow and Next Week. Mark tasks as complete one by one as you accomplish them.

The built-in calendar will give you full access to jump to any date and plan your future events easily.

App Highlights:
-Easy to add tasks
-Sort tasks by All, Complete, Incomplete.
-Built-in calendar to add or browse task on the days to come.
-Add task categories and sort them in one place.
-Postpone incomplete tasks to Next Day, Next Week or Next Month.
-Add small notes with each task and make them visible below the task title.
-Swipe left on a task using Track Pad to delete a task.
-Take a look at the total number of tasks for a day at the bottom right corner of the app.
-A handy search bar at the bottom of the app to search any task.
-Export PDFs of task lists or print them directly from the app.
-iCloud sync across iOS and macOS.
Tasky is designed to be a complete task management program for planning your daily schedules. Download Tasky today and organize your daily life in a better way.
The Abduction of Bacon at Dawn
Normally $0.99.
**** "A Swine-tastic Platformer" Touch Arcade ****

The Abduction of Bacon at Dawn, the Chronicles of a Brave Rooster is an action and humor-packed platform shooting game for iOS.

STORY
The Earth is being invaded by hungry aliens that are abducting our pigs…
But, why pigs?! Soon after the invasion began, the scientific community made a shocking discovery: eating bacon is vital to our health and should be consumed in large quantities. That's why the aliens are here!
Will we run out of pigs? Can we survive without bacon?? Is this the end of human race???
Among all this mayhem, a unique hero emerges… the only one that can fight, or at least see, the aliens at dawn! Its name is Brave Rooster!

KEY FEATURES
– Fight armies of evil aliens, robots, and UFOs in challenging humor-packed levels!
– Jump, shoot and stomp your way to the final boss!
– Get ridiculously-awesome weapons and armour upgrades as you advance.
– Save the pigs and ensure that our bacon stays on Earth!
– Follow an epic adventure, full of hilarious inventions by some of the greatest minds on Earth…
– Replay past levels with your new weapons to complete all the challenges.
– Game Center integration: Compete to become the top rooster in the world in each level.
– Metal support for best graphics performance.
Download The Abduction of Bacon at Dawn
Volume Booster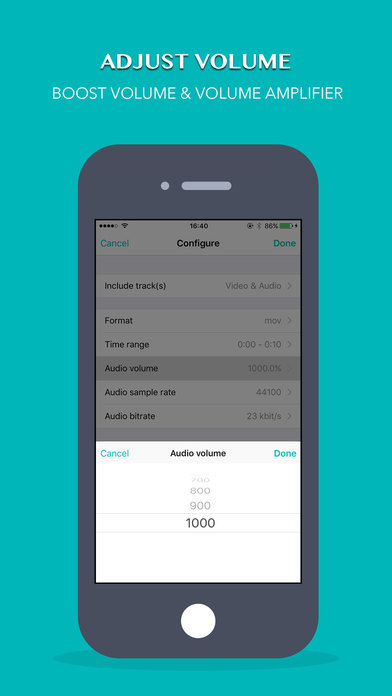 Normally $1.99.
Simple, small, free app to boost & mute & decrease & control your video or audio sound volume. Useful for movies, audio books and music.

KEY FEATURES:
• Automatically detect all Video and Music files on your iPhone, iPod Touch and iPad
• Support alls popular video and audio format
• Support boost volume up to 10 times
• Support mute volume for videos
• Support decrease volume for videos and audios
• Share fun videos & audios with your friends
• Lots of configurations and preferences
Image Mapper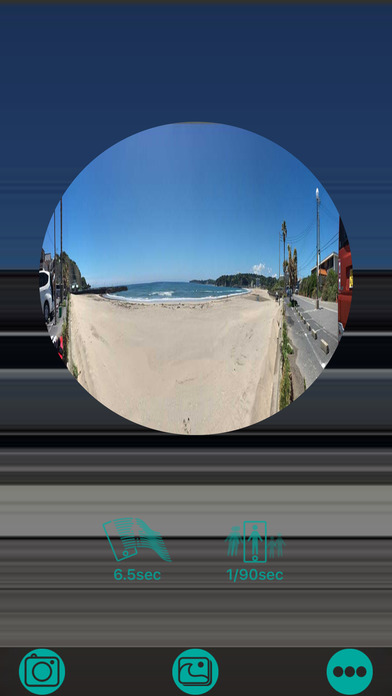 Normally $0.99.
Image mapper is an app which can allow your possessory images float in the empty spaces

You can take the photos as if you're mapping the image in the space to display favorite images which is in iPhone or iPad on Image mapper and shoot long-time exposure (shoot which shutter let open longtime) by using your camera.
You can select 2 modes.
Wiper mode which can display the image beltlike and Stamp mode which can display the image stickylike.

Wiper mode : which allows the vertical columns of one image flow horizontal direction.
The screen will be Wiper mode to swipe image-circle whether left or right by fingers.

There are 3 types, Single, Loop and Tap&Fire.
1, In Single, the image will flow once.
2, In Loop, the image will repeat until the tap the screen.
3, In Tap&Fire, the image will flow from head each time you tap.

These modes are selected by number of swiping finger (1 to 3) (You can also change assignment setting)
※The direction you swiped will be directly the direction you should wipe. Thus please move the device in direction you swiped. If you move it reverse direction, the image will be inverted.
You can adjust width of the images and flowing speed.

Stamp mode : which displays the images only for a moment
The screen will be Stamp mode to tap image-circle.

There are 3 types, Single, Tap&Fire, and Freeze&Fire.
1, In Single, the image will be displayed once.
2, In Tap&Fire, the image will be displayed each time you tap.
3, In Freeze&Fire, the image will be displayed each time you still the iPhone or iPad.

These modes are selected by number of tapping finger (1 to 3) (You can also change assignment setting)
You can adjust size of the images and displaying seconds.
Breathing Zone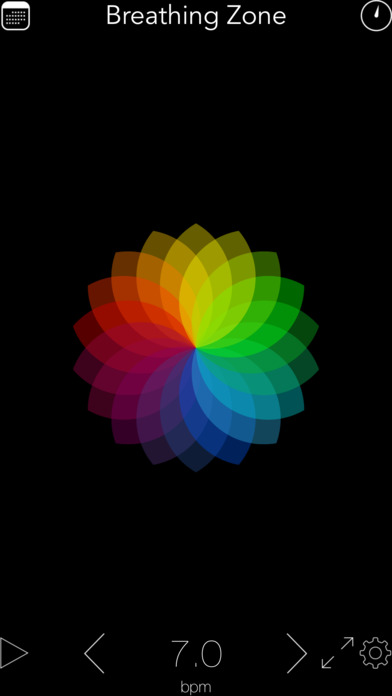 Normally $3.99.
With Breathing Zone, you can change your life one breath at a time.

• Recommended by over 90 top US doctors*.

Featured In:
• Harvard Medical School's Harvard Health Newsletter
• Time.com Techland
• The Huffington Post
• Lifehacker

Easy to Use
There are no complicated settings and no difficult breathing patterns to master. All you need to do is breathe in and out according to the guide.

Features:
• Log your Mindfulness Minutes to Apple's Health app.
• Easy to follow voice instructions.
• Intuitive animated breathing guide.
• Five calming guide sounds.
• Breathing Analyzer measures your breathing rate.
• Timed sessions from 2 to 60 minutes.
• Weekly Target tracks your therapeutic breathing minutes
Drift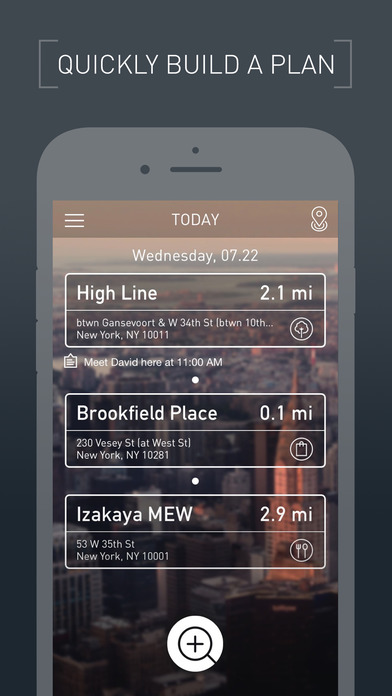 Normally $1.99.
Drift is a simple, elegant, and beautifully designed travel planner that is solely focused on the places you plan to visit. It is perfect for a vacation itinerary and everyday to-do / to-go agenda.
QUICKLY BUILD A PLAN
Putting together a plan is simple. Since you do not need to take into consideration the time you plan to visit a place, but only the day you plan to visit it, you are able to build your plan quickly and painlessly.

NAVIGATION
If you are in proximity to a place and decide to navigate to location with Drift, an arrow will point in the direction of your destination. This is very convenient when you are roaming in cities such as New York!

SIMPLE LISTS
An added place will only appear in one of two lists: Today or Future.

SEARCH
With Drift's search functionality, finding a destination be that a restaurant, museum, or coffee house is easy as 1-2-3. We leverage Foursquare's incredible database to provide you great search results.

HISTORY
See a history of all the archived places you have marked as done as well as places that you have missed. You can quickly re-add those places you have missed.

PLACE'S DETAILS
The hours of operation, phone number, and directions to a place are easily accessible. They are automatically gathered for you when you add a place to your plan. You can also add to the details your own personal notes if you so desire.
Funnyfy 2
Normally $19.99.
Introducing the Simplest and fastest video editor ever!

Add timed titles to your videos and export to camera roll super fast.

Turn your videos hilarious stories within seconds.

Just tap anywhere in the video to add a title.

Point out idiots, geniuses, fails in your clips. Or add subtitles to what your cute pets say to camera.

Possibilities are endless. Just imagine and be creative.

FEATURES

+ Simply tap anywhere in the video to add titles
+ Unque editing interface to help you edit super fast
+ Edit color of the title
+ Adjust title timing to milliseconds
+ Save to camera roll in highest quality
+ Select, move and delete titles fast and easy.
+ Quick re-play previews of selected title
+ Seek through the video fast

Extra features:
+ Carefully crafted design and editing interface
+ No ads inside the app
+ Developer support – Contact for help within the app in 2 taps
+ Similar editing interface to our Beep App (Made for Censoring videos)
BoomBox
Normally $6.99.
BoomBox is the ULTIMATE music player for any Soundcloud user that finds their native app to be too clunky! BoomBox is simple and intuitive, allowing the user to focus on the music. With completely ad free listening, BoomBox is the only music player to offer exclusive access to Soundcloud with no cost and no ads. Don't waste your time skipping Soundcloud ads… Just get BoomBox!

BoomBox is the best way to search for millions of free music and audio tracks via Soundcloud… AD FREE!

Listen to any song, album, podcast, or audio recording that is available on your Soundcloud profile for absolutely free, no strings attached.

App Features:
– Explore tracks by genre and playlist
– Search unlimited free music & audio
– ENTIRELY AD FREE
– Use unique colors to customize your experience
– Background Play & Select music from the lock screen
– Create and Manage your Playlists
– Simple Music Player is available on all pages for convenience