If you purchase an independently reviewed product or service through a link on our website, we may receive an affiliate commission. Learn more.
Welcome to another edition of our series on paid iPhone and iPad apps that go on sale for free for a limited time. Today's post is peppered with terrific apps, and the list once again includes the always entertaining game Goat Simulator. There's plenty more than just goats in Wednesday's post though, so be sure to check out all of the apps below before these sales end.
These are paid iPhone and iPad apps that have been made available for free for a limited time by their developers. There is no way to tell how long they will be free. These sales could end an hour from now or a week from now — obviously, the only thing we can guarantee is that they were free at the time this post was written. If you click on a link and see a price listed next to an app instead of the word "get," it is no longer free. The sale has ended. If you download the app, you will be charged.
MailTime Pro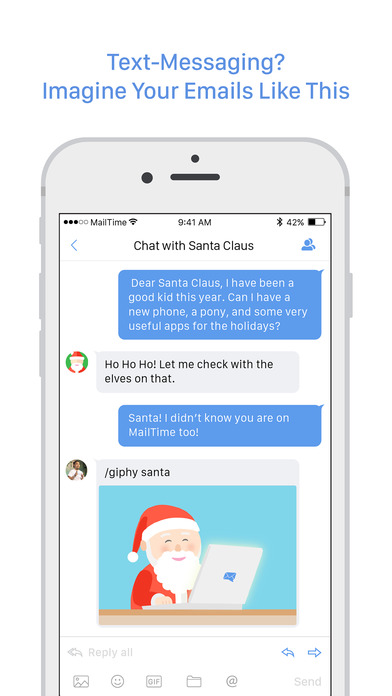 Normally $2.99.
MailTime makes email as easy as text messaging. We reformat your cluttered email threads into clean chat bubbles!

*MailTime Pro connects with an unlimited number of email accounts. The default version of MailTime will always be free, but every additional account beyond the default two will be charged.

Email message anyone with an email address on MailTime and send photos, documents and assign tasks right from your phone. We sync all your desktop emails and smartly sort them into conversational emails and newsletters so you can deal with your inbox easily on the go.

MailTime works with your favorite email services: Gmail, iCloud, Yahoo, Outlook, AOL, Microsoft Office 365, Hotmail, MSN, Mail.ru, QQ, 163, 126, and more! You can add multiple accounts on MailTime Pro for free!

————
Features

Email Messaging:
Our content parsing engine cuts out annoying metadata to display emails in clean bubbles. View your emails as conversations, not threads!

Communicate, Don't Organize:
Our intelligent inbox sorts out the Important humans from the newsletters, discounts, and other machine-generated mail in All Mail. Talk to people you care about, not machines!

Group Chats:
Managing your conversations in MailTime is just like a group chat. To add, remove, or switch participants to 'cc' or 'bcc', just swipe left and change your participants' status.

One Click To-dos:
Use the @ symbol to quickly assign tasks without leaving the inbox. For example, "@Charlie, Please download MailTime", will put the rest of that sentence into Charlie's Mentions list, next to the group status list.

TOO LONG; DIDN'T READ:
Just like Twitter prevents you from writing more than 140 characters, MailTime alerts you if your message is too long. You can still send them, but no guarantees that they'll be read!

GIFs:
Now you can send GIFs in your emails from MailTime! Just type /giphy plus a keyword, and a random GIF will be sent to surprise you!

UPDATES: Adding support for Multiple Select! Now users can search within MailTime from any screen using the Spotlight Search. Jump into a new email with 3D Touch, Peek into emails before opening, Swipe a quick reply, or Long Press to expand email bubbles, addresses, contacts and web links with ease.
Magic Launcher Pro
Normally $2.99.
Magic Launcher is the only Today Widget App Launcher you will ever need, with the ability to launch more than 100,000 apps and actions from the Today Widget in the Notification Center it makes using your iPhone or iPad even easier! Launch calls, texts and more with your friends in one swipe and tap with our Magic Contact launchers and our Quick Access actions allow you to manage your phone settings with a tap of a button.

Features Include:
– Unlimited capabilities for launching apps and actions with more than 100,000 apps including all top apps such as Facebook, Instagram and Snapchat all in your Notification Center
– Design your own Launcher layout including modifications for icon size, text and shape
– Magic Contact allows instant contact via Call, Messages (SMS), FaceTime, FaceTime Audio, Mail and Telegram!
– A huge set of Magic Launchers including Google Search, Wiki Search, Weather, Clock, Clipboard search, Clipboard clear, automatic Tweet/Facebook post latest photo, Battery monitor and much more!
– Manage Settings, quickly turn on/off WiFi, 3G, Bluetooth, Location services and more
– Widget Scheduling allows you to automatically show & hide widgets depending on time or location
– Have multiple Launchers for various functions
– Universal app works on iPhone and iPad with support for iOS 8, iOS 9 & 3D-Touch
– iCloud Backup and Restore
– Multiple language support
– Request additional apps via our request form
– And so much more…
Goat Simulator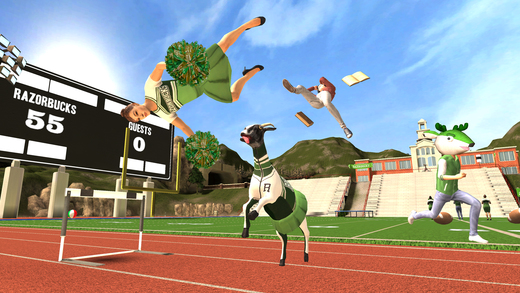 Normally $4.99.
Goat Simulator is the latest in goat simulation technology, bringing next-gen goat simulation to YOU. You no longer have to fantasize about being a goat, your mobile dreams have finally come true!

Gameplay-wise, Goat Simulator is all about causing as much destruction as you possibly can as a goat. It has been compared to an old-school skating game, except instead of being a skater, you're a goat, and instead of doing tricks, you wreck stuff. more! When it comes to goats, not even the sky is the limit, as you can probably just bug through it and crash the game.

DISCLAIMER
Goat Simulator is a completely stupid game and, to be honest, you should probably spend your money on something else, such as a hula hoop, a pile of bricks, or maybe pool your money together with your friends and buy a real goat.

KEY FEATURES
* You can be a goat
* Get points for wrecking stuff – brag to your friends that you're the alpha goat
* MILLIONS OF BUGS! We're only eliminating the crash-bugs, everything else is hilarious and we're keeping it
* In-game physics that bug out all the time
* Seriously look at that goat's neck
* You can be a goat
Done & Done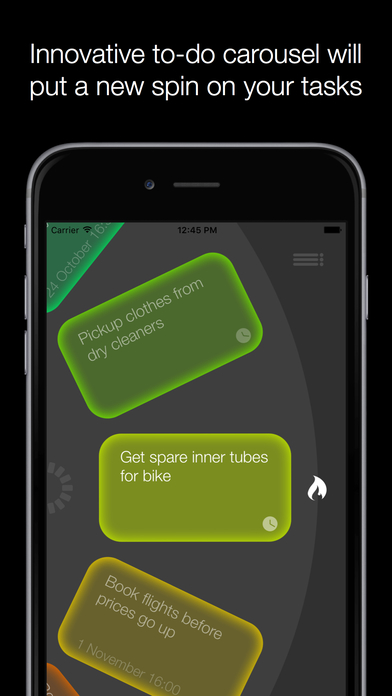 Normally $0.99.
That thing you just did – nice job! Crossing it off your to-do list always feels good but we're going to make it much better. Let's take that pesky task, rig it with half a tonne of TNT and blow it sky high with an earth shattering explosion!

Done and Done – light a fire under your to-do list.

You'll find yourself getting things done just so you can bring them to an explosive end. It's immensely satisfying and slightly addictive. Goodbye procrastination, hello productivity.

As well as a never ending stock pile of cinematic explosives you'll get a cutting edge task manager that's been designed to be more gratifying at every turn.

With our unique carousel you arrange your to-do's by color, perhaps blues for work, reds for urgent, greens for groceries – you decide. With all your tasks just a spin away it's a highly visual and fun way to keep track.

Set reminders for any or all of them.

Then when you've finished something just hit the detonator and stand back. It's big bang time!

The task may be done but it's never forgotten. You'll have a complete history of everything so you can admire how much you've achieved.

This is a universal app for iPhone and iPad.
Context Camera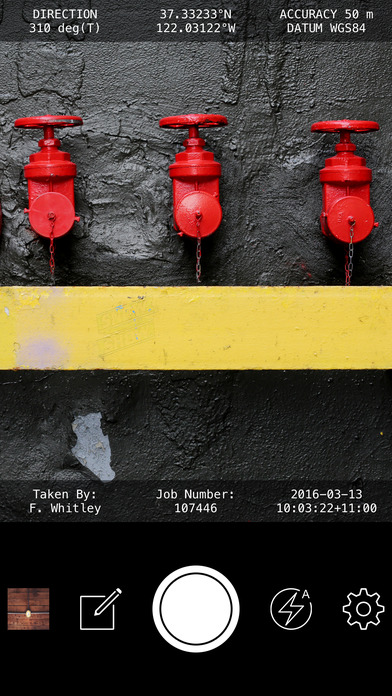 Normally $4.99.
Context Camera helps you to collect critical information by stamping your photos with direction, location, time and address information, as well as user comments. Never question where/when/why a photo was taken again.

HOW IT WORKS:
Open the app and take a photo – it's that simple. The overlay shown on screen is exactly what will appear in the photo itself.

STAMP PHOTOS WITH CRITICAL INFO:
– Capture photos using the built in camera of your device.
– Focus, zoom and flash settings are supported on compatible devices.
– Variety of photo overlays available, photos can be stamped with:
* location (latitude/longitude, UTM or MGRS)
* direction (degrees or mils)
* user comments
* date and time (variety of formats)
* address
– Information is also written to the image file as metadata.

ANNOTATE PHOTOS FOR A CLEARER MESSAGE:
– View photos taken with the app in the built in gallery
– Draw arrows, rectangles, ellipses and lines on your photos

SHARE PHOTOS QUICKLY AND EFFICIENTLY:
– Share photos via email/SMS/social media
– Share multiple photos as zip files
– Quick email feature lets you define email recipients for your photos in advance. When you choose a quick email option from the sharing menu, the recipients are automatically filled in.
Money Focus Pro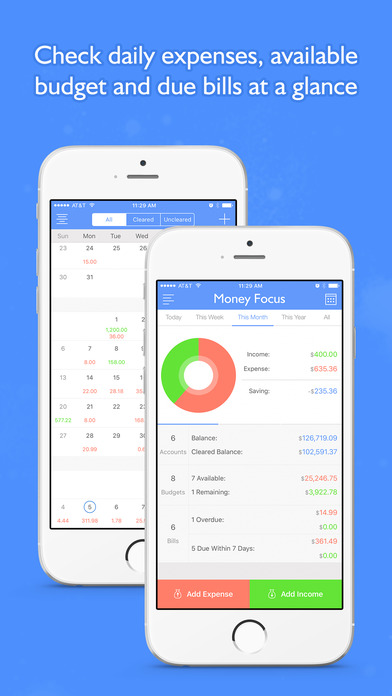 Normally $0.99.
A simple but comprehensive, brief and clear personal & business finance management app.
Be good at managing money matters will make your life relaxed and well-organized.

Check your Accounts transactions and balance;
Check Transactions under a Category;
Create Budgets and track transactions under them;
Track income and expense Bills and make sure they are paid on time.
View Transactions by date.

It supports multiple profiles; you can track yours, family members or business finance separately.
It can list your transaction by daily, weekly, monthly or yearly, and generate kinds of reports, so you can see clearly about your earnings and spending.

Key Features:
⁃ Add a transaction with photo of receipt, payees, account, category, budget, check number, and date.
⁃ Track total accounts balance and balance of each account.
⁃ Check transactions of each account.
⁃ Create categories and sub-categories.
⁃ Check transactions and amounts under a category.
⁃ Create budgets and transaction their transactions.
⁃ Calendar and list view of bills.
⁃ Mark bills as fully or partially paid.
⁃ Create bills reminders to make sure they are paid on time.
⁃ Calendar and list view of Bills.
⁃ Track income and expense bills with or without a repeat cycle.
⁃ Show all transactions by daily, weekly, monthly and yearly.
⁃ Copy transaction to quick add a new one.
⁃ Hide or show cleared transactions.
⁃ Add repeat and one time transactions.
⁃ Mark transaction as cleared or not.
⁃ Built-in calculator or default keyboard to enter amount.
⁃ Check total accounts balance chart view.
⁃ Supports multiple currencies.
⁃ Search transactions by payee, category, account, amount or note.
⁃ Over view of recently finance status.
⁃ Nine finance reports.
⁃ Supports multiple groups, manage your personal, family member and business finance separately.
⁃ Passcode protection.
⁃ Share data by email.
⁃ Supports AirPrint.
⁃ iCloud backup and restore.
⁃ Dropbox backup and restore.
⁃ Create multiple reminders.
⁃ Refresh exchange rate or change them manually.
Photone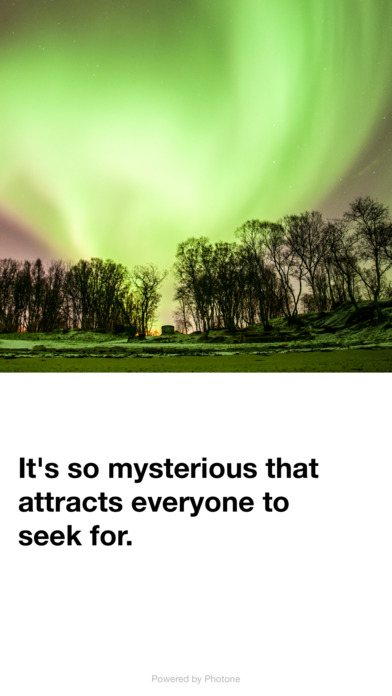 Normally $0.99.
Choose a photo, write a short maxim to create a world unique elegant photo card.

The design is inspired by Pantone, which is a company provides colors.
Magical Objects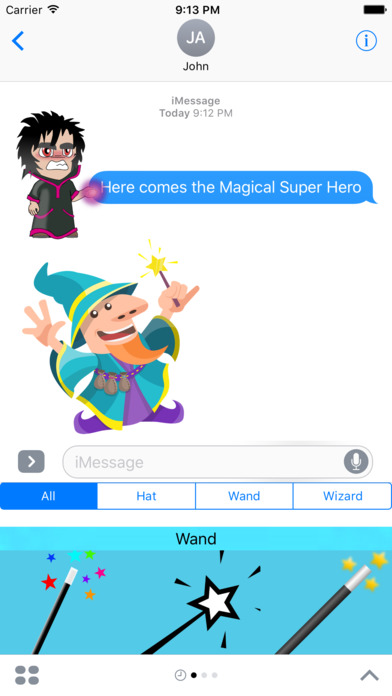 Normally $0.99.
A sticker pack containing magical objects – hats, wands, wizards. Now you can take your mysterious conversation to the next level!
SHAREit Pro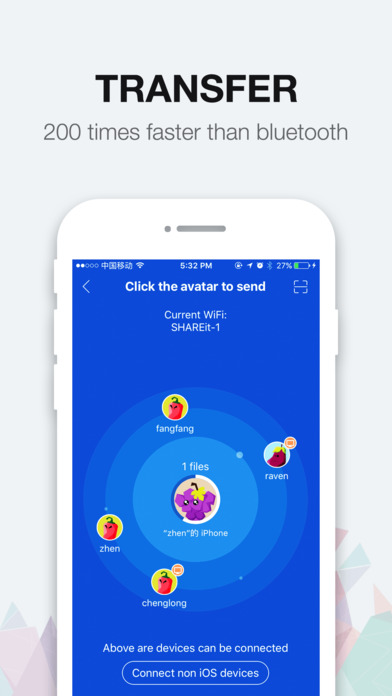 Normally $0.99.
Transfer tool for sharing files without any mobile data, which is the choice of over 600 million users.

SHAREit is a cross platform sharing tool which requires no mobile data. It's over 200 times faster than Bluetooth. Share the photos, videos, audios and files of any formats with your friends at any time on your phone or computer.

SHAREit Professional is the advanced SHAREit App. You will experience the purest form of SHAREit without ads by paying a tiny amount for this professional edition. Also, all new features developed by SHAREit team will first be available to experience in this edition.
Features:

[No ads]

We provide you purest transfer experience without ads.

[No need for internet]

No need for a Wi-Fi network or a mobile data plan. Share at anytime and anywhere.

[10 seconds to transfer a film]

Over 200 times faster than Bluetooth. The fastest speed can exceed 20Mb/s.

[Enjoy music]

Enjoy the pleasant experience of listening music on SHAREit music player.
[SHAREit Vault]

Integrated tool for photos and videos helps you protect privacy.

[Cross platform sharing]

Transfer between laptops & mobiles of different kinds without obstacles.

[Powerful functions]

Support sending files of any format.

No more cables or internet needed to transfer. Easily sharing between various devices.
SomaFM Radio Player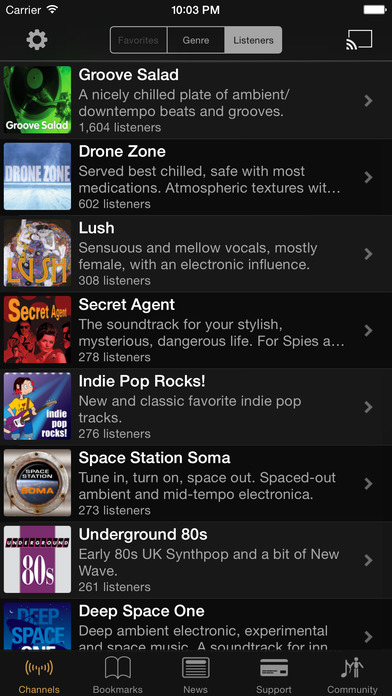 Normally $7.99.
SomaFM's official app, giving you access to over 30 year-round channels of listener-supported, commercial-free, underground/alternative radio, with all music hand-picked our award-winning DJs and music directors.

Lifehacker.com calls SomaFM one of the "Five Best Internet Radio Services" and says "completely user and listener-supported, which means no ads or commercials during your broadcasts, and the channels and programs aired at SomaFM are rarely heard anywhere else."

Features include:

– No registration required; no additional purchases required!

– View stations by Popularity, Genre or your favorites

– Shows name and artist of currently playing song and history of songs played.

– Bookmark, Share title and search iTunes for the playing song

– Background streaming: use other apps while listening.

– Stream to AppleTV & Airplay devices; Qualcomm® AllPlay™ compatible speakers; Chromecast

– Integration with many car stereo units via Dock Connector or Bluetooth

– Remote control: Pause and restart playing as well as skip between favorite channels from your headphone remote, lock screen controls.

– High and low bandwidth streaming: 128k MP3 and 64-80kb AAC-HE (high); great-sounding 32kb AAC-HE and good-quality 40kb MP3 (low).

– AAC-HE support for highest quality audio even at the lowest bitrates.

Never listened to SomaFM before? Here's our lineup, which are all commercial free:

Groove Salad: A nicely chilled plate of ambient/downtempo beats and grooves.
Downtempo electronica, mostly instrumental. Great for work.

Secret Agent: The soundtrack for your stylish, mysterious, dangerous life. For Spies and P.I.s too!
An eclectic blend of cinematic downtempo, stylish lounge, sambas and easy-tempo with an adventurous flair.

Drone Zone: Served best chilled, safe with most medications. Atmospheric textures with minimal beats.

Fluid: Drown in the electronic sound of instrumental hiphop, future soul and liquid trap.

Indie Pop Rocks!: New and classic favorite indie pop tracks.

Left Coast 70s: NEW! Mellow album rock from the Seventies. Yacht friendly.
The mid/late 70s sound that blossomed out of Los Angeles and spread up and down the west coast.

cliqhop idm: Blips'n'beeps backed mostly w/beats. Intelligent Dance Music.

Beat Blender: A late night blend of deep-house and downtempo chill.

Dub Step Beyond: Dubstep, Dub and Deep Bass. The place for Bass Music!

The Trip: Progressive house / trance. Tip top tunes.

Illinois Street Lounge: Classic bachelor pad, playful exotica and vintage music of tomorrow.

Space Station Soma: Tune in, turn on, space out. Spaced-out ambient and mid-tempo electronica.

Doomed: Dark industrial/ambient music for tortured souls.

Boot Liquor: Americana Roots music for Cowhands, Cowpokes and Cowtippers

Lush: Sensuous and mellow vocals, mostly female, with an electronic influence.

Digitalis: Digitally affected analog rock to calm the agitated heart.

Suburbs of Goa: Desi-influenced Asian world beats and beyond.

ThistleRadio: Exploring music from Celtic roots and branches
Crafted by Fiona Ritchie, award-winning host and curator of NPR's syndicated Thistle and Shamrock radio show.

Underground 80s: Early 80s UK Synthpop and a bit of New Wave, with rarities you forgot you remembered.

Sonic Universe: Transcending the world of jazz with eclectic, avant-garde takes on tradition.
NuJazz/Avant Garde/Euro-jazz.

PopTron: Electropop and indie dance rock with sparkle and pop.
Less guitars, more synths.

Metal Detector: From black to doom, prog to sludge, thrash to post, stoner to crossover, punk to industrial.

Mission Control: Ambient and experimental music mixed with the historical sounds of the space program.

SomaFM SF 10-33: Live San Francisco Fire and Police radio with an electronic music soundtrack.
Cloud Hub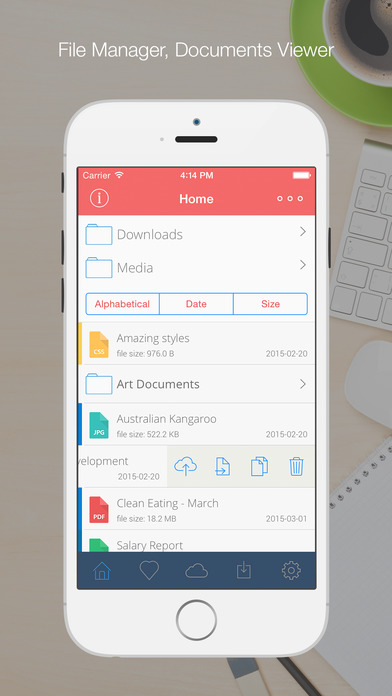 Normally $0.99.
Cloud Hub is a simple documents reader and manager for iOS platform.

It allows to download or upload files from clouds services like Box, Dropbox, OneDrive, Drive, iCloud. Built-in FTP client. Import media files from Photo Albums. Manage all local files stored in the app; change name, move, copy, delete, create directories, view the content of the most common file types like PDF, PNG, JPG, MP4, iWork, MS Office files. Share files using social media accounts like Facebook, Twitter etc.

• Cloud Hub reads files:
– PDF
– MS Office: Word, Excel, Powerpoint (doc, docx, xls, xlsx, ppt, pptx)
– iWork: Keynote, Pages, Numbers
– text (txt, rtf)
– images (jpg, png, gif, tiff)
– MP3, WAV
– MP4, H.264
– html, css

• Access Services (download/upload):
– Dropbox
– Box
– OneDrive
– Google Drive
– iCloud
– FTP

• Local file operations:
– Copy
– Move
– Delete
– Change name
– File details
– Send via e-mail
– Share using social media (Facebook, Twitter etc.)
– Upload to server (Dropbox, Box, OneDrive, Google Drive, FTP)
– View the content of the most common file types
– Image viewer
– Video player (MP4, H.264)
– Music player (MP3)

• Local directory operations:
– Create directory
– Delete directory
– List chosen directory
---
Our deals and product reviews are picked by BGR's expert editors and team.

Follow @BGRDeals on Twitter to keep up with the latest and greatest deals we find around the web. Prices subject to change without notice and any coupons mentioned above may be available in limited supply.