If you purchase an independently reviewed product or service through a link on our website, we may receive an affiliate commission. Learn more.
Thursday's batch of paid iPhone and iPad apps on sale for free comes a little later than normal but as they say, better late than never. We've got 10 great apps for you on today's list, and there's definitely something for everyone here. If for some reason 10 aren't enough, you'll also find several remaining freebies in Wednesday's post.
MUST SEE: Leaked video shows a real iPhone 7 in action for the first time ever
These are paid iPhone and iPad apps that have been made available for free for a limited time by their developers. There is no way to tell how long they will be free. These sales could end an hour from now or a week from now — obviously, the only thing we can guarantee is that they were free at the time this post was written. If you click on a link and see a price listed next to an app instead of the word "get," it is no longer free. The sale has ended. If you download the app, you will be charged.
Translator Pro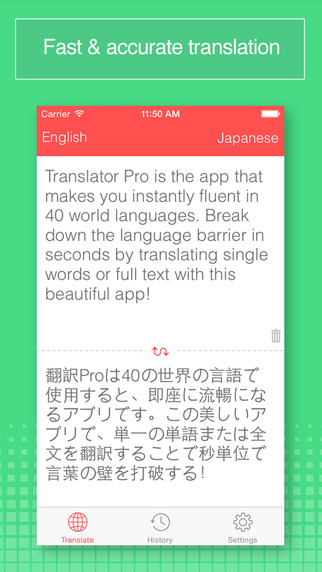 Normally $3.99.
The time is now for a complete, easy to use and elegant app that allows you to speak over 40 languages with one simple tap.
Using state of the art technologies such as machine translation and text to speech, Translator Pro is the ultimate tool that lets you speak and understand the world's major languages and many more.

:: :: KEY FEATURES :: ::

● Translate any text between 40 languages
● Share your text via email or on your social networks
● Offline text-to-speech
● You can dictate your text instead of typing
● Browse through your translation history offline
● Optimized for all devices including iPhone 6 and 6 Plus

Our app supports the following languages::

● Afrikaans
● Albanian
● Arabic
● Basque
● Belarusian
● Bulgarian
● Catalan
● Chinese
● Chinese (traditional)
● Croatian
● Czech
● Danish
● Dutch
● English
● Estonian
● Filipino
● Finnish
● French
● German
● Greek
● Hindi
● Hungarian
● Indonesian
● Irish
● Italian
● Japanese
● Korean
● Malay
● Norwegian
● Polish
● Portuguese
● Romanian
● Russian
● Slovak
● Spanish
● Swedish
● Thai
● Turkish
● Ukrainian
● Vietnamese

This app requires an internet connection.

Use our app to communicate in a multitude of languages or as a learning tool to help you acquire that elusive foreign language you've always wanted to master.
MemoMa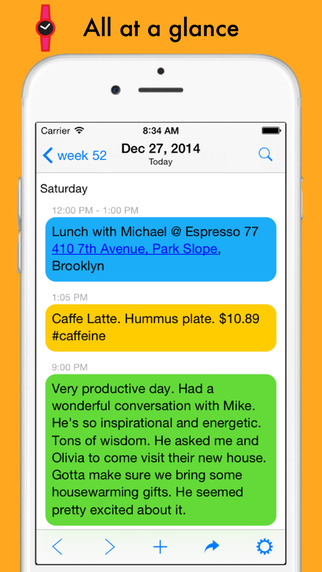 Normally $3.99.
MemoMa is a notes app that you can write your memos, ideas, journals, or any kind of text directly into your iPhone calendars. You can add a note very quickly by tapping a plus (+) button, and your note will be registered with a time stamp. You can also add a calendar event using MemoMa.

You can start your day by checking MemoMa's today's view. That is where the app starts when you launch it. It shows all of your notes and events for the day. Everything you write is displayed on your timeline, so you don't have to expand each item. Scroll through the day with your finger to learn all the details, including addresses, emails, URLs, whose hyperlinks can lead you to external resources. If you want to copy one of your notes or events, long press it and the text will be copied to the clipboard.

You can move to another day by swiping left or right, or by specifying a date. If you have difficulty finding a specific note or event, expand the view to a week, a month, or a year.

A full text search not only helps you find a specific note or event, but tells you how many entries fit your criteria for a specified period. And, it can be displayed in both chronological and reversed chronological orders. It helps you track down how many times you've had a certain activity, and lets you know when it happened the first as well as the last time.

What MemoMa Can Do:
– Create and edit plain text notes with date and time stamp.
– Create and edit calendar events.
– View entire texts for a given period (e.g., a day, a week, a month or a year) without having to open each event or note.
– Copy a note's or event's detail to clipboard.
– Hyperlink addresses, URLs and phone numbers to launch external apps.
– Full text search within given period (up to a year).
– Search results in chronological and reversed chronological orders.
– Create notes and events off-line.
– Change text size through system settings.

CAUTION: MemoMa has the following limitations:
– Cannot insert image, video, audio or other multimedia content.
– Cannot change fonts or format rich text.
– Alarms, reminders and invitations are not supported
(it can be set but, the functionalities are delegated to iPhone's main calendar app)
SoFlow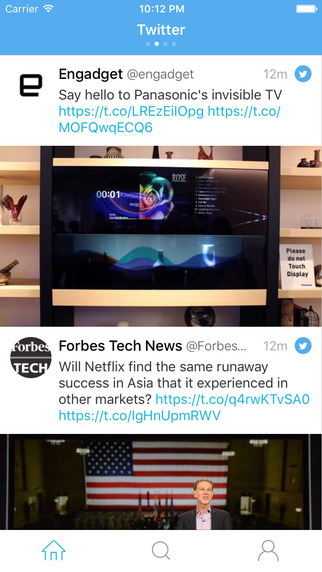 Normally $1.99.
SoFlow changes the way you interact with Facebook, Twitter, Instagram and Tumblr, all whilst playing your favourite SoundCloud tracks! View streams in one intuitive feed or swipe across to view them individually.

With SoFlow, posting to all your social media accounts has never been easier. Post without the hassle of rewriting your perfectly crafted message. Tag your location in Tweets and add images and videos in a simple, yet beautiful user interface.

SoFlow's intelligent search pulls information from all the social networks you are signed in with, along with SoundCloud tracks you can listen to in the background. Trending topics from Twitter and the most popular photos and videos on Instagram are also easy to explore.
orange time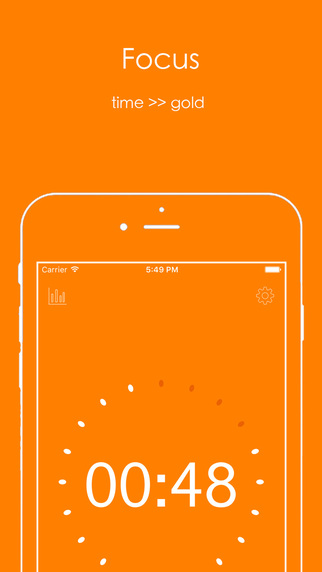 Normally $0.99.
How time flies ! No one can stop it!

Just focus in the work time.

It would lead you a better life !! Orange Time is based on tomato working(Pomodoro).

◎ time setting
focus time (don't too long)
rest time

◎ sound setting
focus BGM
rest BGM
focus over alert sound
rest over alert sound
mute

◎analyze
record your focus time add oranges.

We spent so much time to make app to let you work efficiently ,of course ,with your support, we will work hard to do better!
SpeakText 2
Normally $9.99.
SpeakText 2 – Speak & Translate Web pages and Documents
The app integrates the system text-to-speech engine, speaks & translates offline without internet connection.
A must have app to speak aloud & translate text, documents and web pages of Safari.

Useful Features
● Translates 40+ languages
– Display the original text for each translated sentence
– Show both original web page and translation
– Mail translation

● Speak aloud 30+ languages
– Read all unread articles automatically
– Swipe to control skipping sentences
– Highlight word by word for each speaking sentence
– Add favorite articles with "Starred" to speak aloud later
– Copy or add touched selected words with "Starred" in Speak mode
– With funny bear and human face animations while speaking
– Support useful speaking repeat, pause, and speed & pitch options
– Exercising (read then record) and improving your language skills during a bike riding, jogging or walking.

● Speak & translate the copy & paste or key in text
– Swipe to mark as read or unread, flag or unflag, and copy a starred text to input box

● Speak & translate web pages
– A speak & translate extension for Safari app that speaks & translates the entire Safari web page directly
– Speak & translate the pasted url web site automatically
– Speak & translate the clicked web page (key in or copy url in Key in function)

● Speak & translate documents
– Turn eBook page automatically to ensure continuous reading
– Tree file explorer
– Cloud files import & export support
Features
● Translates 40+ languages

● Speaks aloud 30+ languages
The app supports one system language, you can make in-app purchases to buy extra languages.

● Display the original text for each translated sentence

● Mail translation

● Speak & translate the copy & paste or key in text

● Speak & translate web pages

● Speak & translate the clicked web page

● Speak & translate documents
Formats supported:
– Text (text, txt), RTF document (rtf)
– Microsoft Office: Word (doc, docx), Excel (xls, xlsx), PowerPoint (ppt, pptx, pps)
– Apple iWork: Pages (pages), Numbers (numbers), Keynote (key)
– eBook (unencrypted epub)
Please note that iBook eBooks are limited to use inside Apple iBook app only.
PDF file format is not supported.

● Tree document file explorer

● Cloud files import & export support

● Support three ways to open documents
1. Open In…
2. Apple iTunes
3. Cloud services
Import documents from the Apple iCloud Drive, Box, Dropbox and Google Drive cloud services.

● Add favorite articles with "Starred"

● Read all unread articles automatically

● Swipe to control skipping sentences

● Support useful speaking options

● Speaking face animation

● Highlight words while speaking

● Exercising and improving your language skills during a bike riding, jogging or walking
Currency Converter
Normally $5.99.
Currency Converter is a reliable and beautifully designed app that will help you figure out how much your money is worth around the world. It supports most of the world currencies so all you have to do is choose your base and quote currencies, enter the amount you want to convert and voila!

Features:
– Find currencies by name, code or country. No need to scroll.
– Convert as you type.
– Automatic and manual exchange rate updates.
– Each update is stored so you can use the app offline.
– Swap button to switch base and quote currencies.
– Share your conversions through your email or social media.

Download this beautiful app and you'll be able to check the most accurate rates available. GET IT NOW.
hocus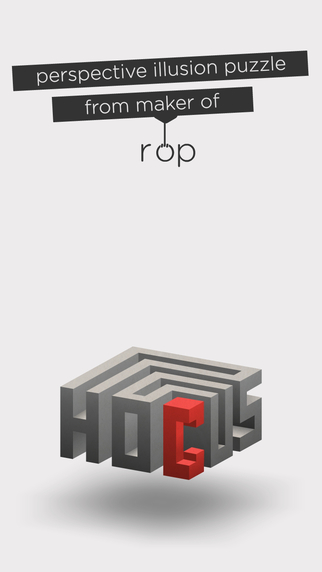 Normally $0.99.
*****App Store Best of 2015 in Russia*****

****** level editor is for hocus lovers. Thank you for your supports*****

New, polished, mind-bending, minimal puzzle game with dozens of levels and extra-ordinary design
Features:
– Create/share your own levels
– Beautifully crafted minimal puzzle game
– 85 mind bending levels (new levels coming…)
Exclusive for iOS.
Optimized for iOS and human brains
Cubious
Normally $0.99.
Cubious – How smart are you? How high is your IQube?

Solve the impossible puzzles to find out, and help a lost little cube find his family.

Cubious is a highly original game concept, the journey of a lost cube over 100 levels of mind boggling 3D warping puzzles. Roll, match, destroy, explode, paint and slide your way through 5 beautiful 3D worlds, construct amazing cubic creatures to help you through over 100 levels of highly original gameplay.

Features:
• 5 different worlds
• 100 levels
• Original gameplay
• Beautiful 3d mechanics
• Cubic creatures
• Physics bending puzzles
• Synchronise your game across all your devices
Smart Merge Pro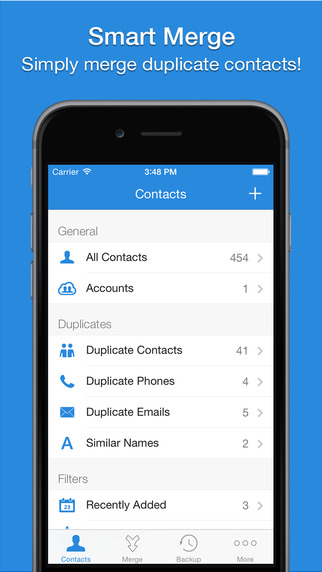 Normally $2.99.
* Over 1,000,000 people love Smart Merge :)

* Merge all duplicate contacts with one tap! *

MAIN FEATURES
○ Find & Merge duplicate contacts!
○ Remove contacts without name or phone number
○ One tap to backup your contacts!
○ Quickly find the contacts you need

Your contacts are the most important data in your phone which easily becomes messy if not consistently updated.
Smart Merge easily helps you detect and merge duplicate contacts.

SIMPLY MERGE DUPLICATE CONTACTS
○ Merge all duplicate contacts with one tap!
○ Find & merge contacts with similar names.
○ Find & Merge contacts with duplicate phone or email.

CLEANUP
○ Remove contacts without name
○ Remove contacts without phone & email

BACKUP
○ Backup your contacts with one tap!
○ Quickly export your backups to Dropbox, Google Drive, Email
○ Move contacts between accounts (Exchange, iCloud, Local Address Book)

SMART FILTERS
○ Quickly find the contacts you need
○ Filter contacts by Company & Job title
○ Filter contacts by upcoming birthday & creation date

AVAILABLE IN 15 DIFFERENT LANGUAGES
English, Español, Français, Italiano, Deutsch, Português (Br.), 中文 (Simplified), 中文 (Traditional), 日本語, 한국어, Nederlands, Русский, Türkçe, العربية, עברית

Smart Merge offers unlimited backups for your address book
To keep your contacts even more protected, turn on Smart Merge to save every single change in your contact list, even when you are not using the app.
Smart Merge allows you to restore your contacts from any mobile device for $9.99 a year through an auto-renewing subscription.
Subscriptions will be charged to your credit card through your iTunes account.
Your subscription will automatically renew unless cancelled at least 24 hours before the end of the current period
You will not be able to cancel a subscription during the active period. You can manage your subscriptions in the Account Settings after purchase.
Home Scan Pro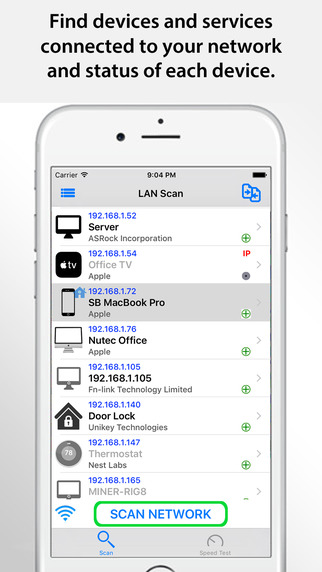 Normally $4.99.
Are your home network and connected devices secure? Use Home Scan to find your network security risks and monitor what is connected to your network. This simple to use app includes professional features but allows even the inexperienced user to get an understandable overview of the network and running services. A simple and intuitive interface helps you evaluate security levels, detect intruders and resolve network issues.

Features include:

• Scan your network to identify all attached devices and security risks.
• Get notifications on any serious security alerts.
• Device info for all devices connected to your network
• NetBIOS, mDNS (Net Services), LLMNR, and DNS name support.
• Vendor name, IP, and MAC addresses of all discovered devices.
• Complete history of WiFi scans and devices added and removed.
• Portscan any device.

Also:
• Realtime Internet speed testing of your Download, Upload and Ping (latency),
• Cellular and Wi-Fi Internet speed test
---
Our deals and product reviews are picked by BGR's expert editors and team.

Follow @BGRDeals on Twitter to keep up with the latest and greatest deals we find around the web. Prices subject to change without notice and any coupons mentioned above may be available in limited supply.