Word on the street is that Apple's upcoming new iPhone 7 and iPhone 7 Plus will offer twice as much storage with each tier. So the entry-level model will have 32GB, the mid-tier iPhones will have 128GB and the most expensive iPhone will have 256GB. You know what all that means, right? It means you have to stock up on free iOS apps now so you'll be able to make good use of all that extra space when your new iPhones come.
MUST SEE: I built a Wi-Fi paradise and all I needed was one device
These are paid iPhone and iPad apps that have been made available for free for a limited time by their developers. There is no way to tell how long they will be free. These sales could end an hour from now or a week from now — obviously, the only thing we can guarantee is that they were free at the time this post was written. If you click on a link and see a price listed next to an app instead of the word "get," it is no longer free. The sale has ended. If you download the app, you will be charged.
WebCheck
Normally $0.99.
With WebCheck you can see what the people in your address book are doing online. The app makes a request for every contact and shows you what the major search engines have to offer for your contacts.

Now you no longer have to look up the persons you are interested in manually. WebCheck does the work for you. You can scroll through the results and get to know more information about the people you saved in your address book.

All results as well as your address book information will not be saved. Only the names of your contacts will be sent to the search engines to get the corresponding results. Afterwards no requests or savings are made at all.
Easy Spending Expense Tracker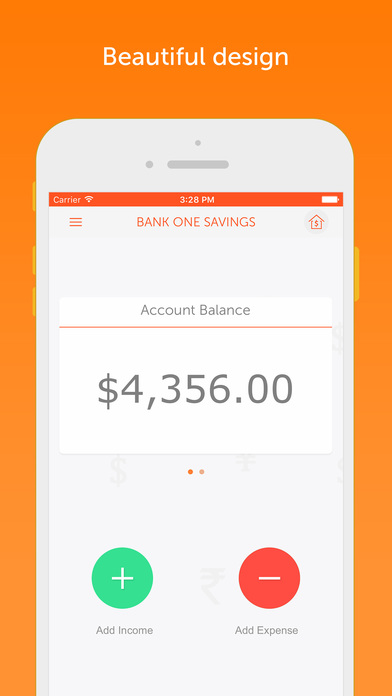 Normally $1.99.
*** Over a Million satisfied users of our apps ***

@ User Friendly Plus!
"I use this app every single day and is by far the most valuable app on my iPhone." – John Fredrick NY

See where your money goes and take control of where to spend your money effectively using the simple and yet powerful expense manager on iOS.

The Easy Spending expense tracker, is the most powerful and convenient daily expense manager App on the go for iPhone and iPad, that neatly tracks all your cash flow between different accounts that you can budget, and is an easy to use budgeting App.

It is now all the more secure, with the addition of Automatic Backup Service as part of its In-App purchase. With this feature you never have to worry about losing valuable financial data, either through accidental deletion or change of device. You can restore it on any device with this App installed.

Comes with easy gestures with convenient layout and clutter free interface, with large fonts, well spaced layouts for easy viewing and readability.

Great for maintaining monthly recurring bills with reminders, it has the convenience of an Expense Tracker and BILL reminders at one place.

HIGHLIGHTS

@ Never loose your valuable financial data with the All new Automatic Backup Service, (available as an In-App purchase)

@ Excellent and seamless cloud sync of all your transaction data. (available as an In-App purchase)

@ BILL Reminders.

@ Recurring income/expense tracking

@ MULTIPLE ACCOUNT(S) Summary in a single screen, and nice reports.

$ Passcode LOCK.

$ Support Fortnightly transactions.

$ NOTIFICATIONS added to Default calendar for recurring transactions as an option. Using this option, NEVER forget to pay your BILL on time.

$ See future bills/payments and income using, "UPCOMING TRANSACTIONS" view.

$ Cool Search based on category and notes

$ Allows transactions to be emailed as CSV, and also uploaded to your Google Drive account

$ Store data for MANY MANY years

$ Preview comments in History while drilling down the transactions.

$ Use MULTIPLE accounts like Checking, Savings, Credit card, Cash flow, Mortgage accounts etc.

$ Preview comments in History while drilling down the transactions.
*** REPORTS ***

$ Powerful reports, timeline reports

$ Doughnut chart reports gives a clean break up of where your money is going.

$ Email csv file of all your data for single or all of your accounts.

$ Upload csv file also to your Google Drive account

— Automatic Backup Service —-
Automatic Backup Service is an auto-renewable In-App purchase that lets you take automatic backup without you having to do anything manually. Just keep using the App, and an automatic backup of all you data is safely stored either weekly or monthly. When you App is deleted by mistake or phone is replaced there is no hassle in getting your data back.

This feature is offered as a free trial for one month, and the cost of subscription is $0.99 per month, after the trial period. It auto-renews every month until it is cancelled.

This feature is also offered as an annual subscription with a cost of $7.99 per year, with a initial trial period of 1 month. It auto-renews every year until it is cancelled.

Payment will be charged to iTunes Account at confirmation of purchase, and account will be charged for renewal within 24-hours prior to the end of the current period.
*** What our users say ***

@ As a financial planner for 42 years this App is all you need. Its simple clean and to the point. If you think you need more than this, then you don't get it.
– LouCFP

@ Excellent
I am using this app to track our club income/expenses. So easy to use and to create reports then email to whoever needs a copy ! I love it !.
– i apple
Download Easy Spending Expense Tracker
Web for Two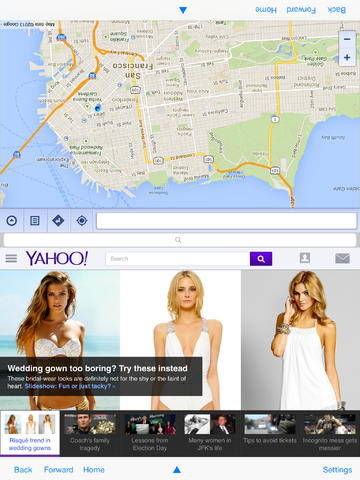 Normally $1.99.
[ Simple App Series No.1 Web for Two ]
Double window web viewer for check website together.
You can share an iPad with a person sitting in the seat opposite.
Search results can be sent to another by "Send" button.

For example, parents or teacher can choose a website for education and send it to child on an iPad .

Details
1. Split window for Browsing
2. Share Web page using "Send" button.
3. Simple controls, only Back, Forward and Home buttons.
4. Homepage settings for each window.
5. Upper user's Send button disabler on Settings.
6. Video playback is not possible to simultaneously.
7. Only you can use Software Keyboard.
8. No Bookmark function because of simple use.
Angry Dragon Bot Dress Up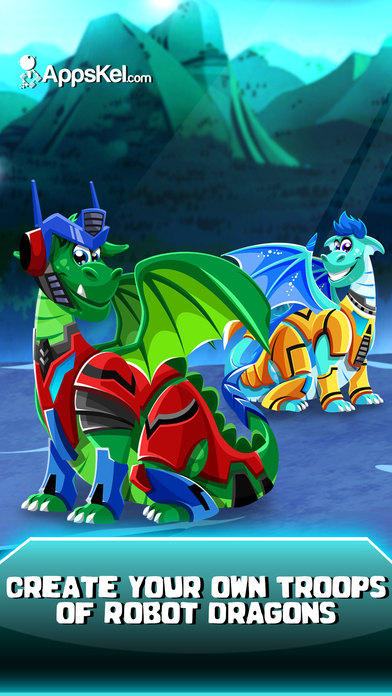 $2.99 in-app purchase to remove ads now free.
The world is in danger and it needs your help. For dozens of years, advanced robotic technology has been researched underground. Now, the time has come for a brave person to unravel the secret and design the ultimate robot. The future of humankind is in your hands.

Do you have what it takes to compose a true hero of iron?

Angry Dragon Bot Dress Up is a dress up game with a wide variety of cosmetic choices and built-in social sharing system. Assemble an outstanding machine using different body parts and save your people.

How to play

Angry Dragon Bot Dress Up is not a competitive game. Instead, it gives you the freedom to design your own robot dragon by combining different body parts. It focuses on inspiration and visual appeal.

Basically, you are given a dragon robot template with various customizable body parts. You can customize the design of the dragon's armor, mask, gloves, pants, top, shoes or emblems. The game also provides players with different backgrounds, setting a completely new mood to their robot design.

The game encourages exchanging of ideas by the players. You can also share your robot design to your friends via social media or e-mail.

While Angry Dragon Bot Dress Up is a free game, a small fee can be paid in order to unlock locked items or unique pet robot designs. If you wish to disable in-game ads, you can also do so by paying a small fee.
Download Angry Dragon Bot Dress Up
Call a Taxi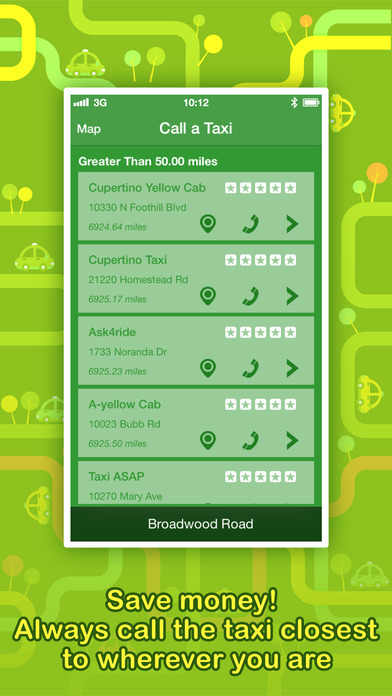 Normally $6.99.
⊛⊛⊛⊛⊛ This app means you can instantly find a taxi – whenever you need it. Wherever you are in the world! ⊛⊛⊛⊛⊛

In 2 clicks you'll be talking to the closest (and therefore cheapest) taxi company to your current location.

Never get stuck for transport in a strange city or late at night again. Buy it for your wife, girlfriend, husband, boyfriend now! Even better – buy it for yourself.

Call a Taxi is one of those great iPhone apps. A must-have friend in your pocket, ready for when you need it.
Text 2 Group Pro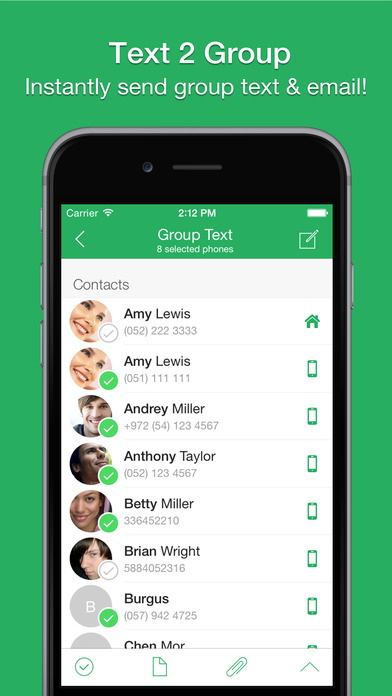 Normally $2.99.
* Over 1,000,000 people love Text 2 Group :)

* Instantly send group text & email *

Group text was never easier!
Text 2 Group is just simpler and fast!

GROUPS
○ Save your own contact groups
○ Instantly send group text / iMessage
○ Instantly send group email
○ Add attachments easily

SMART FILTERS
○ Quickly find the contacts you need
○ Filter contacts by Company & Job title
○ Filter contacts by upcoming birthday & creation date

○ Note On iPad you can only send Group iMessages (SMS in not available on iPad devices)

AVAILABLE IN 15 DIFFERENT LANGUAGES
English, Español, Français, Italiano, Deutsch, Português (Br.), 中文 (Simplified), 中文 (Traditional), 日本語, 한국어, Nederlands, Русский, Türkçe, العربية, עברית
Compass Zen PRO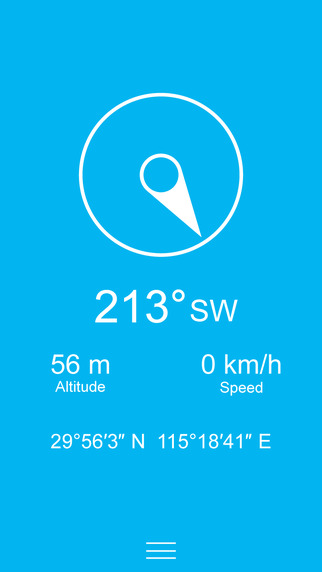 Normally $6.99.
Compass Zen is an eye-catching, minimalist compass app designed specifically for your ipad or iphone. Compass Zen delivers many features with an accuracy that will exceed all your expectations. The magnetic north compass will ensure your co-ordinates are exact and will also tell you your altitude and speed.

The elegant design offering easy-to-read information also sports a background customization facility, meaning you can decide what works best for you.

There are options of reading the speedometer in km or mph, choose your GPS altitude in meters or feet and view your co-ordinates in DMS or Decimal.

All of this gives you the ultimate user experience of a compass but with a simplicity and flair that is matched by no other iOS app on the market.

Features:
– True/ Magnetic North Compass
– Speedometer (in km/h or mph)
– GPS Altitude (in meters or feet)
– Coordinates (in DMS or Decimal)
– Elegant Minimalist Design
– Background Customization
Letters from Nowhere® 2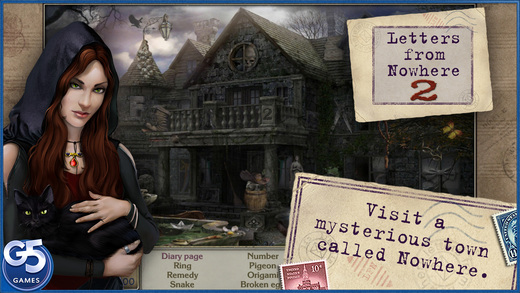 Normally $4.99.
The immersive free-to-play version, Letters From Nowhere®: A Hidden Object Mystery, is already live! Don't miss out!

Have you played the prequel to this fascinating game? Don't miss Letters from Nowhere – on iPad and iPhone!
Travel to the town of Nowhere and search for clues to remove the terrifying curse in this thrilling and spooky sequel!
Audrey collected all the letters with the help of the dead postman, hoping they would lead her to Patrick, her missing husband. Instead, she is taken to a mysterious sleepy town. In Letters from Nowhere 2, Audrey discovers that her husband is a descendant of a cursed family, and is doomed to death. Now it's up to her to confront the evil that haunts her beloved and prevent a series of grisly murders. Search through over 30 cryptic locations including the sinister mansion and a bloody sacrifice room for important artifacts. Play mini-games, collect all the pages of a missing diary, and save Patrick before it's too late!

● 50 Stunning locations
● 11 Adventurous settings
● 11 Mini-games
● 4 Useful search powers
● 2 Bonus play modes – Unlimited and Puzzles
● Game Center Support
● iPhone 5 Retina Display support
Download Letters from Nowhere® 2
WorldScan Pro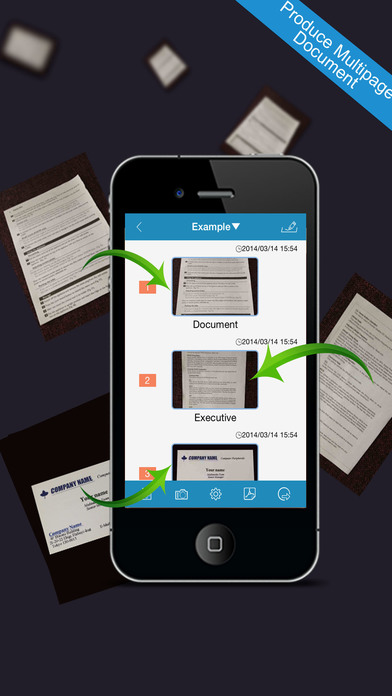 Normally $2.99.
Over one million downloads on iPhone!

WorldScan is an indispensable application for your iPhone. With WorldScan, you can rapidly scan documents and convert them into PDF format, as well as save them or send them by email, wifi or dropbox.

Adopting an advanced and speedy algorithm, WorldScan automatically detects edges , removes shadows and sets the proper contrast levels to make documents come out even.

With a powerful yet simple interface, WorldScan can quickly and easily adjust brightness, rotation, and color with one click per page.

All WorldScan documents can be processed on your iPhone ensuring document privacy to the greatest extent. (Free of network connection)

WorldScan features:
1. Scan multi page documents: Scan and manage documents that may include multiple pages.

2. Fast batch scanning: Scan continuously in batch without waiting for processing.

3. Automatic side cut: WorldScan's professional image processing algorithm automatically helps you crop the images.

4. Image enhancement: Ensure documents are clear and readable.

5. Produce PDFs: Preview and produce PDFs.

6. Multi-sized PDFs: More than 10 PDF sizes are available (Letter,A4,B5, etc).You can customize the size or use self-adaption mode.

7. Save image to image library: Conveniently process images and save them to image library.

8. Email: Send your documents (PDF) or processed images by email.

9. Add Header: Search page of document may add headers, which can be searched.

9. Custom category: Set custom categories for your documents to keep them organized and easy to find using "search".

11. Multiple browse modes: Support browse modes such as list and document-categorization.

10. Copy: Support function of document copy to achieve convenient document management.

11. Search: Quickly locate documents by searching document headers, page headers, etc.

Scanning tip: Make sure your document is smooth and sensitive to light.
Cloud Music Free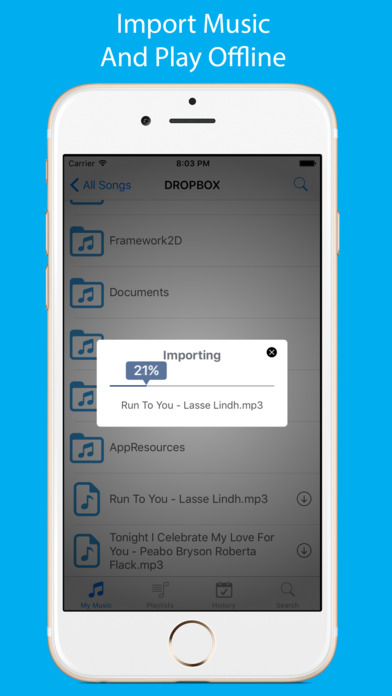 Normally $0.99.
Search, listen, stream free music from Sound Cloud to your iPhone/iPod/iPad. Millions of free songs, DJ sets, remixes and live concerts.

Cloud Music give you access your favorite music across Dropbox, Google Drive, etc.

Cloud Music comes with with a powerful music player which includes features like favorite, repeat, shuffle, playlist repeat, quick forward/rewind, sleep timer and much more.
Key features:

√ No Advertisement
√ Supported formats: mp3, m4a, m4b and flac
√ Playlist organizer by title or date.
√ Download and play your songs without internet (offline).
√ Offline list, to maintain located your download files.
√ Quickly found your song, album or artist using the search bar.
√ Order your music by title, added by date or artist.
√ Play in background with control of your headphones.
√ Lock screen controls
√ Playback with repeat of song or list and shuffle.
√ Complete your music collection looking for free music on SoundCloud (Only streaming. The download is not available)

– And many more…
Minibudget Pro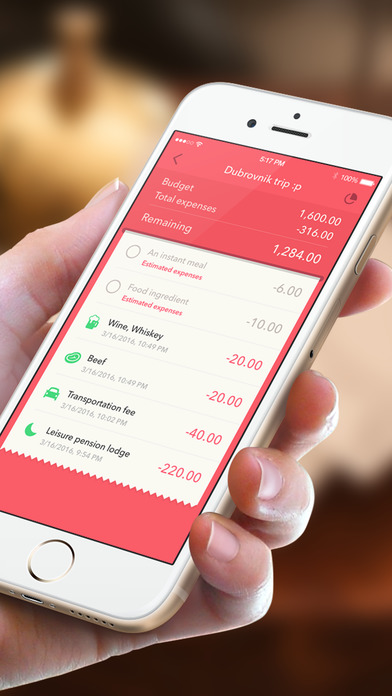 Normally $1.99.
Establish a budget, record and manage your expenses by category.

"Shall we help to manage the couples dating spending(expenses)?" This was the idea that we started the Minibudget project.

Minibudget is a simple account book as household budget, subtract the expenses from the budget.
It can be used as build plans, managing budget, travel expenses, simple account book.

There is also "expected expenditure" feature to help more convenient use. You can simulate the dating and travel expenses in advance, and it can be used as a checklist when you go to shopping.

– Convenient manage the budget
– Manage spending by Category
– Check spending list more easily by graphs
– Intuitive user interface (Intuitive design)

We've been thinking how we give you the most easiest way to use in this universe and more intuitive user interface that gives you fun feelings.
Make your life more plentiful and richer.
We support your love.
Swift Keyboard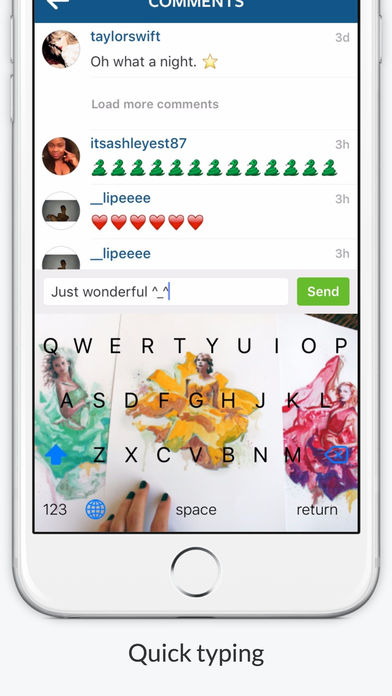 Normally $0.99.
"Hey Siri, what's the new keyboards in the AppStore?"

Swift Keyboard – Weather Edition is just here for you!

* Have you ever wanted to see beautiful nature?
* Have you ever wanted to add more style to your keyboard?
* Have you ever wanted to have 9 amazing themes changing automatically?

Enjoy the opportunities of new era of typing with lightweight Swift Weather Storm Keyboard.

Who is your best friends in iOS? Of course, it's Siri – an intelligent personal assistant and knowledge navigator. Who else? Spotlight – a selection-based search system. And we strongly believe there's one more friend – a keyboard, Swift Keyboard – Weather Edition!

Wanna try? Just do it!
* Express your love fast;
* Chat with style;
* Nice & beautiful wallpapers;
* Quick backspace;
* Smart touch.

Take the full list of advantages with Swift Keyboard – Weather Edition.

Love you ^_^