If you purchase an independently reviewed product or service through a link on our website, we may receive an affiliate commission. Learn more.
Games! Chat apps! Navigation apps! Security apps! Weather apps! We've got all the bases covered in today's post covering the best paid iPhone and iPad apps that have gone on sale for free. You'll also find a few additional freebies in Monday's post, but only if you hurry and go back to check them out.
MUST SEE: This leaked photo sure makes it look like the iPhone 7 will come in a new color
These are paid iPhone and iPad apps that have been made available for free for a limited time by their developers. There is no way to tell how long they will be free. These sales could end an hour from now or a week from now — obviously, the only thing we can guarantee is that they were free at the time this post was written. If you click on a link and see a price listed next to an app instead of the word "get," it is no longer free. The sale has ended. If you download the app, you will be charged.
PANTONE Studio
Normally $9.99.
We are thrilled to release our newest step into the digital color space with PANTONE Studio!

PANTONE Studio represents the collective voice of thousands of designers worldwide, gathered and translated by our Pantone Lab team to help solve your greatest color challenges:
· Convert inspiration around you to Pantone
· Build and test palettes on designs & materials
· Share Pantone with your clients, collaborators, and social networks.

Studio is Creative Cloud connected, facilitating easy delivery of PANTONE Color to your design software.

Download for free to use all tools, features, and content, with a selection of available PANTONE Colors. Subscribers get access to all Pantone colors (more than 10,000 standardized hues across all libraries and disciplines), and receive a 1-week or 1-month free trial with a monthly or annual subscription.

Color Values/References
Color data (sRGB, Hex and CMYK values) and harmonies (complementary, monochromatic, analogous, split complementary, triadic) are displayed for each color, as is the visual cross-reference of that color across Pantone libraries, including PANTONE PLUS Series (Graphics/Ink), FASHION, HOME + INTERIORS (Cotton Textiles and Pigment) and PANTONE PLASTICS.

Color Palettes
Users can build color palettes consisting of up to five colors by selecting from color guides, extracting colors from photos and images, searching by color number, and by interacting with the custom palettes delivered in Articles. Additionally, you can:
Name palettes and add geotag locations
Add tags that make palettes searchable
Add inspirational images to use palettes as a personal mood board
Store and manage an unlimited collection of palettes; and
Send palettes direct to Adobe Creative Cloud from within the app

Color Experimentation
Experiment with color palette combinations in our Studio by applying colors against different designs including graphics, interiors, and typography. As an experimental feature, designers can also visualize PANTONE Colors on pliable 3D papers and fabrics.

Capturing Inspiration from Your Surroundings
Inspirational images – from Instagram, Facebook, Pinterest, or your camera roll – become your next color palette source. Creating a palette at the point of inspiration is also simplified by the app's camera and adjustable color picker, which allows you to pinpoint a specific set of PANTONE Colors from any image uploaded into the app.

Crowdsourcing Inspiration
Studio is linked with PANTONE Canvas (powered by Bēhance) and the ColourLovers community to pull in the inspiring work of others. Users can scroll through artists' designs organized by PANTONE Color and select their palettes for use.

Trends from the Pantone Color Institute™ (PCI)
Receive insights from PCI through a convenient feed of content rich in color insight and imagery. Regular content includes articles focused on the emotions, meanings, psychology and context behind particular colors. This also includes regular curated trend palettes to use in your next design project.

Sharing to Social Media
Palettes can be shared on your social networks and messaging apps in a variety of fun and useful formats. Each shared color has the Pantone name and number so that those who love the color will know which one to use.
Paintball Rush
Remove Ads in-app purchase normally $1.99, now free.
Paintball Rush is quite simply the craziest game that tests your hand eye coordination.

Tap on the paintball that is a different color from the pipe. Paintballs will continue to switch color as you go.

Amazing hits:
* Watch out for bombs
* Collect stars along the way

If you are a lover of casual, one tap games then you will love this game.
ChitChat Pro
Normally $1.99.
ChitChat 2.0 is a chatroom where you can log on and meet new people! Regular updates and a tight-knit community separates us from the rest – we're like one big family! :)

Features:

-Worldwide chat – Talk to people from around the world!
-Create your own chat room where YOU are the moderator
-Private chat
-Personal profiles with Biographies and ASL
-Fun commands including emotes, dice and even a competitive Rock Paper Scissors game with leader boards!
Features included with the PRO version:

-Post pictures in chat
-No ads
-Change your name color
-Rainbow text command

Come chitchat with us and meet new people, share ideas, and make lifelong friends!
Quiz for Criminal Minds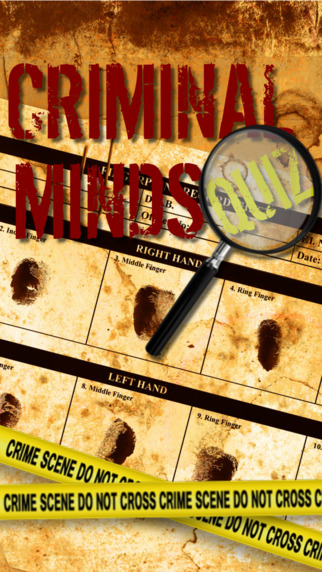 Remove Ads in-app purchase normally $1.99, now free.
Criminal Minds Quiz is the ONLY real 'CM' trivia quiz. It is both fun and challenging, and be warned that some of the questions are ALMOST IMPOSSIBLE!!!

Quizzes Included:

– Are You Addicted to Criminal Minds?
– Which "CM" character are you?
– Are you a Criminal Minds Expert?
– Is "CM" the Best Crime Show for You?
– Are You a Penelope Garcia Fan?
– Are you a Lovable Nerd like M. G. Gubler?
– Would You Fall In Love with D. Morgan?
– Do you know the 'CM' Criminals?
– Do you know Criminal Minds Quotes?
– Do You Know Celebs Starring on "CM"?

Share your results on Instagram, Facebook, and/or Twitter!
Download Quiz for Criminal Minds
iProtect Pro
Normally $1.99.
– Help you keep your personal data.
– No unauthorized access is when someone uses your phone.
– Lock by Touch ID & Passcode .
– All personal data and your privacy as The images, videos and privacy Note will be secured within the application, and the only people who know the password can view this data.
Weather Now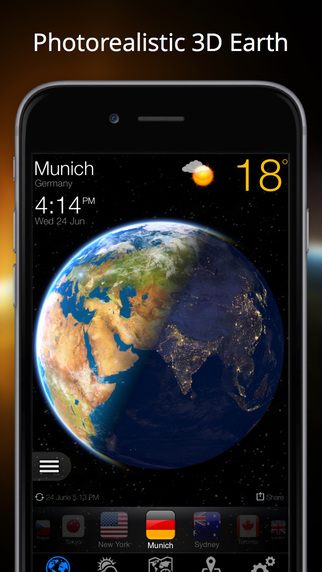 Normally $1.99.
Amazingly beautiful 3D images of our planet draws your attention for so long that you may forget that the application has other useful features that allows you easy access to precise, global weather information.

***** "Handy and accurate weather app. Lots of onfo. Looks great on my phone!!" – WILLY LOOMIS *****
***** "ILL say it again. Awesome I actually want to know what the weather is now!" – Gitygurl *****

Features:
• Easily select different cities using the city carousel with national flags
• Chic 3D "home screen" with high-quality real-time image of the earth, atmosphere, the stars and the sun
• 15-day forecast chart with detailed daily weather conditions, independent day and night temperature charts
• 48-hour hourly forecast with detailed information with real-time changing of chart step
• Database of 80 000 cities with weather information, quick look-up and automatic detection of location
• Temperature on the icon badge
• Customized Weather Widget
• Weather Maps

The main features of "Weather Now" are the "home screen" and the forecast page with a unique way of scaling the charts. On the "home screen", you can get information on the selected location such as local time and current weather with detailed weather conditions, and, of course, an incredibly beautiful three-dimensional image of the globe with realistic-looking atmosphere, the sun and the stars. You can manually turn it, increase and decrease its size, run the slow spinning animation or stop it. Installed in a cradle or dock station, the application can run as a screensaver, attracting your friends and fellows.

The weather forecast is provided by CustomWeather, Inc, an American weather provider of global weather information for over 11 years. CustomWeather is a leader in technology and meteorological innovation, providing local weather information to companies and application developers around the world.

The current weather data is gathered from thousands of professionally installed and maintained weather stations installed mostly at airports. WeatherNow only shows current weather from stations that have reported local weather conditions within the past hour. Current weather data is refreshed every 30 minutes; that is twice as frequent as most other weather providers can offer. Unique 48-hour forecasts from over 80,000 locations around the world provide a level of coverage and detail that simply cannot be found elsewhere.

Current weather information includes: description, air temperature, wind direction and force, humidity, dew point, pressure, visibility, as well as comfort index with reference to current weather conditions.
Detailed weather forecast information includes: description, day and night air temperature, wind direction and force, humidity, UV index, probability of precipitation, and comfort index with reference to current weather conditions.
TV Remote Controller Codes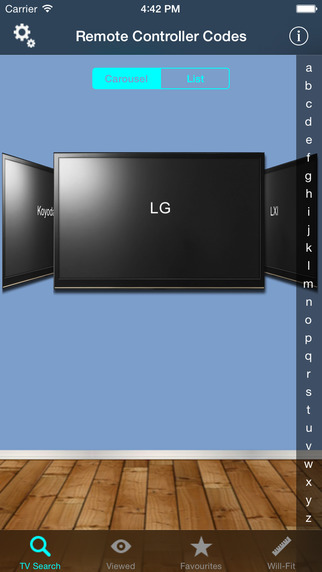 Normally $0.99.
An installation engineers companion tool – Try the TV remote control codes and be impressed by the large database of codes to link your remote control with your TV… Not sure, read the positive reviews:

Jimbobroffey1112: Great, 'does was it says on the tin' – 'Great app for TV codes, help every time, when I need to put new batteries in my sky remote, this app covers nearly every TV, thanks a lot guys!'

Jordant92: Great app! – 'I had been looking for the code for my tv for ages but found it within a couple of attempts with this app. I have sky and a Panasonic tv and it had all the codes available'

Ploppy69: Job done!! – 'Does exactly what it's supposed to do. Have tried for ages to get a working code for my old tv…this did it straight away. Spot on!'
TV Remote Controller Codes is an innovative App that enables you to quickly select from over 300 TV manufacturers (over 100,000 codes) to access the remote control code to link your:

– Astro Malaysia
– AT&T
– Bell TV
– Charter Communucations
– Comcast
– Cox Communications
– DIRECTV
– DishTV
– DStv
– FiOS TV
– Foxtel
– nSatEurope
– Rogers
– Shaw Direct
– Sky
– Sky Brazil
– Sky Italia
– SKY México
– Time Warner Cable
– UPC
– Virgin Media
– YouView (BT & TalkTalk)

Remote Control to your TV. Once selected you can keep track of recent code views, add the code to your favourites list or message (email, SMS, Twitter, or Facebook) the code and instruction for quick and easy access to your TV remote control code when you need it.

The Will-Fit functionality enables you to position your TV screen in a virtual position in your room. You can pinch to zoom the screen in/out and even rotate the screen to increase your viewing capability. Take a picture of the TV screen within your room and save or send it to your friends (requires in-app purchase).

A Home Cinema & Entertainment Engineer's must have tool, providing quick and easy access to the remote control codes, this App includes codes for all the main manufacturers.
Download TV Remote Controller Codes
Pic Navi
Normally $2.99.
Pic Navi is a full sized photo viewer that tells you when and where the pictures were taken. Date and time stamp is shown on the bottom of each photo. The map guides you from where you are now to the location of the photo. Finding a photo is very easy with Pic Navi. Just search by an album name or a person's name configured on iPhoto.

Pic Navi is a perfect app for you if you like keeping your records with photos. Take food pictures, and Pic Navi reminds you the location of the restaurant. Too busy to write down your activities? Take photos and check them out later with Pic Navi to know when and where you took them. Do you like looking at your travel pictures with your loved ones? Pic Navi helps you bring back great memories from your adventures.

Features
– Map based on photo's GPS data
– Driving direction from your current location to the location of the photo (domestic only)
– Date and time on the bottom of photos.
– Search albums, faces or events
– Sharing by email, messages, Twitter and Facebook.
– Train, Bicycle directions and other map features
– Customizable date/time label
Big Truck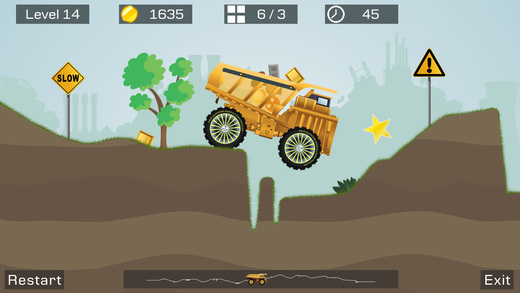 Normally $1.99.
******Top 10 games in some countries******
******Support tilt and touch control modes******

Big Truck is a simple, but very fun to play game. You just have to drive a truck across rough terrain and make sure that your goods get to the destination safely. You will get a precise number of goods you carry and a precise number of goods that is required. The more you bring, the more score and coins you get.

This game is all about being careful. At the beginning of each round, a precise number of goods will be dropped into your container. You have to touch the right of the screen for accelerating, the left of the screen for slowing down and tilt the device for balancing the truck. On the top side of the screen, you will find a timer and the goods count in your container and level required. You have to find the perfect balance between reaching the end of the level rapidly and doing so without dropping too many goods. The only way you can lose is if you don't transport enough goods or if you manage to turn the truck upside down. In this case, you will have to retry.

Game instruction:
– Drive by pressing on the right or left of the screen.
– Tilt the device to control the truck carefully not to drop too much.
– Also support joystick control mode.
– Get more trucks, wheels and vip cards in garage.
– Get more coins in garage.
Circles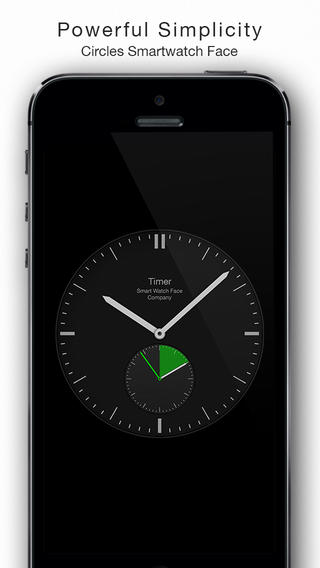 Normally $1.99.
Circles turns your device into an exceptional timepiece. Designed in the pursuit of clarity, beauty and precision, Circles is one of the most iconic smartwatch faces of all times.

*****

TechCrunch about Circles: "While Your Wrist Waits For A Worthy Smartwatch, Check Out This Stylish Timepiece App" June 04, 2014

*****

Access different time functions in the small smartwatch face:

– Planetary Positions
– Moon Phases
– Sunrise Sunset
– Seconds
– Timer
– Date
– Alarm Clock
– Second Timezone
– Stopwatch

Intuitive gestures for a modern time:

– Swipe left to change small smartwatch face
– Tap on small watchface to exercise functions
– Pinch-to-Zoom to enlarge small chrono

Please note that for the functions alarm clock and timer it is necessary to keep the app open for the ringtone to be heard.

Visit our website on http://www.smartwatchface.co
---
Our deals and product reviews are picked by BGR's expert editors and team.

Follow @BGRDeals on Twitter to keep up with the latest and greatest deals we find around the web. Prices subject to change without notice and any coupons mentioned above may be available in limited supply.