If you purchase an independently reviewed product or service through a link on our website, we may receive an affiliate commission. Learn more.
Today's list of paid iPhone and iPad apps on sale for free might just be the best list we've put together in a long time. We always spend plenty of time and effort on these app sale posts, but today there were way more great choices than usual and we've pulled out the cream of the crop for your iOS device's enjoyment.
DON'T MISS: Everything new in iOS 10 beta 5 and iOS 10 public beta 4
These are paid iPhone and iPad apps that have been made available for free for a limited time by their developers. There is no way to tell how long they will be free. These sales could end an hour from now or a week from now — obviously, the only thing we can guarantee is that they were free at the time this post was written. If you click on a link and see a price listed next to an app instead of the word "get," it is no longer free. The sale has ended. If you download the app, you will be charged.
Splitfari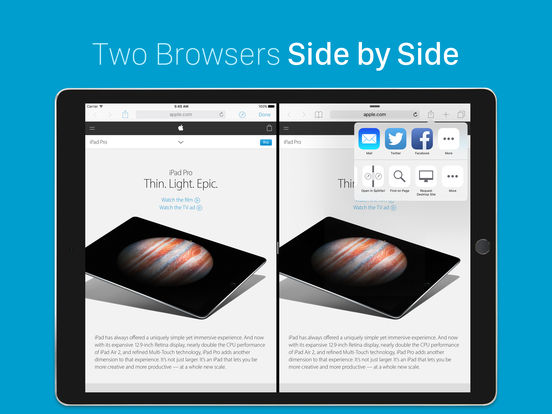 Normally $0.99.
Splitfari is the best way to use two web browsers side by side in Split View on your iPad Air 2, iPad mini 4 and iPad Pro.

Splitfari Features:
– Have two browsers (Safari and Splitfari) side by side in Split View
– Activity Extension to open a website directly in Splitfari
– Keeps history of your visited sites (can be disabled)
– Syncs your history with iCloud

How-To:
1. Open Safari on your iPad,
2. Swipe from the right to bring up the app switcher,
3. Choose Splitfari and drag the separator to the left so that Splitfari stays on the right side,
4. Use the Activity Extension in Safari to send a website over to Splitfari.
5. Use the Safari button in Splifari to send a website over to Safari

Splitfari only works on iPads which support Split View (iPad Air 2, iPad mini, iPad Pro)
Fake Location
Normally $0.99.
Fake Location app help you easily fake your location and pretend to be anywhere else in the world.

Mask your location by searching for a specific location or simply by long press anywhere on the map.

The app hides your real location (like a fake gps location changer).

After selecting the exact location you can share a screenshot of your fake location to trick your friends.

Start faking your location and have fun with your friends!
BaliFied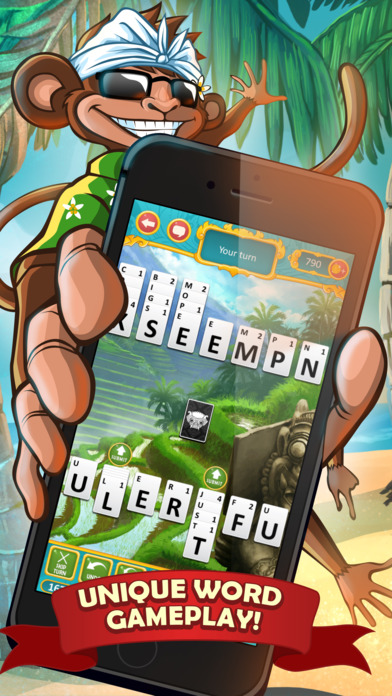 Custom backgrounds in-app purchase usually $2.99, now free.
"If you're a fan of word-based digital entertainment especially there's an awful lot to enjoy…" – Pocket Gamer

"From something that evolved from a card game in the 1950's, this game is a hit in this millennium." – Pocket Full Of Apps

———–

Have you been waiting for a new social turn-based word game? Then your wait finally is over! If you like games like WWF you will absolutely LOVE BaliFied!

BaliFied – Word Game of the Gods mixes the skills from word games with the strategy and excitement from card games! Play against your Facebook friends, your BaliFied friends or against random word game lovers all around the globe.

Are you always feeling bored waiting for your opponents to make their BaliFied moves? Well not anymore! With the new single player mode you can ALWAYS PLAY against a computer bot. Practice your strategy, and at the same time earn free coins by beating our BaliFied master Ulu! Three different difficulty modes, EASY, MEDIUM and EXTREME….

Create the longest and highest scoring words, steal your opponents saved words to ruin their strategy, use BALI wild cards plus a whole lot more fun & exciting gameplay. This brand new social word game has an unique gameplay unlike anything you've ever seen!

Special Features:

– Stack up the points
Create words by laying letter cards into columns. The longer and more difficult to use letters, the higher the score.

– Go for the steal
Grab a letter or a saved word from your opponent's lineup to complete or extend your words. Avoid devastating retaliation by submitting them on the same turn.

– Use Special Actions
If used correctly the 4 special actions available will definitely take your game to another level!

– BaliFied by the best
This definitely is a game changer…. If you manage to finish the game without any loose letters, your points will be doubled. What a wonderful reward for those who achieve a perfect play!

What are you waiting for?

Join us in an exciting word-based challenge with a twist. As a competitor, you'll need general vocabulary knowledge plus great planning skills. That's because a winning strategy isn't just about impressive word construction. It also requires utilizing wild cards, executing tricks, and invoking special powers all at the most effective moment.

Download BalIFied – Word Game of the Gods now for FREE. Challenge your friends & family in this new and exciting word game!
Full Power Battery
Normally $0.99.
WORKS IN BACKGROUND MODE
If it don't work you need enable notifications in settings.

Simple and convenient app which saves your time.
Phone will inform you when it's charged to 100%.
Just connect the cable.

App works when device is not used.
Watch Movies
Normally $2.99.
Watch HD Movies instantly streaming on your device. No subscription required, and works on iPhone, iPod Touch and iPad. Discover Free Movies by clicking the Genres Tab and browsing films by genre.

With the HD Movies you can watch:

* Hundreds of Free Full Length Movies with Famous Actors
* Browse Genres including: Action & Adventure,Animation & Cartoons,Classics,Comedy,Crime,Drama,Documentary & Biography, Family,Foreign,Horror,Mystery & Suspense,Romance,Science Fiction,Sports,Indian Cinema,Short Films
* Support 22 languages
* Add Free Movie to Favorites
* Share Free Movies with Friends
* Search hundreds of Free Full Movies by keyword

* DISCLAIMER:
HD Movies is a YouTube player for iPhone/iPad that filters YouTube videos searched by users based on the length (shows only videos longer than 20 minutes). All videos are provided by the public third-party media service YouTube.
YouTube, YouTube logo are trademarks and properties of Google Inc. YouTube logo is used for informational purposes only. This app is not associated or sponsored by Google Inc
Playz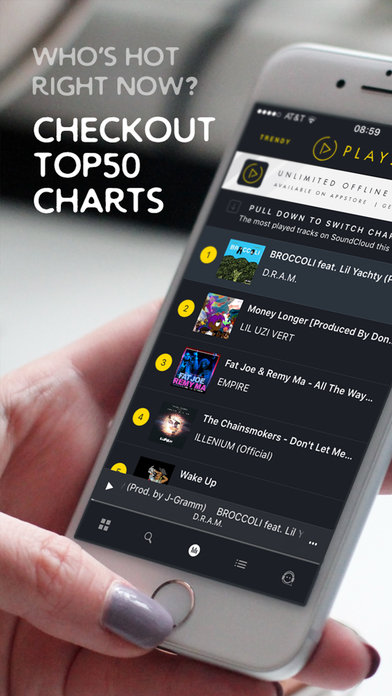 Normally $1.99.
PLAYZ is an amazing app to find the new and trending music, to collect tracks you love, to create a playlist yourself, based on the huge collection of music from Sound Cloud. It has all kind of music that you want to listen and enjoy.
Would love listening to your own source music, choose some in our list: your device, Dropbox, Google Drive, One Drive and more to come soon.
Whenever you are, whatever you're doing, just PLAYZ.

Thank you all for your supports.
KEY FEATURES:
Exploring Trending Music and Trending Audio feeds, just pull and discover all kind of music in your hands.
Search for tracks, artist directly and add them into your playlist.
Playing music offline, straight from your devices or other sync services.
Creating and listen to your playlist.
Shuffling all your songs and likes.
3 types of repeat: One song, all or no-repeat.
Browse tracks by genre.
Listen to your collection song using Wifi or data.
Play, pause and skip tracks right in lock screen.
Anonymous listening: Just get an app and you're free to listen to all songs and audios without creating an account.
Mini player: Keep browsing while listening to music, player will automatically minimize to the bottom without affecting on what you're browsing.
More interesting function will be updated soon.
Mars Writer
Normally $4.99.
Mars Writer lets you quickly create beautiful notes. Use it on your next great writing idea or project.
#Features:

**REALTIME DATA SYNC**
Everything you type into Mars Writer is synced in real-time to all your devices.
**CREATE BEAUTIFUL MARKDOWN NOTES.**
Mars Writer is powered by Markdown: The writing standard for authors and bloggers everywhere. The minimal syntax places your words front and center.
** PROCESS IDEAS. NOT DOCUMENTS**
Mars Writer is built to place the emphasis on your words and writing. We designed it to be clean and minimal so you could focus on your thoughts.
**CODE FRIENDLY**
If you are a programmer, you'll enjoy the Github-flavored styling for code snippets built into Mars Writer.
**ORGANIZE YOUR WORK INTO NOTEBOOKS**
All of your writing can be saved and organized using a notebook-style hierarchy. The interface is modern while remaining wonderfully familiar.
**ROBUST SHARING OPTIONS**
Your work can easily be exported out of the app as .txt (plain text), .md (markdown), or .html documents.

#Uses

You can use Mars Writer for:
– Your next big novel
– Taking notes in class
– A place for your personal thoughts
– Storing your code snippet library
– Creating
Give Mars Writer a try. You'll love it!
Spher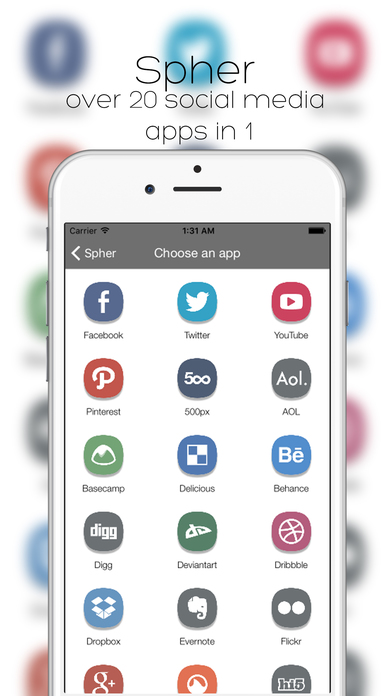 Normally $1.99.
Have you ever wished that all the social media apps were all in one single app there's your answer, Spher has all the major social apps in it including:

– Instagram
– Facebook
– Twitter
– Youtube
– Google+
– Pinterest
– Dropbox
– Evernote
– Linkedin
– Tumblr

And many more, there are over 20 social media apps in this application
Money Nanny
Normally $0.99.
Ever thought if you had a way to track expense for a occasion or is there way to save for goal.
Money nanny is for you

Create a event , set a limit and track it , make a entry for every spent or saved amount with warning message to curb that overspending urge .It helps you to track if you are overspending from the limit or making a healthy saving .

App provide you a simple way to record with no complexity ,

It also comes with report chart to show the monthly saving and spending amount

Feature
– Create events , set limit and track saving or spending with a simple interface
– Every event has clear stated spending limit with time limit
– Warning message for overspending entry
– Chart depicting the spending/saving trend
– All event with saving goal comes with a reminder feature
– A piggy bank feature to save those spare amount
– Report feature to check monthly spending and saving amount

The App aim to help you to control spending urge and improve saving habit.
VideoKeys Keyboard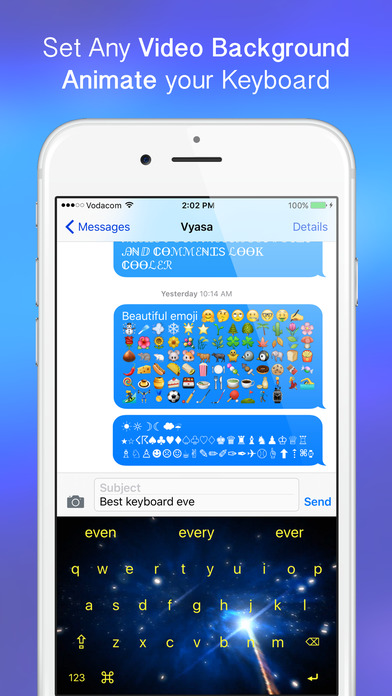 Normally $1.99.
***The Best Keyboard On Earth***

Set any Video Background in HD for the first time ever on your keyboard.

VideoKeys is loaded with features but the coolest feature is that you can set any video backgrounds on your keyboard.

Other features include the following…

Latest Emoji
All the latest emoji have been included.

Symbols
Choose from hundreds of different symbols to make your messages, posts or comments look much cooler.

Smart Keys and 3D Touch
Store words or characters under a particular alphabet. Tap the alphabet with force to insert the stored word or character. If your device does not support 3D Touch tap and hold the alphabet to insert the stored word or character.

120+ Fonts
Type in 120+ different fonts in any app. VideoKeys will change to the default font if you typing in search fields and will then return to your selected font when you done searching.

Read To Me
Copy any text and tap the Read To Me icon on the keyboard to have the text read to you.

Quick Send Photos
Save data and send photos much faster with Quick Send Photos.

Language Translator
VideoKeys can translate messages for you before you send them if you need to communicate with someone that speaks a different language. You can also translate received messages.

Drawing and Text On Photo
You can draw and send your drawings and you can also insert text on a photo right from your keyboard and send it or save it.

Set Gestures
You can also set gestures such as swipe left to delete a word, swipe right for a space etc.

You can create Color Sets that allow you to change the keyboard button shape, color, font size, font color and much more. You can create as many Color Sets as you want.

VideosKeys supports auto correct and word completion suggestions in English. There are many more features to enjoy. For video backgrounds to work 'Allow Full Access' must be turned on. We do not collect any information.
Moodelicious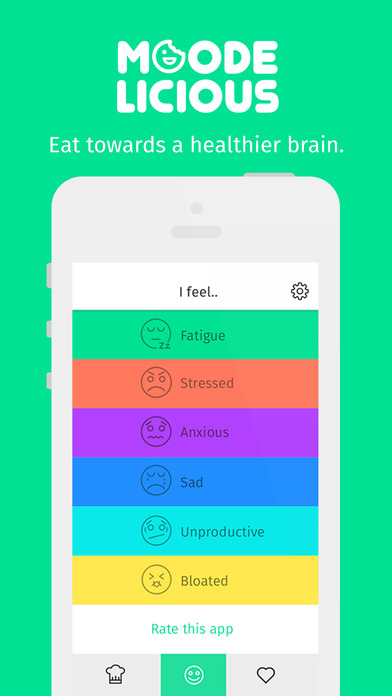 Normally $0.99.
So what if you were told that in some ways the foods you eat influences your mood? You may see the connection or else wonder how?

Moodelicious is the fast and simple way to learn how to improve your mood with food. With recommended mood-based recipes we will have you eating towards a healthy brain in no time. Our aim is to keep you in the know of what these sneaky healing foods are.

Our app provides a quick, informative and personalised way to introduce you to new ingredients and healthy recipes based on your mood. Now you have the opportunity to build up your brain chemicals and empower yourself to make the right food choices.

We are dedicated to growing our content so you'll never run out of meal ideas, with over 50 recipes and more to come. We are here to help you discover how to create delicious meals for a variety of moods.

Features:
– Over 50 recipes
– 6 moods and more to come
– Easy, fast and beautiful
– Track your moods
– The facts, how and why these ingredients affect your brain
---
Our deals and product reviews are picked by BGR's expert editors and team.

Follow @BGRDeals on Twitter to keep up with the latest and greatest deals we find around the web. Prices subject to change without notice and any coupons mentioned above may be available in limited supply.