Rumors surrounding the iPhone 8 are swirling right now, but they're still a bit hazy in some key areas. Should we expect an in-screen Touch ID sensor? Should we expect a dual-lens camera on every new iPhone model? We don't have any answer for you yet on that front, but at least you can expect fresh new paid iPhone and iPad apps on sale for free each day. We've rounded up the best of the bunch, as we always do, and you'll find them all laid out below.
These are paid iPhone and iPad apps that have been made available for free for a limited time by their developers. There is no way to tell how long they will be free. These sales could end an hour from now or a week from now — obviously, the only thing we can guarantee is that they were free at the time this post was written. If you click on a link and see a price listed next to an app instead of the word "get," it is no longer free. The sale has ended. If you download the app, you will be charged.
Lily
Normally $1.99.
Create music with Lily, a playful musical experience for people of all ages and musical abilities.

Compose a looping melody with each lily and build up interesting harmonies and melodic patterns.

Explore polyrhythm by composing looping melodies of different lengths and tempo to create complex musical patterns.

Save your compositions and switch seamlessly between them to chain multiple patterns together.

Record and share your creations to YouTube, Twitter, and Facebook with Everyplay.

• Choose from six lily flowers, each with their own unique sound over three octaves.
• Alter the number of petals to create melodies of different lengths.
• Select from five musical scales.
• Alter the tempo division of each lily to create interesting interplay between the lilies.
• Save your compositions and switch seamlessly between them.
• Record and share your creations with Everyplay.

Peace.
BoomBar
Normally $0.99.
Stop carrying dozens of loyalty and reward cards around ! Get BoomBar

3 Easy Steps Scan , Save and Use with your iPhone, Apple Watch and iMessage.

About BoomBar :

BoomBar is a forward thinking application aim to record barcodes / qr-codes from various cards used in people's daily life and save them into different categories, so that users can use their cards by presenting the barcode/qr-code from their iPhone, iPod touch, Apple Watch or iMessage.

BoomBar with the user permission, can backup all the saved cards to user's personal iCloud Drive, which means BoomBar's creators and a third party do not have access to any data uploaded by the users, which ensures users' information 100% private and secure.

With the release of Apple Watch and the spread of iPhone and iPod touch, who still wants to carry a heavy wallet everywhere? BoomBar adopts advanced technology and concept, provides a user-friendly interface, easy to learn and use.

With BoomBar, your smart lifestyle is only a few click away!!!

Features:

* Share and save cards with family or friends via iMessage
* Choose blue, pink or green to be your home screen icon colour.
* Support for App Store ratings and reviews without leaving the app.
* Support for Touch ID
* Supports Barcodes and QR-Codes
* No third party Advertisement
* Backup your cards to your iCloud Drive
* No third-party backup of your card data
* No tracking of your usage of products and cards
* Supports iPhone , iPod touch and Apple Watch
Protect Your SMS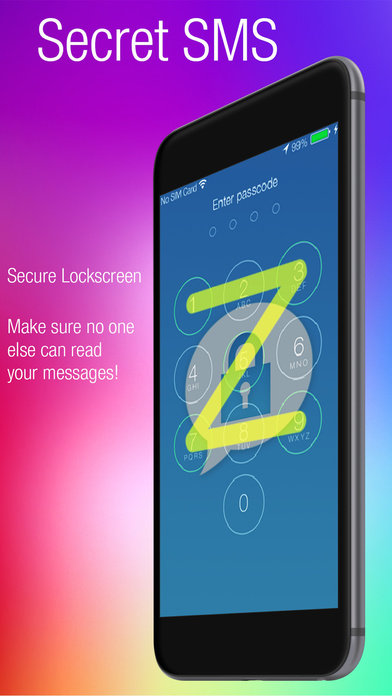 Normally $1.99.
Your private messages will never been seen again!

Features:

– Pattern lockscreen to secure the MESSAGE …
– Numeric PIN-code lockscreen
– Secure encryption
– iPhone SMS/iMessage integration
– Simple and easy to use

What people are saying

– "Amazing app, now I don't have to worry about my parents invading my social life!"

– "Cool app! Love how I can how txt my mates in private"

– "A long time coming… the encryption is brilliant"

== Notes ==
iMessage is a trademark of Apple, Inc. Messages exchanged are charged at your standard carrier rate.
Thermo-Hygrometer
Normally $1.99.
Thermo-Hygrometer is a weather app, using GPS location.
Displays outside temperature, humidity, air pressure and THI of current location.

Every day feel the design of analog sensibility.

– Point unit thermometer (Fahrenheit or Celsius)
– High and low temperature indicators
– Feels Like Temperature
– Hygrometer
– Barometer (hPa or InchHg)
– Support integrated barometer (iPhone 6, iPad Air 2 or later)
– Temperature Humidity Index (discomfort index)
– Landscape mode (Thermometer + Hygrometer + Barometer)
– Support 3D touch Quick Action
– Support watchOS 3
– Support Widget
– Universal App (support iPad, iPad Pro)

If you need help please contact us at goodte@me.com and give us a chance to help you.
If you enjoy the app, don't forget to give us a review on the App store.
Enjoy the app!
Blocs Wave
Normally $2.99.
Blocs Wave is a fun and beautifully designed music app for making and recording new music quickly. For songwriters and electronic music makers alike, it is an on-the-move powerful portable music studio.

Start new musical ideas by discovering new sounds across genres. Make your tunes unique by slicing and rearranging your sounds. Play with beautiful touchable waveforms and build up loops in real-time by recording your voice or other sounds, and build bigger ideas using song sections. Blocs Wave is also great for live looping, thanks to its real-time stretch and pitch engine.

Features
• Find ideas quickly – Combine sounds across genres
• Play with sounds – Beautiful, touchable waveforms
• Record new sounds – Capture your own vocals and instruments
• Explore a huge sound library – Find amazing sounds across genres from electronic to indie, EDM to songwriting, and more
• Expand your collection – Download more sounds from an ever-expanding soundpack library
• Chop up sounds – Use Slice Mode to make every sound unique (In-App Purchase Pro Feature)
• Export your music – Create a mixdown or export individual tracks
• Launchpad Soundpack sharing – Get hundreds more genres and styles through our Launchpad for iOS app

Advanced Features
• Real-time stretching – Change tempo while playing
• Real-time recording – Build up live recorded loops in real-time
• Import – Bring in your own sounds from other apps (In-App Purchase Pro Feature)
• Key aware – All library sounds stay in-key with each other
• User library – Manage your recorded and imported sounds
• Works well with others – Supports Audiobus, AudioCopy/AudioShare and hardware input
• Jam in sync – Supports Ableton Link

Compatible with iPad 2, iPad (3rd Generation), iPad (4th Generation), iPad Air, iPad Air 2, iPad Mini, iPad Mini 2, iPad Mini 3, iPad Pro (12.9 inch and 9.7 inch), iPhone SE, 7/7 Plus, 6/6s Plus, 6/6s, 5/5s/5c, 4s.

Supports iOS 8, 9 and 10.
Note-Ify Notes
Normally $0.99.
«Note-Ify Notes» – is a simple and convenient note-taking app. Organize your notes, ideas, shopping lists, tasks and different reference information. It features user-friendly and customizable interface.
Key features:
– FOLDERS – for easy grouping of notes
– ICLOUD-SYNC – Your notes are available on the iPhone, iPad, Mac OS X *
– COLORS – if you want to highlight the different types of notes just mark Important notes as red, Affairs – as green (for example)
– Favorite Notes – select and group important to you notes
– PASSWORD on a separate note – you can lock notes with password that contain confidential information (passwords, card numbers, love letters ;-))
– MAIL-TO-SELF – fast "one-click" sending of notes to the selected email-address, don't waste your time on typing your email. Just click on the button and note is in your mailbox
– SKINS, FONTS, COLORS – configure the application so as you want

= PRESS ABOUT US =
APPADVICE.COM:"This application provides you with an elegant and easy way to keep your thoughts "

APPPIPE: "Simple, efficient and beautiful, FNotes might just be the best iOS notes app you've never heard of"

APPSAD: "Note-Ify – minimalistic replacing to standard notes"

APPLEDIGGER: «Note-ify – this is the best alternative to the standard notes"

APPLENEWS: "Note-Ify – a new look at the minimalist notes that fit perfectly into the new design of the Apple"

YABLOCHNO.COM: «Note-Ify – a new look at familiar application notes … Note-Ify is quality and useful … synchronization and customization of appearance make it a viable alternative to the standard" Notes ".

APPLEMAGAZINE.COM: "… application in its current form is certainly the easiest way to create notes, and will make a great addition to your performance"

APPPICKER.COM: «Note-Ify features a very basic interface, and I actually prefer Productivity apps of this kind which keep things nice and simple. I definitely think the streamlined layout is a huge benefit for busy bodies like you and I!»

APPPICKER.COM: «I've used a fair few apps that are similar to Note-Ify in that they attempt to keep things simple and streamlined. Some developers manage to pull it off, while others fail miserably, and I would say that Note-Ify Notes definitely falls into the former category, with a fantastic minimalist interface and some of the smoothest overall functions you'll ever see»
Stripe Wallpaper Generator
Normally $0.99.
Play with size sliders and color pickers, untill you obtain a super-cool stripe tile.

Press "Action" to save your creation.
Download Stripe Wallpaper Generator
Animated Pixel Emoji
Normally $0.99.
Show off your emotions with Animated Pixel Emoji. Specially designed to send to your friends and stick all over your text messages.