If you purchase an independently reviewed product or service through a link on our website, we may receive an affiliate commission. Learn more.
We're kicking off a new week with one of our best roundups of the month so far covering paid iPhone and iPad apps on sale for free. Just remember that each and every one of these sales is only on for a short while, so the prices could jump back up at any point in time.
These are paid iPhone and iPad apps that have been made available for free for a limited time by their developers. There is no way to tell how long they will be free. These sales could end an hour from now or a week from now — obviously, the only thing we can guarantee is that they were free at the time this post was written. If you click on a link and see a price listed next to an app instead of the word "get," it is no longer free. The sale has ended. If you download the app, you will be charged.
ContextIsKey
Normally $0.99.
ContextIsKey allows you to seamlessly provide context and tone to your messages with:

SarcasticText ℠
MadText ℠
HappyText ℠
SadText ℠

HOW TO FIND YOUR STICKERS AFTER DOWNLOAD FOR IMESSAGE APP:

1) Tap any iMessage conversation, and tap the ">" button next to the text box;

2) Tape on the "A" for App Store in iMessage;

3) Tap the four ovals in bottom left hand corner of your screen;

4) Click Manage then activate ContextIsKey; and

5) Enjoy sending your stickers!

***if still not popping up, then you need to update your iPhone and will pop up.

Use the Keyboard to send contexts wherever you chat including WhatsApp, Facebook Messenger, Snapchat, Twitter, etc.

Use the iMessage app to send Context Stickers – drag and drop, recent contexts, and much more!
Hyperburner
Normally $2.99.
Hyperburner is a high-speed space flier set in a distant colonial solar system. Take your ship through increasingly dangerous courses, unlocking endless-mode leaderboards as you go. Built for mobile with smooth and responsive free-steering, playable in portrait or landscape.

Pocketgamer Gold Award:
"From the amazing aesthetic to the perfect controls, everything about the game hums with the sort of quality that makes every second you spend with the game a joy"

– Fast-paced gameplay, instant respawns.
– Master six unique zones each with five challenging stages.
– Test your skills against a list of high-speed endless-mode goals.
– Unlock better ships as you progress.

"It really nails the feeling of being in control of an escaping spaceship in a sci-fi movie" – Touch Arcaade
Linia
Normally $1.99.
Linia is a colorful puzzle game that mixes a relaxing atmosphere with brain melting challenges.
In Linia, you create color sequences by tracing a line connecting coloured shapes. Sounds easy enough, right? Not quite. Imagine when colors are running around, revolving, hiding, changing shape and doing everything they can to avoid being caught by your line. It will take skill and sense of rhythm to get the sequence right. Are you up for the challenge?

FEATURES

– Original gameplay
– More than 80 unique and colorful levels and…
– …new levels released with future updates
– Game progress saved to the cloud
– Achievements!
– A little surprise if you complete all levels
iPloDev Tuner
Normally $3.99.
The best Tuner App Ever! And the most beautiful too! Works with Guitar, Bass, Ukulele, etc.

iPlodev Tuner will be you new friend app, perfect for anyone who is professional and also for who is getting started.

A chromatic tuner is a guitar tuner app recognizes the note you play in real time, making the adjustment process much simpler and faster.

If you play in a band or orchestra, the iPlodev Tuner also allows you to ajust the frequency of the A4 note and may vary between 410Hz and 470Hz and 440Hz standard.

And you'll get this premium design for bonus.

Besides all this, this tuner still on with a tone generator that allows you to be able to produce the tone of any note from your phone.

If you want a quick and simple tuner to use with an innovative design that makes it much more enjoyable the tuning process, which takes up almost no space on your phone. You can start your download now and enjoy your App.

The app includes ALL guitar tunings. iPloDev Guitar Tuner app also has the ability to tune to a custom note and thus can be used to tune almost any instrument.
Private Photo Vault
Normally $0.99.
The BEST and MOST convenient privacy app to protect your private photos in your Photo Vault & videos and secret notes & audios and other personal files!

Super Photo Vault provides a secure Password System to keep your secret files 100% privately. Your files are ONLY stored in your Photo Vault and no one can touch them except yourself!
____________________________________________

PROTECT YOUR PRIVACY
The password is needed to access private stuff
Support Touch ID
● You can set a Pattern Lock access to protect your Photo Vault
● Decoy Password – When you are forced to enter the password of Photo Vault, decoy password will be helpful to cover your real privacy
● Folder password – Further protection to keep people out of your private folders in the Photo Vault
● Login Reports – The Photo & GPS Location will be snapped when someone wants to peep your Photo Vault

FILE MANAGEMENT
● You can sort out files by date/type/size/name in Photo Vault
● The Photo Vault user can set up Multiple Folder&Subfolder for Better Organizing of Files
● You can Rename or Search Files quickly in Photo Vault
Copy/Move Multiple Files in seconds
● Support Zip/Unzip Files within the Photo Vault
● High-efficiency Action Respond
● The user can find Multiple File Formats within Photo Vault
– Image: tiff, tif, jpg, jpeg, gif, png, BMP, BMPf, ico, cur, xbm
– Video: mov, mp4, mpv, m4v, 3gp
– Audio: mp3, wav, aacf, aiff
– Docs: doc, xls, ppt, txt, pdf, pages, numbers, key, rtf, etc

FILE ADDING FILE SENDING
● Photo Vault provide Easy WiFi Transfer
● Fast iTunes Sync
Convenient Bluetooth Transfer
Use AirDrop to Transfer Photos & Videos
● Import/Export pics from Camera Roll
● A Camera was set up in Photo Vault.
● Add Note/Voice Memos within the Photo Vault.
● Send Files via Email
● Send Photos via MMS
● Send Files via Open In

MEDIA SUPPORT
● Image Gallery & Image List
● The Photo Vault provide Slideshow
● Watch Video In Photo Vault
The Photo Vault has Music Player
Browse All Kinds of Files within The Photo Vault
VigTask
Normally $1.99.
VigTask – Smart organizer for your tasks!
VigTask is an organizer for your task with a rich set of advanced features including:

ADVANCED ORGANIZER
• Supports multiple categories for tasks, color code and put them in the same view.
• Categories can be merged.
• Lunar date supported.
• Group events, tasks and notes by Calendars, Dates, Manual, Contexts, Tags, Locations and Contacts.
• Search in advanced.

SAVE YOUR TIME – QUICK CREATION
• Tasks can be created quickly with minimum of taps.
• Can be created directly from categories, weather forecast, email or from main screen.

ADVANCED TASK
• Integrated with Contacts to add invitees, or sharing.
• Alert with snooze.
• Priority task with important levels.
• Sorting tasks with different criteria.
• Completed tasks can be exported many kinds of file format so that you can read them on PC.

CHECKLIST
• Sub tasks can be formatted as checklists so you know what needs to be done and what you have already accomplished.
• Easy to show/hide completed checks.

LINK DATA
• Tasks can be linked together to make them into flows.
• Task can also link to photo, audio, video, document files from Photo library or from email.

INVITATION/SHARING
• Send/receive invitation your task or event to a list other VigTask users via email.
• Data can be shared with your friends via VigCloud.

SMART SCHEDULER
• Schedule your tasks one by one, in groups, or all at once.
• VigTask will fit your list of tasks by booking them into your contexts' time.

SMART TIMER
• Tasks can be timed, just set the timer.
• Timer logs can be exported to many kinds of file format.
• Set multiple times for a single task.

DATA ON MAP
• Show your tasks, that are around your current location, on an embedded map with adjustable distance.

SYNCHRONIZATION
• Task can be synced with Google tasks, built-in Reminders and Toodledo.
• VigTask can sync with other VigTask (iPhone or iPad version) via iCloud/VigCloud.

BACKUP AND RESTORE
• Your data can be automatically (or manually) backup to Google Drive or Dropbox for future restoring.

PRINT, FACEBOOK, PDF, CSV AND EMAIL
• Data can be printed anywhere.
• Data can be posted to Facebook anywhere.
• Data can be exported as PDF/CSV/PNG and sent via email.

INTUITIVE INTERFACE
• Many kinds of skins.
• Data can be viewed as list or folders.
• Clean looking and easy to understand.
• Minimal of taps to enter your data.
• Easy to complete task with one click.

More and more advanced features need you to explore…
Navigate with Photo in your Phone's Library
Normally $1.99.
Use your iPhone and iPad to take pictures and then use PhotoNavi to navigate to these photos.

– Support more than 10 most popular navigation app including:
Apple Map
Google Map
Nokia Here
Baidu Map
Sygic
Maps.ME
Navigon
MotionX-GPS
MotionX-GPS HD
MotionX-GPS Drive
We are still keep adding support for more navigation apps.

– Show all your photos directly on map
– Remember all photos you have navigate to in History records. Photos in history record never lost even you delete the photo in your iPhone's camera roll.
Download Navigate with Photo in your Phone's Library
Smart Merge Pro
Normally $2.99.
* Over 1,000,000 people love Smart Merge Pro :)

* Merge all duplicate contacts with one tap! *

MAIN FEATURES
○ Find & Merge duplicate contacts!
○ Remove contacts without name or phone number
○ One tap to backup your contacts!
○ Quickly find the contacts you need

Your contacts are the most important data in your phone which easily becomes messy if not consistently updated.
Smart Merge Pro easily helps you detect and merge duplicate contacts.

SIMPLY MERGE DUPLICATE CONTACTS
○ Merge all duplicate contacts with one tap!
○ Find & merge contacts with similar names.
○ Find & Merge contacts with duplicate phone or email.

CLEANUP
○ Remove contacts without name
○ Remove contacts without phone & email

BACKUP
○ Backup your contacts with one tap!
○ Quickly export your backups to Dropbox, Google Drive, Email
○ Move contacts between accounts (Exchange, iCloud, Local Address Book)

SMART FILTERS
○ Quickly find the contacts you need
○ Filter contacts by Company & Job title
○ Filter contacts by upcoming birthday & creation date

AVAILABLE IN 15 DIFFERENT LANGUAGES
English, Español, Français, Italiano, Deutsch, Português (Br.), 中文 (Simplified), 中文 (Traditional), 日本語, 한국어, Nederlands, Русский, Türkçe, العربية, עברית
KeepFit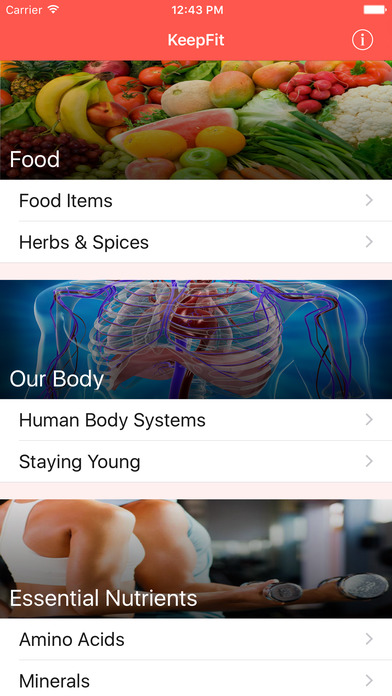 Normally $0.99.
KeepFit is a rich collection of Facts and Tips that will familiarize you with the Benefits and Use of Nature Cure with Natural Food. The application not only contains facts about the Nutritional value of various food items but also contains information about the usefulness of food in the treatment of various diseases and health problems.

Overview

Nature Cure is not just a system of curing aches and pains, it is a complete science. It is the research and implementation of all that is good in Nature.

Did you know that –

— Fruits that are rich in Vitamins A, B-complex and C, Sugar, Calcium and Iron like Apple, Lemon, Orange assist in the proper functioning of Heart and keep it healthy even in old age.

— Fruits like Apple, Date and Mango that contain vitamins A, B-complex and Phosphorus have a protective and stimulating effect on the nerves. Hence, regular use of these fruits can sharpen memory and prevent mental tension, Hysteria and Insomnia.

With KeepFit on your smartphone you will realize that it's not just the Apple which keeps Doctors away but Almonds, Apricots, Banana, ….. and several other items too.

Features:

1. Nutritional and Therapeutic value of 55 food items.

2. Benefits and Dietary sources of 23 essential minerals and vitamins.

3. Functions, Sources, Deficiency Symptoms, Healing and Therapeutic Properties of the 10 Essential Amino Acids.

4. Functions, Required Vitamins, Required Minerals and Recommended Food Items for the 12 systems of the Human Body.

5. Discover the importance and common sources of Antioxidants.

6. Find out all about of Carbohydrates – good carbs, bad carbs, blood sugar, body fat, etc.

7. Suggested fruit and vegetable juices for 35 health problems.

8. Healing Foods for 20 health problems.

9. Household tips for 15 common health problems.

10. Lifestyle and Diet tips for a long and youthful life.
20fy
Normally $0.99.
The 20s are almost here! Prepare by downloading this sticker pack celebrating the last 20s! Why not accentuate that lovely face with a mustache, or just add a hat where a hat is lacking?