If you purchase an independently reviewed product or service through a link on our website, we may receive an affiliate commission.
One could argue the bathroom sink is perhaps the most vital sink to any operation. After all, washing your hands IS the most important step in the bathroom (well, maybe second to wiping, but you get the point). Not washing your hands after using the bathroom is a serious no-no, and we think it's safe to say that we shouldn't be required to explain why. Plus, the sink is integral to virtually every other bathroom activity under the sun — brushing your teeth, shaving, doing your hair before work, etc. But a quality sink is only as good as its faucet. If you have a faucet that doesn't work to your own hygiene standards, well, then you have quite the problem on your hands — no pun intended. Fortunately, there are plenty of fantastic faucets that are ultra-durable, provide a strong stream, and, for all intents and purposes, are leak-proof. Here, we'll take a look at some of the best of the best, so you can wash your worries away, both literally and figuratively.
Best Overall Bathroom Faucet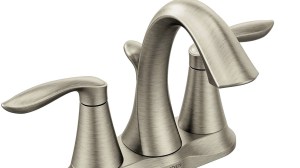 All things considered, you can't go wrong with the Moen 6410BN Eva Two-Handle Centerset Bathroom Faucet with Drain Assembly, a truly elite bathroom sink faucet if there ever was one. It's made with an aesthetically-pleasing brushed nickel finish that helps the sink maintain a modern, metallic look, while the faucet itself features an ultra-convenient and aerated flow that provides users with a smooth stream for any of their daily activities. The two-handle temperature control makes it easy to pinpoint the exact desired temperature every time, and it's completely EPA WaterSense-compliant, helping you conserve water each and every day. This faucet from Moen also features a high-arc design, easy three-hole installation, and it's ADA-compliant, allowing for a seamless transition from your old faucet.
Moen 6410BN Eva Two-Handle Centerset Bathroom Faucet with Drain Assembly, Brushed Nickel
Price:
$131.99
Available from Amazon, BGR may receive a commission
Best Single-Handle Faucet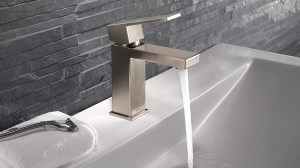 If you're looking for a simple single-handle faucet, the Delta Faucet Modern Single-Handle Bathroom Faucet with Drain Assembly is a fantastic alternative. We loved that it came complete with drain assembly, allowing us to skip one step in the overall installation process. Speaking of which, installation was super easy, as it's capable of fitting in with a variety of setups, including single-hole, three-hole, or four-inch configurations. The faucet is completely ADA-compliant, making it a great fit for any type of bathroom, and it's even backed with Delta Faucet's Limited Lifetime Warranty. And perhaps best of all, the faucet uses 20% less water than the industry standard, allowing you to save water — and money — in the process.
Delta Faucet Modern Single Hole Bathroom Faucet Brushed Nickel, Single Handle Bathroom Faucet,…
Price:
$118.22
Available from Amazon, BGR may receive a commission
Best Swivel Spout Handle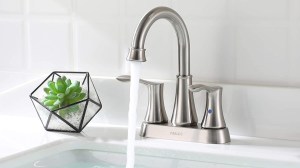 Those who prefer a swivel spout that gives you a bit more play, the PARLOS Swivel Spout 2-handle Lavatory Faucet is the way to go. This cUPC-approved faucet comes with super easy push and seal pop-up drain assembly and features convenient two-lever handles for strong flow and precise temperature control. Of course, what really separates this faucet is its 360° swivel, which covers more ground, allows easier access to the sink, and makes cleaning and rinsing easier than ever before.
PARLOS Swivel Spout 2-Handle Lavatory Faucet Brushed Nickel Bathroom Sink Faucet with Metal Pop…
Price:
$38.98
Available from Amazon, BGR may receive a commission
Most Stylish Faucet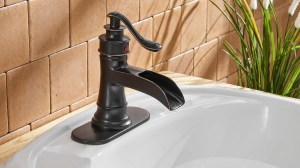 For something a bit more stylish — or at the very least, more antique than modern — the BWE Waterfall Bathroom Faucet is an aesthetically-pleasing, high-quality choice. For starters, this faucet provides a beautiful, steady laminar waterfall stream that can single-handedly enhance your sink setup. It's a single-handle design, so it's fairly easy to control stream and temperature once you get the hang of it. The stream itself is powerful, while the faucet is super easy to clean and maintain. And of course, it's designed with an oil-rubbed bronze finish that gives it a wonderful antique look that can amplify any bathroom interior when matched correctly. It's compatible with any one or three-hole installation setup; the only real downside with this faucet is that the pop-up drain and lift rod are not included, but that definitely shouldn't deter you in any way.
BWE Waterfall Bathroom Faucet Oil Rubbed Bronze Single-Handle One Hole Sink Faucet Farmhouse Ba…
Price:
$49.99
Available from Amazon, BGR may receive a commission
Best Value Faucet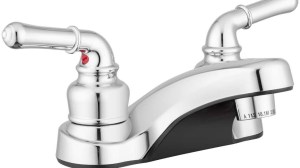 Finally, we have the Pacific Bay Lynden Bathroom Faucet, a truly great bang-for-your-buck option. Of course, it's a pretty basic dual-handle faucet, but it contains everything you need in a bathroom faucet, just without all of the bells and whistles of some other brands. It's made with high-quality metallic plating over ABS plastic, giving it a metallic look despite not being fully metal. These faucets also provide you with two decorative levers to quickly adjust temperature and water pressure, while the aptly-designed arc remains aesthetically pleasing and drip-free. This device is also super easy to install, thanks to its two-hole design, and it provides users with a smooth aerated stream for their daily hygiene needs.
Pacific Bay Lynden Bathroom Faucet - Metallic Plating Over ABS Plastic (Chrome)
Price:
Available from Amazon, BGR may receive a commission