If you purchase an independently reviewed product or service through a link on our website, we may receive an affiliate commission.
Sometimes, getting yourself to the gym before or after work is easier said than done. And by sometimes, we sort of mean all of the time. Sure, it's easier for some of us — especially those who have been on a tight schedule for years — but it's not always a realistic possibility. Of course, you can always go the home gym route and, in a sense, cut out the middle man entirely. Not only can this help you save a ton of time but, from a long-term standpoint, you'll be saving plenty of cash, too. If you do go the home gym route, you're going to need some equipment capable of providing you with full-body workouts with ease. There are plenty of different ways to achieve this balance, but we'll go through some of the best equipment, by and large, to build your at-home gym. Let's take a look.
Best Full Body Workout Machine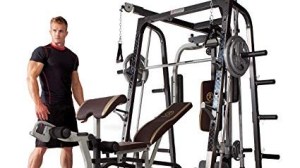 If you're looking for a full-scale, body workout machine that helps you hit essentially every muscle group, the Marcy Smith Cage Workout Machine Total Body Training Home Gym System with Linear Bearing is a total no-brainer. Its frame is made from heavy-duty reinforced steel and a high-quality, powder coating that's incredibly durable. It features a sturdy aircraft cable that contains a tensile strength of a whopping 2,000 lb, so it will certainly withstand the test of time, so to speak. It contains multi-functioning press arms for a complete upper body workout, a dual-action leg developer complete with oversize rocker pads and a row/curl bar, and an Olympic free-weight rack for traditional exercises. In essence, if you're looking for a machine that covers ALL of the bases, this is the route to go.
Marcy Smith Cage Workout Machine Total Body Training Home Gym System with Linear Bearing Md-901…
List Price:
$1,499.99
Price:
$1,202.56
You Save:
$297.43 (20%)
Available from Amazon, BGR may receive a commission
Best Power Rack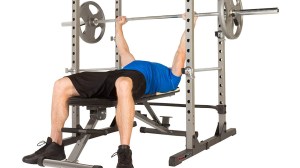 On the other hand, a traditional power rack is really all you need to get most standard exercises done from your home. In this case, the Fitness Reality 810XLT Super Max Power Cage with Optional LAT Pull-Down Attachment and Adjustable Leg Hold-Down is a great option. This bench features a sizable 800 lb weight capacity, making it great for casual exercisers and powerlifters alike. It features a durable 2″ x 2″ square steel frame construction, two 3 1/4″ long chrome lock-on safety bars with 19 different adjustable height levels, and multi-position overhead pull up grip bars for a full, comprehensive workout rack. It's best used in conjunction with a weight bench, particularly, the Fitness Reality 1000 Super Max weight bench, but other brands will also suffice. You can also add other attachments like Dip Bars, Weight Plate Holders, and Landmine to get the most out of this ultra-powerful weight rack.
Fitness Reality Squat Rack Power Cage with | Optional Lat Pulldown & Leg Holdown Attachment | S…
Price:
$289.27
Available from Amazon, BGR may receive a commission
Best Machine for Beginners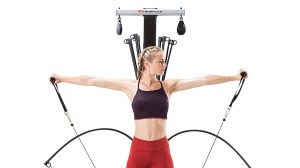 Novice gym-goers might want to opt for something that's a little easier to master, such as this Bowflex Home Gym Series. The Bowflex features over 200 pounds of Power Rod resistance, as well as 25 different built-in exercises that target your upper body, lower body, and core. This super easy-to-use machine also contains an intuitive, position lower pulley system with multiple cable pulley positions that allow you to change the angle of resistance and, in turn, increase the effectiveness of your workouts. The bench itself even converts to a rolling seat for aerobic rowing — a great exercise for athletes, casual exercisers, and experienced lifters alike.
Bowflex PR1000 Home Gym
List Price:
$799.00
Price:
$699.00
You Save:
$100.00 (13%)
Available from Amazon, BGR may receive a commission
Best Budget Option
Perhaps unsurprisingly, workout equipment can get a little pricey — especially if you're just using it for casual at-home use. If you're looking for something in a more reasonable price range, the Weider Ultimate Body Works is a no-nonsense alternative that will certainly get the job done. This contains a strict 250 lb weight capacity, so you'll have to keep that in mind before making any purchases. It features a telescoping design along with free motion cables, a full incline adjustment, and high pulley for a full upper and lower body workout. It's great at both strengthening muscles and giving you the perfect stretch while preserving your joints en route to a healthy, happy lifestyle. Plus, it's built with a compact Space Saver design so you don't necessarily need a "home gym" for it — you can set it up right in your room and, well, that's pretty much your gym right there.
Weider Ultimate Body Works Black/Red, Standard
Price:
Available from Amazon, BGR may receive a commission
Best Equipment for On-the-Go
For those looking for something a bit more portable that you can cycle between your house, office, and anywhere in-between, the BodyBoss 2.0 – Full Portable Home Gym Workout Package is the perfect choice. This portable gym essentially allows you to do any sort of workout — upper body, lower body, cardio, etc — without having to lug around heavy and expensive weights. It doesn't take up much space (clearly), and it's ultra-versatile, allowing you to complete 300 plus workouts. Everything in the set is completely travel-friendly, whether it's the handles, the collapsible workout bar, resistance or the wrist/ankle straps. Anyone who finds themselves constantly on the go or doesn't have the required space for a large-scale workout room should certainly look into this set.
BodyBoss Home Gym 2.0 by 1Loop - Full Portable Gym Workout Package, Includes 1 Set Of 2 Resista…
List Price:
$109.95
Price:
$98.75
You Save:
$11.20 (10%)
Available from Amazon, BGR may receive a commission